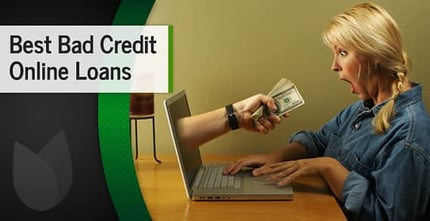 Although there was a time when a poor credit score may have prevented you from obtaining even the smallest loan, the lending industry has become a more diverse place. In particular, the growth of the online lending marketplace has helped inspire an influx of non-bank lenders, as well as providing consumers with greater access to lenders from other geographic locations around the country.
In fact, today's market has a hearty subprime sector, full of lenders happy to offer loans to those considered too risky by many traditional lenders. Online loans for bad credit are not nearly as few and far between as they once were. And while your ability to qualify for any given loan still depends on your individual financial situation and credit profile — as well as the type of loan itself — your options for finding flexible lenders are better than ever. Below, we'll take a look at some of our top choices for loans for those with less-than-stellar credit.
Personal Loans | Auto Loans | Home Loans
The Best Online Personal Loans for Bad Credit
The most all-purpose of loans, personal loans can be used for all manner of situations. This can include dealing with financial obligations, such as consolidating credit card debt or paying medical bills, practical applications, like remodeling part of your home, or even taking a vacation or engaging in other leisure activities.
Simply because a loan can be used for frivolous activities doesn't mean it should be, of course. Personal loans are unsecured loans, with no collateral to act as security against default, so they are the highest risk loans for lenders to provide — and high risk means high interest rates.


This will be especially true in regards to short-term loans, such as those provided by cash advance companies, primarily due to their limited duration and fee structure. In fact, short-term loans typically carry the highest interest rates of any line of credit, averaging in the triple digits and topping 650% in some states.
Short-Term Cash Advance Loans
The diametric opposite of a long-term installment loan, short-term cash advance loans are generally repaid in a single lump sum, and can have term lengths as short as seven days. Short-term loans are best for emergency situations that need quick funding and can be repaid with your next paycheck or an anticipated windfall.
Short-term and cash advance loans are often limited in size, starting at $100 and capping out around $2,500. Our top-rated picks for short-term loan providers include large networks of lenders, most of which can provide funds in as little as 24 hours.
When seeking out a short-term cash advance loan, remember that you will be obligated to pay a very high interest rate for your loan, often in the form of a flat-fee finance charge. This can be as much as $30 for every $100 borrowed.
You'll also need to repay the loan in a single lump sum, leading some borrowers who cannot meet their obligation to take out additional loans to pay off the first. This cycle often causes fees and charges to snowball, creating a large debt that the borrower cannot repay.
In fact, the short-term loan issue has gotten so out of hand in some places that the very nature of short-term loans may be changing, as organizations work to have new rules and regulations considered and enacted. For instance, short-term lenders in Colorado must follow a structure that requires all small loans to be repayable in installments.
Long-Term Installment Loans
With term lengths that range from three months to six years, long-term personal loans are structured as installment loans, requiring repayment over time via monthly payments (or installments). Long-term installment loans are designed to finance larger projects or obligations that you will need to pay off over time, and tend to offer better interest rates than credit cards or other short-term or revolving financing.
Using an online lending network is often the easiest way to find and compare installment loan offers and rates, which can usually be obtained with a single online form. The loan provider you select will largely depend on the interest rate you are comfortable paying as well as the size of the loan itself. Our top providers include lenders offering loans ranging from $500 all the way up to $35,000.
When considering the terms of your installment loan, be sure to crunch all of the numbers rather than simply looking for the lowest monthly payment. The longer it takes to pay off your debt, the more interest you will end up paying, increasing the cost of the loan considerably over time. You should seek to balance an affordable monthly payment with paying off your loan in a timely fashion.
The Best Online Auto Loans for Bad Credit
In contrast to a personal loan, an auto loan is a secured loan, in which your automobile acts as collateral against default. In other words, if you can't repay your auto loan as agreed, your creditor can repossess your vehicle and sell it to regain some of its losses.
On the plus side, the presence of a form of collateral as security for the loan decreases the overall credit risk for the lender. This means overall interest rates and fees will be much less than those for a personal loan or other unsecured credit lines, typically in the range of 13% to 15% for consumers with poor credit.
In general, most subprime auto loan lenders will require you to have a minimum income to qualify for the loan, with the actual amount varying by lender and loan size. A typical income requirement will be between $1,200 and $1,500 a month.
Initial Auto Financing
Whether buying a brand-new car fresh from the factory or a new-to-you car fresh from someone's garage, the chances are good you'll need to finance the purchase with an auto loan. While this may have once meant a trip to the bank in your Sunday suit, today's savvy auto shopper heads online for an easy way to compare lenders and offers from their living rooms.
Before you start the application process, you'll need to have a particular vehicle in mind, as you'll likely need to provide details about it on the application, including the year, make, model, and trim. Once you have your new (or newish) auto picked out, you can head over to our top-rated auto loan providers to start comparing offers from lenders around the country.
Similar to personal loans, auto loans typically have term lengths from 12 to 72 months, and the longer the length of your loan, the lower your monthly payment. However, even with the comparably lower interest rates of an auto loan, you will still add a significant amount of interest fees to the overall cost of your loan if you take the longest possible terms, so consider all the costs before determining the length of your loan.
Auto Refinance Loans
In the event that you end up with a higher interest rate on your auto loan than you are comfortable paying, you have the option to refinance your auto loan. In essence, refinancing your auto loan involves taking out a second loan — one with a lower interest rate — to pay off the initial loan, leaving you with a lower-interest loan, as well as providing lower monthly payment and/or a short loan term.
Many auto loan providers will offer both initial and refinance loans. That said, you may need to go to a different lender than you originally used to obtain a lower interest rate, especially if you have not improved your credit score or income since you took out the initial loan. An online lending network can help you find the very best rates for you.
While you can refinance your auto loan at any point in the loan's life, you will likely have difficulty finding a lender if your vehicle's value is less than the amount you owe. In this case, you may need to pay down your balance before you can refinance your current loan.
The Best Online Home Loans for Bad Credit
As with auto loans, home loans are secured loans, with the intended property acting as collateral against default. With typical periods of 15 and 30 years, mortgages have the longest terms of any other type of consumer loan. Both the secured and long-term nature of a home loan are reflected in the average interest rates, which range between 4.5% and 5.5% for those with questionable credit.
Of course, the exact terms of your loan will primarily depend on both your individual credit and the type of loan. Those with lower credit scores will most likely seek out an FHA loan, which has more flexible requirements for credit and down payment amount.


Regardless of the actual minimum down payment required by your lender, all potential homebuyers should aim for the ideal of a 20% down payment. Applicants who cannot provide a down payment of at least 20% will typically be charged Primary Mortgage Insurance (PMI), which acts as extra security against default for the lender. The PMI can add several hundred dollars to your monthly mortgage payment and should be included in your PITI calculations.
New Home Financing
As is the norm for secured loans, you'll need to have a particular property picked out before you can complete an application for a new home loan. Not only will you need to know the exact purchase price to go through the loan process, but you'll likely need to have an appraisal and/or inspection performed on the property before you can complete the loan, as well.
Due to the length of a mortgage loan, the total interest you pay over the life of the loan can be significant — over $140,000 on a 30-year $200,000 loan at 4% APR — so it's particularly important to ensure you get the best possible rate. Start your research with our top-rated online home loan providers to compare rates from both bank and non-bank lenders.
Beyond the common features of interest rate, loan length, and down payment, prospective home loan borrowers should look carefully at any other conditions of the loan. For example, some loans will include a prepayment fee, which borrowers will be charged if they pay off their loan early.
Mortgage Refinance Loans
Refinancing your home loan will involve taking out a new mortgage (with better terms) to pay off your current mortgage. For those who have worked on improving their credit, or perhaps just got a bum deal the first time around, home refinance loans provide a way to lower your interest rate and, at the same time, improve your monthly payments or the length of your loan.
Refinance loans will have many of the same requirements as regular mortgage loans, including credit score, income, and down payment requirements. The majority of home loan providers will offer mortgages for both new purchases and refinancing — but not all, so do your research ahead of time. You can begin with our favorite providers, which offer both new and refinance mortgage loans.
As with auto loans, you can refinance your home loans at any point during the life of the loan, although some lenders may have their own rules on refinancing a mortgage they've recently issued. Additionally, be sure that your current mortgage doesn't include a pricey prepayment penalty before starting the refinance process to avoid a big fee.
Government-Backed Home Loans
Unlike conventional loans, which are entirely financed by the creditor, government-backed loans are insured by a department of the federal government. For example, the popular FHA loans are insured by the Federal Housing Administration, providing extra security for the lender against the potential default of a borrower.
When looking for a loan provider, keep in mind that not every lender will offer every type of loan. Specifically, finding a provider for some types of government-backed loans, including FHA loans, may require researching several loan providers. Other government-backed loans, such as USDA and VA loans, may require prospective homeowners to apply through a department-approved lender.
Because of the extra security of government-backed insurance, the requirements, including credit scores, are typically much lower for these type of loans than for conventional mortgages. That said, they will often have additional requirements, such as limitations on where the property is located (as with USDA loans) or the military status of the applicant (as with VA loans).
Always Borrow Responsibly to Avoid Credit Damage
Despite popular opinion, bad credit doesn't make obtaining a loan impossible, just more difficult — and more expensive. Always keep in mind that just because you can get a loan doesn't mean you should. Only borrow funds you can actually afford to repay, and always research and compare your options to ensure you have the best possible rates and lowest fees.
Advertiser Disclosure
BadCredit.org is a free online resource that offers valuable content and comparison services to users. To keep this resource 100% free for users, we receive advertising compensation from the financial products listed on this page. Along with key review factors, this compensation may impact how and where products appear on the page (including, for example, the order in which they appear). BadCredit.org does not include listings for all financial products.
Our Editorial Review Policy
Our site is committed to publishing independent, accurate content guided by strict editorial guidelines. Before articles and reviews are published on our site, they undergo a thorough review process performed by a team of independent editors and subject-matter experts to ensure the content's accuracy, timeliness, and impartiality. Our editorial team is separate and independent of our site's advertisers, and the opinions they express on our site are their own. To read more about our team members and their editorial backgrounds, please visit our site's About page.