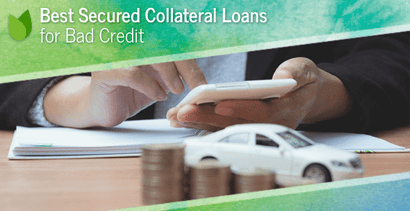 For more than 3,000 years, humans have been using goods — and, sometimes, labor — as collateral for a financial loan. In fact, the word pawn reportedly stems from the Latin pannum, or clothing, which was the most common form of collateral used in 15th-century Europe.
Today, most lenders won't accept your best outfit as collateral on a loan, but other valuable assets can often be used to secure a loan. While auto and home loans are traditionally secured collateral loans, some personal loans can also be easier to obtain when the borrower provides appropriate collateral. In the following article, we'll dive into our top choices for collateral loans for bad credit, including options for personal loans, auto loans, and home loans.
Personal Loans for Bad Credit
Personal loans are individual loans that can be used for a wide variety of purposes, unlike auto or home loans, which must be used to purchase those specific products.
Because personal loans are so varied in purpose, not every personal loan will be used to purchase something with collateral value. As a result, secured or collateral personal loans are some of the most infrequently offered, with many major banks not offering them at all.
On the plus side, you may not actually need collateral to get a personal loan, depending on the size of the loan and your credit profile. Smaller personal loans with shorter term lengths may be available even for those with poor credit.
With Collateral | Without Collateral
Personal Loans with Collateral
There are two main types of collateral that can be used as security for personal loans: vehicles, and savings accounts.
Some lenders will accept vehicles as collateral if you have sufficient equity in your vehicle and wish to put up the title as security. A handful of banks will also accept a savings account or CD (certificate of deposit) as collateral on personal loans, as well.
Remember that anything you put up as collateral for a loan is subject to seizure should you default on your loan. Read the terms of your loan agreement carefully — before signing it — to be sure of what conditions will result in a default and seizure of collateral.


OneMain Financial specializes in consumer lending and personal loans. The company has provided loans to more than 10 million borrowers since 1912.
While your credit profile and income will still play a role in determining whether you are approved, OneMain generally accepts a variety of vehicles as collateral for personal loans.
The types of vehicles acceptable as collateral include cars, trucks, motorcycles, boats, campers, and RVs.
Collateral used for a OneMain loan will need to undergo appraisal to ensure its value. Additionally, all vehicles used as collateral will need to be insured against physical damage for the entire life of the loan.


Wells Fargo has been a part of the American landscape since the mid-1800s when the company transported people and goods across the West in stagecoaches. Today, Wells Fargo provides a variety of banking services, including checking and savings accounts as well as several types of loans.
Although using collateral may not increase your chances of being approved, you can use a savings or CD account as collateral to lower your APR for a secured line of credit or personal loan from Wells Fargo. The account must be with Wells Fargo to qualify.
The amount you use for collateral will determine the size of your loan, with loan amounts from $3,000 up to $250,000 available. Your savings or CD account will continue to earn interest as normal while you pay off your loan.


A newer face on the scene, Finova Finance is a financial technology company founded in 2015. Finova Finance specializes in car equity lines of credit (CELOC) and also offers a prepaid card.
Car equity loans from Finova Finance use your car's equity as collateral. Borrowers can obtain CELOC financing from Finova Finance regardless of their credit so long as they meet the requirements. To qualify as collateral, the vehicle will need to be in your name and you need to own your vehicle outright, with no liens.
Equity in the car must be enough to cover the requested loan amount, and you'll be required to obtain prepaid comprehensive and collision insurance for the term of the loan. Applicants currently in active bankruptcy proceedings will not be eligible.
Personal Loans without Collateral
Before assuming you need to have some sort of collateral to obtain a loan, it could be worthwhile to explore options for unsecured personal loans. While those with poor credit may have a more difficult time qualifying for unsecured personal loans, a variety of lenders may still be willing to take the chance.
One of the simplest ways to find quotes from multiple lenders at once is through an online lending network. These networks connect borrowers with lenders from across the country, increasing the chances you'll find a lender that will work with you (and your credit). Our expert-rated picks for personal loan networks are below.
+See More Personal Loans for Bad Credit
Be sure to read through the terms and conditions of your loan agreement before signing on the dotted line (or digital line, as the case may be). The worse your credit score, the higher your interest rates and fees will likely climb, so be sure you know exactly what you'll be paying for your new loan.
And this means looking at more than the amount you'll need to pay every month. Take into account the size of your APR and the length of your loan, as these factors are what determine the size of your monthly payment.
It can be tempting to take on the longest loan terms possible to obtain the lowest monthly payment, but keep in mind that every month you carry a loan balance will mean another month of interest fees. Try to find a good balance between ensuring your monthly payments are affordable while still minimizing the total cost of your loan.
Auto Loans for Bad Credit
While using your vehicle for collateral on a personal loan can be an effective way of obtaining funding, it's not the only way to potentially turn your automobile into much-needed cash. You may also be able to turn the equity in your car into cash through a cash-out refinance.
Essentially, a cash-out refinance loan involves refinancing your auto loan for more than you owe (but not more than the vehicle is worth), based on the amount of equity you have in your vehicle. You can then use the new loan to pay off your old loan and pocket the difference as cash to be used for whatever you need.
To qualify for a cash-out refinance loan, your vehicle must be less than five years old, be in good condition, and have no more than 75,000 miles. You'll also generally need to have at least two years left in your current auto loan and owe a certain amount (typically $7,500 or more, but the specific amount may vary by lender).
Top Auto Refinance Loan Providers
Since vehicle cash-out refinance loans use your vehicle's equity to provide cash and the vehicle itself as collateral, your credit score can have less impact on your ability to qualify — but not zero impact. You'll still need to qualify for the loan itself, which means the same credit checks as any other refinance loan.
Online lending networks can be a good way to cut down on the number of forms you need to fill out to compare rates, offering the ability to obtain multiple lender quotes from a single application. Some of our top-rated online lending networks for auto loans are below.
+See More Auto Loans for Bad Credit
An important thing to remember when dealing with online lending networks is that you won't actually be receiving your loan from the network platform.
It's the individual lenders that set the rates and fees for a loan, as well as determining specific credit requirements. If you find a loan offer you'd like to accept, you'll be redirected to the lender's individual website to complete the loan process.
Once you accept the terms of the agreement, the lender (not the network) will disperse your funds — and is the one to which you will repay those funds.
Home Loans for Bad Credit
As handy as your vehicle can be for obtaining a loan, you may have another asset that is far more valuable: your home. As with the equity in a vehicle, the equity in your home can often be used to obtain financing through a home equity line of credit (HELOC) or cash-out refinance loan.
Also called second mortgages, HELOC's are additional loans obtained outside your primary mortgage that use the equity in your home as collateral for the new loan.
In contrast, cash-out home refinance loans involve refinancing your home for more than you owe (but not more than your home is worth), allowing you to keep the difference as cash.
Top Home Refinance Loan Providers
Despite using your home as collateral, qualifying for a home equity or cash-out refinance loan will still typically require a credit check to qualify. While low credit scores can impact your ability to get a loan, the more equity you have, the better your chances of being approved with a low credit score.
Using an online lending network to obtain home loan quotes can often provide multiple quotes at once, all from a single application. Online lending networks, like our picks below, can connect hundreds of lenders from across the country to make it easier to find the right match.
+See More Home Loans for Bad Credit
Although you can technically refinance a home loan at any point after you obtain your loan, equity-based refinancing will, of course, require that you wait long enough to obtain some equity.
In general, building equity in your home will depend on paying down your loan balance. The less you owe, the more equity you'll usually have in your home. In rare cases, you may end up purchasing your home for less than it is actually worth, giving you instant equity in your home.
Either way, you'll likely be required to undergo a home appraisal if you intend to use your home's equity in any way. Most of the time, the cost of the appraisal will fall on you, so be prepared to fork over the few hundreds bucks when you start applying for loans.
Be Careful What You Use for Collateral
Humans have been using their goods and services to obtain financing for millennia — but that doesn't mean we're all good at it. If everyone always repaid their debts, then collateral would hardly be necessary.
No matter which way you obtain the financing you need, never forget that collateral can be seized (and sold, when appropriate) if you don't pay back your loan as agreed. Don't use an asset as collateral unless you are absolutely certain you can repay the loan — or you are willing to forfeit whatever you use as collateral.
Advertiser Disclosure
BadCredit.org is a free online resource that offers valuable content and comparison services to users. To keep this resource 100% free for users, we receive advertising compensation from the financial products listed on this page. Along with key review factors, this compensation may impact how and where products appear on the page (including, for example, the order in which they appear). BadCredit.org does not include listings for all financial products.
Our Editorial Review Policy
Our site is committed to publishing independent, accurate content guided by strict editorial guidelines. Before articles and reviews are published on our site, they undergo a thorough review process performed by a team of independent editors and subject-matter experts to ensure the content's accuracy, timeliness, and impartiality. Our editorial team is separate and independent of our site's advertisers, and the opinions they express on our site are their own. To read more about our team members and their editorial backgrounds, please visit our site's About page.