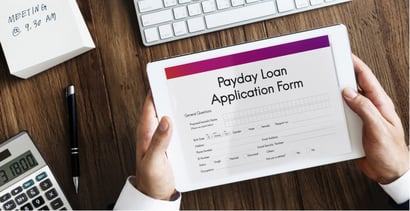 If you're in need of emergency cash, then the most trusted payday loans online that we've found can help you buy groceries, cover a car repair, pay for a doctor's visit, or deal with other everyday financial needs that pop up.
A payday loan doesn't have to be from a payday lender in a part of town you don't visit often. Instead, you can get approved for a cash loan from online lending networks that partner with several lenders across the country.
Instead of driving around town, you can submit a prequalification form online at home that matches you with lenders willing to work with you based on the information you provide. You can find installment loans and short-term loans on the networks we recommend. The money can be deposited directly into your bank account in as little as 24 hours.
Trustworthy Online Loan Networks
Here are nine of the best lending networks that can connect your loan request with online payday loan providers that offer short-term loan options for all credit scores. You can compare loan offers before choosing one, and there's no obligation to proceed with a loan offer.
Short-term loans up to $5,000
Online marketplace of lenders
Funds available in as few as 24 hours
Simple online form takes less than 5 minutes
Trusted by more than 2 million customers
| Loan Amount | Interest Rate | Loan Term | Loan Example |
| --- | --- | --- | --- |
| Up to $5,000 | Varies | Varies | See representative example |
MoneyMutual is our top-ranked online lending marketplace for several reasons. First off, it helps consumers get cash fast, sometimes in as few as 24 hours.
Four in 10 Americans are unable to come up with $400 for an emergency, according to the Economic Well-Being of US Households report by the Federal Reserve.
Helping people get approved for an emergency loan is what MoneyMutual specializes in, connecting them with short-term loans of up to $5,000 from a marketplace of lenders it does business with. Its simple online loan application form takes about five minutes to complete, and an online lender could approve your loan within minutes.
24/7 Lending Group is a direct lender network that can secure you a loan offer of up to $20,000, but only those with good credit scores will be approved for the highest loan amounts.
Those seeking a no-credit-check loan option will be subject to their state's legal limits, which is generally about $1,000 and requires quick repayment.
CashUSA.com is another of the best payday loan alternatives we recommend. It's upfront about the interest rate its loan providers offer, and it clearly explains the loan terms and how they'll affect the total amount paid.
The interest rates its lenders offer range from 5.99% to 35.99% with loan durations between 90 days to 72 months.
The website provides an example of what a personal loan of $1,500 over two years with an APR of 7.9% would cost someone. Each of the 24 monthly payments would be $67.77, for a total amount repaid of $1,626.54. It ends up costing about $126 to borrow $1,500 over two years.
SmartAdvances.com is another option for getting a quick loan that may not require a credit check, but you can count on your income being used to determine approval. Lenders must ensure you can afford the payments, and you'll likely be required to connect a bank account for automatic payments.
While these loans may be easy to get, approval isn't guaranteed, and your information may be used to solicit other offers tailored to your financial situation, such as credit repair or debt relief services.
BadCreditLoans does a good job explaining how bad credit loans work, including payday lending. Bad Credit Loans isn't a direct payday lender, but rather refers consumers to reputable direct lenders and financial service providers that can offer a fast payday loan.
According to its website, Bad Credit Loans is committed to working with responsible lending partners and educating its customers throughout the process. Its site uses advanced encryption technology to keep your information safe.
CreditLoan helps users with poor credit find small loans of between $250 and $5,000. It has helped more than 750,000 customers connect with a direct lender since 1998.
As its website explains, 30% of Americans have low credit scores. Credit scores range from 300 to 850, with higher scores leading to better credit terms. A score of below 630 is generally considered bad credit when a credit check is performed.
CreditLoan specifically focuses on helping people with bad credit. Money from the loans it helps people find can be used for any purpose, including to pay child support, the company says. Having to pay child support won't affect loan approval.
BillsHappen has a quick online form that lets you know whether a direct lender is willing to work with you. Filling out the form to see if you prequalify won't affect your credit score.
The network will require you to supply certain information, including your home address and the state you live in, your name and email address, mobile phone number, and your main source of income. You'll also be asked whether you're in the military or are a dependent of one. It will also ask whether you have a bank account, your pay date and pay frequency, employer name, and whether you're paid by paper check or direct deposit.
Your information is reviewed instantaneously by lenders to determine whether they'd like to work with you. If they do, you'll be redirected to their website to complete their forms, review the loan terms, and accept the loan to collect your funds as early as the next business day.
PersonalLoans.com is a lender network that helps consumers find loans from $500 to $35,000. That top amount probably isn't what you need for a payday advance, since you'll likely want to repay it as you would a cash advance loan when you get your next paycheck.
Keeping a short-term loan small can make repaying it easier, which is part of what PersonalLoans.com helps consumers do by finding lenders that work with people with bad credit who need cash for an emergency.
CashAdvance.com helps people find a payday loan company for some of the smallest loan amounts we've seen. Its lenders offer short-term loans for amounts as small as $100 to $1,000, and you may not need to undergo a credit check for approval.
The lending network requires a monthly income of at least $1,000 and at least 90 days on the job. CashAdvance provides customer support over the phone and through email to help borrowers through every step of the lending process.
What's the Best Online Payday Loan?
MoneyMutual is the best online payday loan marketplace in our reviews for a few reasons. More than 2 million people have used this online lending marketplace to connect with lenders from around the country.
Its online form is easy to use and can be filled out in about five minutes. After MoneyMutual submits the information to its network of lenders, it can find lenders willing to offer you a bad credit loan of up to $5,000 within minutes.
If you accept the loan, the money could be deposited directly into your account within 24 hours.
Short-term loans up to $5,000
Online marketplace of lenders
Funds available in as few as 24 hours
Simple online form takes less than 5 minutes
Trusted by more than 2 million customers
| Loan Amount | Interest Rate | Loan Term | Loan Example |
| --- | --- | --- | --- |
| Up to $5,000 | Varies | Varies | See representative example |
Like all of the lenders we've reviewed here, MoneyMutual isn't a direct payday lender, but a lender network. The actual lenders will send you the terms and conditions of the loan offer, including the interest rate, dates for repayment, and finance charges. You choose which, if any, loan offer to accept.
If you don't agree to the terms, you can decline and resubmit a form on MoneyMutual to find another lender.
Are There Any Real Online Payday Loans?
All of the lending networks we've reviewed are real and work with lenders that offer legitimate online payday loans.
A legitimate lender must have a license to operate and lend money in your state. Not every lending network we recommend does business in every state, so check the fine print at the bottom of every company's website.
MoneyMutual, for instance, doesn't do business in New York due to interest rate limits under state law.
If you're uncertain whether a payday lender network is a reputable lender and can legally work in your state, contact your state attorney general's office for more information. Some companies try to avoid state laws by establishing themselves offshore or on tribal lands.
You don't want to do business with a company that operates without a legitimate license. It may not follow laws designed to protect consumers and may charge extremely high interest rates or impose penalties you can't afford.
What Is the Easiest Loan to Get Approved For?
In general, the smaller the cash advance you need, the easier it is to be approved for the loan.
Borrowing a small amount of money poses less of a risk for a lender than does a large loan. Your credit score and credit history are also factors, which we'll get into next. But, generally, a low credit score means you'll be charged a higher interest rate than someone with a high credit score.


Most of the lending networks we've reviewed have low minimum payday loan amounts, from $250 to $500. One company, CashAdvance, connects consumers with loans as low as $100.
Getting approved for such a loan should be easy. The main requirements are an income of at least $1,000 per month, and at least 90 days on the job.
Keep in mind that the interest rates that CashAdvance lenders charge are high, ranging from 200% to 2,290%.
For example, a hypothetical loan of a $200 loan with a repayment term of 14 days would cost $230 to pay back, according to the company. That equates to a 391.07% effective APR.
That's a high rate if you were to borrow that much regularly, but paying $30 in interest to get a payday loan for two weeks may be worthwhile if it can put groceries on your table and you don't roll over the loan.
Can I Get a Loan With a 450 Credit Score?
The short answer is yes, you can get a bad credit loan with a 450 credit score. That's a low score and will usually lead to paying higher interest rates than you would if you had a higher score and better credit history.
Credit scores generally range from 300 to 850. A credit score between 300 and the mid-500s is considered very poor and will garner the highest interest rates on loans. A 450 credit score is significantly below the average credit score in the US.

About 27% of people with scores of 450 have credit histories showing they've gone 30 or more days past due on a payment in the past 10 years. The average utilization rate for people with 450 credit scores is 127.9%, meaning they're using 27.9% more than their spending limit on a credit card and other forms of credit.
To maintain good credit, you should keep your credit utilization ratio below 30%.
A low credit score and high debt ratio shouldn't prevent you from being approved by a payday loan lender, however. One of the main requirements of a cash advance loan approval is having a regular income, often as low as $1,000 per month. MoneyMutual requires a minimum monthly income of $800.
You may qualify for a payday loan if you have a steady income, such as through a job or from Social Security, a pension, disability, or other kinds of benefits.
What Alternatives Do I Have to a Payday Loan?
Some payday loans have exorbitant interest rates and fees, which the Federal Trade Commission warns consumers to be wary of. If you don't pay these payday lenders in full and on time, you could fall into a cycle of debt if you roll over the loan. Late or missed payments can also hurt a credit score.
Payday loans are a type of unsecured loan, meaning no collateral is needed. They're small loans that are usually due within a few weeks and are meant to be repaid in full on your next payday.
An automatic withdrawal from a checking account may be required for payment. If that's difficult for you to do, then you may want to consider an installment loan, which is paid with fixed monthly payments. An installment loan will also come with better loan terms.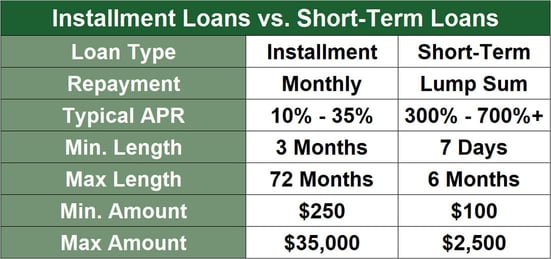 The online networks we've recommended can help you choose from among many lenders so you can compare interest rates, repayment timelines, and any fees. They could make a loan from a payday loan lender more affordable.
But you have other options. The easiest option may be to ask friends or family members for a quick loan so you can pay for an emergency expense. If you're confident that you can repay them, this type of loan may be the least complicated. That is unless you can't repay the loan, in which case don't attempt it at the risk of ruining your relationship.
Put the loan agreement in writing and create a repayment timeline that you both agree to.
Another option is to get a cash advance on your credit card. Your available credit limit will determine how much money you can get this way. You may only be able to get a cash advance of 20% of your available limit.
The annual percentage rate you'll pay on the cash advance will likely be much higher than it is for purchases. Aim to pay back the credit card balance quickly to minimize interest fees.
If you don't have much available credit because you've maxed out your credit cards, you may want to consider applying for a secured loan that's backed by collateral. In the case of a title loan, in which your home or car serves as collateral, the lender can take your collateral if you don't repay the loan.
Do I Need a Bank Account to Get a Payday Loan?
Having a bank account is often a requirement to get a personal loan through one of the payday lending networks we've recommended.
CashUSA.com, for example, requires prospective borrowers to have a checking account in their name. The account is initially used to deposit cash from your loan provider.
Other requirements include:
Be at least 18 years old.
Be a US citizen or permanent resident.
Earn a steady monthly income of at least $1,000 after taxes.
Provide work and home phone numbers, and a valid email address.
Meeting these requirements doesn't guarantee you'll be connected with a lender, but they're the basic requirements when you apply for an unsecured loan.
Some lenders may want you to have a checking account so loan payments can be automatically withdrawn by the due date. This is the same account where the lender deposited your loan funds into. If you don't have enough money in the account to repay the loan, you should contact the lender in advance to ask for an extension so you can avoid damaging your credit.
If you don't have a checking account, some lenders may allow a savings account to be used. Either way, it will need to have money in it to make payments.
You can still get approved by a payday loan lender without a bank account. Your loan proceeds can be sent to you on a debit card, in cash, or as a check sent to you in the mail.
If you don't have a bank account, ask the lenders you're considering what options they have for getting money to you and how you can pay them back.
Can I Get a Short Term Loan From a Credit Union?
If you belong to a federal credit union, you may be able to get a payday alternative loan, or PAL, to borrow up to $2,000. The loans are meant to cost less than traditional payday loans and can be repaid over a longer period.
The rules set by the National Credit Union Administration were updated in 2019 to include:
From one to 12 months are allowed to repay the loans.
Federal credit union members can get a PAL immediately upon membership instead of waiting one month.
Restricts a member to one type of PAL loan at a time.
The interest rate on a PAL is much lower than the 391% APR on a typical payday loan with a fee of $15 per $100 borrowed. The average payday loan borrower is in debt for five months in a year, spending $520 in fees to repeatedly borrow $375, according to The Pew Charitable Trusts.
PALs are meant to help members avoid other small-dollar loans by helping them build or repair credit records while graduating to other mainstream financial products, said NCUA Chairman Rodney E. Hood in a statement when the rules were changed.

"We want to encourage responsible lending that allows consumers to address immediate needs while working towards fuller financial inclusion," Hood said.
"Particularly when coupled with financial counseling, as many credit unions provide, such lending can be a powerful tool to help people get out of debt and climb the ladder toward financial security," he said. "This is an example of the fundamental credit union principle of people helping people."
Not all federal credit unions offer PALs. Those that don't may offer their own credit union loan options. Many state-chartered credit unions have similar products.
Federal law allows credit union loans that aren't official PALs to have a maximum APR of 18%. That's cheaper than a PAL, but those lower rates could include higher application fees.
What Are the Advantages of Payday Loans?
The advantage of a payday loan is the main reason people seek them out: immediate cash for an emergency.
Emergencies will differ from one person to another. Paying an electricity bill so the power isn't turned off is an emergency, but so is making a monthly car payment so your car isn't repossessed.
Even with bad credit, a borrower can often be approved for an online payday loan. The cash should be available quickly if you qualify, usually within 24 hours of approval. Whether it's for an unexpected emergency or another urgent expense, a payday loan could help a borrower in a pinch.
What Are the Disadvantages of Payday Loans?
The biggest disadvantage of a payday loan is that you'll likely be charged a high interest rate. Payday loans are usually sought by people with a bad credit score, and because they are considered a higher risk, they will be charged a higher interest rate.
It's not unusual for payday lenders to charge people with bad credit scores a 391% APR or one as high as 2,290%.
Other disadvantages include:
Recurring expenses: Though advertised as being used for emergency expenses, 7 in 10 borrowers use payday loans for recurring expenses, such as rent and utilities, according to The Pew Charitable Trusts.
Can't meet monthly expenses: If you can't afford rent and other monthly expenses, then a payday loan may extend the pain of paying them. The average borrower earns about $30,000 per year, and 58% of these borrowers have trouble meeting their monthly expenses, according to Pew.
Due quickly: Payday loans are usually due in two weeks and are tied to a borrower's pay cycle. An online lender will have direct access to a borrower's checking account on payday to ensure it can collect before other bills are paid. Some of the lending networks we've recommended allow loans to be repaid over months instead of weeks and may come with lower interest rates.
Unaffordable: The average payday loan consumes 36% of an average borrower's gross paycheck, according to Pew. Most can only afford to pay 5% of their paycheck for a loan while still covering basic expenses.
Loans renewed: 80% of payday loan borrowers take out a new loan within two weeks of repayment of a previous payday loan, creating a debt trap.
The Most Trusted Payday Loans Online Are From Vetted Organizations
Of all of life's expenses, an unexpected one can turn your life upside down. An emergency loan from a payday lender can help, provided you're able to repay it soon and don't need it to cover regular expenses.
The online lending marketplaces we've reviewed should be a good start in finding a payday loan with terms you can afford. They're easy to apply for and often can have the cash to you within a day.
Borrowers with bad credit can often qualify for payday loans. The interest rates can be high, however, so it's worthwhile to repay the loan quickly and on time to avoid paying more than you need to. But for an emergency loan that you need quickly, a payday loan can be a viable solution.
Advertiser Disclosure
BadCredit.org is a free online resource that offers valuable content and comparison services to users. To keep this resource 100% free for users, we receive advertising compensation from the financial products listed on this page. Along with key review factors, this compensation may impact how and where products appear on the page (including, for example, the order in which they appear). BadCredit.org does not include listings for all financial products.
Our Editorial Review Policy
Our site is committed to publishing independent, accurate content guided by strict editorial guidelines. Before articles and reviews are published on our site, they undergo a thorough review process performed by a team of independent editors and subject-matter experts to ensure the content's accuracy, timeliness, and impartiality. Our editorial team is separate and independent of our site's advertisers, and the opinions they express on our site are their own. To read more about our team members and their editorial backgrounds, please visit our site's About page.