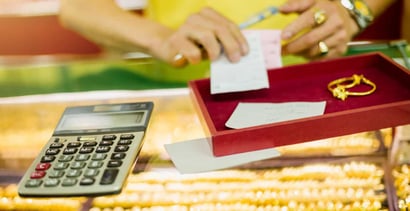 Our popular "How-To" series is for those who seek to improve their subprime credit rating. Our articles follow strict
editorial guidelines
.
If you have valuables that you're not currently using and you need some quick cash to tide you over, you may be able to borrow against their value. There are more than 9,000 pawnshops operating in the United States, and one may be able to help you out when you're in a financial pinch. 
But should you pursue a pawnshop loan? Read on to find out. 
How a Pawnshop Loan Works
As a potential borrower, you would bring in the items that you want to pawn to the shop. Local restrictions apply, but common items typically include:
Antiques
Collectibles
Jewelry
Watches
Precious metals and gems
Sports equipment
Tools
Electronic devices, such as mobile phones and tablets
Musical instruments 
Video games
Firearms
The person working at the shop will assess the item you bring in. Depending on the condition and resale value, you may be offered a loan calculated on a fraction of what it is worth. 
In general, you can borrow between 25% to 60% of the assigned value. The final amount you can borrow may be smaller than you anticipate. 
For example, let's say you brought in a watch you purchased for $1,000. Do not assume that you can borrow that amount of money. Instead, the pawnshop worker may determine that they can sell it for $500 (even if you think you can get a lot more for it), and will offer you a loan based on 35% of the determined resale price. 
In this example, that equals a loan of $175. Not much for a watch that cost you a grand. 
And then comes interest and fees. The pawnshop will charge interest on the loan, with rates often 20% to 25% per month. That equates to an annual percentage rate (APR) that can easily exceed 200%. Moreover, the pawnshop can add other fees, such as for storage, to the loan.

If you choose to accept the terms, the pawnshop will give you the cash and a ticket for the item. You will have to present the ticket when you pick up your item and repay the loan.
The shop will keep that item as collateral for a specified time period. How long you have to repay the amount you borrowed plus interest and fees to reclaim the item is often based on state law, but is usually 30 to 120 days. 
In the event that you do not have enough money to pay what you owe at the end of the term, the pawnshop may allow you to renew the loan. If so, another series of fees will be attached. 
If you don't pay the loan within the agreed-upon time frame, the pawnshop will own the item. At that stage, they are free to sell it to another customer. If you would like to buy it back, you can, but it will be at the price the shop has set. 
Requirements to Get a Pawnshop Loan
There aren't too many requirements to obtain a pawnshop loan. In addition to bringing the item in, you will be asked for:
A valid form of government-issued identification. This is typically your driver's license or state-issued identification card, but you may also use your US passport. Some pawnshops may accept foreign passports if you have a verifiable US mailing address. The pawnshop will scan your ID and keep an image of it on file.
Your thumbprint or fingerprint. Some states require you to provide prints of your thumb or finger. 
A photograph of your face. Although your identification bears your picture, you may also have to have your photo taken, and the image will be held on file with the pawnshop.
A back history of the item. The pawnshop will give you a form to complete before accepting the item. This paperwork will usually ask you to provide an overview of the item and how you came to own it. 
These requirements are in place to offset the possibility of a person stealing an item and then pawning it. 
Pros and Cons of Pawn Loans
As with any financial arrangement, there are both benefits and drawbacks to pawnshop loans. Before you pursue one, make sure you understand what you're getting into. 
Pros
Fast and easy way to borrow money
You do not have to have a good credit score or any credit history at all
Because the pawnshop won't check your credit or report to the credit bureaus, it will not affect your creditworthiness 
It can be cheaper and less risky than some other loans
If you don't pay the pawnshop as agreed, it will not send the debt to collections
Cons
Accumulated interest and fees make these loans an expensive borrowing option
If you don't pay the loan, you will lose your property
Most loans are small and won't help if you need a large amount of money
Your responsible borrowing and repayment history with the loan will not help your credit 
Requesting a pawnshop loan can be an embarrassing experience
Alternatives to Pawn Loans
If a pawnshop loan isn't attractive, consider your alternatives. There are many other ways to borrow money that don't entail putting your property up as collateral. For example:
Borrow from a friend or family member. If a loved one is willing to lend you money, draw up a contract with all of the terms, then be sure to honor the agreement. 
Use a credit card to make the purchase. If you have available credit on your card, charge what you need to buy and then pay it back over time.
Withdraw money from your credit card as a cash advance. Most credit cards give you this option, but beware that the fee to withdraw cash is a few percentage points of the amount you borrow, and interest (often at a higher rate) accumulates immediately. 
Obtain a personal loan or a personal line of credit. If your credit is fair or better, you should be able to get a personal loan or line of credit with the funds available to you within a few days. 
Consolidate debt so the cumulative payment on other accounts is lower. You may do this with a consolidation loan or by going through a nonprofit credit counseling organization and enrolling in their debt management plan. 
Sell unnecessary items. Take inventory of what you own and don't need, then hold a garage sale or sell your items online on social media platforms such as Facebook and Nextdoor, or with an app like OfferUp, eBay, and LetGo.
Work a side gig. Consider all the ways you can quickly earn extra money. You can babysit, walk dogs, tutor, or become a delivery or rideshare driver. 
Reduce expenses. Take a fine-tooth comb to your budget and see where you can eliminate or drastically lower expenses so you can free up cash to pay for what you need.
Ask other creditors for a temporary hardship plan. You may need money so you can pay creditors or household bills. If so, contact them and explain your circumstances. They may grant you a time-sensitive reprieve while you get your situation under control.
Take out a payday loan. If you are working, you may borrow money against your upcoming paycheck. Just be aware that their terms can be very expensive. 
Generate donations with a crowdsourcing campaign. If you are scrambling to generate cash for a worthy cause, such as food and clothing for your family, consider setting up a donation campaign on a platform like GoFundMe.com.
Pawn Loans May Be Worth Exploring
When you absolutely need a small amount of money to tide you over for a month or two, and you have some property that you can set aside for a while, a pawnshop loan can be an option worth exploring. In fact, it's becoming easier than ever. Some of these companies are now operating online so you may not need to go to a physical location. 
Just be sure you are aware of all the downsides and adhere to the terms of the agreement. If you don't, the loan can not just cost you in excess fees, but in property loss.