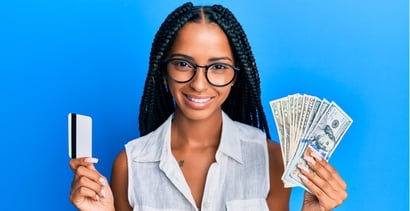 One of the benefits of having a credit card is that you can withdraw cash from your available credit line. Called a cash advance (or cash withdrawal), using your credit card to withdraw money as you would with a checking or savings account is an option when you must have a fistful of dollars. 
But cash advances also come with a litany of downsides. 
Before turning to your credit card's credit line for a cash advance, review all the pros and cons involved. Here's what you need to know, and when you may be better off with an alternative solution to your financial dilemma. 
Pros of Credit Card Cash Advances
Using your credit card's credit line to get a cash loan has quite a few benefits:
1. Fast Cash
The majority of credit card issuers allow cardholders to take out cash from their credit line. So if you need money, it's usually accessible. 
Visit your credit card issuer's website, identify your card, then review the terms to see if you qualify. It should show whether cash withdrawals are one of your card's features. Or just give your card issuer a call — the representative will let you know. 
2. Easy Withdrawals
If the credit issuer allows cash advances, you typically have a couple of options to get the money. You may go to any ATM and withdraw money as you would with a debit card attached to your checking or savings account. 

You will see a "cash withdrawal" or "cash advance" option, at which stage all you need to do is select the amount you want to take out. Or you can go inside the bank and request a withdrawal from the teller. 
Some issuers will also send you a check that you can use to take out cash. 
3. No Credit Check Needed
If you want to take out a loan from a bank or credit union, you must complete and submit an application, which would add a hard credit inquiry to your credit report. 
Lowering your credit score further may be the last thing you need if your credit is not so great. You would also need to pass the credit check, and it's possible you won't meet the lender's criteria.
But with a cash advance, the money you need is available to you in one lump sum, without jumping through any hoops or having a hard inquiry added to your credit reports. 
4. Low Minimum Payments
Unlike an installment loan that you repay through fixed monthly payments, a cash advance gives you the option to make small monthly payments to the credit card issuer. The minimum payments for a cash advance are calculated the same way card purchases are — either a small fixed amount or 1% to 3% of the total balance. 

As long as you meet the minimum payment (and pay on time), your account will remain in good standing. 
5. Can Get You Out of a Jam 
A cash advance can come in handy when you have to pay for something in cash. Although almost all merchants accept electronic payments, a few still operate on a cash-only basis. These may be mom-and-pop businesses such as dry cleaners, food trucks, child care workers, and dog walkers. 
Or you may need a substantial sum of money for rent. While there are a few third-party services where you can use your credit card for the transaction, not all landlords accept them, and they usually require enrollment and fees. Landlords generally want to be paid with a check. 
If you don't have enough money in your account for these expenses, you may consider transferring some of the funds from your credit card to cover these necessary costs. 
Cons of Credit Card Cash Advances
Unfortunately, there is also quite a long list of negative issues associated with withdrawing money from your credit card account, including: 
6. Cash Advance Fees
The credit card issuer will almost always charge you a fee just to take the money out. That fee is usually somewhere between 2% and 3% of the withdrawal, but some issuers will charge up to 5%. 

If you withdraw $1,000, the fee (added to your balance) can range from $20 to $50. The issuer also has the option to charge you a flat rate for any amount you withdraw, which can be around $10 or can charge both the flat rate plus a percentage of the withdrawal. 
7. A Few Other Fees 
In addition to the cash advance fee, you may be charged a service fee when you use an ATM to withdraw the money. Some banks will also charge a fee if you use a teller to withdraw the money. It's usually just a few dollars, but any extra cost can be painful when you are in an extreme financial pinch.  
8. High APR
Most credit card issuers charge a higher APR for cash advances than the APR for purchases. For example, you may have a 21% APR when you use the card to buy clothes at the store or for a restaurant meal. But a cash advance APR can be 30% or even higher. 

You can see how much you'll be charged by reading your card's Schumer box.
9. Interest is Added Immediately
Cash advances do not have an interest-free grace period as purchases made with a credit card usually do. So the flip side of being able to take cash out right away is that interest will be assessed as soon as you make the withdrawal. 
When the APR is ultra-high, as it often is for cash advances, the penalty for this convenience can be extreme.  
10. You Sacrifice Safety and Consumer Protections
If you have the cash that you took out from your account and then get robbed (or you lose it), the money will probably be gone for good. That won't happen if you pay with a credit card because cards have embedded fraud protection. 

And if you pay for something with cash, you lose out on perks that many credit cards come with, such as rewards and purchase protection. 
11. It May Affect Your Credit Score
It can be easy to get into debt when you rely on cash advances often, and they may negatively impact your credit utilization ratio. Credit scoring models analyze the amount you owe on your credit cards compared with your available credit limits. And if you maintain a balance greater than 30% of the limit, your scores will likely drop.
12. Lower Cash Advance Limits
Some credit card issuers allow you to tap into your entire credit line for cash advances, but many others don't. So if you think you have $5,000 at your fingertips because that's your credit limit, you may find that you can only take out half that, or even less.

The restriction can put you in a bind if you are counting on the money. 
13. No Rewards
If you are accustomed to earning points, miles, or cash with your credit card every time you use it for purchases, you'll be disappointed to learn that you do not get any rewards when you take out a cash advance. 
In fact, using credit cards for purchases and then paying your entire balance by the due date can earn you real rewards that add to your bank account, putting you in a better financial position when an emergency does arise.  
Sometimes You Just Need a Loan
There are certainly times when using your credit card as a means for cash makes sense. When you have no other way to pay for something, and you're OK with the drawbacks of credit card cash advances, they can be helpful when used infrequently. 
But when you are looking for a specific sum of money that you would like to repay over time, a personal loan can be the preferred choice.
The interest rates for a personal loan may be much lower than what you would pay with the cash advance. And the debt is not included in your credit utilization ratio, so your credit scores may be protected against too high of a revolving balance. 
Additionally, there are plenty of loans for borrowers with bad credit. Although you will have to apply – which will result in a hard credit inquiry on your credit file – there's a good chance you will qualify if you can afford the monthly payments.
Short-term loans up to $5,000
Online marketplace of lenders
Funds available in as few as 24 hours
Simple online form takes less than 5 minutes
Trusted by more than 2 million customers
| Loan Amount | Interest Rate | Loan Term | Loan Example |
| --- | --- | --- | --- |
| Up to $5,000 | Varies | Varies | See representative example |
Personal loans from $500 to $35,000
All credit types are considered and welcome
Simple, no credit impact form
Helping consumers since 2001
4.7 out of 5 Trustpilot rating with 2,000+ reviews!
| Loan Amount | Interest Rate | Loan Term | Loan Example |
| --- | --- | --- | --- |
| $500 to $35,000 | 5.99% – 35.99% | 60 Days to 72 Months | See representative example |
Loans from $500 to $10,000
Receive a loan decision in minutes
Get funds directly to your bank account
Use the loan for any purpose
| Loan Amount | Interest Rate | Loan Term | Loan Example |
| --- | --- | --- | --- |
| $500 to $10,000 | 5.99% – 35.99% | 3 to 72 Months | See representative example |
If you want to be removed from the banking system altogether, you may want to ask a friend or relative for a loan. They may not charge you any interest at all. 
Just be sure to honor any agreement you make because if you don't repay, you will lose more than money and a good credit rating. You'll put a valued relationship at risk. 
Other Times You Just Need to Say No
Turning to your credit card for instant cash is deceptively easy, but it is important to analyze your actual needs and abilities. It's probably a good idea to look at other ways to get what you want without taking out a cash advance. After all, cash withdrawals can be a very expensive option. 
If you are experiencing a financial emergency, always consider other ways to get by. You may want to restrict your spending, add income through a temporary part-time job, or sell unnecessary possessions and use the proceeds to cover the expense. 
And if all else fails, or you really do believe a credit card cash advance is wise, be sure to pay the balance off as quickly as possible to minimize the cost and the risks. 
Advertiser Disclosure
BadCredit.org is a free online resource that offers valuable content and comparison services to users. To keep this resource 100% free for users, we receive advertising compensation from the financial products listed on this page. Along with key review factors, this compensation may impact how and where products appear on the page (including, for example, the order in which they appear). BadCredit.org does not include listings for all financial products.
Our Editorial Review Policy
Our site is committed to publishing independent, accurate content guided by strict editorial guidelines. Before articles and reviews are published on our site, they undergo a thorough review process performed by a team of independent editors and subject-matter experts to ensure the content's accuracy, timeliness, and impartiality. Our editorial team is separate and independent of our site's advertisers, and the opinions they express on our site are their own. To read more about our team members and their editorial backgrounds, please visit our site's About page.