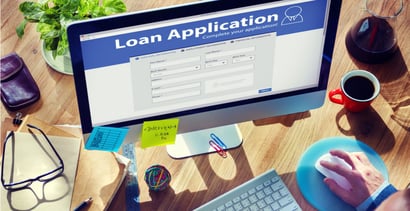 Finding installment loans online should be as simple as a quick Google search. After all, paying your loan off with monthly payments is far more convenient than having to come up with a lump sum — plus interest — to satisfy your debt.
Installment loans break your debt down into a manageable payment schedule over a predetermined period that can range from a few months to five or more years. During this time, you're paying back your principal and any interest or finance charges added to your loan agreement.
You may qualify for one of these convenient loans even if you have bad credit. Check out our recommendations below to get a head start on your research.
Best Installment Loans Online for Bad Credit
An online installment loan may be your best chance to get the funds you need if you have bad credit. These lending networks take your single loan application and forward it to all of the online lenders in the network.
If approved, you could receive multiple installment loan offers in a matter of minutes, each with a different interest rate, loan payment, and loan term requirement.
Loans from $500 to $10,000
Receive a loan decision in minutes
Get funds directly to your bank account
Use the loan for any purpose
| Loan Amount | Interest Rate | Loan Term | Loan Example |
| --- | --- | --- | --- |
| $500 to $10,000 | 5.99% - 35.99% | 3 to 72 Months | See representative example |
CashUSA.com provides a brief and secure online form where you can make your loan request and provide some basic information. That form reaches every online lender in the network that's qualified to work with you.
Lenders in the network have a history of working with bad credit borrowers to find a loan option that works for them, and each lender will individually consider your credit score, credit history, and personal loan needs.
Loans from $250 to $5,000
Cash deposited directly into your account
Get money as soon as tomorrow
Bad credit OK
More than 750,000 customers since 1998
| Loan Amount | Interest Rate | Loan Term | Loan Example |
| --- | --- | --- | --- |
| $250 to $5,000 | Varies | Varies | See representative example |
While CreditLoan.com offers unique loan packages for applicants who have bad credit, the lending network also specializes in providing education modules and tools to help borrowers understand the terms they encounter in any potential loan offer.
These modules play a major role in making sure you optimize your loan while understanding the key differences between signature loans, an unsecured loan, and a secured loan.
Loans from

$500

to

$10,000

Get connected with a lender
Simple form & quick funding
Get your money as soon as next the business day, if approved
| Loan Amount | Interest Rate | Loan Term | Loan Example |
| --- | --- | --- | --- |
| $500 to $10,000 | 5.99% - 35.99% | 3 to 60 Months | See representative example |
The Bad Credit Loans lending network offers personal installment loan opportunities with competitive finance charges to borrowers who have bad credit.
The lenders in this network review your credit score and credit history, but they understand that a few mistakes shouldn't disqualify you from finding affordable installment loans online. Keep in mind that, as with any other bad credit monthly installment loan, you may find loan offers with a higher interest rate to offset the lender risk associated with the loan.
Loans from

$1,000

to

$35,000

Large lender network
Fast loan decision
Use the loan for any purpose
Funding as soon as one business day, if approved
| Loan Amount | Interest Rate | Loan Term | Loan Example |
| --- | --- | --- | --- |
| $500 to $35,000 | 5.99% - 35.99% | 3 to 72 Months | See representative example |
If you need a larger loan amount, PersonalLoans.com could yield a loan offer of up to $35,000 with a repayment schedule that extends as long as 72 months. Every online loan comes with a different annual percentage rate and repayment term. You aren't guaranteed a loan offer through the network.
With a personal loan, you can use the funds for whatever you need — including personal expenses, debt consolidation, an auto loan, or other needs.
What is an Installment Loan?
Installment loans are the most common type of loans. With a personal installment loan, a lender gives you a set amount of money in one lump sum. You then pay that amount back — with interest and possible finance charges added — in a series of monthly payments, or installments.
Most borrowers prefer these loans over more expensive payday loan options because they allow for a smaller monthly payment that won't blow their budget.
Installment loans come in different shapes and sizes. Knowing if your loan is unsecured or secured, as well as understanding your repayment term, annual percentage rate, and origination fee can help you determine the right kind for you.
Because every borrower has different reasons why they need an online installment loan, no two loans will be the same. You can often find installment loans online for a host of purposes.
For example, you must use the proceeds of an auto loan, home loan, or business loan for their intended purpose. A personal installment loan, on the other hand, is not designated for a specific use, and you can spend your borrowed funds in any way you choose. But you should understand the two different personal loan types before proceeding.
A secured installment loan requires collateral for approval. This means you'll have to offer something of value to the lender as security for repayment before the lender approves your application.
If you default on your loan, the lender keeps the collateral. This could mean losing your vehicle, home, or other valuable possession if you stop making payments on a title loan or other secured loan product.
Some installment loan lenders prefer these loans when working with consumers who have bad credit because it offsets the risks associated with bad credit loans. As you can imagine, the borrower tends to prefer a loan product without collateral.
An unsecured installment loan requires no collateral for approval. Because the lender has no recourse if you default on your loan, you may have some trouble finding one of these loans if you have a poor credit history.
These loans may include a higher interest rate and typically require a better credit score for approval. But don't let that discourage you. The lenders listed above regularly provide unsecured installment loan offers to borrowers with varying credit histories.
Can You Have Multiple Installment Loans?
This depends solely on the lender you're working with. There's no law or rule in place that limits how many installment loans you can have at one time.
It's not uncommon to have more than one personal installment loan at a time. For example, many people have an active auto loan and home loan, which are both installment loans.
Lenders care most about extending a loan offer to someone who can pay off the debt. If you already have multiple loans with several monthly payment obligations, you may struggle to find approval for another loan.
To determine your eligibility for multiple installment loans, the lender will not only look at your credit score and credit history, but it will also consider your monthly income and current debt load — otherwise known as your debt-to-income ratio.

Some lending networks, like those listed above, only allow borrowers to have one active loan through a network lender at a time. If you have a loan through one of the lenders associated with the network, you won't qualify for another installment loan until you satisfy the first debt.
That doesn't mean you can't apply for installment loans online with another lending network, though. Before you submit a loan application, be sure to read the requirements of each lending network. That way, you won't waste your time or accrue any unwanted hard inquiries on your credit report.
Can You Get an Installment Loan with Poor Credit?
One of the biggest personal loan myths is that you must have an excellent credit score to receive installment loans online. That may have been true 30 years ago but is simply not the case today.
Back in the day, the biggest installment loan lenders were banks and credit unions, both of which had notoriously high standards for approval. If you didn't have at least a fair credit score, you didn't stand much of a chance at getting the funds you needed.
That means many consumers had to settle for an expensive payday loan or other cash advance loan product. As word spread of the dangers of such loans, a surge in online lender options made it possible for almost anyone to access affordable installment loans online.
The lending networks listed above typically offer online installment loan products to consumers who have trouble acquiring loans through traditional lenders. Each lender will differ in the loan amount, loan term, and interest rate it offers, which is why you need to study each potential loan offer before choosing one (or not — you are under no obligation to accept any loan offer).
Your online installment loan may also include a higher-than-average origination fee. These are fees lenders charge to account for the time and processes needed to create your loan.
An origination fee could be a set amount of money or a percentage of your overall loan total. For example, a 1% origination fee would charge you $20 on a $2,000 loan. Some lenders allow you to pay this fee upfront. Others will deduct it from your loan payout or spread it out over the life of your loan as part of your monthly payment.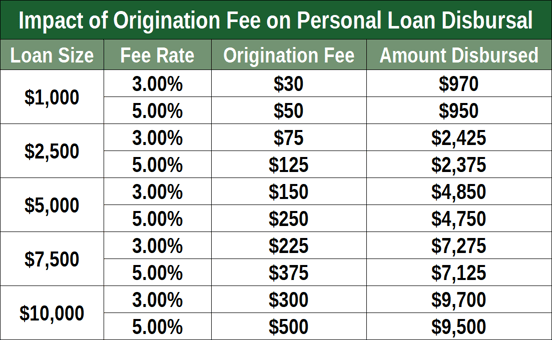 While an extra $20 charge may not seem like much, it can add up when you combine it with other potential fees and interest charges. Be sure to calculate your total cost of a loan before accepting the terms so you'll know exactly how much you'll need to repay to satisfy your debt.
How Do You Get Approved for an Installment Loan?
The easiest installment loans online — like those from the networks listed above — allow you to receive same-day approvals and next-day funding for loans of any size. You start by choosing the network that works best for your needs.
Most networks have minimum and maximum loan amounts. If you need a $5,000 personal loan, you won't get much help with a network that only provides loans of up to $2,500. Most networks state their maximums very clearly on their website.
Once you've chosen your network, you can informally apply for a loan by filling out a form on the network's website. This form typically asks for general information, such as your name, age, address, work history, and income information. This is where you'll also make a request for a specific loan amount.
The network will then send your request to every lender on the network that's qualified to work with you (some lenders aren't licensed to work in specific states). Within minutes, you'll receive an email with a loan decision. If qualified, you could receive multiple loan offers.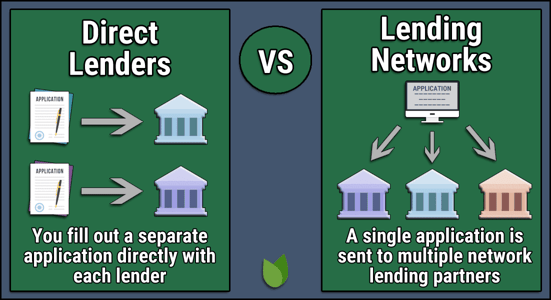 After researching your options and choosing a loan offer, the network will redirect you to the lender's website, where you'll complete a formal application and finalize the loan paperwork.
The network is not your lender. It's simply a free service that receives a fee from each lender that finalizes a loan through a referral. The network won't charge you for the service, and you won't make any monthly payments to the network.
When choosing a network, don't just look at the loan minimums and maximums. Many networks have additional approval requirements.
CashUSA.com, for example, requires that all applicants be at least 18 years old and a U.S. citizen or permanent resident. Applicants must also have an active checking account in their name and at least $1,000 in steady monthly income after taxes.
Income requirements are similar to those from other networks. Most prefer that you generate income from one specific source and not from several different jobs. If you meet the income requirements, you stand a very good chance at finding installment loans online, even if you have less-than-perfect credit.
Can You Get an Installment Loan with No Credit Check?
Most lenders want a strong assurance that you're going to pay back any money they lend you. To feel secure in their decisions, they'll typically research your financial history before making a loan decision.
This means running a credit check and examining your credit score and credit history. While the lenders listed above don't expect a perfect financial past from applicants, they do want to see that you're capable of paying your debts.
Some lenders will consider your installment loan application without running a credit check — but you can expect to pay for the privilege through higher interest rates and fees. You should also expect to look locally for these lenders, as most online installment loans require a credit check and an active banking account.
You can consider a payday loan or other short term loan without a credit check, but these loans technically aren't considered installment loans. That's because they require repayment in one lump sum after a short loan term of between two weeks and 30 days.
These loans also have an astronomically high interest rate for a short term loan.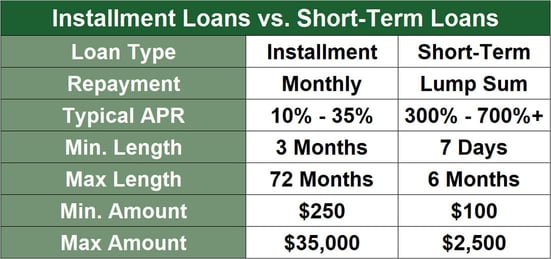 A local direct lender may forego a credit check on a loan if you can provide collateral. To make up for the risk they're taking, the lender will often require collateral that is more valuable than your loan amount.
So, for example, if you need a $3,000 loan — and don't want to submit to a credit check — you'll need to offer collateral that's worth around $4,000 to get the lender's attention.
Keep in mind that you lose your collateral if you stop paying on your loan. The lender can legally seize the item and sell it to recoup the money it has lost through your nonpayment. What's worse? If the item sells for less than what you owe on the loan, you'll still be on the hook for paying off that amount, plus you lose your collateral.
If you're struggling to find an installment loan that doesn't require a credit check, you can also consider pawning an item of value.
Another option is to enlist the help of a cosigner. This is a person who has a better credit score than you and is willing to sign on to the loan to guarantee repayment. Just remember that if you miss a payment, or default on the loan altogether, you both get dinged on your credit reports with each credit bureau the lender reports to.
There is no shortage of cosigner horror stories from loans gone bad. Make sure you're prepared to pay back any loan you take out with a cosigner — and always pay your installments on time.
What Will My Monthly Payment Be?
Every loan has different factors that affect monthly installments. Several online tools can help you get an idea of how much you'll have to pay to settle your debt.
When estimating your monthly payment, you need to consider your total loan amount, repayment term, and interest rate. The more money you borrow, the larger your monthly installment will be. Your interest rate will also greatly impact your payment amount.
For example, a $5,000 loan with 5% interest and 36 months of payments will cost you $149.85 per month. That same loan with a 3% interest rate will cost $145.81.
You can lower your monthly payment by extending your repayment term, but this isn't always the best financial decision. While you won't have to pay as much each month, you'll almost always end up paying more over the life of the loan. That's because more payments equal more interest paid.
To show this, we'll look at that same $5,000 loan with 5% interest and a 36-month repayment term. After three years, you will pay $5,394.76 to settle the debt — for a total of 394.76 in interest.
If you take that same loan and extend it for six years (72 months), you'll only pay $80.52 per month, but the amount needed to pay off the loan would equal $5,797.78 — including $797.78 in total interest. That's $403.02 more in interest than if you were to pay the loan off in three years.
And, if you accept a larger loan, those numbers get even larger.
In short, don't overextend your budget to try and pay your loan off early, but it's always smart to pay as much as you can, as often as you can. By paying the loan down, you'll improve your credit score and pay less interest.
Can I Use an Installment Loan for Debt Consolidation?
You can use a personal installment loan for debt consolidation. Just be certain that the interest rate of your new loan is equal to, or less than, the rate of your existing debt. Otherwise, you'll end up paying more over the life of the loan.
You can apply for different types of installment loans online. A personal loan allows you to use the proceeds of the loan in any way that you wish, such as for debt consolidation, or you can opt to work with a debt relief company that specializes in debt consolidation.
There's freedom in a personal loan, which often means you'll pay a slightly higher interest rate, whereas other installment loans restrict how the money is used. For example, you can't use a low-rate auto loan to pay for new gutters on your house, and a business loan can't cover personal debt consolidation.
You may also want to consider an installment loan that is designed for debt consolidation. Many of the lending networks listed above offer consolidation loans that can fold multiple existing debts into one monthly payment.
By consolidating, you'll usually lower the amount you pay each month while minimizing your interest payments.
If you're consolidating credit card debt, be sure to overcome the temptation to use the cards after you've used the loan to pay them off. If you quickly accrue more debt, you'll find yourself in the same situation — but now with a consolidation loan to pay off along with the new credit card debt.
Research and Compare Installment Loans Online
Installment loans are the easiest way to borrow money, pay it back over time, and repair your credit score through responsible usage. Even if you have bad credit, you can find installment loans online to cover personal needs, auto repair costs, mortgages, or just about anything else.
With a good lending network, like those listed above, you can leverage your buying power by pitting multiple lenders against each other for your business. That competition could yield you multiple loan offers, with competitive fees, repayment terms, and interest rates.
Advertiser Disclosure
BadCredit.org is a free online resource that offers valuable content and comparison services to users. To keep this resource 100% free for users, we receive advertising compensation from the financial products listed on this page. Along with key review factors, this compensation may impact how and where products appear on the page (including, for example, the order in which they appear). BadCredit.org does not include listings for all financial products.
Our Editorial Review Policy
Our site is committed to publishing independent, accurate content guided by strict editorial guidelines. Before articles and reviews are published on our site, they undergo a thorough review process performed by a team of independent editors and subject-matter experts to ensure the content's accuracy, timeliness, and impartiality. Our editorial team is separate and independent of our site's advertisers, and the opinions they express on our site are their own. To read more about our team members and their editorial backgrounds, please visit our site's About page.