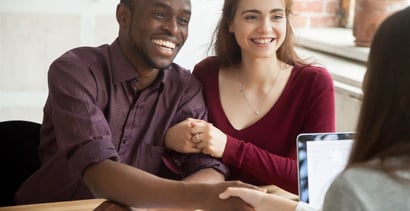 In a joint loan application, two borrowers assume the responsibility of repaying a loan. Two applicants can be better than one, even when both borrowers have poor credit, as witnessed by this review of 10 loans for joint applicants with bad credit.
A joint applicant adds another person, along with that person's income, assets, and down payment contribution. Lenders may, therefore, view the pair of applicants as less risky together than they would view either one alone.
Read on to see which loan provider offers you and your co-applicant the best loan for your purposes.
Auto | Home | Personal
FAQs + Methodology
Auto Loans for Joint Applicants with Bad Credit
These three lending services consist of networks of auto dealers, banks, and other lenders who are willing to offer automobile loans to joint applicants with bad credit. They all offer new loans for new or used cars, as well as refinancing loans on cars you already own.
With cash-out refinancing, you can turn some of your equity in your car into cash that you and your co-borrower can use as you see fit.
Network of dealer partners has closed $1 billion in bad credit auto loans
Specializes in bad credit, no credit, bankruptcy and repossession
In business since 1999
Easy, 30-second pre-qualification form
Bad credit applicants must have $1500/month income to qualify
| Interest Rate | In Business Since | Application Length | Reputation Score |
| --- | --- | --- | --- |
| 3.99% - 29.99% | 1999 | 3 minutes | 9.5/10 |
It will take only a few minutes for you and your co-applicant to fill out the Auto Credit Express online loan request form. When filling out the form, you select your monthly income from a pop-up menu.
If the income amount is low, an additional section appears and asks for your co-borrower's income. When you submit your form, you'll be asked to enter your co-borrower's information, although you're given the option to skip the co-borrower.
Free, no-obligation application
Specializes in auto loans for bankruptcy, bad credit, first-time buyer, and subprime
Affordable payments and no application fees
Connects thousands of car buyers with auto financing daily
| Interest Rate | In Business Since | Application Length | Reputation Score |
| --- | --- | --- | --- |
| Varies | 1994 | 3 minutes | 9.0/10 |
Car.Loan.Com gives you access to a large dealership network that offers bad credit loans throughout the country. It takes only three minutes to fill out the loan request form, providing information such as your address, Social Security number, and income.
If your income is low, you'll be asked to add the income of a co-borrower. You'll then provide detailed information about your co-borrower. You'll also be asked to provide your latest credit score by filling out a request form and paying $1.
Loans for new, used, and refinancing
Queries a national network of lenders
Bad credit OK
Get up to 4 offers in minutes
Receive online loan certificate or check within 24 hours
| Interest Rate | In Business Since | Application Length | Reputation Score |
| --- | --- | --- | --- |
| Varies | 2003 | 2 minutes | 7.5/10 |
MyAutoloan.com can link you to as many as four lenders in just a few minutes. The loan request form accepts individual and joint applicants. You're advised to designate the primary borrower to be the co-applicant with the better income, credit rating, and job stability.
You and your co-applicant fill out the loan request form with information about your identities, where you live, monthly rent or mortgage payments, and how long you've lived at your current address. The recommended lenders can sometimes use this information to pre-populate their loan application forms.
Home Loans for Joint Applicants with Bad Credit
The equity in your home (i.e., the current appraised value of your home minus your mortgage balance) can secure a home equity loan or home equity line of credit. Alternatively, you can cash out some of your equity by refinancing an existing mortgage for more than your current loan balance.
The following lending sources accept individual and joint applicants with bad credit (ranging from 500 to 620) as long as you meet the lender's other requirements.
4. LendingTree
This offer is currently not available.
| Interest Rate | In Business Since | Application Length | Reputation Score |
| --- | --- | --- | --- |
| N/A | N/A | N/A | N/A |
LendingTree is a peer-to-peer lending marketplace that connects applicants to individuals and businesses willing to offer loans to consumers with any type of credit. You and a joint applicant can fill out a loan request form that will be circulated to the lenders on the LendingTree marketplace.
You can apply for refinancing, home equity loans, or a new mortgage. The information on the joint application form will be evaluated by LendingTree to verify you meet its minimum standards. If so, one or more lenders may contact you to complete the loan process.
Easy to OwnSM programs give options for those with lower income, limited credit history, and low down payment needs.
Provides the potential for minimal out-of-pocket expenses with seller contributions.
Offers loans that don't require monthly mortgage insurance.
Requires less cash upfront for your down payment and closing costs.
| Interest Rate | In Business Since | Application Length | Reputation Score |
| --- | --- | --- | --- |
| Varies | 1852 | 6 Minutes | 8.0/10 |
Wells Fargo Home Mortgage is a direct provider of mortgages and other types of home loans. The bank's online application form accommodates up to two co-applicants. The bank also accepts off-line applications from more than two co-applicants.
Wells Fargo offers loans that are guaranteed by the Federal Housing Administration and the Veterans Administration. In addition, it offers its Easy to OwnSM Guaranteed Rural Housing programs to make home loans more affordable.
For military veterans, service members, their spouses, and other eligible beneficiaries only
No down payment and no monthly mortgage insurance
The basic entitlement available to each eligible veteran is $36,000
Lenders generally loan up to 4 times a veteran's available entitlement without a down payment
| Interest Rate | In Business Since | Application Length | Reputation Score |
| --- | --- | --- | --- |
| Varies by Applicant | 1944 | 9 Minutes | 7.5/10 |
The U.S. Department of Veterans Affairs is the sponsor of the VA-Guaranteed Home Loan Program. The program offers a Joint VA Home Loan, in which one of the co-borrowers need not be a veteran nor spouse, as long as the other borrower receives a Certificate of Eligibility from the VA. In fact, multiple veteran and non-veteran borrowers can apply for a Joint VA Home loan.
The amount of the loan that the VA will guarantee varies between 25% and 50% and depends on the applicants' income. When the co-borrower is not a spouse, the borrower must receive approval directly from the VA rather than from the lender.
Personal Loans for Joint Applicants with Bad Credit
The following three lenders provide direct personal loans to borrowers and joint applicants, even ones with bad credit. Personal loans are unsecured, meaning that borrowers don't necessarily rely on collateral to secure the loan. The lack of collateral makes it even more important to show enough income after expenses to satisfy the credit standards of these lenders.
7. OneMain Financial
OneMain Financial is a conventional lender with about 1,600 brick-and-mortar locations throughout the country. You and a co-applicant can apply online for a personal loan, but you must then visit a branch office to complete the process.
The lender specifies that when you apply for a joint account, you agree that both applicants intend to apply for joint credit. While OneMain Financial offers unsecured personal loans, they may require a first lien on a motor vehicle for larger loan amounts. Loan amounts range from $1,500 to $20,000 with repayment terms of up to 60 months.
8. FreedomPlus
FreedomPlus offers direct personal loans from $7,500 to $40,000, with APRs adjusted for the creditworthiness of borrowers. The website advises you can add a co-borrower with sufficient income to help qualify for a loan.
It also states that you may qualify for a larger loan if you use the proceeds to consolidate other debt. The lender underwrites loans based upon credit score, eligibility restrictions, loan amount, application review, loan term, credit usage, and credit history. Therefore, having the benefit of income from two or more applicants may be enough to overcome bad credit scores.
9. Mariner Finance
Mariner Finance operates more than 450 branches in 24 states, but also allows you to apply online for a personal loan. The lender states that there are no minimum qualifications or requirements to apply.
Loan approval hinges on several factors, including loan amount, credit history, loan term, debt, and income. Mariner Finance offers secured, unsecured, and co-signed personal loans from $1,000 to $25,000, and loans in the range of $1,500 to $15,000 can be funded online. Applying for a loan will not impact the credit score of the applicant or any co-applicants.
Personal Loans for Bad Credit that Don't Require a Cosigner
Many borrowers favor personal loans that don't require a co-applicant. It may be that the borrower would prefer to apply alone or that no co-applicant is available.
These three lending services provide access to their networks of direct lenders. All three accommodate single-applicant loans that don't require a cosigner.
Short-term loans up to $5,000
Online marketplace of lenders
Funds available in as few as 24 hours
Simple online form takes less than 5 minutes
Trusted by more than 2 million customers
| Loan Amount | Interest Rate | Loan Term | Loan Example |
| --- | --- | --- | --- |
| Up to $5,000 | Varies | Varies | See representative example |
MoneyMutual is a loan-matching service that offers access to a network of lenders. You need to have a reliable income of at least $800 per month from a job or other source. You begin by filling out a short request form for loans up to $2,500.
If you meet the minimum standards, then MoneyMutual will link you to the optimal lender from its network. You can expect to receive a decision right away and funding as soon as the next business day.
Loans from $500 to $10,000
Receive a loan decision in minutes
Get funds directly to your bank account
Use the loan for any purpose
| Loan Amount | Interest Rate | Loan Term | Loan Example |
| --- | --- | --- | --- |
| $500 to $10,000 | 5.99% - 35.99% | 3 to 72 Months | See representative example |
CashUSA.com allows you to request a personal loan from $500 to $10,000. You must prove after-tax income of at least $1,000 per month, plus meet age and residency requirements. Loans are primarily based upon applicants' job history and regular paychecks. This allows CashUSA.com to arrange loans for consumers with poor or no credit.
The lending service employs a network of lenders that accommodate borrowers with all types of credit. Lenders usually offer an immediate decision and next-day funding.
Loans from $250 to $5,000
Cash deposited directly into your account
Get money as soon as tomorrow
Bad credit OK
More than 750,000 customers since 1998
| Interest Rate | In Business Since | Application Length | Reputation Score |
| --- | --- | --- | --- |
| Varies | | 4 minutes | |
CreditLoan facilitates loans of $250 to $5,000 to consumers with bad credit. You start the process by completing a short loan request form. While cosigners are welcome, they are not required.
Your loan request is matched to a lender on the CreditLoan network and you are transferred to the lender's website. There, you complete the application and, if approved, can receive your money as soon as the next business day.
Can Two People with Bad Credit Get a Loan Together?
Basically, you and another person can apply for a loan together in either of two ways, even if you both have bad credit. That is, you can have someone apply as a co-borrower or as a cosigner. The two methods have different implications.
You and a co-borrower can apply for a joint loan in which both of you get equal access to the money. You both carry the debt and are expected to repay it.
The co-borrower can help your chances of approval and of obtaining more favorable terms. Lenders consider a co-borrower's income, assets, and credit history along with your own. Some lenders will accept lower credit scores for co-borrowers than for a single applicant.
On the other hand, you can apply for a loan with the help of a cosigner. The cosigner is responsible for guaranteeing the loan if the primary borrower falters. However, the cosigner doesn't receive any of the loan proceeds nor is routinely billed for monthly repayments.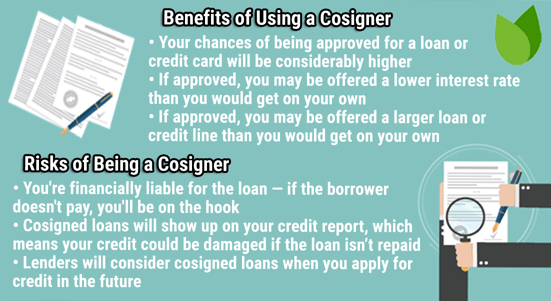 In addition, a cosigner does not have access to information about the loan, such as whether you've missed payments or how much you still owe. Ultimately, both the borrower and cosigner are obligated to repay the loan.
Whether you take a joint loan or a cosigned one, most lenders require a hard check of both applicants' credit. That may temporarily reduce your credit scores, but the impact is small. Lenders report repayments to one or more of the three credit bureaus.
Is it Better to Do a Joint Loan Application?
The benefit of a joint loan application is situational. If both parties have bad credit, you have to ask whether the co-applicant helps more than hurts.
Typically, the person with the higher credit score is the primary applicant. How co-applicants with lower credit scores help may not be obvious, but they can indeed if they can demonstrate additional income or assets in excess of any debt they have.
Lenders have more to work with when evaluating a joint loan application. For example, a co-applicant may have a long, steady employment record and a reliable income. These factors help despite the co-applicant's bad credit score.
But not all co-applicants are helpful. If a co-applicant has substantial debt and little income, then your combined debt-to-income ratio will suffer. In that situation, you may have a better chance of approval by applying on your own.

If you can't supply a helpful co-applicant, you may have to settle for a smaller loan. That's not all bad — you'll pay less interest when the loan is smaller.
Another factor is whether the loan is secured. If you use your equity in a home or vehicle as collateral, you may not need a co-applicant to qualify for a loan. Conversely, if your co-applicant is the one who brings collateral to the deal, then his or her presence may be decisive.
Can You Apply for Joint Car Financing?
Car dealers are in the business of moving cars off their lots, and they welcome anything that can help them succeed in that endeavor. Joint car financing is often helpful and certainly permitted. However, you should fully understand the implications of joint car financing on the co-borrowers.
The first thing is that both co-borrowers will take the title to the car and be equally responsible for loan repayments. Before you enlist a co-borrower, ask yourself whether you're okay with joint ownership of the vehicle. It's one thing if the co-applicant is your spouse or family member, another thing entirely if not.
Have you worked out an understanding of how the car will be used, or will the car be a recurring source of friction as you both contend for its use? Is your co-borrower committed to helping make the monthly payments? These are issues you should resolve before applying for a joint car loan.
If you feel that a co-borrower will be problematic, you may prefer using a cosigner instead. A cosigner shouldn't expect to drive the vehicle nor pay any of the monthly payments. Yet the cosigner can make the difference in whether you get the loan.


One thing to bear in mind is that you may be able to refinance your vehicle if your credit improves. By refinancing your car, you can remove your co-borrower or cosigner from the deal. This alone may be a powerful incentive to improve your credit score.
Ranking Methodology
Our list of loans for joint applicants with bad credit looks at the limited number of lenders and lending networks that allow two applicants on a single loan. We evaluated home, auto, and personal loan lenders and networks based on their likelihood to approve poor-credit applicants, payment reporting to the credit bureaus, Better Business Bureau and/or business reputation scores, rates and terms offered, and overall customer satisfaction ratings on Trustpilot.
BadCredit.org's reviews undergo a thorough editorial integrity process to ensure that content is not compromised by advertiser influence.
Advertiser Disclosure
BadCredit.org is a free online resource that offers valuable content and comparison services to users. To keep this resource 100% free for users, we receive advertising compensation from the financial products listed on this page. Along with key review factors, this compensation may impact how and where products appear on the page (including, for example, the order in which they appear). BadCredit.org does not include listings for all financial products.
Our Editorial Review Policy
Our site is committed to publishing independent, accurate content guided by strict editorial guidelines. Before articles and reviews are published on our site, they undergo a thorough review process performed by a team of independent editors and subject-matter experts to ensure the content's accuracy, timeliness, and impartiality. Our editorial team is separate and independent of our site's advertisers, and the opinions they express on our site are their own. To read more about our team members and their editorial backgrounds, please visit our site's About page.