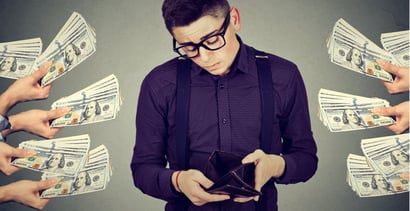 When you need money quickly, figuring out where to get the best personal loans for bad credit can be a struggle. Do you sell something you own? Do you cash out a whole life insurance policy? Do you ask a friend?
That's where personal loans come in handy. They're a type of installment loan that people can use for almost any purpose, including to pay off other loans, as an emergency loan if you lose your job, or to finance a purchase.
Read on to find the best bad credit loan for you.
Best Overall | Installment Loans | Short Term Loans | Loan Alternatives | FAQs
Best Overall Personal Loan for Bad Credit
Not all lenders are willing to work with customers who have poor credit. Here's our pick for the best overall bad credit personal loan:
Short-term loans up to $5,000
Online marketplace of lenders
Funds available in as few as 24 hours
Simple online form takes less than 5 minutes
Trusted by more than 2 million customers
| Loan Amount | Interest Rate | Loan Term | Loan Example |
| --- | --- | --- | --- |
| Up to $5,000 | Varies | Varies | See representative example |
MoneyMutual is an online lender marketplace that connects borrowers with bad credit to lenders that provide personal loans. MoneyMutual's network of lenders provide personal loans of up to $2,500 (minimum loan amount is $200) and have serviced more than 2 million customers.
To qualify for a loan, you must be currently employed or receive some form of income, earn at least $800 a month, be 18 years or older, a U.S. resident, and have a current checking account. A soft credit check is performed to determine your creditworthiness.
The application process is brief, and most borrowers will hear back within a few minutes. Loan funding is often deposited within 24 hours of completing the loan application. Loan terms and interest rates vary based on the individual lender.
Personal Installment Loans for Bad Credit
A variety of lenders offer personal installment loans for bad credit. The loan networks listed below connect borrowers to lenders that can fund most bad credit loan requests.
CashUSA is a marketplace that helps borrowers find potential lenders. Its lenders offer personal loans ranging from $500 to $10,000. The APR is between 5.99% to 35.99%, depending on your creditworthiness and other factors. Terms range between 90 days to 72 months. Once you're approved, the deposit can be completed within one business day.
You need to be 18 years old and a U.S. citizen or permanent resident, earn at least $1,000 a month after taxes, have your own checking account, provide work and personal phone numbers, and have a valid email address.
CreditLoan.com specifically focuses on personal loans for those with bad credit. It's a lender marketplace, so borrowers will have their bad credit loan application submitted to several lenders at once.
The interest rate and terms vary depending on your credit history, loan amount, and other factors. You need to have a bank account to be eligible for a loan. You may receive loan approval as soon as you apply, and the funds can be transferred within 24 hours.
Bad Credit Loans is another lender marketplace that finds the best lender for you. The APR fluctuates from 5.99% and 35.99%, and the maximum loan amount is $10,000.
Eligible applicants need to be at least 18 years old, a U.S. citizen or legal resident, and have a regular source of income that can include regular employment, Social Security, or disability benefits. You also need to have a checking account and provide a work and home phone number.
To apply for a loan at PersonalLoan.com, you must be at least 18 years old and a U.S. citizen or legal resident. Your income will be verified so make sure to be accurate on your application.
Be sure to read through every loan offer you receive so you can find the best loan option for you.
Short Term Personal Loans for Bad Credit
Several online lenders can help if you only need to borrow a small sum of money over a short period. Here are our top picks:
MoneyMutual is one of the top lenders when it comes to small personal loans for bad credit. Applicants should be currently employed or receiving government assistance, earn at least $800 a month, be 18 years or older and a U.S. resident, and have a valid checking account.
Most approved applicants will hear back on the same day, and the loan amount will be deposited in your bank account within one or two business days. The exact loan terms and interest rates will vary based on the individual lender MoneyMutual connects you with.
Borrowers who apply for a loan through CashAdvance.com need to be at least 18 years old and a U.S. citizen, and have a job with a valid employer that pays at least $1,000 a month after taxes, a checking account, work and home phone numbers, and an email address.
Once your application is approved, you may receive the funds the next business day.
Alternatives to Personal Loans for Bad Credit
A personal loan can be expensive if you have a poor credit history. In some cases, even lenders specifically focusing on consumers with low credit scores will reject your loan application.
If you need money, have bad credit, and don't qualify for a personal loan, check out these other options:
Crowdsource the Money
If you truly need money quickly and don't have good credit, consider crowdsourcing the money from family, friends, and complete strangers.
Sites like GoFundMe let you create a fundraising page where people can donate money to you. You determine your fundraising goal, post updates, and thank people for their support. You'll get all of what's raised, even if it's less than 100% of the goal.
GoFundMe charges a payment processing fee for donors, which means you keep all of the proceeds raised. You can share the personalized link via social media and email to find more donors.
Processing for withdrawals from GoFundMe takes between two to five business days, so you can get the money quickly. If you don't want to use an official crowdsourcing page, you can also create a PayPal or Venmo account and ask people to send you money there.
Borrow from Friends and Family
If you aren't comfortable creating a crowdfunding website, you can ask for a loan from your friends and family.
Borrowing money from people you know can be awkward, especially if they've lent you money before. To make it more official, you can draw up a document outlining how you'll repay the money.
Offer to pay interest so there's more incentive for the person to lend you money. You can also try to do extra errands and chores for them as thanks, like mowing the lawn or babysitting.
If you run into problems making payments, be honest, and contact the person as soon as possible. The person who lent you the money will be more likely to forgive you for being late if he or she has advance notice.
Use the Earnin App
Earnin is an app that gives users credit for hours they've already worked. Unlike a payday loan, you decide how much to pay Earnin for the privilege of accessing your paycheck early.
Here's how it works. First, download the app, which you can find on the Google Play Store or the Apple App Store.
Next, give it permission to access your location. Provide the required information, including where you live, where you work, whether you get paid hourly, on salary or per tasks, and if you commute to work or work from home.
The app then tracks when you go to work and when you come home. From there it determines how many hours you've worked and how much you've earned.
Once the app has tracked your hours, you can request that part of your paycheck be deposited in your bank account early. At first, you can only request $100, but this may increase up to $500 if you successfully repay Earnin.
One downside to the app is that only people who work outside the house can use it. Also, people who make money through gig economy services like Uber, Lyft, and Postmates can't use the app. This is because Earnin relies on location-tracking to verify that you were at work and how long you worked.
If Earnin doesn't fit with your job situation, consider asking your employer for an advance on the next paycheck. Some companies have systems in place for this and may offer extended repayment plans with low interest rates. Ask your payroll or HR department if this is an option.
Take Out a Credit Card Cash Advance
A credit card cash advance is one of the few ways to get physical cash when you don't have money in the bank.
Most credit card companies will offer a cash advance, but they charge higher interest rates than they do on regular credit card purchases. There's also an extra cash advance fee, usually around 5% of the cash advance.
Another difference between a cash advance and a credit card purchase is that interest begins accruing on a cash advance immediately, while you normally have 25 days, otherwise known as your credit card's grace period, before interest accrues on a credit card purchase. You should only use a cash advance if you specifically need cash, for instance if you're buying a car on Craigslist or if you have to pay rent to a landlord who doesn't accept credit cards.
If you need a cash advance and have several credit cards, see which one has the lowest cash advance interest rate and fees before applying. This will ensure you don't pay more interest than necessary.

The total amount you can borrow from a credit card cash advance is usually about 20% of your credit limit. If you have a $10,000 credit limit, then you can borrow $2,000 as a cash advance.
You can get the cash by using your credit card at an ATM, asking for a withdrawal at a physical bank branch, or by using the cash advance checks provided by the credit card company.
Apply for a Cash-Out Refinance
Unlike most refinancing options, you may qualify for a cash-out refinance even if you have bad credit. A cash-out refinance is when you refinance your mortgage for an amount greater than your current mortgage balance and receive the extra equity as cash. Homeowners whose homes have increased in value are good candidates for this kind of loan.
Borrowers need to have at least 15% equity in the home to be eligible for a cash-out refinance. Research several lenders to find one with the lowest closing costs, best interest rates, and the highest payout.
What is a Personal Loan for Bad Credit?
A personal loan for bad credit is an unsecured loan designed for those with poor credit scores. While the exact rates, terms, and minimum credit score requirements will vary by lender, most will have higher interest rates and lower limits than personal loans for people with good or excellent credit.
Not every lender offers personal loans for those with bad credit scores, which is why you may be denied if you apply with a traditional bank or credit union. That's why it's important to find lenders willing to work with borrowers who have bad credit.
How Can I Get a Personal Loan with Poor Credit?
While most banks and lenders require a good credit score to be approved for a personal loan, many specialized lenders have no such credit score requirement and focus on approving consumers with poor credit scores.
These lenders will usually charge higher interest rates because people with poor credit are statistically more likely to default on payments. They may also charge a higher origination fee than lenders that only deal with applicants who have excellent credit.
Which Loan Company is Best for Bad Credit?
The best loan company for bad credit depends on your specific financial situation. That's why it helps to apply with multiple lenders in case one or more reject you.
Our top recommendation for a loan of up to $2,500 is MoneyMutual:
Short-term loans up to $5,000
Online marketplace of lenders
Funds available in as few as 24 hours
Simple online form takes less than 5 minutes
Trusted by more than 2 million customers
| Loan Amount | Interest Rate | Loan Term | Loan Example |
| --- | --- | --- | --- |
| Up to $5,000 | Varies | Varies | See representative example |
If you need a larger loan amount, try CashUSA.com, where you may be approved for a loan of up to $10,000.
The lenders mentioned on this list have been vetted and carefully reviewed. If you hear of a different lender offering personal loans for bad credit consumers, research them carefully and read through the loan details and terms to ensure it is not charging more than the stated amount.
What Interest Rate Can I Expect to Pay?
According to data compiled by ValuePenguin, the average APR on a personal loan for someone with a credit score between 300 and 639 is 28.5% to 32%. You can expect to pay this kind of APR if your credit score falls between this range.


However, some personal loan companies may charge the maximum interest rate of 36%. Again, this is contingent on your credit history.
What Will My Monthly Payment Be?
Your monthly payment will vary based on the loan amount, term, interest rate, and total loan fees. Loans with larger amounts, higher interest rates, or shorter terms will have higher monthly payments than those with lower limits, lower interest rates, or longer terms.
Here's how your monthly payment may vary. Let's say you take out a $5,000 loan with a 28% interest rate and a three-year term. Your monthly loan payment would be $207 and total interest paid would be $2,445.
If you borrowed $10,000 with a 36% APR and a five-year term, your monthly payment would be $361. Your total interest paid would be $11,680. Use this personal loan calculator to see what your monthly payment may be.
If you receive personal loan offers from multiple lenders, make sure to compare the interest rate, total interest paid, and monthly payment. While it's usually best to get a lower interest rate, you should also find a monthly payment that fits your budget and income.
Don't choose a payment that's harder to afford just to save on interest. You can always pay extra to repay the loan faster.
Can I Get a Loan without a Credit Check?
It is more difficult to secure a personal loan without a credit check. The lender will instead rely on your income and ability to repay the loan to grant approval. No-credit-check loans are most often payday loans, title loans, or pawnshop loans.


If a lender promises to give you a loan without running a credit check and reviewing your credit report, it is likely going to charge you high fees and high interest rates. Title loans and pawnshop loans are secured loans, which means you'll lose your collateral if you default on payments, making these loans risky for most borrowers.
Can I Get a Personal Loan for Debt Consolidation?
Debt consolidation is one of the most common reasons people take out personal loans. Borrowers often use a personal loan for debt consolidation because they can't afford their current monthly payments and want to extend their debt repayment term. They may also use a personal loan to consolidate their debt into one monthly payment.
You can also use a debt consolidation loan to pay off high-interest debt, including payday loans, title loans, and most often credit card debt. You'll save on interest with this method because payday loans and title loans have higher interest rates than personal loans.
It only makes sense to take out a debt consolidation loan if the interest rate you receive is lower than the APR on your existing debts.
Will I Be Approved If I Have a Lot of Credit Card Debt?
Having a lot of credit card debt won't necessarily prevent you from being approved for a personal loan, especially if you're working with lenders who focus on bad credit loans.
However, one of the reasons for a bad credit score is a large debt-to-income (DTI) ratio. This is your current monthly debt payments divided by your gross or pre-tax monthly income. Your DTI may be high if you have a lot of credit card debt.

Your credit score may improve if you pay down this debt or if your income increases. A good rule of thumb is to have a DTI of less than 43%.
Anything more than that will make it difficult to qualify for a loan or credit card, as the lender will think you're relying too much on credit.
What's the Difference Between a Secured Loan and an Unsecured Loan?
A secured loan has collateral behind it, like a house or car. Mortgages and auto loans are some of the most common examples of secured loans.
An unsecured personal loan doesn't have any collateral backing it as a secured personal loan does. Most personal loans, private and federal student loans, and credit cards are examples of unsecured loans.
Lenders are allowed to repossess the collateral behind secured loans if the borrower stops making payments and defaults on the loan. This is why secured loans have lower interest rates and better terms. If you default on an unsecured loan, the lender doesn't have any recourse except to sue you for the remaining amount and try to garnish your wages.
What's the Difference Between a Personal Loan and a Payday Loan?
Though their names sound similar, there are striking differences between personal loans and payday loans.
A payday loan is a short-term loan that's usually due within two to four weeks after being disbursed. Payday loans are often distributed without a credit check, so they're popular with people who have bad credit. Most bad credit personal loans do perform a credit check, so the lender may rule out applicants who are in the middle of bankruptcy proceedings.
Payday loans are less regulated than personal loans and often have high interest rates, around 400%+ APR. Because payday loans have such short terms, it's very difficult to repay them by the time the loan is due. Payday lenders also target consumers living paycheck to paycheck, so it's often difficult for borrowers to come up with the money in time.
According to the Consumer Financial Protection Bureau, about 80% of payday loan recipients roll over the loan into a new loan. When borrowers roll over a payday loan, the interest is then added to the principal so the borrower ends up owing more interest with the new loan.
Payday loans are notorious for trapping borrowers in a cycle of debt. It's always better to apply for a personal loan than a payday loan.
If you don't qualify for a personal loan, try one of the personal loan alternatives mentioned above before resorting to a payday loan.
What's the Difference Between a Personal Loan and a Title Loan?
A title loan is a type of secured personal loan with terms similar to loans from a payday lender. Both have short terms, exceedingly high interest rates, and focus on borrowers without other credit options.
Unlike a payday loan, a title loan uses your car as collateral against the loan. This makes it a secured loan, while a payday loan or a personal loan is an unsecured loan. Your auto loan must be paid off to qualify for a title loan because the vehicle title is the collateral.
The danger of using a title loan is that you could lose your car if you default on the payments. Since most people rely on their car as a primary mode of transportation, this could lead to even bigger problems like losing your job.
Will Getting a Cosigner Help Me Get a Personal Loan?
Applicants with low credit scores will often struggle to be approved for a personal loan, and even available loans often come with high interest rates. Applying for a loan with a cosigner makes it easier to be approved and qualify for lower interest rates.
Asking someone to cosign on a loan can be an awkward situation. When someone cosigns on a loan, it shows up on their credit report. This means every payment you make will be visible on their credit history to other lenders.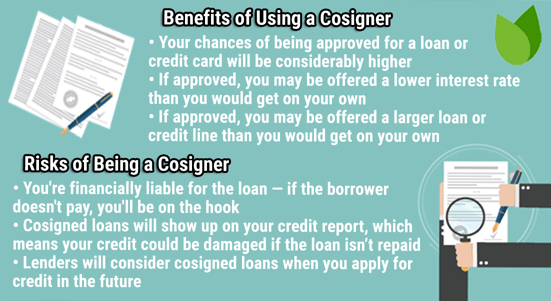 If you miss a payment or default on the loan, the cosigner's credit rating will be affected. This could make it harder for them to apply for their own loan in the future.
If you ask someone to be a cosigner, make sure they understand what it entails. Some cosigners may not realize that their credit will be affected. If you ask someone who's about to buy a house to cosign on a loan, you could be jeopardizing their chances of being approved.
If your credit improves, you may be able to refinance the loan so your cosigner is released from his or her obligation. It can take months or even years to rehab your credit, so don't count on being able to do this quickly.
Only cosigners with good or excellent credit will help you qualify for a personal loan. Using a cosigner who also has bad or poor credit won't improve your chances of getting approved.
Why Do I Have a Bad Credit Score?
A low credit score may be a result of a bankruptcy, a debt that went to collections, or a history of late payments. Understanding why your score is low can help you avoid those same mistakes in the future.


Go to your credit accounts and set up autopay on all your bills. This will prevent you from making late payments. Your payment history makes up 35% of your credit score and is the biggest single factor.
You should double-check the payments every month to ensure they went through correctly. Set reminders on your phone and put due dates in your calendar. If you switch checking accounts, make sure to set up autopay from your new account.
Your credit utilization ratio, which is responsible for 30% of your credit score, may be another reason for your poor credit and. This ratio shows how much available credit you're using.
You can calculate your credit utilization ratio by dividing your current credit balances by your total credit limit(s). An ideal credit utilization ratio should be below 30%.
The third factor in your credit score is the average credit age or the length of your credit history. This is calculated by adding how long you've had each current credit account and finding the average.
The longer your credit history, the higher your score.
How Can I Improve my Credit Score?
Having bad credit is not a permanent condition. No matter what kind of credit score you have, you can improve it over time.
You have two basic options if you don't have any current forms of credit and want to improve your credit score: You can open a credit builder loan or apply for a secured credit card.
A credit builder loan is a credit product specifically designed to help people increase their credit score. Companies that provide credit builder loans usually don't check your credit, so it's perfect for those with low credit scores.
Here's how it works: You apply for a credit builder loan and decide what kind of term and monthly payment you can afford. Most credit builder loans have a 12- or 24-month term and a loan amount of between $300 and $1,000.
You'll make a payment to the lender every month. After the agreed-upon term has passed, you'll receive the money you paid minus any fees and interest charges.
While you're making payments, the company is reporting payment activity to the three credit bureaus. This is what builds your credit score and history.
In a sense, a credit builder loan is the opposite of a traditional loan, where you receive a large amount of money first and then repay it over a period of time.
Another common way to build your credit is with a secured credit card. Unlike an unsecured credit card, you have to put money down as collateral when applying for a secured credit card. The amount you put down, usually between $200 and $1,000, will typically be equal to the card's credit limit.
Make your payments on time and keep the total balance to 30% or less of the credit limit (the lower the better). You should see a credit score boost after several months of using a secured card responsibly.
How Do I Find My Credit Report?
You can pull your official credit report at AnnualCreditReport.com where you'll find your credit report from each of the three credit bureaus — Experian, Equifax, and TransUnion.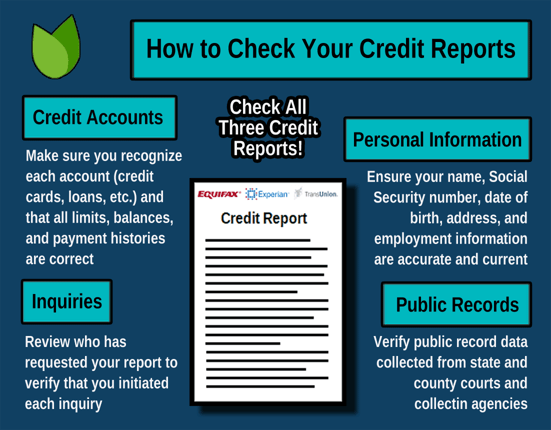 You're normally allowed to pull your credit report for free from each credit bureau only once a year, but consumers are temporarily allowed to view it for free once a week through April 2021.
Where Can I Find My Credit Score?
You can get access to your free credit score through sites like Credit Karma. Some banks, including Chase, Capital One, and Wells Fargo, also provide free access to your credit score.
Don't be alarmed if the scores on each report are a few points apart. There are dozens of credit score variations, depending on the type of lender or company that's looking at your score. The credit score a mortgage lender sees is different than what a credit card company sees, for example.
What if there's a Mistake on My Credit Report?
Mistakes on a credit report may include a case of identity theft or a simple error, like an account belonging to someone with a similar Social Security Number. According to the Federal Trade Commission (FTC), 1 in 5 people have a mistake on their credit report.
If you see a mistake, you can dispute it with each credit bureau directly:
The bureaus will contact each creditor and open an investigation. Once you initiate a dispute, the bureaus have 30 days to complete its investigation. You can check the status of your disputes on each of the bureaus' websites.
How Long Will it Take to Improve My Credit?
It's impossible to say how long it takes to increase a credit score. For a consumer with bad or low credit, it can take several months or even years of consistent on-time payments and maintaining a low credit utilization.
Your score can improve even if you have a bankruptcy or collection on your report. The effect of negative marks decreases over time. A bankruptcy from five years ago has less impact on your credit score than a bankruptcy from last year, for instance.
Monitor your credit utilization, avoid opening new accounts, and pay your bills on time. If you do those things consistently, the only task left is to be patient. Track your credit score once a month and check your credit report once a quarter.
If you have an adverse event like a bankruptcy or default, make a note of when it's supposed to fall off your credit report. This is usually supposed to occur somewhere after between seven to 10 years. If it doesn't happen after 10 years, you should dispute it with the credit bureau.
Is Bad Credit the Same as Subprime Credit?
While bad credit and subprime credit may be referred to interchangeably, there are some subtle differences between the two.
The term "subprime credit" consists of credit scores below 600, while bad credit refers to scores of 580 or below. Having poor or fair credit is better than having bad credit, but they're both still subprime.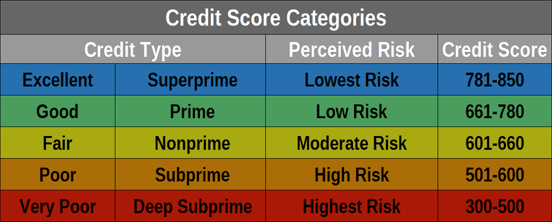 You'll likely struggle to be approved by most lenders when you have any type of subprime credit, but as we've discussed in this article, you just need to apply to the right lenders.
Will Applying for a Personal Loan Hurt My Credit?
When you apply for a loan, the lender will perform a hard credit inquiry. This may cause your credit score to drop between five to 10 points. That's why you should never apply for a loan unless you're serious.
If a lender only performs a soft credit check, your credit score will not be impacted at all. The inquiry will still show up on your credit report, but it won't affect the score.
Hard credit inquiries only remain on your credit report for two years, and their impact to your score will lessen with time. Regardless, you shouldn't let a few credit score points deter you from applying for a loan when you need one.
Research and Compare Personal Loans for Bad Credit Online
Make sure to compare rates, terms, and fees for personal loans for bad credit before applying. Each lender will have its own fee schedule, so it takes a little legwork to find the loan with the lowest rate.
Try to apply within 48 hours so all the loan applications count as one inquiry. This is called rate shopping and will ensure your credit score doesn't suffer from multiple hard inquiries.
Once your loan is approved, make sure to keep paying your bills on time. This will help improve your credit score so you can get a better interest rate next time you need a loan.
Advertiser Disclosure
BadCredit.org is a free online resource that offers valuable content and comparison services to users. To keep this resource 100% free for users, we receive advertising compensation from the financial products listed on this page. Along with key review factors, this compensation may impact how and where products appear on the page (including, for example, the order in which they appear). BadCredit.org does not include listings for all financial products.
Our Editorial Review Policy
Our site is committed to publishing independent, accurate content guided by strict editorial guidelines. Before articles and reviews are published on our site, they undergo a thorough review process performed by a team of independent editors and subject-matter experts to ensure the content's accuracy, timeliness, and impartiality. Our editorial team is separate and independent of our site's advertisers, and the opinions they express on our site are their own. To read more about our team members and their editorial backgrounds, please visit our site's About page.