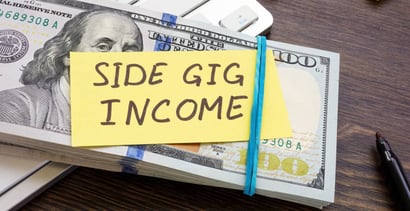 Our popular "How-To" series is for those who seek to improve their subprime credit rating. Our articles follow strict
editorial guidelines
.
You want to get ahead financially, but it's not easy. There's only so much you can do regarding your budget, and you may have already pared your expenses down to the basics. So what now? Earn more! 
A side gig can give you the flexibility you need to work your normal job or can act as a stop-gap measure when you're between employment. It can also be great for when you're at home with the kids or can't work a regular job. 
You don't necessarily need an online presence to find gig work, but it doesn't hurt to establish your brand and explain all the reasons someone should choose your services. Here are 12 side gigs to explore and estimates of how much you can make in a month:
1. Dog Walking ($200+/Mo.)
The downstairs neighbor has a golden retriever with a lot of energy. The poor thing barks constantly because his owner is at work all day and he wants to get out! If you are home during these times, you may want to offer your neighbor to walk their puppy to the park and back for $10 an hour — which amounts to $200 a month. 
If you don't have a noisy neighbor dog, sites like Barkly and Wag! can help connect you with local pet owners who need assistance.
2. Hang Out With People's Pets ($600+/Mo.)
Another option for animal lovers is to go to people's homes and take care of their pets while they are away. You may want to put a notice on a platform such as Craigslist or Nextdoor that you can pet sit. 

According to HomeGuide.com, you can earn between $20 and $30 per day (up to $60 a month for twice a week) and $45 and $75 per night (up to $150 for a weekend each month) for this type of pet care. 
3. Care For Kids ($1,500+/Mo.)
You may want to babysit for friends and neighbors. You can go to their homes so they can get a much-needed night out on the town. But because this type of gig is typically on an as-needed basis, a more secure arrangement would be for you to care for kids at your home for parents who need to go to work. 
This may be appealing if you already have children you care for at home. Check the laws for your area first, though. According to KidsSit.com, about a third of states require licensing even if you're only babysitting one child in your home, while in other states, you can watch up to seven children at once without a license. 
Whatever the case, you can earn somewhere between minimum wage and $25 per hour. With a rate of $15 per hour, five hours a day, five days a week, you could earn $1,500 for the month. 
4. Teach Your Talent ($600+/Mo.)
Do you play an instrument and would like to teach it to someone else? Trained, established professionals can command substantial hourly rates for private lessons. 

As an example, the average cost for violin lessons is generally between $55 and $75 per hour. So if you were to secure two students a week, with each session lasting an hour, you could add up to $600 — for only eight hours of work — to your bank account each month.
5. Give Your Opinion ($150/Mo.)
A number of legitimate sites offer surveys that will pay you for your opinion. It won't be a large amount of money, but if you're looking for pocket change to cover small expenses, you can use your extra time to fill out surveys.
Swagbucks, for example, pays cash and gift cards to survey takers. The company reports that members can earn $1 to $5 a day  —  or up to $150 a month if they participate on a daily basis.
6. Rate Stores and Restaurants ($100+/Mo.)
If you like to go to stores or dine out, consider becoming a mystery shopper. Reputable marketing research companies need people like you to go to different stores and restaurants and review their services afterward. 

The national average hourly pay, according to ZipRecruiter, is $24. A once-a-week gig can net you nearly $100 for the month just for doing something you enjoy. And yes, the company comps you for your meals, up to a certain dollar figure.
7. Tutoring Services ($200+/Mo.)
Maybe you're really great at math or are a history buff with a world of knowledge. If so, you can share your expertise for a price. Plenty of students are trying to pass classes and could use your help. 
How much you charge is up to you and how much the family can afford, but it can certainly put some cash in your pocket while helping out a needy student. If you charge $25 an hour (a fee not uncommon on ZipRecruiter) and put in two hours a week, you'll earn $200 a month for your service. 
8. Help People Move ($280+/Mo.)
Most people find moving to be one of the most unpleasant tasks, but if you don't mind hauling boxes and furniture out of a home and putting them (gently!) into a van or truck, you can get paid pretty well for your effort. 

Forbes reports that movers can charge between $25 to $50 per hour. Using $35 as an average, four hours of work twice a month will add $280 to your monthly budget.
9. Deliver Stuff ($1,000+/Mo.)
The pandemic created a boom for delivery drivers as people across the country maintained social distancing. Now, many people have become accustomed to ordering the things they want, from food to flowers, on an app and waiting for them to appear on their doorstep. 
Delivery drivers average around $18 per hour, according to Zippia. With that figure in mind, three hours a week can translate to just over $1,000 a month. 
10. Drive People to Their Designation ($576+/Mo.)
If you have a car, you may want to pick up people and take them to where they need to go with a ride-share service. Uber and Lyft are the two largest companies, and like delivery drivers, the amount you can earn averages $18 an hour, according to salary.com. 

Consequently, you'll earn an extra $576 a month if you put in five hours a week. 
11. Make or Buy Things to Sell  ($200+/Mo.)
Maybe you are super creative and make items such as jewelry that you can sell on sites like Etsy. Or, perhaps you have a great eye and can identify thrift shop and yard sale items that you can resell for a profit on sites like Depop or Poshmark. 
Whatever the case, this type of work can be done on your own time, and you can earn as much or as little as your customers are willing to pay. As an example, SlowNotion reported that the average per-piece earnings for an item sold on Poshmark is $13.24. That means selling four such pieces a week would equal $211.84 a month. 
12. Help Catering Companies ($200+/Mo.)
If catered events are common in your area, put yourself on a list of companies that hire people to help prepare and serve food and drinks. The shifts tend to be long and the work can be tough (seven hours on your feet, running around making sure glasses are filled and then breaking down the rented tables are typical), but the money can be worth the effort.

ZipRecruiter reports the average pay as $14 an hour (and if the minimum wage is higher in your area, it will likely be that or more). Two parties a month at seven hours per shift can earn you $198 — and you can usually bring leftovers home. 
Final Thoughts on Side Gigs
As you can see, you probably have more options for making supplemental money than you may have thought. Not only can it relieve an uncomfortably tight budget, but a side gig can also be a terrific way to build up an emergency fund that can protect you against unforeseen expenses or earn cash for something you want to purchase. In fact, it can also help you avoid having to use a credit card or take out a loan and then have to pay finance fees on the amount you borrowed.