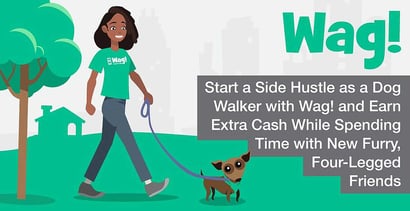 In a Nutshell: In today's connected world, there are a lot of options for a so-called side hustle, and who couldn't use some extra cash from time to time? With Wag!, those looking for an extra income stream can walk dogs for cash, while setting their own schedule and level of commitment. To become a dog walker, users must pass a screening process that includes evaluating past dog care experience and knowledge, and a background check. The streamlined Wag! process allows users to easily request and schedule walks, track their pup's journey, and see a report card after each walk. Additionally, Wag! donates a percentage of revenue from every walk to feed a dog in a shelter.
Most of us can relate to needing a little extra cash from time to time, and the internet is rife with side hustle ideas. But, common options such as taking online surveys or monetizing a personal blog are often unrealistic or pay very little. And taking on another job is not a realistic option in a lot of scenarios.
Now, there's a great solution for bringing in some extra bucks while hanging out with some furry new friends. The Wag! dog-walking service provides those looking for an extra income stream with a reliable, flexible, and fun way to earn money — as long as you love dogs. But, that's everybody, right? (Those who start sneezing at the thought of a dog are forgiven for not raising your hands.)


"We're just crazy about dogs, and people who love them," said Jason Meltzer, Wag! Co-Founder and the company's Chief Dog Officer. "We started as a company in 2015, and the idea was basically just born out of a love for dogs and an entrepreneurial spirit."
Meltzer said everything the company does comes from a motivation to bring dogs joy and keep them safe. He said in creating Wag!, he and Co-Founders Josh and Jon Viner, wanted to make pet parenthood just a little bit easier so dogs and their humans could share a more fulfilling and joyful life.
Meltzer walked us through the benefits of becoming a Wag! dog walker, an overview of the service, and how Wag! benefits dogs across the country.
Walkers Can Start Earning Money at Their Preferred Pace After a Brief Screening Process
Wag! looks for dog lovers who are responsible, professional, and trustworthy to become walkers, Meltzer said.
"Something we hear all the time is how people would actually pay to do this job," he said. "Our walkers on the platform are such huge dog lovers and they definitely feel very fortunate and happy to have this as an option."
He said in order to become a Wag! walker, applicants must pass a three-step screening process.
"Anyone can go to our website and apply with an online application," Meltzer said. "You'll be asked about your pet care and handling experience. Wag! will score your answers, and, if you pass, we'll send you a second test about leash and harness safety, which is a very important part of walking."
Next, potential walkers will sign an independent contractor agreement, attend an online or in-person orientation, and submit to a background check.
"We want to make sure that all of our dog walkers on the platform are people we can trust to take care of these pets," he said.
From there, walkers can start earning.
Becoming a Wag! walker comes with a number of benefits, besides the built-in bonus of spending more time with pups.
"Walking dogs with Wag! gives you the flexibility to be your own boss and work whenever it fits your schedule," according to the Wag! website. "Walk as much or as little as you like. The more you walk, the more you earn!"
Meltzer said several factors determine how much walkers can potentially earn, including how many dogs they walk, for how long, and how frequently. He said most walkers also receive tips after walks.
According to the website, Wag! walkers on average make $12 plus tip for a 30-minute walk.
Wag! Users Can Easily Schedule, Track, and Rate Their Pets' Walks, and Book Other Services
"We try to make it really easy for pet parents to download the Wag! app, create an account, share some information about their pet, and upload their payment information," Meltzer said.
The service offers a number of options for scheduling walks, including on-demand walks — in which dogs will be walked within 30 minutes to an hour of the request. Users can also schedule walks for later the same day or the next day.
"It's actually very common for people to wake up in the morning and think their day is all scheduled and then realize they have something on their calendar they had forgotten about," Meltzer said. "Wag! makes it really easy to find those who love to care for your dog in those last-minute situations."
He said Wag! also offers recurring weekly walks for those with a set schedule and regular needs.
Every walk is backed by Wag!'s 24/7 customer support.
"Some of our favorite features include GPS tracking, live updates, pee and poop notifications, and our unique photo report card that's delivered at the end of every walk," Meltzer said. "We try to make it feel like an immersive experience for pet parents who want to feel involved in their pets' daily needs even when they're not there."
He said walking remains the core component of Wag!'s model, but as the company evolved, it realized pet owners' needs for boarding and sitting services as well.
"We have this great supply of pet caretakers who can open up their doors and allow the dogs to stay at their place, or customers can allow the sitters to stay at the pet's home," Meltzer said. "I personally recommend the latter option because the dog is generally happier in the home environment."
Wag! customers can request preferred walkers for their one-off walking needs and can schedule a particular walker for regularly scheduled recurring walks.
Every Wag! Walk Feeds a Dog in a Shelter
Meltzer said he likes to highlight the fact that Wag! makes a donation to feed shelter dogs for walks completed on the Wag! platform.
"Our donations through this program have fed more than 5 million shelter dogs," he said.
Nearly 4 million dogs are taken into shelters or other rescues across the country each year, according to a Wag! press release.
Meltzer said even for those using Wag! to earn some extra money or to help make ends meet, it can still feel great to know they are helping dogs in need because Wag! walkers are dog lovers.
"Our shelter donations make me feel really great about what we're doing," he said. "Our walks really do feed a dog in a shelter."
Wag!'s shelter program is in partnership with GreaterGood.org and Rescue Bank.
"Sponsoring meals through the GreaterGood.org's Rescue Bank program helps participating animal-rescue groups save thousands of dollars a year in food costs, allowing them to shift scarce funds to other needs, such as spay/neuter and vet services, facility improvements, and adoption events," according to the press release.
Wag! also gives back in a number of other ways.
This past holiday season, Olivia Munn partnered with the company to deliver much-needed supplies to an L.A. shelter as part of the Wag! For Good program. The initiative also included Wag! donations to 24 other partner shelters throughout the country.
Coming Soon: Users Can Request a Specific Distance for Their Dog's Walk
Meltzer said Wag! is continually working to innovate and give Wag! walkers and pet parents the products and services they need to make the Wag! experience as good as possible. That's good news for those looking to Wag! for some extra cash and for those who need a little help with walks from time to time.
"Right now, we're piloting a feature that gives pet parents the ability to request a certain distance for the dogs' walks as opposed to a length of time," he said. "Historically, we've had a half-hour and 1-hour walk requests that walkers can opt into. But some people might need a mileage counter as a more direct metric for their pet."
He said the pilot program should expand into broader availability in the near future.
Advertiser Disclosure
BadCredit.org is a free online resource that offers valuable content and comparison services to users. To keep this resource 100% free for users, we receive advertising compensation from the financial products listed on this page. Along with key review factors, this compensation may impact how and where products appear on the page (including, for example, the order in which they appear). BadCredit.org does not include listings for all financial products.
Our Editorial Review Policy
Our site is committed to publishing independent, accurate content guided by strict editorial guidelines. Before articles and reviews are published on our site, they undergo a thorough review process performed by a team of independent editors and subject-matter experts to ensure the content's accuracy, timeliness, and impartiality. Our editorial team is separate and independent of our site's advertisers, and the opinions they express on our site are their own. To read more about our team members and their editorial backgrounds, please visit our site's About page.