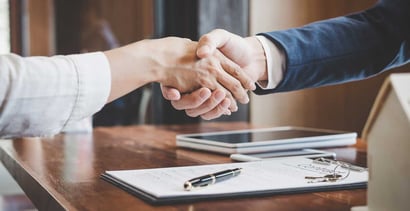 If you're in need of fast cash, you might be tempted into taking one of those short-term payday loans to meet your immediate needs. I mean, what could go wrong? You'll just pay the loan off when you get your next paycheck, right?
According to data from the Pew Charitable Trusts, the average payday loan requires a total payment of $430 due on the following payday. It further indicates that 80% of all payday loans are taken out within two weeks of borrowers paying off a previous loan, and three-quarters of payday loans are issued to borrowers who take out 11 or more of these loans in a year. Now that doesn't sound like a practical solution.
A far more manageable and affordable way to access quick cash is with a long-term installment loan that lets you pay back the borrowed amount over a period of months or even years. A loan with installments means fewer fees, a fixed payment amount each month, and a generally lower APR. And many lenders have installment loans available with no credit check requirement. In this article, we'll take a look at the top options on the market today when it comes to long-term installment loans with no credit check.
Installment Loans | Credit Cards | FAQs
Long-Term Installment Loan Providers with No Credit Check
When it comes to borrowing money, there are concessions to be made throughout the entire process. If you have less than perfect credit, you know the tradeoff will be a higher interest rate on your loan. If you prefer not to have your credit checked at all, then you'll probably be limited to a smaller loan amount. However, there are still lenders that will consider offering installment loans without a credit check. Here are some we recommend.
Loans from $500 to $10,000
Receive a loan decision in minutes
Get funds directly to your bank account
Use the loan for any purpose
| Loan Amount | Interest Rate | Loan Term | Loan Example |
| --- | --- | --- | --- |
| $500 to $10,000 | 5.99% - 35.99% | 3 to 72 Months | See representative example |
CashUSA.com
offers a quick and easy online application process, fast approval, and loans of up to $10,000 based on qualifications. Loans without a credit check are considered, but the qualifying requirements are that you must be at least 18 years of age, a U.S. citizen or resident, earn at least $1,000 a month after taxes, and have a valid checking account, email address, and phone number. Terms can range from 90 days to as much as six years, and interest rates can vary between 5.99% and 35.99% APR.
Loans from

$500

to

$10,000

Get connected with a lender
Simple form & quick funding
Get your money as soon as next the business day, if approved
| Loan Amount | Interest Rate | Loan Term | Loan Example |
| --- | --- | --- | --- |
| $500 to $10,000 | 5.99% - 35.99% | 3 to 60 Months | See representative example |
BadCreditLoans.com
has been offering loans to consumers with bad credit since 1998. The fast online application process is free and can take as little as five minutes to complete. Once the application is submitted, lenders within the network will review your request and can make a loan offer within a few minutes. You must be at least 18 years old, have a bank account, and provide a valid phone number and email address to be considered for a no-credit-check loan from one or more lenders. Loan amounts can range from $500 to $5,000, with terms from three months to three years. Typical installment loan rates from lenders in the network can be between 5.99% and 35.99% APR.
Loans from

$1,000

to

$35,000

Large lender network
Fast loan decision
Use the loan for any purpose
Funding as soon as one business day, if approved
| Loan Amount | Interest Rate | Loan Term | Loan Example |
| --- | --- | --- | --- |
| $500 to $35,000 | 5.99% - 35.99% | 3 to 72 Months | See representative example |
PersonalLoans.com
offers long-term installment loans to borrowers in a range of credit score categories, often with no credit check required. This lender network specializes in matching its applicants with the right lenders using technology and proprietary algorithms. Lending partners within the network consider all credit types and offer loans that range from $500 to $35,000 for borrowers who meet certain basic criteria. The three-step loan request process is easy, and loan terms can range from 90 days to 72 months. Most installment loan providers in the network offer rates from 5.99% to 35.99% APR.
Credit Cards with "No Credit Check"
Another way to see yourself through a cash crunch is to use a credit card — either to pay for expenses or as a way of giving yourself a cash advance loan. Of course, there are some things to keep in mind, like the fact that many credit card cash advances come with the highest interest charges the card company offers. Also, finding a credit card offer that doesn't require a credit check can be difficult. Here are our recommendations for some credit cards that can be obtained without a credit check and that almost anyone can qualify for.
| Application Length | Interest Rate | Reports Monthly | Reputation Score |
| --- | --- | --- | --- |
| 9 minutes | 35.99%* | Yes | 8.5/10 |
The
Total Visa® Unsecured Credit Card
is an unsecured credit card that doesn't require a credit check for approval. The application process for this card is fast, and a response can be provided within seconds. As a true Visa® credit card, the Total Visa® Unsecured Credit Card is accepted anywhere within the US that accepts Visa®. Things to be aware of when considering this card are a program fee paid upfront, an annual fee, and a potential monthly service fee. But for a card that requires no credit check for approval, it may be worth looking into.
| Application Length | Interest Rate | Reports Monthly | Reputation Score |
| --- | --- | --- | --- |
| 10 minutes | 35.99%* | Yes | 8.0/10 |
With the
First Access Visa® Card
you get all the benefits of the Visa® network, from a card that doesn't require a credit check. This card also doesn't require that you have good credit, as all credit types are welcome to apply. It does, however, require that you pay a program fee prior to opening the account, and an annual fee may also apply. You must also have a checking account for approval. If these requirements are satisfactory, then you're likely to be approved for this card without undergoing a credit check.
Up to $1,000 credit limit doubles up to $2,000! (Simply make your first 6 monthly minimum payments on time)
All credit types welcome to apply!
Monthly Credit Score – Sign up for electronic statements, and get your Vantage 3.0 Score Credit Score From Experian
Initial Credit Limit of $300 – $1,000* (subject to available credit)
Monthly reporting to the three major credit bureaus
See if you're Pre-Qualified without impacting your credit score
Fast and easy application process; results in seconds
Online account access 24/7
Checking Account Required
| Application Length | Interest Rate | Reports Monthly | Reputation Score |
| --- | --- | --- | --- |
| 9 minutes | 29.99% APR (Variable) | Yes | 8.5/10 |
The
Surge Mastercard®
has been designed for people with less than perfect credit, and even those with no credit history at all. It begins with a fast and easy online application and takes only seconds to learn whether you've been approved. A credit line of $300 to $1000 is possible, meaning you can cover emergency expenses as they arise. There is an annual membership fee with the Surge Mastercard®, and a checking account is required to be approved.
Can I Get an Installment Loan with Poor Credit?
Having poor credit should not be the factor that determines whether you're able to stay above water or drown in debt. Sadly, it's often the case that folks having the hardest time with their credit are also the ones who could benefit the most from a loan to carry them through the tough times.
This unfortunate fact helps keep predatory lenders in business, and keeps hard-working people in debt. Did you know that the average payday loan borrower is in debt for five months out of the year, and pays an average of $520 in fees and interest to borrow $375? An installment loan, on the other hand, can charge as little as 12% APR, and the loan can be repaid over months or even years.
Most people with poor credit don't believe they'll qualify for a long-term installment loan, so they never even attempt to apply. But in today's economy, alternative and online lenders are willing to consider factors other than just a person's credit score when making a loan decision.
Many of the lender networks, peer-to-peer platforms, and tech-based online loan operators have far looser qualification standards than they did in the past. For some lenders, qualifications are as simple as meeting a minimum age requirement (usually 18), being a citizen or legal resident, and having a valid checking account. Some also require proof of steady income and a certain amount of time on the job. But that's it.
If you're able to find a lender who will work with you, the loan you end up with will be far more manageable than a payday loan and will let you meet your emergency expenses while maintaining your other financial obligations.
Which is the Best Online Loan Company for Bad Credit?
While there are many online lenders willing to accommodate people with bad credit, the best loan to get is the one that fits your unique financial situation and needs. Just like no single car, truck, or SUV is the best vehicle for everyone, no online loan company can meet the needs of every borrower. Some things to look for when considering an online loan include:
What is the reputation of the lender? Are there reviews from actual borrowers that say positive things about customer service? How easy it is to resolve issues? Has the company had complaints filed against it?
Does the company require a fee up front before offering you a loan? If so, this isn't the type of lender you want to do business with. In fact, upfront fees are often illegal. Some of these fees may be called something else, like insurance or processing costs, but don't be fooled.
Are the terms of the loan you're being offered fair and reasonable? Does the loan offer contain all relevant information such as terms, APR, and the total amount you will have paid at the end of the loan? A loan offer should be very clear and include all of this important information.
Are there fees involved for things like making a payment over the phone, late payments, or early repayment? To comply with federal law, all fees must be clearly listed in the loan offer, and some fees or penalties are flat out illegal. Review your offer carefully.
Are the loan payments amortized? Installment loans should evenly apply part of each payment you make to both the principal amount and interest. If your initial payments are directed toward paying interest only, it's not a true installment loan.
A couple of perks of using online lenders these days is that they are often very fast and require minimal virtual paperwork. Simply follow the step-by-step application process and you'll often know if you're approved within minutes or even seconds.
Do Installment Loans Check Credit?
There's usually only one reason you're looking for an installment loan that doesn't require a credit check — your credit is terrible and you don't think you'd qualify otherwise. But is that really true? Many lenders who make long-term installment loans will extend loan offers even to people with bad credit.
For those folks who want to move forward with an installment loan that doesn't check your credit score, you need to be aware of a few things.
First, the loan amount is likely to be meager — like around $400 or less. Second, the interest will be high, as in more than a typical credit card. Count on an APR of around 35% in many cases, and some will be even higher than that. Finally, the repayment terms will be only slightly longer than with a payday loan, usually around three months.
People who have marginal credit should consider doing everything possible to raise their score before attempting an installment loan with no credit check. Even raising your score by 30 or 40 points can help you qualify for a less punitive loan.
Get copies of all your credit reports — you can do this for free at annualcreditreport.com – and review them carefully for errors or inaccuracies. You can then claim a discrepancy directly with the credit reporting agency for any entry that's not correct or doesn't belong to you. According to the FTC, 1 in 5 Americans have errors on their credit report.
Finding and disputing errors on your credit report can take a few hours of your time, but it can pay tremendous benefits. This action alone could possibly raise your credit score enough to let you qualify for a loan with better terms.
If you find that you still need to go with an installment loan that doesn't put you through the rigors of a credit check, be sure to follow the advice you've read in this guide. Consider the loan providers we've highlighted as worthwhile and legitimate lending networks. Be sure to carefully review any loan offer you receive, and be honest with yourself about your ability to repay the loan.
Advertiser Disclosure
BadCredit.org is a free online resource that offers valuable content and comparison services to users. To keep this resource 100% free for users, we receive advertising compensation from the financial products listed on this page. Along with key review factors, this compensation may impact how and where products appear on the page (including, for example, the order in which they appear). BadCredit.org does not include listings for all financial products.
Our Editorial Review Policy
Our site is committed to publishing independent, accurate content guided by strict editorial guidelines. Before articles and reviews are published on our site, they undergo a thorough review process performed by a team of independent editors and subject-matter experts to ensure the content's accuracy, timeliness, and impartiality. Our editorial team is separate and independent of our site's advertisers, and the opinions they express on our site are their own. To read more about our team members and their editorial backgrounds, please visit our site's About page.