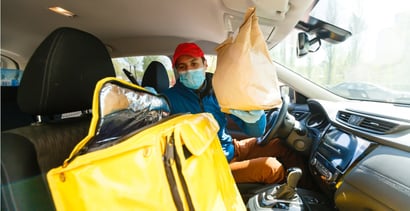 The recent pandemic has revealed that loans for delivery & rideshare drivers with bad credit are in more demand than previously thought. Many displaced workers turned to driving as a way to earn lost income, and a fair share of these folks have bad or thin credit.
If you drive for a rideshare or delivery service, read on to see the many places that will lend you money whatever your credit status.
Personal Loans | Auto Loans | FAQs
Personal Loans For Delivery & Rideshare Drivers
These networks will match you to a lender that specializes in personal loans for customers with bad credit. Drivers are welcome to apply, whether you work for big names like Uber, Lyft, DoorDash, Postmates, and GrubHub, or for lesser-known companies like Amazon Flex, GoPuff, and Ridejoy, to name a few.
All of these online lender-matching services can give you immediate decisions and next-day funding with a minimum of hassle.
Short-term loans up to $5,000
Online marketplace of lenders
Funds available in as few as 24 hours
Simple online form takes less than 5 minutes
Trusted by more than 2 million customers
| Loan Amount | Interest Rate | Loan Term | Loan Example |
| --- | --- | --- | --- |
| Up to $5,000 | Varies | Varies | See representative example |
It takes only a few minutes for MoneyMutual to prequalify you for a personal loan. You are eligible if you earn a monthly income of $800 or more, are at least 18 years old, and have an active bank account in your name. The MoneyMutual network of direct lenders is heavily experienced in finding ways to approve a loan application from bad-credit borrowers.
The direct lenders on the CashUSA.com network regularly approve personal loans to bad-credit consumers seeking a wide range of loan amounts and repayment term options. The company prequalifies applicants living in the United States who are 18 or older, earn at least $1,000/month after taxes and can provide a valid phone number, email address, and bank account number.
Prequalified applicants are immediately transferred to an online lender that will quickly render a decision and fund successful applicants as soon as the next business day. These services are free – the lending companies earn revenues when a network lender closes a loan. You are never under obligation to apply for a loan or to accept a loan offer.
BillsHappen can help drivers create a loan application for an unsecured personal loan that you can use for any purpose. Prequalification requires you to be 18+, a U.S. citizen or permanent resident with a valid Social Security number, and have regular monthly earnings and a bank account in your name. Direct lenders can put money into the bank accounts of approved borrowers in as little as 24 hours.
Perhaps your car needs some repairs you can't afford out of pocket. Whatever the reason for your loan request, CreditLoan can quickly prequalify you and set you up with a direct lender from its online network. When time is important, be eassured that CreditLoan can get you quick results despite your low credit score.
Bad Credit Loans won't turn you down just because your credit is less than perfect. To prequalify for installment loans, you must be a U.S. citizen, at least 18 years old, and have a regular income, a checking account, and a valid email address. The company will match you with the network lender most likely to approve your loan request and fund your money by the next business day.
PersonalLoans.com stands out as a matching service for personal loans in amounts much larger than those available from its competitors. You can arrange a loan repayment term long enough to make the monthly payments of even large installment loans affordable. Prequalified applicants will be 18+ and U.S. citizens or residents with dependable monthly income, a Social Security number, and an active bank account
Auto Loans For Delivery & Rideshare Drivers
You need a car to be a Lyft driver or to drive for any of the rideshare and delivery services, but bad credit won't stand in your way if you work with the right lender. These two loan-matching services will find you a local car dealer who will work hard to get you an affordable car or title loan that will help you earn income at companies like JustShareIt, Getaround, Instacart, and many more.
Network of dealer partners has closed $1 billion in bad credit auto loans
Specializes in bad credit, no credit, bankruptcy and repossession
In business since 1999
Easy, 30-second pre-qualification form
Bad credit applicants must have $1500/month income to qualify
| Interest Rate | In Business Since | Application Length | Reputation Score |
| --- | --- | --- | --- |
| 3.99% - 29.99% | 1999 | 3 minutes | 9.5/10 |
Auto Credit Express (ACE) can prequalify you for a loan from a member of its car dealer network that specializes in helping borrowers with bad credit. You start the prequalification process by completing a short loan request dialog and then working with a local dealer to glide through the remaining steps. Most lenders on the ACE network self-fund their loans, so they can approve loans that conventional lenders may turn down.
Car.Loan.com specializes in quickly prequalifying you for a subprime auto or title loan from one of its network partners. You'll need just a few minutes to complete the online loan request form. Car.Loan.com can match you with a local dealer that will provide a final decision on the same day and fund the loan on the next.
MyAutoLoan can help match you with up to four loan offers within minutes of submitting your loan request form. You can check your interest rate before you apply with no credit check. You can then plug in your estimated rate into its payment calculator to see how much car loan you can afford — all before submitting your loan request.
Can I Get a Loan as a Delivery Driver With Bad Credit?
The lenders in this review honor work and the fact that you want to earn an honest living as an Uber or Lyft driver transcends your bad credit score among these lenders. Lord knows that plenty of delivery companies are looking for reliable drivers, including Uber Eats, Shipt, Caviar, Favor, and Saucey.
The reasons to get a loan are up to you, including buying or repairing a car, paying car insurance company bills, relocating to a new neighborhood, or anything else.
Most of the personal loan providers reviewed here require a monthly income well within the reach of delivery and rideshare drivers. For example, MoneyMutual can prequalify you if you earn $800 per month — that's only $200 per week, an amount many drivers earn in less than two days.
It may be even easier to borrow from the auto loan networks reviewed above because the car collateralizes the loan. Lenders know that they can repossess a car from a borrower in default, so they are more willing to take a chance on a local resident. You can help the process by providing a down payment and selecting a modest (i.e., inexpensive) car to purchase.
If you already own your car but need additional money, consider a cash-out refinancing loan, which these networks will be happy to set up. With this kind of arrangement, you take out a new loan that's larger than the balance on your current car loan. You then use part of the proceeds to pay off the old loan and pocket the remainder for any purpose you want.
How Can I Prove My Income as a Delivery or Rideshare Driver?
Most drivers working today are most likely to be self-employed individuals rather than employees. Indeed, the controversy came to a head in California after the state legislature in 2019 passed Assembly Bill 5, reclassifying many workers in the gig economy, including delivery and rideshare drivers, as employees. In 2020, voters approved Proposition 22, and the legislature passed AB 2257, which restored independent contractor status to drivers.
As independent contractors, drivers do not receive pay stubs, but there are several alternative ways to prove income:
Form 1099: Independent contractors and the IRS receive a copy of Form 1099 each year no later than January 31. The form reports non-employee compensation of $600 or more for the previous calendar year.
Monthly earnings summaries: Many of the rideshare and delivery companies issue monthly earnings summaries that drivers can print out or receive in the mail.
Weekly earnings screens: Your company may have an online screen or dashboard showing your earnings for the week. You can take screenshots of these to build up a record of your earnings over time.
Bank statements: Your monthly bank statements should show deposits from your company that demonstrate your earnings.
Granted that many of these solutions are workarounds. While not necessarily convenient, the problems they cause are dwarfed by bigger, employment-related issues regarding health insurance, retirement plans, unemployment insurance, workers comp, and many other topics.
Does Uber Give Loans to Its Drivers?
Uber does not have a loan program for its drivers, who are considered independent contractors, not employees. If you are an Uber driver and want a loan, you must look to sources outside your company, such as the Small Business Administration, banks, credit unions, and providers of personal and payday loan offers.
Several online companies offer cash advances to drivers who are willing to sell a portion of their future sales. The lender collects payments by automatically debiting the driver's bank account. A small fee usually applies.
Can I Get a Loan Working For DoorDash?
Drivers for DoorDash, referred to as Dashers, are not employees of the company and should not expect to borrow from it. Just as with the independent drivers who work for Uber, drivers at DoorDash can avail themselves of outside loan providers, bolstered by their earnings and bank records.
During the application process for an online personal loan or some other type of borrowing, DoorDash drivers must identify themselves as a small business owner or sole proprietor, not an employee.
This article reviews online personal loan companies that cater to borrowers with bad credit. You may qualify for an unsecured personal loan from one of these services if you meet the income and other requirements.
Can Uber Drivers Apply For a PPP Loan?
The Paycheck Protection Program (PPP) first appeared in the 2020 CARES Act. PPP provides loans to many types of businesses, including to self-employed individual contractors like drivers at Uber and the other rideshare and food delivery companies. The purpose of the PPP is to help small businesses keep workers on payrolls and potentially make them eligible for loan forgiveness.
A second draw of PPP loans continued availability through May 31, 2021 thanks to the American Rescue Plan signed by President Biden in March 2021. You can follow the application process for a PPP loan if you are a self-employed individual who files Schedule C with Form 1049.
PPP isn't affected if you are collecting unemployment benefits, but be aware that if you are still partially working, your unemployment benefits may be reduced.
PPP loans can be forgiven if the proceeds are used to pay for certain expenses:
Up to 24 weeks of payroll costs in which compensation level is maintained. At least 60% of loan proceeds must be spent on payroll, without deductions.
Up to 40% of the loan amount used for other forgivable expenses. These include business payments for mortgage interest, rent, and utilities. You'll have to submit the appropriate documentation to prove these business expenses.
You can apply for loan forgiveness at any time up to the loan due date. Borrowers can defer loan payments up to 10 months. SBA Form 3508 or one of its variants can be used to request PPP loan forgiveness.
Can Gig Workers Apply For EIDL?
Yes indeed, a sole proprietor or independent contractor in the gig economy can apply for a COVID-19 Economic Injury Disaster Loan (EIDL) when they experience a temporary loss of revenue. The maximum amount you can borrow under this program is $150,000, although loan limit increases are possible. These are 30-year loans that charge a 3.75% interest rate (this is a fixed interest rate without deductions) with no prepayment penalty or fees.
The SBA provides a streamlined EIDL application that you can file online. You can receive help completing the form or check its status by calling the SBA at 1-800-659-2955 or by emailing DisasterCustomerService@sba.gov. You have until the end of 2021 to request additional money or reconsideration.
The four steps involved in getting an EIDL from the SBA are:
Apply online for the loan.
Get a loan quote for the estimated qualified loan amount. The quote does not guarantee approval.
A loan officer will review your application and contact you if they need additional information.
The loan officer will approve or decline the application.
If your loan is approved:
You'll receive an email allowing you to choose the loan amount and then sign and return the document.
The money will be deposited into your bank account within 10 days.
You're expected to keep copies of all relevant contracts and receipts for three years.
You make monthly payments through Pay.gov or by mail.
If you received a loan larger than requested, you can return the surplus by contacting the SBA.
You can use the proceeds of an EIDL to pay for normal operating expenses and working capital. Collateral is required for loans exceeding $25,000, as laid out in a general security agreement under the Uniform Commercial Code. EIDLs are not forgivable.
You can apply for both a PPP loan and an EIDL, although you can't use funds from both for the same purpose. EIDL proceeds can be used to cover a wide range of normal operating expenses and working capital. By the way, if you have multiple side gigs, you can submit an application for each eligible business.
Can I Use a Financed Car For Uber?
There is no prohibition against driving for Uber with a car that has financing. The most important issue a driver will face is getting the proper commercial rideshare insurance as the car insurance policy.
Uber maintains car insurance company insurance coverage on your behalf while you are online on the Uber Driver app, but you can expand the car insurance policy for broader insurance coverage during all rideshare and delivery usage.
One interesting alternative to car financing offered by Uber is its Vehicle Marketplace Program that helps you with renting or leasing a car from a vehicle partner. Weekly rentals begin at $150 per week (varying by city), which includes rideshare insurance and basic maintenance.
The rental program features include:
Low cost of commitment: When dealing with an Uber vehicle partner, you don't need to sign a long-term leasing contract. There are few, if any, upfront costs. You can return the vehicle any time without advance notice.
Flexible schedule: You can rent the vehicle by the hour or the week, and insurance is always included. You have the option to keep the car as long as you want. For weekly rentals, you need to make a $200 refundable deposit on your credit card.
Flexible options: You can make choices regarding car insurance features, mileage limits, maintenance provisions, and other possible options. Also, you can arrange auto-payment on your credit card.
Promotions: You may qualify for trip surge areas and Uber promotions specific to the rental partner.
The only rental cars that Uber allows must be part of an approved Vehicle Marketplace partnership with renters such as Hertz and Avis, among others. If there isn't an available rental option in your area, you can drive with someone else's vehicle as long as you are listed as an insured party.
Find the Loan You Need Online
In this review of loans for delivery & rideshare drivers with bad credit, we've identified several online lending networks for personal and car loans. Each is suited to borrowers with any kind of credit. You can get more information and prequalify for a loan by clicking the green START NOW link that will automatically transfer you to the lender's website.
Advertiser Disclosure
BadCredit.org is a free online resource that offers valuable content and comparison services to users. To keep this resource 100% free for users, we receive advertising compensation from the financial products listed on this page. Along with key review factors, this compensation may impact how and where products appear on the page (including, for example, the order in which they appear). BadCredit.org does not include listings for all financial products.
Our Editorial Review Policy
Our site is committed to publishing independent, accurate content guided by strict editorial guidelines. Before articles and reviews are published on our site, they undergo a thorough review process performed by a team of independent editors and subject-matter experts to ensure the content's accuracy, timeliness, and impartiality. Our editorial team is separate and independent of our site's advertisers, and the opinions they express on our site are their own. To read more about our team members and their editorial backgrounds, please visit our site's About page.