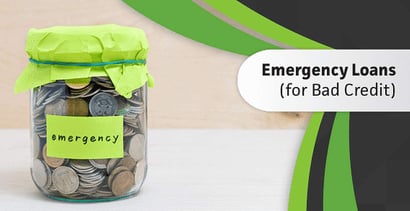 Although everyone rebuilding their credit knows to establish an emergency fund for unexpected expenses, even a well-stocked fund can't cover every emergency. Sometimes, your needs may simply outweigh your means, no matter how well you plan.
For those with poor credit, a financial emergency can be twice as devastating, as obtaining an emergency loan will often be much harder than it would be for consumers with good credit. Fortunately, you may still have a number of options for emergency loans.
We evaluate our top choices for emergency loans for bad credit, including installment loans, short-term loans, and credit card loans. And we'll also explore some tactics that may help you get your funds faster.
Installment Loans | Short-Term Loans | Credit Card Loans | Speeding the Process | FAQs
Emergency Installment Loans For Bad Credit
If your emergency has a four-figure price tag, then you'll likely need a personal installment loan, which can be obtained in amounts of $2,500 up to $35,000, depending on your credit profile.
The time it takes to receive your funding after applying will depend on the individual lender and your personal financial situation. Our top-rated lending networks work with lenders who can often provide funding in as little as one business day for well-qualified applicants.
+See More Personal Loans for Bad Credit
Perhaps the best thing about installment loans is the way they are repaid. Namely, installment loans are repaid via regular payments — or installments — over the entire loan term.
In this way, installment loans are typically much more affordable than other types of financing, such as short-term loans that require a single lump-sum repayment.
Additionally, the installment repayment plan allows you to influence the size of your monthly payment by altering the length of your loan term. Shorter loan terms mean larger monthly payments, while longer loan terms can lower your monthly payment.
However, it's important to recognize that extending your loan terms will also increase the overall cost of your loan, as each additional month will mean an additional interest payment.
Short-Term Emergency Loans For Bad Credit
In cases in which your credit score prevents you from obtaining an installment loan or you only need to borrow a small amount of money (less than $500), short-term cash advance loans are an option.
Unlike installment loans, short-term loans are repaid in a single lump-sum that includes both the principal and all finance charges. Because short-term loans typically have extremely high APRs, it's important to compare options, perhaps through an online lending network like those below.
+See More Personal Loans for Bad Credit
If there's any chance you won't be able to repay your short-term cash advance loan on the due date, think twice about taking on the loan.
Short-term loans are already the most expensive way to borrow — they can easily have APRs in the three digits — which means adding on extra finance charges to rollover your loan can trap you in a debt cycle you can't afford to escape.
Before taking on a short-term loan, consider if an installment loan or credit card can be used instead. Both will have more flexible repayment methods and lower interest rates than short-term loans.
Emergency Credit Cards For Bad Credit
In today's digital world, almost everything can be paid for by credit card, making your everyday go-to card a potential lifesaver in a financial emergency.
If you don't already have a card to handle emergencies, a number of issuers specialize in providing credit cards to poor-credit consumers, though limits will generally be low. Some of our expert-rated cards offer credit lines of up to $1,000 for qualifying applicants.
+See More Credit Cards for Bad Credit
While credit cards will generally have higher APRs than installment loans, they're still more affordable than short-term loans, particularly if you can pay off your balance before the end of the grace period to avoid interest altogether.
Additionally, if you desperately need cash, a credit card cash advance may end up being more affordable than a short-term cash advance loan, as the APR will often be lower. Most cards will charge a cash advance fee, however, so include that in your calculations.
Also, keep in mind that credit card cash advances don't come with an interest rate grace period, so pay off your balance quickly to avoid accruing too many interest fees.
Advice For Getting Your Funds Faster
The amount of time it takes to receive your funds after applying for a loan can vary drastically depending on your credit profile, the type of loan, the specific lender, and even the method of applying.
For example, online loan applications are often much quicker than paper applications, as online applications can be analyzed by a computer algorithm rather than requiring a human review for a decision.
Another way to ensure your loan is processed quickly is to research the loan ahead of time so you can provide everything that's needed when you apply. Typical requirements include:
Your name, address, and birth date
Your Social Security number
Your employer's name, address, and phone number
Your monthly income, gross and net
Your previous addresses
Your mother's maiden name
Your loan can take longer to process if the lender has to follow up for more information or to verify information, so be sure everything is included — and accurate — as requested on your application.
It's also important to apply for loans you have the best chance of being approved for, as a denial is definitely going to delay things. Checking your credit reports and scores ahead of time can alert you to any potential red flags and give you an idea of what loan terms to expect.

If you're applying for a new credit card and need to start using it as soon as possible, then consider requesting expedited shipping on your new card. Many issuers will expedite a new card upon request, though some may charge an extra fee for the service.
How Do I Compare Emergency Loans For Bad Credit?
This article reviews eight personal, payday, and credit card loans. But there's a universe of emergency loan sources we didn't cover. So how do you decide which bad credit loan is your best choice with so many available? 
Here are some essential factors to consider:
Loan Amount
Small emergencies may require modest amounts, but big ones may send you scrambling for four-digit loans. To avoid wasting time, choose a lender that can provide you with the money you need.
Personal loans can be bigger than the payday and credit card varieties, which typically enforce tighter limits. But a bad credit score may prevent you from borrowing as much as you'd like. 
Loan Availability
In an emergency, time counts. Having bad credit makes it harder to find a willing lender, and you don't want to waste time applying for loans you're not likely to get. Look to bad credit loan sources (for example, personal loan networks) that don't check credit at all (payday loan providers and credit cards you already own).
The bad credit personal loan networks reviewed above do not check credit when prequalifying you for a loan. They leave that chore to the direct lender you're matched with but note that preapproval does not guarantee you'll get the loan.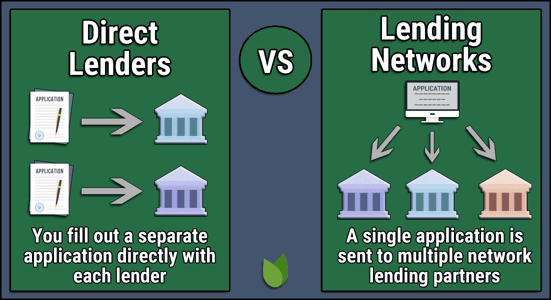 Subprime credit cards usually check credit but do not necessarily reject applications from consumers with poor credit. Many charge high fees and APRs while clamping down on initial credit lines (often only $200 to $300). Upfront charges such as application and annual fees may eat up most of your initial credit line.
The nice thing about a credit card is that, once you own it, you can get a cash advance without further approvals (assuming the card offers cash advances), an advantage in emergencies. While available to folks with a bad credit score, pawnshop and title loans are risky since you'll forfeit your collateral if you fail to repay.
Repayment Term
Installment loans allow you to stretch your repayment term over several months, an appropriate consideration when you can't afford to repay a loan all at once. On the other hand, an emergency payday loan or credit card cash advance may be suitable when you need only a few hundred dollars.
A short-term loan of this kind requires prompt repayment to avoid escalating interest charges.
Loan Interest
The APRs on personal loans top out at 36%, a fraction of the interest rate for an emergency payday loan. Payday loans charge exorbitant interest rates, but at least these lenders don't usually check credit. This tradeoff sustains the payday loan industry.

If you need less than $500 in emergency cash, the cost of a short-term loan from a payday lender may not concern you. Personal loans spread interest charges over their entire terms (usually three to 72 months).
On the plus side, you don't have to absorb interest costs all at once. But your total interest expense increases with long repayment periods. As long as you can afford the monthly payments, you may not care about a personal loan's total interest cost, especially if you need emergency cash right away.
Fees
No one likes fees, emergency or not. Payday loans charge fixed financing fees representing the interest charge. For example, you may have to repay $500 on a $425 two-week payday loan. The extra $75 is an origination fee equivalent to a three-digit APR.
Even the best emergency loans from payday lenders charge eye-watering interest rates. Personal loans usually impose an origination fee, sometimes as high as 5%. You may also encounter an application fee of $25 to $50, and charges for late payments and returned checks apply.
Although rare, some personal loans have prepayment penalties, typically ranging from 2% to 5% of the remaining loan balance. Loan APRs may include some fees while excluding others. For example, the APR on credit card cash advances ignores fees, but the origination fee for payday loans, personal loans, and mortgages fold into their APRs.
Collateral
Secured loans are relatively easy to obtain, thanks to the collateral you post. The lender puts a lien on your collateral, enabling it to quickly seize your property should you default on your loan.
Secured credit cards require cash collateral that serves the same purpose — to protect the lender against missed payments. Collateralized loans transfer default costs from the lender to the borrower. That's the reason you can get these loans despite having bad credit.
If you're confident you'll repay a loan and can post suitable collateral, a secured loan may offer the best chances for loan approval. Although rare, some bad credit personal loan providers accept collateral. They may be your best option when an unsecured personal loan is out of reach. 
Delivery Time
You want your money as quickly as possible when facing an emergency. You can obtain a cash advance from a credit card you already own in the time it takes to get to an ATM or bank branch.

But if you don't have a credit card, the initial one- to two-week wait makes this approach unsuitable for emergencies.
When you obtain a payday or unsecured personal loan through a direct lender on an online network, you may receive your funding as soon as the next business day. The lender will wire the loan proceeds to your bank account. A storefront payday loan is faster, but it requires you to locate one nearby.
Loan Flexibility
Emergencies come in all shapes and sizes. Ideally, you want complete control over your bad credit emergency loan proceeds, not a problem for personal, pawnshop, cash advance, payday, and title loans.
Conversely, loans for purchasing a car or home have a single purpose. They are not the best emergency loans, except perhaps if you suddenly need to buy a car.
If you establish one in advance, a home equity line of credit (HELOC) is an excellent emergency cash loan. Of course, you first need to own a home and have equity in it (i.e., the home's value must exceed the mortgage balance). HELOCs are revolving loan accounts, similar to credit cards, except that you secure them with your home.
You may be able to quickly arrange a cash-out auto loan to refinance a vehicle loan for an amount greater than the current loan balance. You can use the extra funds however you want. An online lender network may be the fastest way to obtain one of these loans.
Your unique circumstance will determine the relative priorities of these factors. Hopefully, you can adequately evaluate an emergency cash loan despite the pressure of time.
Can I Borrow Money With a 500 Credit Score?
Having a low credit score in the 500 range makes it tougher to get a personal loan or a credit card with a significant credit limit. Nonetheless, both are available to consumers with a low credit score or troubled credit history, as this review explains. 
If you want a no credit check loan, look to payday, pawnshop, and title lenders. Your credit history will neither help nor hinder your access to these loans. Auto cash-out refinance and home equity loans usually check credit history, making them less accessible sources of borrowed funds.
What Is the Easiest Loan to Get With Bad Credit?
Your local pawnbrokers will be happy to lend you 30% to 50% of a desirable item's value. It may take a mere five or 10 minutes to walk out of the pawnshop with money in hand. You must be 18 years old and have valid state-issued identification to get a pawn loan.
Other types of loans have different requirements. For example:
A payday loan requires you to have a job or a source of government benefits.
You must demonstrate enough income to repay a personal loan.
Credit cards usually require a hard credit inquiry. Secured credit cards need you to deposit cash collateral.
A mortgage, home equity loan, or HELOC requires you to own a home.
You must own a vehicle to get cash-out auto loan or title loan. 
Ultimately, your situation will dictate which type of loan is the easiest to get.
Can I Get an Emergency Loan From a Credit Union?
Participating federal credit unions have a unique product, the Payday Alternative Loan (PAL), that may come in handy when you face an emergency. The two loans, PAL I and PAL II, require you to be a credit union member, but PAL I makes you wait 30 days after joining before you can apply. No such delay hampers access to a PAL II. 

A PAL II lets you borrow up to $2,000 at a reasonable interest rate and a low fee. You have a year to repay the loan, and there is no prepayment penalty.
How Much Will an Emergency Loan For Bad Credit Cost?
Some emergency loans are costly. Payday, pawnshop, and title loans have three-digit APRs. The latter two will also cost you your pledged property if you default on the loan.
Credit card cash advances and many personal loans have a maximum APR of 36%. Both also charge fees that typically top out at 5% to 8%. 
Cash-out auto loans may charge a nominal processing fee, and you can expect an APR of up to 24% if you have bad credit. A HELOC may charge subprime borrowers an 18% APR.
Can I Qualify For a Bad Credit Emergency Loan If I'm Unemployed?
You don't need a job to get a pawnshop loan. Other loans require a reliable source of income, such as a job or federal benefits. 
Credit card issuers don't require you to be employed, but they must consider your ability to repay your credit card debt. Your income, not your job, is the decisive factor. 
Some loans allow you to apply with a cosigner. This approach may be necessary if you are currently unemployed. 
How Do I Identify Predatory Emergency Loans?
Predatory loans impose abusive or unfair terms on borrowers. If you feel a potential online lender is being coercive, deceptive, or dishonest, there's a good chance the lender is a predator. 
Some telltale signs of a predatory loan are:
Pressure to sign a loan agreement without first reading it
Threats if you don't agree to the loan
Interest rates that seem too good to be true
Providing false information about the loan
Demanding you to sign a credit insurance policy naming the lender as the beneficiary if you should die before repaying the loan
Inflated interest rates and fees
Pressure to take out a debt consolidation loan with a high interest rate
High prepayment penalties
If anything makes you uncomfortable about a potential loan, slow down and seek independent advice you trust. Or just walk away.
Get the Cash You Need, When You Need It
One of life's more annoying certainties is that no matter how well you plan, things will inevitably wind up off course at some point. In other words: stuff happens.
Emergencies crop up that can exhaust even the best emergency funds, making it necessary to find outside financing. While this can be a challenge with poor credit, it may not be an impossible task.
With a little research, most consumers can find the emergency loan they need. Reviews such as this can point you to the most promising sources of emergency funds.
Read all the terms and conditions before agreeing to a loan or credit card. Don't let an emergency blind you to the costs and restrictions you may face when borrowing money.
Advertiser Disclosure
BadCredit.org is a free online resource that offers valuable content and comparison services to users. To keep this resource 100% free for users, we receive advertising compensation from the financial products listed on this page. Along with key review factors, this compensation may impact how and where products appear on the page (including, for example, the order in which they appear). BadCredit.org does not include listings for all financial products.
Our Editorial Review Policy
Our site is committed to publishing independent, accurate content guided by strict editorial guidelines. Before articles and reviews are published on our site, they undergo a thorough review process performed by a team of independent editors and subject-matter experts to ensure the content's accuracy, timeliness, and impartiality. Our editorial team is separate and independent of our site's advertisers, and the opinions they express on our site are their own. To read more about our team members and their editorial backgrounds, please visit our site's About page.