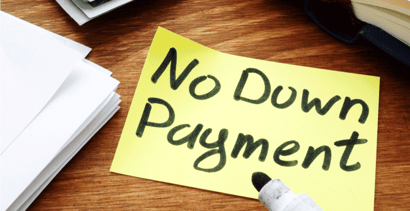 Finding no money down loans for bad credit isn't always easy. But there are still plenty of ways to get a car loan, home loan, or personal loan if you have bad credit, without having to put any money down.
A cosigner isn't needed for such loans, though having one can make loan approval easier. Still, you should be able to get these loans on your own, even if you have a poor credit history.
Here are nine companies that provide no money down loans if you have a bad credit score. We also answer common questions about how the loans work.
Car Loans | Home Loans | Personal Loans | FAQs
No-Money-Down Car Loans For Bad Credit
The three companies we recommend for an auto loan if you have bad credit are lending networks that prequalify borrowers for a car loan. You're then matched with an auto dealer or loan company to finance a car purchase.
The matching service is free. Each lending network uses nationwide lenders and dealers who specialize in lending to people who have been rejected for loans by banks.
Network of dealer partners has closed $1 billion in bad credit auto loans
Specializes in bad credit, no credit, bankruptcy and repossession
In business since 1999
Easy, 30-second pre-qualification form
Bad credit applicants must have $1500/month income to qualify
| Interest Rate | In Business Since | Application Length | Reputation Score |
| --- | --- | --- | --- |
| 3.99% - 29.99% | 1999 | 3 minutes | 9.5/10 |
Car financing with a low credit score is fairly easy at Auto Credit Express. You can find out in 30 seconds whether you qualify for a loan by providing the following information on an online form:
Your credit score, or type of credit profile you have
Total monthly income before taxes are deducted
Monthly recurring debt, such as rent and minimum credit card payments
The site helps people with bad credit, no credit, bankruptcy, or repossession, so chances are it can help you find financing for a new or used car. At least $1,500 per month in income is required to qualify.
A bad credit auto loan can be obtained for either zero down or $500 down, according to Auto Credit Express. This type of subprime auto financing is available at 1,189 active dealerships nationwide.
The online application process at Car.Loan.com takes about three minutes and can end with online loan preapproval for car financing. You may get a phone call from the company within just a few minutes, and funding can happen as soon as the next business day. The matching service is free, and you're under no obligation to accept a loan offer.
The company finds a dealership in your area that's willing to give you an auto loan, and Car.Loan.com will even set up your meeting with the financing manager. You then go to the dealership, pick out your new or used vehicle, sign the paperwork, and drive away.
MyAutoLoan.com helps borrowers prequalify for a new or used car loan, auto refinancing, private party auto financing, or a lease buyout. This loan matching service can quickly arrange up to four offers from nationwide lenders in its network.
The website has many features that easily determine how much of a loan you can afford. It has an interest rate chart to compare rates for all loan types, an interest rate estimator, and a payment calculator. It can also help you look up your credit score.
Like many other loan-matching services, MyAutoloan.com can give you final approval within minutes, and the loan money can often be sent by the next business day.
No-Money-Down Home Loans For Bad Credit
If you don't have money for a down payment on a home, a home loan is still possible, even if you have bad credit. By paying their mortgages, homebuyers build up equity in their home, which serves as collateral to secure the loan.
Here are three companies that either provide home loans directly or work with a network of lenders to compete for your mortgage loan and help you find the best mortgage rate.
Options for home purchase or refinance
Get 4 free refinance quotes in 30 seconds
Network of lenders compete for your loan
Trusted by 2 million+ home loan borrowers to date
Interest rates are near all-time lows
| Interest Rate | In Business Since | Application Length | Reputation Score |
| --- | --- | --- | --- |
| Varies | 2004 | 4 minutes | 8.5/10 |
The FHA Rate Guide doesn't fund or arrange home loans. It's a free service for a homebuyer that works with a network of lenders that compete for your loan. The FHA loans are guaranteed by the Federal Housing Administration.
After entering information about the type of home you want to buy or refinance, along with your credit score and other information, the FHA Rate Guide gives you up to four FHA-guaranteed, preapproved quotes. You're under no obligation to accept any of the offers. Another type of home loan that often doesn't require a down payment is a VA loan, which is for veterans.
Wells Fargo Home Mortgage works directly with borrowers to provide them with a variety of loan options and mortgage rates. Among its offerings that can help homebuyers  with little or no money down are an FHA loan, VA loan, and a USDA loan, or one provided by the U.S. Department of Agriculture. It also offers conventional loans to people with good credit.
The USDA loan program offered by Wells Fargo Home Mortgage is called the Easy to Own Guaranteed Rural Housing Program. Up to 100% financing is provided with no required down payment. The loan term can be a long-term, fixed-rate loan that helps keep payments predictable over the life of the loan. Borrowers may only have to finance closing costs and other prepaid fees.
Bank of America is one of the largest banks in the country, and the Bank of America Mortgage department offers many kinds of home loan programs that include assistance with down payment and closing costs. Current customers can sign in to the bank's homepage to get started, and new customers can fill out a form to provide their contact information and other personal information so a loan officer can contact them.
As with Wells Fargo, Bank of America offers 100% financing that doesn't require a down payment. Search their sites for payment mortgage calculators to see how much a loan will cost.
No-Money-Down Personal Loans For Bad Credit
Personal loans can be used for many things. Paying a credit card bill may be the most immediate need for some people, while others may need an emergency loan to pay an unexpected medical bill. Or, you may just want to borrow money so you can go on vacation or plan a wedding.
Here are three lending networks that help people find personal loans, even if they have a poor credit score.
Short-term loans up to $5,000
Online marketplace of lenders
Funds available in as few as 24 hours
Simple online form takes less than 5 minutes
Trusted by more than 2 million customers
| Loan Amount | Interest Rate | Loan Term | Loan Example |
| --- | --- | --- | --- |
| Up to $5,000 | Varies | Varies | See representative example |
MoneyMutual connects borrowers with lenders for loans from $100 to $2,500 that can be deposited into your account in as little as 24 hours. It has one of the largest networks of online lenders that pay MoneyMutual if they and the borrower agree to a loan. The service is free to borrowers who fill out a form and submit their information through the online marketplace at MoneyMutual.
To qualify for a loan, applicants must be 18 or older, have an active checking account, and provide proof of current employment and income of at least $800 per month. Lenders may have additional requirements.
CashUSA.com matches consumers with lenders that provide higher loan amounts of up to $10,000. Its network of lenders specializes in helping people with bad credit get personal loans.
However, CashSUA doesn't accept applications from people with a pending bankruptcy. Customers who have had a previous bankruptcy should make sure the case has been fully discharged and that the paperwork has been completed before they apply for a loan.
BillsHappen helps consumers find personal loans from $500 to $5,000, with funds from a lender available as early as the next business day. Using the service is free, and loans can be used for any purpose. Personal expenses include auto repairs, debt consolidation, home improvement, and medical expenses.
Consumers with any credit score may qualify for a loan. Applicants must meet other criteria, including having a driver's license number, Social Security number, home or cellphone numbers, and be age 18 or older with an active bank account to receive funds, among other criteria.
What is a No Money Down Loan?
This type of loan is exactly what the name implies: You don't have to come up with any money down to get the loan.
Down payments are commonly needed for auto and home loans. The car or home you're buying is used as collateral for the loan and isn't fully yours until you pay off the loan. If you don't make payments on the loan, the collateral can be repossessed or foreclosed on by the lender.
Personal loans usually don't require putting money down. These loans don't require collateral and are also called unsecured personal loans.
Whatever you're seeking a loan for a car, a home, or a personal expense such as a car repair, the lenders and lending networks we've recommended have loans that don't require putting money down. You can probably get a better interest rate if you put money down, but you don't have to.
Can I Get a Car Loan With No Money Down?
Some lenders are more willing to take a risk on an auto loan borrower with no money down for the simple reason that the vehicle is collateral it can repossess and sell to recoup some of its losses. Lenders prefer to have borrowers make payments, of course, but a vehicle that's collateral for the loan helps reduce some of their risk.
That may be enough for some borrowers not to have to put money down to qualify for a car loan. It's a secured loan, and one that requires you to make monthly payments on time so you can get to your job and earn money to afford the monthly car payment.
If you can come up with the money to put down for a car loan, it can only help your approval odds for a loan. A down payment shows you have skin in the game and are serious about dealing with this new debt. A cosigner or trade-in vehicle can also help improve your application approval odds. A trade-in will lower your monthly payment, too.
Can I Buy a House With Bad Credit and No Money Down?
Yes. Wells Fargo Home Mortgage and Bank of America Mortgage offer a few types of home loans that don't require a down payment and can be used by people with bad credit. Affordable monthly payments can help make homeownership possible for anyone.
With no money down, it can take a while to build up equity in your home. As you pay down your mortgage through a monthly payment, your equity in the home will rise. Your equity will also increase if the home's value rises. If you have little equity and bad credit, you may want to be careful with how you use your home's equity.
When you start accumulating equity, it can be tempting to borrow from it by taking out a home equity loan or home equity line of credit. You can also use your home as collateral for loans from hard money lenders, who are often the lenders of last resort for borrowers with bad credit. If you can't get a home equity loan, a hard money loan may be another option.
These loans often have high loan terms and higher origination costs than a conventional loan mortgage, an FHA loan, or a USDA loan. Stay away from hard money lenders if you can.
What Credit Score Do You Need For $0 Down?
Lenders don't regularly say what their minimum credit score requirement is for loans. A credit score is just one factor they consider, along with how much debt an applicant has and whether their credit card bill and other bills are paid on time.
With a positive payment history and a trade-in vehicle for a car loan, for example, someone with a low credit score may have a better chance of getting a car loan with $0 down than would someone with many late payments but with other factors that give them a higher credit score.
Personal loans don't require putting money down, but home and auto loans often do. All of the lending networks or banks we've recommended for home and auto loans often help people with a bad credit score get loans without putting money down. Home loans may be harder to get with a low credit score, but they're still possible.
For a bad credit auto loan, a FICO score of between 500 to 579, which is considered very poor, should still be enough to get a loan from one of the online lending networks we recommend without having to make a down payment.
FICO credit scores range from a low of 300 to a high of 850. A score below 500 can make it difficult to get a car loan, even from lending networks. However, a good down payment or a cosigner can help overcome such a low score.
The lowest credit scores often have the highest finance charges. This makes it worthwhile to shop for the best loan terms.

Lending networks do this work for you, matching you with lenders that specifically work with subprime borrowers. You can then choose the loan that best fits your needs.
While rare, home loans can also be obtained without putting any money down. USDA home loans don't require a down payment. The Rural Development Single Family Housing Guaranteed Loan Program is available in rural and suburban areas with a goal of reaching low-to-moderate income homebuyers.
VA home loans for veterans are also available with no money down.
Can You Borrow Money For a Down Payment?
It sounds like an odd thing to do — taking out a loan so you can make a down payment on another loan — but it can be a way to save money and get a lower interest rate.
You could use a personal loan from one of the loan marketplaces we recommended. That money could be used to put a down payment on a car or house. In turn, the car or home lender would likely give you a lower interest rate for having a down payment.
The downside is that you now have two loans: one for the car and one for the personal loan used as the down payment. If the interest rate on the car loan isn't low enough to compensate for the interest you'll pay on the personal loan, then you'll be paying more for both loans than you would for a bigger car loan that doesn't include a down payment. Do the math and compare interest rates and payback terms to see if it makes sense.
Another option is a piggyback loan, which is often used to buy a home and avoid paying private mortgage insurance. It can also lead to a lower interest rate.
It's also called an 80/10/10 loan because it uses two mortgages at the same time. The first mortgage covers 80% of the home price, and the second covers 10%. The last 10% is your down payment. The second mortgage gives you a bigger down payment.
Can I Get a Car With a 500 Credit Score?
Yes, though it may be hard to find a car loan with a 500 credit score even through the credit lending networks we recommend. Still, it may be worth trying because all of the networks stress that they have lenders that specialize in auto loans for people with bad credit, including when other lenders have turned them down for loans.
Generally, online lending networks have a minimum credit score requirement of 500 to 579, so a 500 credit score should put you on the cusp of approval. Your chances improve if you have a cosigner or a good down payment. Not having any overdue bills on your credit report may be enough to get you approved for a loan.
How Can I Get an FHA Loan With No Money Down?
No. A down payment of at least 3.5% is needed to qualify for an FHA loan.
FHA loans are offered by the home lenders we recommend. Some of the risk to lenders is taken on by the federal government, which insures the loans, making FHA loans some of the easier home loans to qualify for if you have bad credit.
In general, a credit score as low as 580 is allowed for an FHA loan. Lenders, not the FHA, do the actual lending and are allowed to set their own requirements. Credit score requirements can thus vary by lender.
However, having a low credit score doesn't mean you can get an FHA loan without some sort of down payment. FHA loans have low down payments. For a borrower with a 580 credit score, they could qualify with 3.5-5% down.
Is it Bad to Buy a House With No Money Down?
No — finding a home loan with no money down is a difficult loan option to find, but not impossible. The two most likely methods are being a veteran and using a VA loan, or buying a home with a USDA loan.
USDA loans have income limits that vary by location and household size. Applicants with credit scores below 640 must meet more stringent underwriting standards than those with scores at 640 or higher.
A homebuyer with no money down may not always be able to qualify for such a loan. If you don't, then a low down payment is possible with an FHA or other type of loan.
Compare No Money Down Loans for Bad Credit Online
One of the great things about the internet is it can make comparing prices easy and can be a good way to distinguish financing options. In just a few minutes, you can shop for a no money down loan for bad credit by going to the websites of banks and lending networks. If you belong to a credit union, you should also check there for loan rates and whether it offers a bad credit loan option.
Online lending networks can prequalify you for loans within minutes, and many can fund your loan within 24 hours upon approval. They don't do hard credit checks, so your credit score won't dip by checking which loans you're eligible for.
The lender matching companies don't charge fees for their services and you're under no obligation to take out a loan. At the very least their services should give you an idea of what loan terms you qualify for from a number of lenders.
Advertiser Disclosure
BadCredit.org is a free online resource that offers valuable content and comparison services to users. To keep this resource 100% free for users, we receive advertising compensation from the financial products listed on this page. Along with key review factors, this compensation may impact how and where products appear on the page (including, for example, the order in which they appear). BadCredit.org does not include listings for all financial products.
Our Editorial Review Policy
Our site is committed to publishing independent, accurate content guided by strict editorial guidelines. Before articles and reviews are published on our site, they undergo a thorough review process performed by a team of independent editors and subject-matter experts to ensure the content's accuracy, timeliness, and impartiality. Our editorial team is separate and independent of our site's advertisers, and the opinions they express on our site are their own. To read more about our team members and their editorial backgrounds, please visit our site's About page.