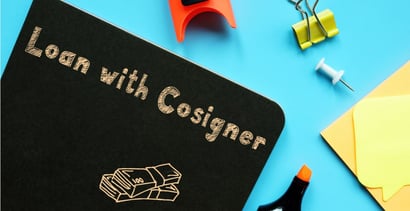 Having a good friend or family member who's willing to put their credit on the line can help you get approved for an auto loan with a lower interest rate and more favorable terms.
That friendship or family tie should be a strong one. If you stop paying the loan as the primary borrower, the cosigner is on the hook for paying the rest of the loan.
Lenders will still consider your credit rating even if you have a cosigner with a good credit score. But some lenders specialize in bad credit auto loans that can help you, regardless of your bad credit rating.
Loans | Cosigner Pros & Cons | FAQs
Best Auto Loans that Allow Cosigners
The best auto loans that allow cosigners can be found online. They've been in business for at least 15 years and can help applicants wade through a network of partners to find an auto loan that fits their needs.
As with any loan, it can pay to shop for the best deal. Online applications can usually be filled out in minutes and responses can come back the same day. Bad credit auto loans can be funded as fast as 24 hours.
You don't necessarily need a cosigner to qualify for new credit if you have a low credit score. The online lending networks we recommend below deal specifically with consumers who have bad credit, and a cosigner may not be required to qualify.
Network of dealer partners has closed $1 billion in bad credit auto loans
Specializes in bad credit, no credit, bankruptcy and repossession
In business since 1999
Easy, 30-second pre-qualification form
Bad credit applicants must have $1500/month income to qualify
| Interest Rate | In Business Since | Application Length | Reputation Score |
| --- | --- | --- | --- |
| 3.99% - 29.99% | 1999 | 3 minutes | 9.5/10 |
Auto Credit Express is our top pick for a few reasons. Its online application is easy to fill out, for starters. Car dealerships and lenders within its large network will receive and review your application. Finance teams from dealers will call you in as little as 10 minutes with preapproved bad credit financing options. You can choose and pick up your car on the same day it's financed.
Auto Credit Express requires bad credit applicants to earn at least $1,500 per month to qualify for a loan. This is even if you have a cosigner. The point is that it's your car and you're responsible for making timely payments, so it wants to make sure you earn enough money to pay for it and abide by the loan agreement.
PenFed Credit Union is a direct lender. It's a nationwide credit union with branches you can visit, or you can apply for an auto loan online. It allows co-borrowers who are equally responsible for making loan payments.
According to PenFed, a review of the co-borrower's income and credit history is required. They'll need to fill out a consent form, and the form will need to be notarized if they're not a PenFed member.
RefiJet is another network that specializes in refinance loans. For example, if you wanted to transfer your existing auto loan into a new one with a cosigner to obtain more favorable terms, RefiJet can help you do that.
Remember, the higher the cosigner's credit score, the better the deal you may be offered. This could mean lower interest rates, monthly payments, or a quicker loan payoff time.
Car.Loan.Com connects borrowers to special finance lenders that look beyond your credit score. A qualifying income, valid driver's license, and a stable residence are enough for an applicant with bad credit to be approved for a bad credit car loan.
The application can be filled out in three minutes or less to see if you're prequalified for a car loan. You can then visit the dealer to look for a vehicle and to learn more about the approval process. The site has a Loan Estimator and Payment Calculator to get an idea of how much you can borrow and what your monthly payment would be before filling out a loan application.
LendingTree isn't a direct lender; it instead partners with dealers, banks, credit unions, and other lenders throughout the country to fund loans, including auto loans.
Most lenders allow cosigners, but you'll need to verify with the direct lender you choose to work with. You'll be presented with up to five offers to compare the best fit for your needs.
The Pros and Cons of Enlisting a Cosigner
The main benefit of getting help from a cosigner is obvious: It will help you get approved for an auto loan to buy a car. This may not have been possible on your own, even for a bad credit auto loan.
But while the benefit may be obvious, the drawbacks may not be. Here are the general pros and cons of enlisting a cosigner for a loan:
Pros
The chances of being approved for a loan are higher
You may be offered a lower interest rate than you'd get on your own
You may get a larger loan than you'd get on your own
You may be able to overcome loan denials due to recent bankruptcy with a cosigner
You may be able to build deeper trust with your cosigner over time
On-time payments will build your credit score
Cons
Your cosigner assumes your loan payments if you don't make them
Cosigners put their good credit scores at risk
Enlisting a cosigner can be a sign that you're a risky borrower
If you're unsure you can handle the debt, you may not want to get a cosigner
Finding a cosigner can be difficult
You'll have to be open and honest about your finances with your cosigner
Consider each of these points before enlisting the help of a cosigner. Numerous cosigner horror stories tell the tale of what can happen when this arrangement goes wrong.
What is a Cosigner?
A cosigner is someone over age 18 who is willing to sign their name to a loan document with you that gives them the responsibility of paying the loan if you don't.
You get the vehicle with this type of joint loan, and they get the bill if you don't make timely payments. It can be a win-win if you keep up your end of the bargain, but can break a relationship if you don't.
The potential end of the relationship and the financial troubles a cosigner could face are why it's important to carefully consider who you ask to take on this responsibility for you.
Asking distant relatives or acquaintances to cosign may not work too well. You may be better off asking immediate family members or close friends who are probably the most likely to agree.
If they decline, try to understand and respect their decision. Each person must trust the other. The process requires sharing personal information such as bank account information, and this can be difficult for some people to offer.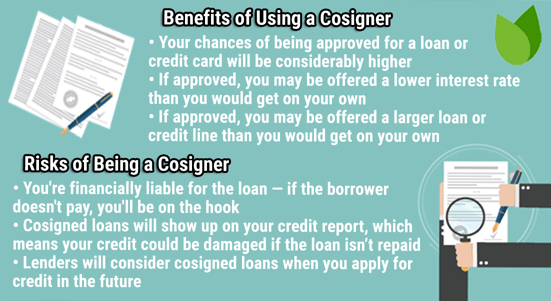 To convince someone to be a cosigner you may need to write down the details of your finances. This can include a budget for repaying the loan and how you've repaid other debts.
If you've made mistakes with other money matters, including a credit card or any loan amount from a bank or credit union, admit it and show how you've worked to resolve them and improve how you handle your money.
Your cosigner should have a good credit score of at least 700 and a steady, good income. They should be able to afford to make your car payments each month if you can't make them. This doesn't mean they should help you make the payments each month; it just means they are there to pick up the slack if you don't.
Their income should generally meet the lender's minimum income requirement, such as $1,500 to $2,000 per month. Lenders don't care where a cosigner's income comes from, whether from a job, retirement, or disability payments.
A debt-to-income ratio, or DTI, of higher than 50% may also be required, though the percentage may vary by lender. Basically, they want to ensure the cosigner has enough disposable income to cover the loan payment of the primary borrower.
To compute DTI, have the cosigner add up their monthly bills, including the new estimated car payment, and divide that amount by their pre-tax monthly income. If it's less than 50%, they should be able to comfortably make the loan payment.
They should also be at least 18, a US citizen, and can live out of state, which allows you to contact a relative a few states over to help you out.
How Does a Cosigner Help on Car Loans?
A potential cosigner should have a good credit score. A cosigner's credit is the best way to help you be approved for a joint loan.
Without their good credit, you may need to get an auto loan on your own. A bad credit car loan is a possibility, and the companies we've recommended above should be able to help you find a loan if you can't get a cosigner or have a poor credit history.
Along with helping you get approved for a loan, an auto loan cosigner can help you get a cosigned loan at a better interest rate than you would get on your own. This will lower your monthly payment and make coming up with the debt payment each month easier because a lower rate will make it more affordable.
If you had good or excellent credit, you wouldn't need the help of someone with a good credit score and credit history. Having poor credit can mean either getting a bad credit car loan at a high rate or going to another financial institution with a cosigner.
There are many reasons why you may have bad credit. Some are worse than others in the eyes of lenders, such as a recent bankruptcy, so getting approved for credit without a cosigner to vouch for your debt can be difficult.
A cosigner may also help you get approved for an auto loan if you have a bad credit history, high debt-to-income ratio, or a low income. They may also be needed if you:
are self-employed
have irregular income
have no established credit history
recently changed jobs
Some of these can be overcome without needing a cosigner. Irregular income may be overcome by providing additional documentation that your income isn't as irregular as it may seem and that you earn enough in an average year to afford the car loan.
Changing jobs can work to your advantage if you've gotten a raise. If a few weeks of pay stubs aren't enough to show continuous employment, ask how long the lender prefers you to be with your current employer before it will approve you for a loan.
Another option is to make a bigger down payment on the car you want to buy, which will lower the loan amount you need. Lenders may ask you to find a cosigner if they can't determine your credit risk or have ruled you to be a high credit risk.
But just because one lender requests a cosigner doesn't mean you have to go with that lender, or that all banks will ask you to get a cosigner. Shop around for lenders and look for those with flexible requirements that don't require finding a cosigner.
But if you must get a cosigner, it can help you in several ways, including giving you access to a regular auto loan. The auto loan rate will be much lower than one for a bad credit auto loan.
From the lender's perspective, the main way a cosigner helps on car loans is by taking on the risk of the loan. This is only needed because your credit risk is too high to qualify. That's important to remember and should be at the front of your mind when you're asking someone to do this for you.
Their main form of assistance, if it comes to it, is to pay the debt if the primary borrower can't pay it. After marriage or donating an organ, that's one of the biggest requests you can make of someone.
Can You Have Two Cosigners on a Car Loan?
The quick answer is no. You can't have two cosigners on a car loan.
As Auto Credit Express explains on its website, only one cosigner is allowed to sign on a car loan. The same goes for co-borrowers since you can only have two names on a vehicle title.
Even though cosigners are not on the car title and don't have any rights to the car, lenders only allow one cosigner on a loan. You're the primary borrower and your cosigner is the secondary borrower.
And just to be clear on the rights of a cosigner: They don't have ownership rights to the vehicle like the primary borrower. If you stop making payments, they can't take possession of your car.
If they don't make payments after you've stopped making them, then both of you are defaulting on the loan, and it can be repossessed by the lender. That would hurt both of your credit scores.
Can a Cosigner be Removed from a Car Loan?
You can request a cosigner be removed from your auto loan contract if certain conditions are met, such as a specified number of on-time payments, but not all lenders will allow this. The only surefire way to remove them is to refinance your loan.
You may qualify to refinance if you've made timely payments on the debt for a while and your credit report has improved enough that you want to remove them from the car loan with a cosigner release. Refinancing can help you in several ways, especially if your credit score has risen from a minimum credit score to at least a good one.
You'll likely be offered a lower interest rate, allowing you to make lower monthly payments and free up your money for other expenses. It will also give your cosigner some relief in knowing they're no longer on the hook for your debts.
Before shopping for the best refinancing deals, check your credit report to ensure it's accurate and that there are no late or missed payments listed. Check with your lender — or other lenders — to see what credit rating is needed to get the best rate in a new loan agreement.
Can I Get a Cosigner if I Have Student Loan Debt?
Going to college can require needing a car. It can also require taking on student loan debt.
Many young college students have little or no credit, so getting an auto loan can be difficult. Too much debt, including a loan for college, can make being approved for a car loan difficult. Having a cosigner can help.
A parent or guardian may be your best option as a cosigner on an auto loan. With a private student loan or other college loan payment awaiting you after graduation, having an auto loan cosigner may be the best way to qualify for a car loan.
You will not only get a car but having the loan as a borrower and making on-time payments will help you build a credit history over time. It's a good way to learn how credit works and could eventually lead to no longer needing a cosigned loan and getting a cosigner release.
Making the monthly payment will be up to you, and it's imperative to always pay your bill so your cosigner's good credit score, which they're putting on the line for you, remains high.
Compare Auto Loans with Cosigners Online
Auto loans with cosigners can be the best way to get a loan if you have bad credit. A potential cosigner can help by using their good credit history and income to show a lender that they can take over car loan payments if you're unable to.
You may not necessarily need a creditworthy cosigner to get an auto loan if you have bad credit because companies such as the ones we've recommended specialize in helping people with low credit scores get financing for a car.
But a cosigned loan can lead to a lower interest rate and a better loan term with lower monthly payments. That can free up your cash for other things, such as buying gas and auto insurance.
Making timely payments on a cosigned loan will eventually improve your credit score, allowing you to remove the other person from the joint loan and have it entirely in your name. It will also relieve the person from being responsible for your loan if you can't manage your debts.
The companies we've recommended work with their own network of lenders, including car dealers that will work with you to find a car you want and through a loan that works best for you.
Online applications can be filled out within minutes. If approved, your loan can often be funded within 24 hours. That's a quick turnaround from sitting at home on a computer to being on the road in your new car.
Advertiser Disclosure
BadCredit.org is a free online resource that offers valuable content and comparison services to users. To keep this resource 100% free for users, we receive advertising compensation from the financial products listed on this page. Along with key review factors, this compensation may impact how and where products appear on the page (including, for example, the order in which they appear). BadCredit.org does not include listings for all financial products.
Our Editorial Review Policy
Our site is committed to publishing independent, accurate content guided by strict editorial guidelines. Before articles and reviews are published on our site, they undergo a thorough review process performed by a team of independent editors and subject-matter experts to ensure the content's accuracy, timeliness, and impartiality. Our editorial team is separate and independent of our site's advertisers, and the opinions they express on our site are their own. To read more about our team members and their editorial backgrounds, please visit our site's About page.