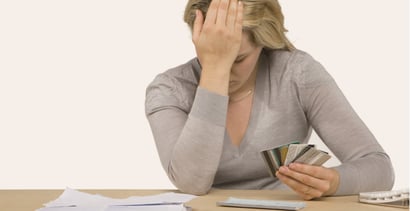 When you apply for and borrow money from a credit card issuer or lender, you make a contractual promise to make payments on the debt you owe by a specific date each month. This date is commonly referred to as the due date.
If you make all of your payments by the due date then all will be well. If, however, you do not make your payments on time, there is a chance your credit scores will suffer.
Paying your financial obligations late is among the worst things you can do for your credit scores. But exactly how much and how long will late payments affect your credit scores?
Late Payments Can Be Reported to the Bureaus 30 Days After the Due Date
It's critical to pay your bills on time. But if you're tight on money and your due dates are approaching, you may wonder how to prioritize your payments, and exactly when a payment is officially considered late.
The answer to this question is a bit complicated because it varies depending on who you ask.
In the eyes of your lenders or credit card issuers, you are late as soon as the day after your due date. So, if your credit card payment is due on the fifth of the month, but you fail to pay it until the sixth of the month or later, the card issuer considers you to be late and may charge you a late fee. You could face other consequences as well, including increased interest rates and lower credit limits.
Mortgage payments, on the other hand, are normally due the first day of the month but are not considered past-due until the 16th of the month. Mortgage lenders usually give you a 15-day grace period before you are considered to be late.
As it pertains to credit reporting, the story is different, and from a consumer perspective, the industry standards are pretty lenient. The credit reporting guidelines, which are newly published every year, dictate that lenders are not allowed to report you as being late to the credit reporting agencies until you are a full 30 days past the due date.
So, in essence, the credit bureaus are giving you a 30-day grace period before late payments can hit your credit reports.
How Late Payments Look On Credit Reports
All of the credit reporting practices are dictated by credit reporting standards conferred by the credit reporting industry's trade association, the Consumer Data Industry Association, or CDIA. According to the CDIA's reporting guidelines, late payments can only appear on credit reports as follows:
30-59 days late
60-89 days late
90-119 days late
120-149 days late
150-179 days late
180+ days late
You may have noticed that there is no "1-29 days late" option. Again, that's because creditors can't report you as being late to the credit bureaus (Experian, TransUnion, or Equifax) until you are a full 30 days late or more.
You may be three weeks late on a payment to your lender, but your credit report won't reflect that late payment as long as you make your payment before you go 30 days past due.
How Recently the Late Payment Occurred Determines its Impact to Your Scores
Both FICO and VantageScore base about one-third of the points in your credit scores on your payment history. This category considers the presence or lack of negative information, including late payments.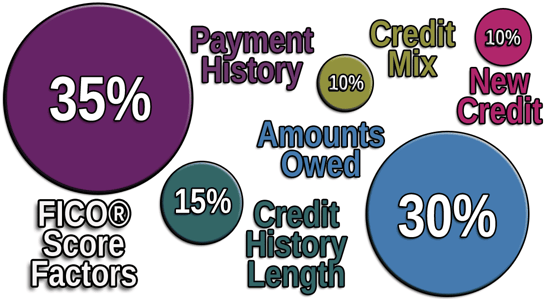 And while late payments are not worth a specific number of points in your credit scores — that's not how credit scoring models are designed — they can be as harsh as costing you dozens of credit score points and as benign as having no impact at all.
Credit scoring models will consider how recent the late payment on your credit reports is. If the late payment is two months old, the impact to your score may be significant. A late payment from five years ago, by comparison, wouldn't carry as much weight from a credit scoring perspective.
Scoring models also factor in the severity and prevalence of any late payments on your credit reports. A 30-day late payment, for example, usually wouldn't cause as much score damage as a 120-day late payment. And a single late payment won't generally be as problematic as would two or three late payments, all other things being equal.
Finally, scoring models look at the rest of the information on your credit report relative to late payments. For example, someone with a young or thin credit report is likely to be treated more harshly if they have late payments than someone with decades of credit experience.
Late Payments Can Only Stay on Your Reports for 7 Years
When negative information appears on your credit report, it typically remains there for a limited number of years. The credit mistakes you made many years ago won't continue to follow you forever.
Thanks to the Fair Credit Reporting Act (FCRA), late payments can only remain on your credit report for up to seven years from the date they took place. Once the seven-year statute of limitations expires, the credit bureaus must delete the record of those old late payments from your report.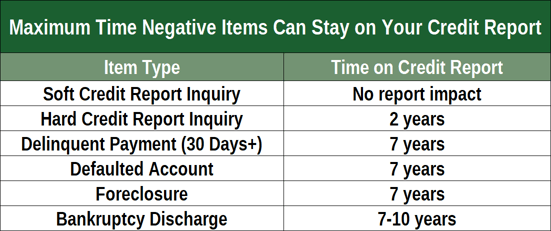 And, keep in mind, the seven-year rule is the maximum amount of time a late payment can remain on your reports. The credit bureaus can certainly remove them earlier.
Once a late payment comes off your credit report, it's done and gone. It can no longer have any impact on your credit scores. Credit scoring models only consider information that currently appears on your credit report and they don't have a memory, so they don't remember what used to be on your reports.
Removing Late Payments from Your Credit Reports
You may need to let time run its course as far as the late payments on your credit reports are concerned. Because the credit bureaus are allowed to keep late payments on your credit report for seven years, they generally opt to do so.
Of course, there is an important exception to this rule. If your credit report contains a late payment that is incorrect or outdated (older than seven years), the FCRA gives you the right to dispute the account and have the reports corrected.
When a credit bureau receives your dispute about an incorrect late payment, it has to contact your creditor and start an investigation into your claim. The investigation can take up to 30 days, but most disputes are resolved within a couple of weeks.
If your dispute is successful, the late payment may come off your credit reports right away. However, if the creditor verifies that the late payment is accurate, it will likely remain on your reports.
Late Payments Make it Harder to Qualify for Financing
When your credit reports are full of late payments, it indicates to lenders that you're a risky borrower. You promised to pay your bills on time, but, for whatever reason, you didn't follow through on those agreements.
Late payments on your credit reports can make it harder to qualify for new financing. And, because late payments often lead to lower credit scores, you may find yourself limited to subprime lenders and punitive terms.
Ultimately, it's important to avoid missed payments if you want to earn and maintain solid credit scores. If you already have a history of late payments on your reports, try to break this habit ASAP.
As existing late payments on your reports begin to age and you develop a pattern of new, on-time payment history, your scores will recover.
Advertiser Disclosure
BadCredit.org is a free online resource that offers valuable content and comparison services to users. To keep this resource 100% free for users, we receive advertising compensation from the financial products listed on this page. Along with key review factors, this compensation may impact how and where products appear on the page (including, for example, the order in which they appear). BadCredit.org does not include listings for all financial products.
Our Editorial Review Policy
Our site is committed to publishing independent, accurate content guided by strict editorial guidelines. Before articles and reviews are published on our site, they undergo a thorough review process performed by a team of independent editors and subject-matter experts to ensure the content's accuracy, timeliness, and impartiality. Our editorial team is separate and independent of our site's advertisers, and the opinions they express on our site are their own. To read more about our team members and their editorial backgrounds, please visit our site's About page.