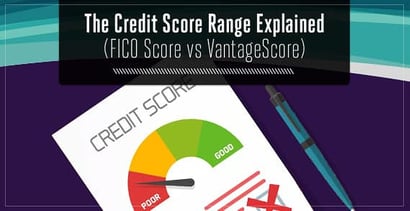 One of the first things anyone learns when they begin developing their personal finance skills is the importance of building and maintaining a good credit score. Once you dive into the world of credit scores, you learn pretty quickly that you want to maintain a number on the high end of the credit score range for access to the best card options, perks, and rates.
Luckily, while it was once difficult, if not impossible, to get your hands on your credit score, the modern digital world offers a surplus of websites and apps that make it easy to quickly find out your score.
The downside to the current credit score bounty, however, is the inherent confusion caused by such an abundance of numbers — many of which will often conflict with each other. The fact of the matter is the credit score you receive will significantly depend on the source from which you receive it, as well as the actual model used to calculate it.
FICO vs VantageScore | Excellent | Very Good | Good | Fair | Bad
Lenders Primarily Use Two Basic Scoring Models: FICO & VantageScore
Though some lenders prefer to use their own in-house or customized risk-assessment models, the majority of companies looking to assess your credit risk will use your credit score as a deciding factor. This generally means requesting a credit score from one (or all) of the three major credit bureaus, Equifax, Experian, and TransUnion.

Each bureau maintains a database of financial information reported to them by various creditors and financial institutions. This information makes up your individual credit history and report.
Beyond the scoring model used, credit scores can also vary by credit bureau because of reporting inconsistencies across bureaus. Not every creditor will always report to all three bureaus, so some credit information may appear on your Experian report, for instance, but be missing from your TransUnion report.
When a credit bureau receives a credit score request, the relevant data from your credit report is collected and run through what's called a scoring model, a type of proprietary algorithm. The model then calculates a credit score based on predetermined criteria such as payment behavior and total debt.
The two main types of scoring models used by Equifax, Experian, and TransUnion for most lenders are from FICO and VantageScore. While these are not the only models used, they are, by far, the most common.
The FICO® Score Credit Score Model
Unarguably the most recognizable credit score model, the FICO® Score was introduced by the Fair Isaac Corporation in 1989 as an objective tool for evaluating borrower credit risk. The FICO models compare consumers and, essentially, rank them based on their likelihood to repay credit obligations as agreed.
The FICO Score model has changed significantly over the last quarter-century, and different industries now use models from different years as well as industry-specific models.
For instance, the home mortgage industry often uses the FICO Score 2, 4, or 5 models, whereas a credit card issuer may use FICO Score 3 or the more specific FICO Bankcard Score 2, 4, or 5. Purchasing a report from myFICO will allow you to see all of your scores, including auto, mortgage, and credit card industry-specific scores.
Currently, the FICO Score 8 is the most commonly used credit scoring model. The newest models, the UltraFICO Score, FICO Score 10, and FICO Score 10 T have yet to truly catch on as a FICO Score 8 replacement, though some lenders have started to adopt it.
The FICO Score 8 model is more influenced by total debt than the VantageScore model, but both models are most affected by payment history.
While the industry-specific FICO Auto and FICO Bankcard Scores are judged on scales that run from 250 to 900, the base FICO Scores have a smaller range of 300 to 850. The higher numbers always indicate a lower credit risk.
The VantageScore Credit Score Model
Created in the mid-2000s, VantageScore is a product of VantageScore Solutions, an independently managed company formed and owned as a joint venture by the three major credit bureaus, Equifax, Experian, and TransUnion. The VantageScore model was developed to increase scoring consistency across bureaus.
While FICO may be the mortgage-industry standard, the VantageScore credit score model is actually used fairly widely. In fact, according to VantageScore's website, approximately 12.3 billion VantageScore credit scores were used by more than 2,500 users between July 1, 2018 and June 30, 2019. Additionally, many free credit score sources use the VantageScore credit score.
As with the FICO credit score model, the VantageScore model has had several variations over its lifetime. The current model, VantageScore 4.0, was released in 2017 and changed the scoring structure to include trended data, which "reflects patterns in borrower behavior," among other things.
Unlike FICO, the VantageScore models ignore paid collection accounts. It also puts less emphasis on unpaid medical debt compared with other types of collection accounts.
For the older VantageScore 1.0 and 2.0 models, the credit score scale ran from 501 to 990. The VantageScore 4.0 scale is the same as the FICO Score 8 scale, going from 300 to 850. As with the FICO scales, a higher number indicates lower credit risk.
"Excellent" Credit Score Range
No matter which scale is used, those whose scores are in the highest range are considered to have excellent credit and present the lowest credit risk. An excellent credit score not only almost guarantees appproval when applying for most types of credit, including nearly any of the top credit cards that catch your fancy, but also ensures the absolute best interest rates and the lowest fees.
FICO® Score Scale: 800-850
Under the FICO model, the most exceptional credit scores are 800 or better, up to the highest credit score possible, 850. Though the industry-specific models score on a different scale, it is probably safe to assume a FICO Score 8 in the excellent range will equal a respectable score under the Auto or Bankcard Score models, as well.
Attaining an excellent FICO Score requires consistently meeting credit obligations, in full and on time, as well as keeping total debt levels low.
VantageScore 4.0 Scale: 781-850
As with the FICO model, the highest possible credit score attainable with the VantageScore 4.0 model is 850. However, VantageScore has a slightly broader range of scores it considers excellent, including scores above 780. Approximately 27.9% of the population has excellent VantageScores, according to December 2021 data from VantageScore.

"Very Good" Credit Score Range
Still looming above the average US consumer, those who fall into the "very good" range have credit histories that demonstrate dependable borrowing behavior. They will likely qualify for just about any type of credit with little difficulty and receive favorable rates.
FICO® Score Scale: 740-799
The "very good" FICO score range goes from 740 to 799. According to Experian, only about 25% of the population has a score within this range.
VantageScore 4.0 Scale: N/A
Unlike the FICO Score, the VantageScore 4.0 doesn't actually have a "very good" range. Its credit score categories include excellent (or super prime), good (prime), fair/average (near prime), and bad (subprime).
"Good" Credit Score Range
While continuing to command competitive interest rates, those falling into the "good" range of credit scores will likely not see the ideal rates obtained by the people in higher categories. In addition, it may be harder to qualify for some types of credit.
FICO® Score Scale: 670-739
Though typically considered to be above average, the "good" category under the FICO model actually contains the average FICO Score of 714. It is also the range where most people fall, with 69% of Americans having a score of 670 or higher.
VantageScore 4.0 Scale: 661-780
Similar to the FICO range, the "good" range of VantageScores also houses the most people, with 33.8% of people having a score of between 661 and 780.
In the VantageScore 4.0 model, payment history is the most important factor, so maintaining good or better credit will rely largely on making on-time payments every month. Maintaining old accounts in good standing will also help you reach a healthy VantageScore credit score.
"Fair" or "Average" Credit Score Range
Those who fall into the ranges for "fair" (sometimes called "average") credit may have some faults in their credit history but no major delinquencies. Many lenders will approve applicants with fair credit but borrowers will be unlikely to see the best interest rate offers.
FICO® Score Scale: 580-669
Scores that fall between 580 to 669 are considered to be "fair" on the FICO scale. Though the average FICO Score is actually above this range, about 17% of people still fall into this category.
VantageScore 4.0 Scale: 601-660
VantageScore's "fair" or "average" range of 601 to 660 is its least populous, with 17.6% of people falling into that credit score range.
"Poor" or "Bad" Credit Score Range
As the names imply, those with the worst credit scores fall into the "very poor" or "bad" credit range, also referred to as subprime. Most applicants will very likely be denied by traditional lenders due to a history of high-risk financial behavior.
People who have scores in this range will generally need to turn to specialized subprime lenders who offer loans or credit cards for bad credit consumers to start rebuilding credit.
FICO® Score Scale: 300-579
The bottom range for the FICO Score model runs from 300 to 579, and, happily, has the fewest number of people at just 17%. Realistically, it's highly unlikely for someone to have such horrible credit as to have a 300 score, those who have been through a messy bankruptcy could easily wind up at 400 or below.
VantageScore 4.0 Scale: 300-600
As with the FICO model, the lowest possible score someone can have through the VantageScore model is 300. The range of poor scores in the VantageScore model is slightly larger than in the FICO model, however, going from 300 to 600. Approximately 20.7% of people have bad VantageScores.
Improving Your Credit Score
For many, the sheer number of credit scores floating around makes it difficult to determine the condition of their credit. At the end of the day, it doesn't really matter which model is used to calculate your score. Just keep in mind that higher numbers are better — and that the key to healthy credit is to maintain healthy financial habits.
Always paying bills by the due date, keeping credit utilization rates low, and avoiding opening unnecessary credit accounts are all good ways to maintain a good or better credit rating.
In the event that your score falls into the fair category or below, the first step to improving your credit will be to get a copy of your credit report from each bureau (Equifax, Experian, and TransUnion) to determine which accounts are bringing your score down. Once you've identified the sources of the problem, you can begin to improve your credit behavior.
Be sure to address any mistakes or discrepancies on your report, as well, to make sure your score accurately reflects your actual credit history. You may also want to think about using the services of a reputable credit repair company to look for disputable items that may be negatively affecting your score.
Advertiser Disclosure
BadCredit.org is a free online resource that offers valuable content and comparison services to users. To keep this resource 100% free for users, we receive advertising compensation from the financial products listed on this page. Along with key review factors, this compensation may impact how and where products appear on the page (including, for example, the order in which they appear). BadCredit.org does not include listings for all financial products.
Our Editorial Review Policy
Our site is committed to publishing independent, accurate content guided by strict editorial guidelines. Before articles and reviews are published on our site, they undergo a thorough review process performed by a team of independent editors and subject-matter experts to ensure the content's accuracy, timeliness, and impartiality. Our editorial team is separate and independent of our site's advertisers, and the opinions they express on our site are their own. To read more about our team members and their editorial backgrounds, please visit our site's About page.