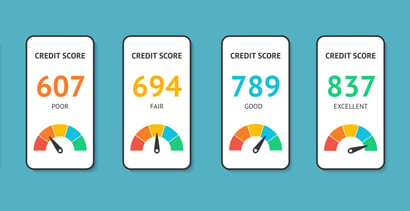 You are probably well aware of the importance of your credit scores each and every time you apply for a new credit card, loan, or another type of financing. But there are still a lot of misconceptions when it comes to how credit scores work.
Some people believe you have a single credit score, which is why you often hear people say things like, "My credit score is…" Others think you have a different credit score with each of the three major credit bureaus simply because the credit bureaus, as a matter of design, cause you to have different scores. Neither of these theories is correct.
Here's the truth: You have many different credit scores, hundreds, in fact. And those important numbers will likely vary depending on the type of score, who checks them, where they come from, and some behind-the-scenes technological details that aren't always communicated with consumers.
The fact that your credit scores seem to be ever-changing can be confusing at first. But there are real reasons why your credit scores are likely different every time they are calculated. Once you understand more about how credit scoring works, it will be a lot easier to wrap your head around those confusing numbers.
1. There Are 3 Major Credit Reporting Agencies
A credit score is based on the information found on a credit report, nothing more and nothing less. In the United States, three main companies create the credit reports lenders use when you apply for financing.
These companies are called credit reporting agencies (CRAs), and they include:
Experian
TransUnion
Equifax
Each CRA gathers information about your credit management habits from lenders, credit card issuers, and other creditors — collectively known as data furnishers. A CRA then uses this information to create your credit report.
The CRAs each maintain data on over 220 million consumers, which is about two-thirds of the U.S. population. Consumers who are under 18 do not have credit reports (or at least aren't supposed to) and some adult consumers have managed to stay off the credit grid. These people are referred to as being credit invisible.
It's important to point out that the accounts and other details that appear on your three individual credit reports may be a little different. There are a few reasons why this can happen.
The credit bureaus are competitors. They don't share information with one another unless forced to by Federal law. Just because one credit bureau lists a piece of data on your credit report doesn't mean the other two bureaus have access to it.
A data furnisher may not report your account to all three credit bureaus. If a lender only reports your account details to Equifax and TransUnion, for example, that account would be missing from your Experian credit report.
The hard inquiries on your three credit reports will likely differ. When you apply for financing, a lender will typically only check one of your three credit reports. Therefore, the hard inquiries you see on one of your credit reports probably won't appear on the other two. The exception is mortgage lending, where the broker or lender is required to pull all three of your credit reports.
Because your three credit reports aren't identical, your credit scores won't be identical either. Different data equals different credit score output.
Here's an example of how this could affect you: Imagine you apply for a mortgage loan and the lender checks all three of your credit reports and scores as part of your loan application. The lender is likely to see a different credit score for each of your three reports from Experian, TransUnion, and Equifax. Different credit report details usually lead to different credit scores.
The lenders get to choose which report and score they will give the most weight, which is the middle numeric score in mortgage lending.
2. There Are Many Credit Scoring Models and Brands
A credit score is calculated by a credit scoring model — a sophisticated credit scoring algorithm housed in a software program. Many different credit scoring models are available, and most lenders decide for themselves which credit scoring model they will use.
Note: Mortgage lenders that wish to resell their loans must use a scoring model that the government-sponsored enterprises, Fannie Mae and Freddie Mac, approve.
FICO and VantageScore are the two most popular credit score brands in the United States, accounting for almost 100% of the credit score market. So, whenever you apply for financing, the lender is very likely to check some version of your FICO Score or VantageScore credit score, or both.
FICO and VantageScore scoring models are different. Think Pepsi and Coke. Same industry, kind of the same thing, but not the same thing. And some people prefer one over the other.
But scoring models have the same design objective. The job of these scoring models is to analyze the information on your credit report and answer the following question:
What is the likelihood that this consumer will pay a credit obligation late by 90 days or more within the next 24 months?
The answer to the question above is communicated to lenders in the form of a credit score. That score indicates to the lender the risk you represent as a borrower.
Most of the scores that lenders use fall within a credit score range of 300-850, sometimes also referred to as the model's scale. If your credit report indicates you are less likely to pay your bills 90+ days late in the upcoming 24 months, your credit score will be higher. A higher credit score means you pose less risk to current or future lenders.
Both FICO and VantageScore have each developed multiple generations of their credit scoring systems over the years (FICO® 8, FICO® 9, VantageScore 3, VantageScore 4, etc.). And some lenders use their own proprietary credit scoring models to evaluate credit reports as well. Many of these proprietary models will use a credit bureau score as an input, kind of a "score inside of a score" structure.

It's possible for two lenders to review your credit report from the same credit bureau on the same day and still see two different credit scores. Digging a little deeper, if you were to check your credit report from that same credit bureau on that same day, you may see a third number that doesn't match the other two.
The results depend on which scoring model a particular party uses to evaluate the credit report.
3. Your Credit Information Constantly Changes
A third reason why your credit score may change each time you or someone else views it is that the underlying information on your credit report changes often. Anytime the details on your credit report adjust, there's a chance you'll see a different credit score the next time it is calculated.
Many creditors report your account details (current balance, payment status, payment history, etc.) to the three credit bureaus once a month. However, your lenders and credit card issuers don't necessarily send your monthly account update to all three credit bureaus on the same day, meaning your credit reports may be updated at different times during the month.
To make matters even more complex, the three credit bureaus may choose to update your credit reports at different times throughout the month, regardless of when your lenders furnish your most recent information.
Consider the following scenario: You pay off a credit card to lower your credit utilization ratio and improve your credit scores. But it will take time before that new $0 balance appears on all three of your credit reports.
Let's say the $0 balance appears on your TransUnion credit report on May 5. Equifax updates your account balance and other details on May 8. Finally, Experian updates your account details on May 9.
If you were to check your credit score on May 6, only your TransUnion report would show that you paid off your credit card. So the remaining two credit scores would likely be lower than your TransUnion-based credit score in this example.
The Bottom Line
When it comes to credit scores, many factors are simply out of your control. You don't get to decide which credit report a lender will use when you apply for financing. You can't make a creditor update your credit reports with new information before it's ready to do so. And the credit scoring model or models a lender uses is someone else's decision as well.
The good news is you have 100% control over how you manage your credit obligations, and those are the details that end up on your credit report. Good credit habits benefit you, no matter which credit report a lender pulls, and no matter which scoring models it uses.
Advertiser Disclosure
BadCredit.org is a free online resource that offers valuable content and comparison services to users. To keep this resource 100% free for users, we receive advertising compensation from the financial products listed on this page. Along with key review factors, this compensation may impact how and where products appear on the page (including, for example, the order in which they appear). BadCredit.org does not include listings for all financial products.
Our Editorial Review Policy
Our site is committed to publishing independent, accurate content guided by strict editorial guidelines. Before articles and reviews are published on our site, they undergo a thorough review process performed by a team of independent editors and subject-matter experts to ensure the content's accuracy, timeliness, and impartiality. Our editorial team is separate and independent of our site's advertisers, and the opinions they express on our site are their own. To read more about our team members and their editorial backgrounds, please visit our site's About page.