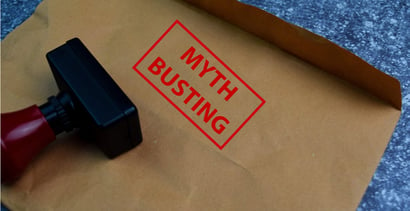 Your credit scores will play an important role throughout your adult life. Most, if not all, lending-based decisions made by lenders involve your credit scores. That's why it's important to know the truth about how your credit scores are calculated and how your actions affect these key numbers.
Sadly, there is no shortage of credit score myths that do more harm than good. Here are five myths that simply won't go away.
Myth #1: Closing a Credit Card Will Help Your Credit Score
As you read through these myths you'll probably notice that the myth, while false, does make some amount of common sense.  That may explain why these myths exist and are so hard to dispel.
This first one is a great example. Closing a credit card sounds like good advice to someone trying to improve their credit scores. But the opposite is true: Closing a credit card account is more likely to result in a lower credit score.
Credit scoring models, like FICO and VantageScore, consider your credit utilization ratio when calculating your score. Credit utilization (the relationship between your credit card limits and balances) is one of the metrics in the debt category and counts for almost one-third of your credit score points.
Lower credit utilization is ideal where credit scores are concerned. So, you should try to leave a large percentage of your credit limits untapped. One way to do this is to leave unused credit cards open.
When you close a credit card, your overall credit utilization ratio may increase (unless all of your cards show a $0 balance on your credit report). And, if your credit utilization goes up due to a card closure, your credit score may drop. How much it drops depends on how much your utilization percentage spiked after you closed your card(s).
There's another peripheral myth associated with credit card closures. Some people believe that canceling a credit card lowers their average age of accounts. This is not true.
Closed accounts still count toward the average age of your credit. If your score drops when you close a credit card, it's because closing that account caused your utilization ratio to increase.
Myth #2: You Need to Take on Debt to Earn a Good Credit Score
Despite what you may have heard from the anti-credit crowd, you can live a debt-free life and have elite credit scores. In fact, there are no metrics in credit scoring models that reward you for being in debt.


Too much debt (specifically credit card debt) isn't good for your credit scores. In reality, credit scoring models reward you when you keep your debt under control, but they also don't punish you for having credit as some of the so-called financial experts would have you believe.
For example, it's not good for your credit scores when you have numerous accounts with outstanding balances on your credit report. Paying off those balances likely will result in higher credit scores.
Another example, and as already mentioned above, having a low credit utilization ratio helps your credit scores. You should aim to pay your credit card balances in full every month and never fully max out your credit cards to avoid both excessive debt and expensive credit card interest fees.
If you use your credit cards often, which is totally fine, you may want to consider paying your cards multiple times per month. Alternatively, you can aim to pay down your balances before the statement closing date of your account.
Either approach will help ensure the balances reported to the credit bureaus are low or even zero. This will help to control your credit utilization ratio.
Myth #3: Spreading Out Your Credit Card Debt Helps Your Credit Score
Another dangerous credit myth is the theory that spreading credit card debt over multiple accounts benefits your credit scores. In reality, this credit card management strategy could easily backfire and lead to lower credit scores.
You can't hide credit card debt by spreading it across multiple accounts. If you take $5,000 in credit card debt and move it from a single account to five accounts with a $1,000 balance each, your overall utilization rate remains the same and you're still in the same amount of aggregate debt. So that was a useless move.
Moving a large credit card balance to multiple accounts does, however, increase the number of accounts with balances on your credit report. The more accounts with outstanding balances you have, the worse the impact may be on your score.
The number of credit accounts you have with a balance is one of the credit scoring metrics (number of accounts with a balance) that people tend to ignore, but it is influential, so ignore it at your own risk.
Instead of shuffling credit card debt around, it's better to come up with a strategy to eliminate the debt. Even paying down a portion of your credit card debt may help. If you owe a large amount of debt, you may consider credit card consolidation as a way to potentially save money on interest and pay off what you owe faster.
Myth #4: You Have Just One Credit Score
This one is understandable because of how bloggers and reporters often refer to a credit score as if it were a singular measurement. The reality is you have more than one credit score.
Some people even believe you only have three credit scores — one from each major credit bureau (Experian, TransUnion, and Equifax). Even this is incorrect. In reality, you have hundreds or thousands of credit scores.
First, there are different credit scoring models. FICO and VantageScore are the two most commonly used credit scores in the United States. Next, there are different varieties of each credit score designed for the auto industry, the mortgage industry, the credit card industry, and more.
Finally, the different models and types of credit scores are available across multiple generations of the credit scoring software (think versions 1.0, 2.0, 3.0, etc.). Both FICO and VantageScore redesign and release new versions of their scoring models every few years to remain relevant and competitive.
When they do this, these new versions stack on top of earlier versions, resulting in dozens of scores available from only two score developers. Users of credit scores, however, do not convert to every new version of credit scoring software that's released. So, one auto lender may use a five-year-old credit score while another lender uses a scoring system that was released two years ago.
In addition to these commonly recognized score models, most lenders use custom-developed scoring models that are built for their use only. And the more sophisticated lenders use dozens of these custom-developed scoring models for different purposes. Point being, you have a lot of credit scores.
Thankfully, credit scores are all based on the same information — your credit reports. When you focus on managing your accounts wisely, you will earn a good credit score regardless of which credit score a lender uses to assess your creditworthiness.
Myth #5: Checking Your Credit Report Will Hurt Your Credit Score
One of the most dangerous credit myths is the theory that checking your personal credit reports damages your credit score. In reality, you can check your credit reports over and over and it will never impact your score in any way.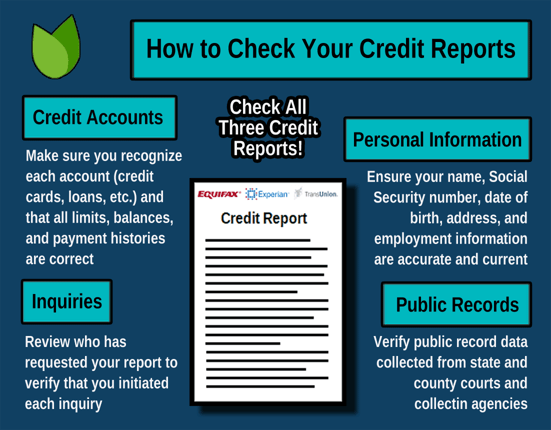 When someone checks your credit — yourself included — a record of that access is recorded on your credit report. In the credit scoring world, this is called a credit inquiry.
Some credit inquiries have the potential to lower your credit score. But, that doesn't mean every credit inquiry automatically equals a lower credit score.
All credit inquiries fall into two categories — hard and soft. Hard inquiries are most commonly used in background checks and in credit approvals to assess your level of risk. Hard inquiries can potentially deduct points from your credit score and remain on your credit reports for two years.
Soft inquiries, on the other hand, never affect your credit scores. In fact, soft inquiries can't be seen by lenders or credit scoring models. You are the only party that can see soft inquiries. So, check your reports as often as you like.
Advertiser Disclosure
BadCredit.org is a free online resource that offers valuable content and comparison services to users. To keep this resource 100% free for users, we receive advertising compensation from the financial products listed on this page. Along with key review factors, this compensation may impact how and where products appear on the page (including, for example, the order in which they appear). BadCredit.org does not include listings for all financial products.
Our Editorial Review Policy
Our site is committed to publishing independent, accurate content guided by strict editorial guidelines. Before articles and reviews are published on our site, they undergo a thorough review process performed by a team of independent editors and subject-matter experts to ensure the content's accuracy, timeliness, and impartiality. Our editorial team is separate and independent of our site's advertisers, and the opinions they express on our site are their own. To read more about our team members and their editorial backgrounds, please visit our site's About page.