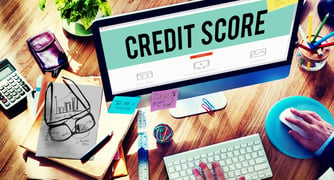 It's no secret that having good credit pays off, especially when you apply for financing like a credit card or loan. Although you know that earning good credit matters, you may wonder where bad credit ends and where good credit begins.
This brings up quite possibly the most common question you may have with respect to credit scores, which is, "what is a good credit score?"
If your credit score, for example, currently sits around the 600-mark, the truth is you have some work to do. On a scale of 300–850, the universal score range used by both FICO and VantageScore, you're about 106 points below the national average and generally considered to be subprime.
600 is Not a Good Score — Here's How it Measures Up
According to the latest report from FICO, the average FICO Score in the U.S. is 706. Although an average 706 credit score might not get you the very best terms and interest rates some lenders have to offer, it is generally considered a good credit score.
Keeping in mind that the lender makes the final determination as to what they believe to be a good score versus what's not a good score, here's a general look at how the different FICO Score ranges are graded:
Very Poor: 300-579
Fair: 580-669
Good: 670-739
Very Good: 740-799
Exceptional: 800-850
VantageScore credit scores are the second-most commonly used score in the U.S. credit market. According to a recent study performed by Experian, the average VantageScore credit score is 682. A credit score of 600 falls well below average in both FICO and VantageScore scoring models.
Here's a look at how the different VantageScore ranges are graded:
Very Poor: 300-499
Poor: 500-600
Fair: 601-660
Good: 661-780
Excellent: 781-850
If you have a 600 credit score, it falls into either the "poor" or "fair" credit range, depending on which scoring model a lender uses to process your application. Either way, a 600 is likely going to lead to your application being denied or, at best, being approved with less attractive terms.
Reasons Why You May Have a 600 Credit Score
Credit scores are tools that help lenders predict risk. A software program containing a series of algorithms examines your credit report and determines the likelihood that you'll pay credit obligations more than 90 days late within the next 24 months.
When the information on your credit report indicates that you're more likely to pay late, your scores will be lower. Specifically, your scores may be negatively affected if your credit reports indicate any of the following:
There's negative information on your credit reports. Late payments, collection accounts, charge-offs, and other derogatory information can take a toll on your credit scores. This is especially true if the negative information is recent. Payment history is worth about one-third of your FICO and VantageScore credit scores. If you want to avoid credit score damage, on-time payments are essential.
You have a high credit utilization rate on your credit cards. After your payment history, how much debt you owe influences your credit score the most. Your credit card balances and how they relate to your account limits (called your credit utilization ratio) are largely responsible for almost another third of your overall credit scores. When your credit utilization ratio climbs, your credit scores fall.
Your credit reports contain errors or fraud. Credit reporting mistakes can happen. It's up to you to review your credit reports frequently to make sure the information contained in them is accurate. If you discover errors or fraud on your credit report, you have the right to dispute these issues with the credit reporting agencies.
The specific reasons your credit scores aren't higher can vary widely from consumer to consumer. If you want to better understand why your credit scores are at their current level, your best bet is to review your three credit reports from Experian, TransUnion, and Equifax.
You can claim free reports from all three of the credit bureaus once every 12 months at AnnualCreditReport.com. Without knowing what's on your reports, it's hard to game plan score improvement.
3 Ways to Improve a 600 Credit Score
Earning a good credit score can benefit your life in many ways. Good credit can easily save you tens of thousands of dollars (sometimes more) throughout your life.
So, if you currently have a credit score around the 600 mark, it's in your best interest to try to improve it. The following tips may help:
1. Consider Establishing Credit
Credit cards and other loans won't erase negative history from your credit reports. But managing your existing accounts well does have the potential to help you build better credit for the future.
You may not qualify for a premium card just yet. However, numerous credit cards for consumers with 600 to 650 credit scores are available. And, a credit builder loan typically offers easier qualification standards as well and might be worth considering.
Don't let a low FICO score stop you from applying – we approve applications others may not.
You don't need good credit to apply – here's your chance to improve your score.
Just complete the short application and find out in 60 seconds if you're approved.
When you need assistance our award-winning US-based customer service agents are there to help.
FICO scores are used to represent the creditworthiness of a person and may be one indicator to the credit type you are eligible for. However, credit score alone does not guarantee or imply approval for any PREMIER Bankcard® product.
| Application Length | Interest Rate | Reports Monthly | Reputation Score |
| --- | --- | --- | --- |
| 4 minutes | See Issuer Website | Yes | 9.0/10 |
You don't need good credit to apply – here's your chance to improve your score.
We help people with bad credit, every day.
Just complete the short application and find out in 60 seconds if you're approved.
You can build or rebuild your credit: apply for a PREMIER Bankcard credit card, keep your balance low, and pay all your monthly bills on time. We'll help you get back on track.‡
Don't let a low FICO score stop you from applying – we approve applications others may not.
‡Build credit by keeping your balance low and paying all your bills on time every month.
| Application Length | Interest Rate | Reports Monthly | Reputation Score |
| --- | --- | --- | --- |
| 4 minutes | See Issuer Website | Yes | 9.0/10 |
Earn 2% cash back on everyday purchases at Amazon, Uber, Uber Eats, Whole Foods, Netflix, Spotify, and more! And 1% cashback on everything else.
No credit check or U.S. credit history required. No SSN required for non-US citizens.
Build U.S. credit history from day 1 at major credit bureaus (get $25 when you build your credit score to a 700+ credit score within 12 months of use).
Get unsecured in as little as 4 months!
No annual fee, no foreign transaction fees, no minimum security deposit.
Premium benefits like Cell Phone Protection (including cracked screens) and Car Rental Insurance coverage.
| Application Length | Interest Rate | Reports Monthly | Reputation Score |
| --- | --- | --- | --- |
| 10 minutes | 10.24% (Variable) | Yes | 7.0/10 |
+ See More Cards for a 600 Credit Score
2. Pay Down Your Credit Card Balances
As mentioned, your credit utilization rate has a major influence over your credit scores. Paying down your credit card balances (thus lowering the credit utilization ratio on your report) is one of the most actionable ways to improve your score.
If you have the capacity to do so, you can see score improvement within a few weeks.
3. Find Other Ways to Lower Your Credit Utilization
It's best to pay off your credit card balances every month. But, if you currently have a lot of credit card debt, it may take some time to dig your way out. In the meantime, you can attempt to lower your credit utilization rate in several ways.
First, you can call your current credit card issuers to ask for credit limit increases, thus lowering your credit utilization ratio. If you're approved, make sure not to increase the amount you spend on those accounts. Otherwise, this strategy could backfire — hurting your credit score again and costing you money.
You can also ask a loved one to add you to one of their credit cards as an authorized user. If an authorized user credit card with a low balance and high limit is added to your credit report, the new account may lower your overall credit utilization rate. Just be sure the account you're being added to has no late payments and a low credit utilization ratio.
The Bottom Line
A 600 credit score can make your life harder than it needs to be. You're unlikely to qualify for attractive rates and terms from card issuers or lenders with that score. In fact, you may not qualify for some types of financing at all.
However, a fair credit score isn't a life sentence. Use the tips above, and it's completely possible to start improving your credit (and hopefully your financing options) in the future.
Advertiser Disclosure
BadCredit.org is a free online resource that offers valuable content and comparison services to users. To keep this resource 100% free for users, we receive advertising compensation from the financial products listed on this page. Along with key review factors, this compensation may impact how and where products appear on the page (including, for example, the order in which they appear). BadCredit.org does not include listings for all financial products.
Our Editorial Review Policy
Our site is committed to publishing independent, accurate content guided by strict editorial guidelines. Before articles and reviews are published on our site, they undergo a thorough review process performed by a team of independent editors and subject-matter experts to ensure the content's accuracy, timeliness, and impartiality. Our editorial team is separate and independent of our site's advertisers, and the opinions they express on our site are their own. To read more about our team members and their editorial backgrounds, please visit our site's About page.