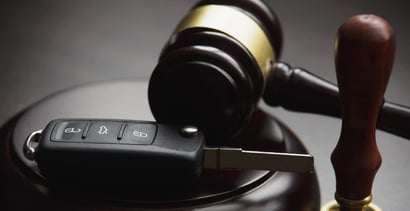 Bankruptcy is a step toward financial recovery that provides relief to millions of people who've suffered temporary setbacks. Bankruptcy needn't be permanently debilitating, as is evident by the availability, if somewhat limited, of car loans for those who are facing or have completed the legal procedure. 
We review six nationwide lending services that specialize in loans for consumers with credit problems, including a pending or recently discharged bankruptcy case. They can provide access to the auto financing you need.
The Best Providers of Bankruptcy Auto Loans
These companies work with networks of lenders and car dealerships to secure one or more loan offers for you despite your less-than-perfect credit history. You pay nothing for this service, and it won't hurt your already bruised credit score.
You can complete a short prequalification form on the Auto Credit Express website to determine your chances of loan approval when shopping for new or pre-owned vehicles. You don't need perfect credit, but you must have a verifiable income of at least $1,500 a month to qualify.
If you want to continue, you'll need only three minutes to complete a finance application for a loan and receive an instant decision. You may receive multiple loan offers from Auto Credit Express's partner lenders. 
PenFed Credit Union can help you secure a loan with lower rates and fees than you'd get from a bank or in-house dealership financing. But with a bankruptcy on your credit report, you won't receive the lowest rates the credit union has to offer by any means. But you may be able to refinance your loan after your credit score improves to get a better rate.
PenFed is a direct lender, and you can prequalify on its website to see what you may qualify for.
RefiJet helps people refinance their existing auto loans to lower their monthly payment, secure a lower interest rate, or cash out the equity in their vehicle. You're unlikely to receive an offer for a lower interest rate with a recent bankruptcy, but you may be able to lower your payment by extending your loan term.
RefiJet is a direct lender, not a lending network — which means you'll be dealing with the lender from the moment you fill out the application — so there's no middleman involved.
Car.Loan.com Auto Loan doesn't require that you have a minimum credit score to preapprove your request for an auto loan. Its lending partners specialize in helping finance the purchase of new and pre-owned vehicles for applicants who have poor credit, no credit, or recent bankruptcies.
There is no fee for accessing the Car.Loan.com network of lenders, and if you have approved credit, you may receive your funding as soon as the next business day.
LendingTree is a large nationwide lender network that can help just about anyone secure an auto loan, as long as they can prove their income is sufficient to make the payments.
LendingTree suggests waiting at least one year after bankruptcy before applying for a new auto loan if you can. The interest rate will be high, but you can use our next recommended lender to refinance into a better rate after your credit score improves.
myAutoloan.com helps thousands of applicants every year obtain bad credit car loans. In addition, the company provides several online tools to help them determine their loan payments and overall cost.
The myAutoloan.com website displays the lowest available loan rates. It also provides educational material about the lending process. If you prequalify for a loan, you may receive up to four offers from partner lenders.
5 Tips For Auto Loan Approval After Bankruptcy
Bankruptcy doesn't eliminate you from auto loan consideration. In fact, many lenders are eager to work with you after you've finalized your proceedings. If you want to improve your chances of finding an affordable loan, follow these tips.
1. Find a Cosigner
If your recent bankruptcy has you receiving loan rejections, you can attempt to add a cosigner to your loan application.
This requires someone with good credit to vouch for your ability to repay the loan and sign on as a guarantor on your application. It's a tricky situation because you both will take a hit to your credit scores if you miss a car payment or default on the loan.

Such situations have caused many conflicts in the past, so be sure you can repay the loan before entering into a co-signing agreement.
2. Make a Down Payment
Lenders understand that you can't pay for your new car using cash alone. After all, that's why you're applying for a loan.
But most lenders want to see that they're not the only ones invested in your new ride. After all, if you don't have any money tied up in the deal, you'll have less of a problem walking away from the loan — or missing a payment — if times get tight.
That's why a down payment helps improve your chances of being approved for credit. The more you can put down, the less money you need to borrow and the better your odds of getting a loan approved.
But that doesn't mean you have to save thousands of dollars for a down payment before heading to the car dealer. Most lenders allow down payments of a few hundred dollars. An auto lender will be happy to see you investing in the loan, regardless of the amount.
3. Include a Trade-In Vehicle
When a sizable down payment isn't possible, a trade-in vehicle can help lower the amount you're looking to finance. Mostly, lenders want to see that you also have an interest in the loan.

That can mean upping your financial contribution or using your physical property to aid in the loan — or preferably both. Plus, when you help lower the loan amount during origination, you'll also reduce your monthly payment. That's a win-win.
4. Have Your Paperwork in Order
If you have a recent bankruptcy discharge, your car dealer or lender will want to see your paperwork to ensure that the bankruptcy court can't include the new loan in your proceedings. When you bring this paperwork along with you, you not only show that you're responsibly researching your auto loan options, but you'll cut down on the time needed to complete your potential loan.
5. Research Your Auto Dealer and Lender
An auto dealer or lender can stay in business only if they sell cars and originate loans, but not everyone involved has your best interests at heart. The auto industry, while dominated by finance professionals, includes many predatory dealers and lenders that prey on consumers who have recent bankruptcies and need a loan for a new vehicle.
If you get stuck in one of these loans, you could find yourself paying for your car even after you replace it with a new one. That's why you must check reviews and other information about any dealer you work with before you apply for a loan with them.
Is it Hard to Get an Auto Loan After Bankruptcy?
Much depends on the type of bankruptcy and when it occurred. Filing Chapter 7 bankruptcy rids you of your unsecured debt, but you may lose some of your property (depending on the ability of your bankruptcy attorney). 
Chapter 7 bankruptcy gives you a fresh financial slate but leaves a black mark on your credit report that lingers for 10 years. 
Filing for Chapter 13 bankruptcy lets you reorganize your debt, and creditors expect you to repay at least some of the money you owe. You can keep your property in return, and the bankruptcy remains on your credit reports for seven years instead of 10. 
It's easier to get a bad credit auto loan after discharge from a Chapter 13 bankruptcy (some folks don't even hire a bankruptcy attorney for this chapter), although it's possible to get a loan even after Chapter 7. In addition, the passage of time reduces the challenges to borrowing, especially if you've adopted creditworthy behavior since your bankruptcy discharge. 
You have a reasonable chance of obtaining post-bankruptcy auto financing if you demonstrate enough reliable monthly income to repay your loan. The reviewed companies have much experience helping bankruptcy veterans find auto financing for a new car.
Our friends at WalletHub report that the average credit score after bankruptcy is about 530. As this chart shows, a low score subjects you to a higher car loan interest rate and tougher loan terms:

Do not underestimate the competitiveness of car dealers that need customers to buy their new inventory. Many also have pre-owned inventory they need to sell quickly.
How Soon After Bankruptcy Can You Buy a Car?
You can submit a finance application for a car loan as soon as the bankruptcy court discharges your case. While it's true that your chances of approval improve over time, sometimes you can't wait to acquire a car.
Lenders that specialize in subprime loans understand that applicants may need a vehicle for work and other essential duties. 
This attitude is robust among dealerships that offer their own financing rather than relying on a car manufacturer or outside banks. Often called buy here, pay here dealerships, these lenders are motivated to move inventory off their lots and are willing to look past high-risk credit in that pursuit. After all, they can rely on vehicle repossession if a borrower fails to pay on time. 

The loans they offer usually have higher than average interest rates, which helps lenders protect themselves from borrowers who default on their loans. For many buyers, the affordability of the monthly payment trumps the overall interest cost and tougher loan terms.
Can I Get an Auto Loan During Bankruptcy?
It's much harder to get a bad credit auto loan during bankruptcy proceedings, which begin with the 341 creditor meeting. High-risk credit is iffy, and most lenders prefer to wait until the proceedings are complete. 
Fortunately, the period between filing bankruptcy papers and final discharge is relatively short. If possible, you would do well to wait until then to apply for a car loan. 
That said, some lenders offer auto loans to consumers during bankruptcy proceedings. This policy not only helps you get into a new car faster but also allows you to start rebuilding your credit sooner. 
How Does Filing Bankruptcy Affect My Credit?
Paradoxically, the better your credit score was before bankruptcy, the more damage the filing will cause. Because of bankruptcy, you can expect your credit score to tumble by 150 to 240 points. 
The number of accounts and the amount of debt will determine the extent of the damage to your score. You'll do better if you owe less money to fewer accounts. 
Bankruptcy remains on your credit reports for seven to 10 years. But its effect on your credit score wanes after a couple of years, especially if you adopt creditworthy habits, including:
Another way to improve your score is to repair any mistakes on your credit reports. You can do this yourself or with the assistance of a credit repair company. 
You have free yearly access to all three of your credit reports (from Experian, Equifax, and TransUnion). You can dispute questionable information on your reports and force the bureaus to investigate the underlying data and render a decision within 30 days.
If you succeed, the bureaus must remove the incorrect items and inform recent report recipients of the change.
The more responsibly you handle your credit, the faster you can emerge from bankruptcy's shadow. Free credit counselors are available if you'd like a helping hand rebuilding your credit.
Don't Let Bankruptcy Deny You a Car Loan
Bankruptcy is not a moral failing and shouldn't stop you when you need a car loan. The reviewed sites that facilitate bankruptcy auto loans offer you a chance to overcome a recent or pending bankruptcy. They all operate online 24/7 and can help put you behind the wheel of a new car in a matter of days. 
If you'd like more information about any of these lending networks, click on the APPLY HERE links in the offer boxes above. They can help you reestablish a good credit score and put you back on the road to success. 
Advertiser Disclosure
BadCredit.org is a free online resource that offers valuable content and comparison services to users. To keep this resource 100% free for users, we receive advertising compensation from the financial products listed on this page. Along with key review factors, this compensation may impact how and where products appear on the page (including, for example, the order in which they appear). BadCredit.org does not include listings for all financial products.
Our Editorial Review Policy
Our site is committed to publishing independent, accurate content guided by strict editorial guidelines. Before articles and reviews are published on our site, they undergo a thorough review process performed by a team of independent editors and subject-matter experts to ensure the content's accuracy, timeliness, and impartiality. Our editorial team is separate and independent of our site's advertisers, and the opinions they express on our site are their own. To read more about our team members and their editorial backgrounds, please visit our site's About page.