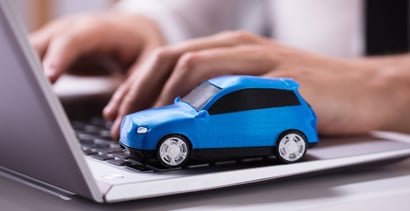 If you think about it just a little, the internet is a thoroughly amazing creation that has completely transformed society. As with many great inventions, however, the world wide web has become a prosaic practicality, relegated to mundane tasks like buying groceries and shopping for online auto loans.
But, that may not be a bad thing — especially for the consumers in need of specialized products. Consumers with bad credit, for instance, can often find online auto loans that would be all but impossible to track down were it not for the digital resources made possible by the internet.
Indeed, finding an auto loan can be remarkably simple when you use the internet to shop and compare loan terms, often reducing the amount of time it takes to find just the right financing. Depending on your provider, you can even purchase your car right online, entirely eliminating the hassle of heading to the dealership. Keep reading for our expert selections for some of the best online auto loans available today — we'll explore loan providers, how to apply online, budgeting concerns, and potentially improving your terms.
Providers | Applying Online | Budgeting | Improving Your Terms
Online Auto Loan Providers
You'll generally find that online auto loan providers come in a few main types: direct lenders, online dealer networks, and online lending networks. Direct lenders, as you may have guessed, directly finance the loans they offer; you'll get the money from and make payments to the direct lender.
Online networks, on the other hand, are basically intermediaries that connect borrowers with dealers or lender (or both, in some cases). Online networks don't finance loans or handle payments — that's done by the lender you find through the network. Whichever method you choose, be sure to compare rates and fees before committing to one lender.
Network of dealer partners has closed $1 billion in bad credit auto loans
Specializes in bad credit, no credit, bankruptcy and repossession
In business since 1999
Easy, 30-second pre-qualification form
Bad credit applicants must have $1500/month income to qualify
| Interest Rate | In Business Since | Application Length | Reputation Score |
| --- | --- | --- | --- |
| 3.99% - 29.99% | 1999 | 3 minutes | 9.5/10 |
Auto Credit Express offers a large online network of more than 1,200 dealers around the country that focuses on bad-credit borrowers. Though individual lenders may have their own requirements, the network has no minimum credit score to apply. Auto Credit Express has been in business for many years and has an A+ rating with the Better Business Bureau.
Free, no-obligation application
Specializes in auto loans for bankruptcy, bad credit, first-time buyer, and subprime
Affordable payments and no application fees
Same-day approval available
Connects 1000's of car buyers a day with auto financing
| Interest Rate | In Business Since | Application Length | Reputation Score |
| --- | --- | --- | --- |
| Varies | 1994 | 3 minutes | 9.0/10 |
An online lending network, car.Loan.com connects car shoppers with lending partners from coast to coast. The network has no minimum credit score requirements, enabling it to help borrowers with a wide variety of scores. The network has been in business since 1994.
Loans for new, used, and refinancing
Queries a national network of lenders
Bad credit OK
Get up to 4 offers in minutes
Receive online loan certificate or check within 24 hours
| Interest Rate | In Business Since | Application Length | Reputation Score |
| --- | --- | --- | --- |
| Varies | 2003 | 2 minutes | 7.5/10 |
This online lending network has a wide partner network and an A+ rating with the Better Business Bureau. Qualified applicants can receive up to four partner offers with one application, making it simple to compare rates and fees across dealers and lenders.
4. Capital One Auto Loan
One of the largest banks in the US, Capital One offers a complete range of banking and credit products that also includes auto loans for new and used vehicles. Capital One requires a minimum credit score of only 500, making the bank's auto loans accessible to a variety of applicants.


Vehicles must be = 10 years old with fewer than 120,000 miles
Car, truck, minivan, or SUV for personal use only
Minimum 500 credit score
While Capital One has a low score requirement, the bank will look at a borrower's entire application and credit history, including income, payment history, and current debt. You can pre-qualify for a Capital One auto loan through its Auto Navigator, which allows you to preview your loan amount, monthly payments, and APR.
CarFinance.com is a direct lender, offering auto loans for new purchases as well as providing auto loan refinancing. The minimum credit score to apply is just 525, allowing the network to help even borrowers with poor credit find financing.


Vehicles must be = 8 years old with fewer than 100,000 miles
Passenger vehicles or light trucks for personal use only
Minimum 525 credit score
Potential car buyers can get pre-approved for a CarFinance.com loan, allowing applicants to head to the dealer with a firm budget in mind. Loans are available for passenger vehicles and light trucks, and vehicles must be for personal use only. Some brands may be ineligible, and loans are not available for all-electric vehicles.
Unlike most of the providers on our list, Carvana is more than just a lender. Indeed, this direct lender is not only an online auto loan lender — it's also an online dealership. Users can shop for a vehicle in Carvana's online inventory and have the car delivered to their front door.


Vehicles must be purchased from Carvana's inventory
Car, truck, minivan, or SUV for personal use
No minimum credit score
Although Carvana has no minimum credit score requirements, the lender-slash-dealer will look at each applicant's entire credit profile, including payment history and current debt levels. Only vehicles from Carvana's inventory will qualify for financing through the site.
7. LendingTree Auto Loan
LendingTree was one of the first online lending networks, and it is still a popular choice today with an A- rating with the BBB. The network partners with a mix of auto lenders, banks, and third-party lenders that allow it to help customers with a range of credit types and scores.


Vehicle restrictions will vary based on the individual lender
Cars, trucks, motorcycles, RVs for personal use only
No minimum credit score
LendingTree applicants can receive up to five partner offers from a single application, which allows users to compare offers side-by-side. Keep in mind that each partner can (and, likely, will) query your credit reports as a result of your application.
Credit unions often provide lower rates and fees than most other lenders, even (or especially) for borrowers with poor credit. You can search for a local credit union online through the Credit Union Locator tool provided by the National Credit Union Administration.


Vehicle restrictions will vary based on the credit union
Income restrictions will vary
Credit score minimums will vary
You'll need to join the credit union from which you wish to get a loan if you are not already a member. Living, working, studying, or worshiping in the geographic area of the credit union is typically enough to be eligible for membership, though you'll likely also have to open a checking or savings account.
How to Apply for a Loan Online
The actual steps you follow to apply for an auto loan online will vary based on the provider you wish to use. For example, if you use an online lending network to compare offers, then you'll follow a slightly different path than others who prefer direct lenders.
Whatever the case, you'll likely want to start by reviewing your credit reports and scores. You can get a free copy of each of your three main credit reports once a year through the official website, AnnualCreditReport.com.
Knowing where your credit stands will allow you to get an idea of what to expect from the application process. It will also let you know about any big red flags that you may want to fix before you start shopping for an auto loan. Any small fixes you can perform to clean up your credit may help a lot when it comes to applying for a loan.

Depending on your credit and budget, you may want to consider pre-qualifying for an auto loan. A number of auto lenders allow you to check for pre-qualification, which uses a soft credit inquiry that won't hurt your credit scores.
Being pre-qualified for an auto loan can not only give you an idea of your approval chances, but also of how much you can borrow — and at what rates. Even if you wind up using a different financing source, having a solid start from which to build your budget (and, potentially, from which to negotiate with the dealer) can go a long way.
And, speaking of budgets, that's the next step. Your car-buying budget should reflect what you can legitimately afford to spend, not just how much you're eligible to borrow. Don't forget to include any down payment or trade-in value when determining what size monthly payments fit into your budget.
With a budget in hand, you can start shopping. If you're using a bank, credit union, or third-party lender, then you can shop from any dealer you like. If, however, you're getting your financing directly from the dealer, you will obviously be limited to that dealer's inventory.
The majority of auto loans — especially those offered to poor-credit applicants — will be secured loans that use the vehicle as collateral. (In other words, if you don't make your loan payments, the lender can sell the vehicle to get its money back.)
Since the vehicle being financed is also the collateral, most lenders will require you to select a specific vehicle before you can fill out the official application. This will allow the lender to know the exact value of the collateral before issuing a loan, and the loan-to-value (LTV) ratio will factor into whether you are approved and at what rate (more on LTV below).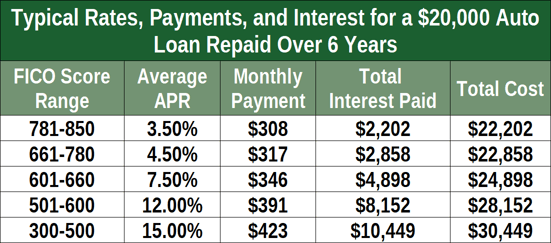 So, once you've selected a vehicle, it's time to fill out the loan application. If approved, you'll be provided with a loan agreement that lays out all of your loan terms, including how much you'll need to pay each month and how long you'll need to make payments.
Keep in mind that you'll most likely make your auto loan payments directly to the lender regardless of what type of financing you obtain. For example, if you use an online lending network to find a lender, your loan payments go to that lender, not the lending network.
Making (& Keeping) a Realistic Budget
Buying a car — or anything, really — can be an emotional experience. Depending on the reason you need a new car, that emotion can be a factor long before you even hit the lot — and it only gets worse from there as you're confronted by row after row of shiny new vehicles and pushy salespeople who insist you need the latest and greatest in vehicle technology.
The best way to combat the temptation to make an emotional car-buying decision is by walking into the dealership armed with a firm budget — one based on what you can realistically afford, not what will get you the coolest car. This can be especially important when you have poor credit and will likely be paying high interest rates on whatever amount you borrow.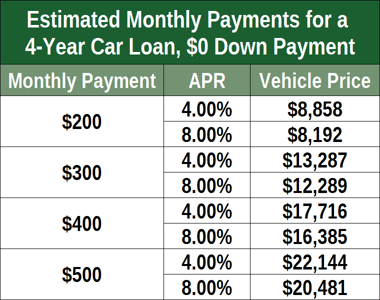 Building a responsible budget starts with letting your finances dictate the car you buy, not the other way around. Avoid falling "in love" with a specific car, then scrambling to fit it into your budget; this will most likely lead to overspending that can make a perilous financial situation even worse.
Instead, dive into your income, debts, and obligations to determine how much you can reasonably afford to pay each month toward a car payment, then go from there. Many experts suggest keeping your car payments below 15% of your income.
Next, do a little research ahead of time to see what interest rates you're likely to get based on your creditworthiness. Your monthly payments will be based on both your loan amount and your APR, so knowing your likely interest rate will give you the most accurate estimation of how much you can spend on a vehicle.
You can use an online loan calculator to estimate your payments at different price points and interest rates. This allows you to explore your options without needing to crunch the numbers yourself.
Tips for Improving Your Approval Chances & Loan Terms
Applying for loans when you know you have poor credit can be a very stressful experience, one that leaves you feeling frustrated and like you're running out of options. But, you may not have to rely on your poor credit alone to get you approved for an auto loan.
Nor do you necessarily have to accept the high rates and fees that having poor credit typically entails. For example, one common way to improve your approval chances for a particular loan is to provide some sort of down payment, be it with cash or with a trade-in vehicle.


Providing a down payment for an auto loan can help you in two ways. First, it acts as a sort of earnest payment, which shows the lender that you're serious about paying your loan. It also — and, perhaps, more importantly — reduces the loan-to-value (LTV) ratio of the auto loan.
Essentially, the LTV of an auto loan is the value of the vehicle divided by the loan amount. So, an auto loan of $15,000 for a vehicle worth $20,000 would have an LTV of: $15,000 / $20,000 = 0.75, or 75%. A high LTV is more risky for the lender, as it means the lender is less likely to recover the full value of the vehicle if the borrower defaults.
Making a down payment (or providing a trade-in) can be most helpful for borrowers who are unable to qualify for a loan large enough to cover the price of a particular vehicle. It may also improve the interest rate you are offered on the loan.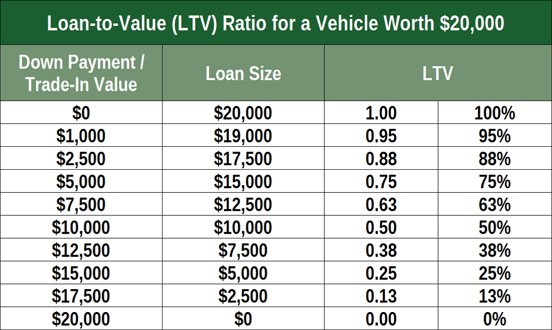 Another common way of boosting your approval chances and your loan terms is to apply with a qualified cosigner. A loan cosigner is typically an adult with good credit who agrees to take legal and financial responsibility for the loan should the primary borrower be unable (or unwilling) to repay the loan.
Having a cosigner with good credit on your loan can help balance out your poor credit, reducing the overall risk of the loan. Basically, lenders know that people with good credit are more likely to pay the loan to avoid damaging that good credit, so the lender is more likely to get repaid.
While having a cosigner can be good for the borrower, it isn't without its risks — for either party. Most of the time, a cosigned loan will be reported to the credit bureaus for both parties, which means any unhealthy credit behavior — such as a delinquent loan payment — can harm the credit of both you and your cosigner.
Additionally, if you fall behind on the loan payments, the lender will generally go after your cosigner without wasting much time or money chasing you down, as the cosigner will seem like the best way to get paid. And, yes, the lender can take both of you to court if necessary to get its money.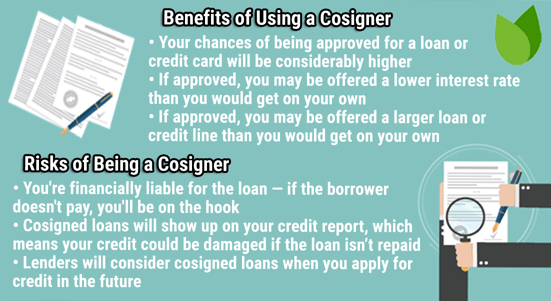 Moral of the story? Only ask someone to be your cosigner if you are 100% certain you can make your loan payments — and that you will continue to be able to make your payments for the life of your loan. Defaulting on a cosigned loan can not only tarnish the credit of everyone involved, but it can also permanently damage your relationship with your cosigner.
While a down payment or cosigner can certainly help your chances, the only surefire way to enhance your loan approval and terms is to boost your credit scores and clean up your credit profile. That's because your credit is the primary factor upon which lending decisions are made.
The best ways to improve your credit will depend on why you have poor credit in the first place. If the problem is outstanding debt, you can often boost your scores simply by paying down some of your high balances. This is particularly effective in cases of high revolving utilization, such as having a maxed-out credit card (or three).
For many people, bad credit is the result of multiple delinquent payments and/or defaulted accounts. While some of these issues may be dealt with via credit repair, the only guaranteed way to wipe your proverbial slate clean is to wait.
The majority of negative credit report items have a shelf life of just seven years, meaning they should come off your reports automatically seven years after the event. Some types of bankruptcies can remain for a full 10 years, and most hard credit inquiries should fall off after two years.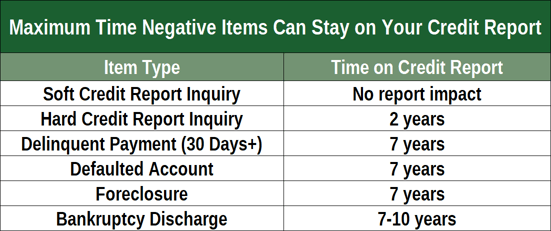 You may not even need to wait the full life of the negative item to see your score improve, either. Credit scoring models are designed to treat recent credit history as more important than older credit history, so the older your negative items get, the less they'll impact your credit scores.
One last thing to remember is that most auto loans last years — which means you have plenty of time to boost your credit scores so you can refinance for a lower interest rate. Refinancing after improving your credit can save you hundreds — if not thousands — of dollars in interest fees over the life an auto loan.
What's more, you can use your new auto loan to help build your credit by ensuring you always make your monthly payments on time. This will help you to build recent positive payment history, which can boost your score tremendously since your payment history is worth up to 35% of your FICO credit score.
Online Resources May Help You Find a Loan
When it started, the world wide web wasn't so wide, and it certainly didn't encompass the world. In mere decades, however, the internet has become a global construct connecting billions of users.
And, while the internet offers many great tools, one of its most useful superpowers is the ability to connect people with niche products and services that would otherwise take significant resources to track down — like helping consumers with bad credit find much-needed auto loans.
But don't stop once you've found a loan. Another amazing aspect of the internet is the wealth of information available to help improve your life — including your personal finances and consumer credit. Consumers can find a huge number of resources — like, say, our expert guides — to learn how to build and repair their credit, making it easier to find loans (and any other financial products) with low rates and competitive fees.
Advertiser Disclosure
BadCredit.org is a free online resource that offers valuable content and comparison services to users. To keep this resource 100% free for users, we receive advertising compensation from the financial products listed on this page. Along with key review factors, this compensation may impact how and where products appear on the page (including, for example, the order in which they appear). BadCredit.org does not include listings for all financial products.
Our Editorial Review Policy
Our site is committed to publishing independent, accurate content guided by strict editorial guidelines. Before articles and reviews are published on our site, they undergo a thorough review process performed by a team of independent editors and subject-matter experts to ensure the content's accuracy, timeliness, and impartiality. Our editorial team is separate and independent of our site's advertisers, and the opinions they express on our site are their own. To read more about our team members and their editorial backgrounds, please visit our site's About page.