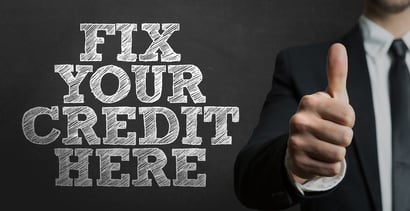 In the article below, we'll take a look at how to repair credit in just five steps and help you regain control of your finances and gain a foothold on a healthy financial path toward future success.
Life may be more difficult and expensive than it needs to be when you have a damaged credit history. Lenders, employers, landlords, and insurance companies can pull credit reports, and if they see anything that looks like you're a poor financial risk, they may back away. Some don't even view the reports but check the credit scores that are derived from the information that appears on them.
To ensure that all opportunities are open to you, those numbers should be nice and high.
The time is now to correct any issues that might be hurting your credit reports and scores. As long as you're organized and committed, you can do it in five fast steps.
Step 1: Assess the Damage and What Needs Repairing
You can't know what's hurting your credit without reading over your most recent credit reports, so you want to pull them all.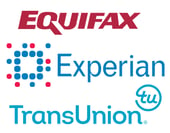 There are three major credit reporting agencies in the U.S.: TransUnion, Equifax, and Experian.
Although you can get copies from the companies that produce them, the easiest way is to access all three at once from annualcreditreport.com. You are entitled to a copy of your credit report once a year from each of the agencies at no cost.
Occasionally, a creditor will report to only one or two of the agencies, so you'll want one from each agency to be certain that you have your complete credit picture.
After accessing the credit reports online, print them out. As you'll see, they are divided into four sections, so read through each and look for areas of concern:
Identification. Your name, Social Security number, address, and date of birth should all be listed, and sometimes you employer's information will be there as well. None of this data is factored into credit scores, but inaccuracies can be an indication that someone else's accounts are showing up on your report.
Trade lines. This is the meat of your credit report. It includes your borrowing activity and debts, such as how you've been managing credit cards, loans, and finance companies. You'll see the details about your accounts, like the original balance, the date it was opened, and your monthly payment history. If you missed payments for six months or more, a lender may write the debt off, and a "charge-off" will appear. Collection accounts can show up, too, either as paid or outstanding.
Public records. The courts can also send information to the credit reporting agencies, and you'll want this section to be empty. It shows judgments owed for lost lawsuits, bankruptcies, and liens. Depending on the state you live in, foreclosures and vehicle repossessions can also show up here.
Inquiries. When you pursue a credit product, the lender will send a notice to the credit reporting agencies in the form of a hard inquiry. These are factored into your credit scores. If a lender or other business checked your file independently to see if you might be a suitable customer, that will result in a soft inquiry, which is not a scoring factor.
In the next step, you'll find common examples of inaccurate and/or erroneous information to look for and dispute.
Step 2: Begin the Dispute Process
As per the Fair Credit Reporting Act, consumer credit reports must only contain accurate and timely information. If you see any of the following, dispute them with the credit reporting agencies:
Credit cards and loans you didn't open
Balances that you didn't run up
Charge-offs from fraudulently opened accounts
Delinquencies when you paid on time
Collection agency debts you don't owe or have already satisfied
Collection agency accounts that are older than seven years
Chapter 7 bankruptcies that are older than 10 years from the filing date
Chapter 13 bankruptcies that are older than 7 years from the filing date
Paid liens and legal judgments
You may dispute the information with each of the credit reporting agencies, but you can save time and effort by choosing just one and it will notify the others.
All the credit reporting agencies allow consumers to dispute online, over the phone, or by mail. And thanks to recent legislation, it's easier than it used to be.
The contacts for each credit reporting agency are different, however, and the process can vary a little:
Online: Log on to the website and submit a dispute. You'll enter your personal identification information and the 10-digit confirmation number located on your Equifax report. List the items you're disputing in the designated space.
Phone: To call your dispute in, dial (866) 349-5191. Explain to the representative what you are disputing and your reasons. That person will log the information and begin an investigation.
Mail: Print out and complete Equifax's Research Request Form. Check the boxes with your reason for the investigation, then mail it to:
Equifax Information Services, LLC
P.O. Box 740256
Atlanta, GA 30374
Online: Access, complete, and submit Experian's dispute form. After entering your identification information, state the reasons for the dispute.
Phone: Call (888) 397-3742 to speak with a representative who will help you with the dispute and prompt the investigation.
Mail: Write a letter (using the Federal Trade Commission's sample letter as a guide) with the reason for your dispute and include all relevant identification information. Send it to:
Experian
P.O. Box 9701
Allen, Texas 9701
Online: Log in or create an account, then go to the Manage a Dispute on Your Credit File Complete it and submit. (TransUnion encourages online disputes, noting that it's the fastest way to achieve resolution.)
Phone: Call (800) 916-8800 to be connected with a representative. Explain that you want to file a dispute.
Mail: Write a letter (using that Federal Trade Commission's sample letter as a guide) outlining the reason for your dispute and include your identification information. Send it to:
TransUnion Consumer Solutions
P.O. Box 2000
Chester, PA 19016-2000
Whichever dispute method or credit reporting agency you choose, the Fair Credit Reporting Act allows for approximately 30 to 45 days for the investigation to be completed.
Step 3: Halt Further Credit Report Damage
As you're waiting for the results of your dispute, you can make a positive difference in your credit reports by dealing with negative but accurate information. For example:
Lower your credit utilization ratio. Credit utilization is a major factor in credit scores, and owing as little as possible, especially as compared to your credit limit, is ideal. Having 70% to 75% of the credit limit available should keep you in good credit shape. Pay down your credit cards and loans to make an instant scoring improvement. You can also broaden the ratio by asking your credit card company for a higher limit, opening another credit card, or consolidating your credit card debt with a loan (keeping those now deleted accounts open and active, but not carrying over a balance).
Pay collection accounts. You can't remove evidence of an account that has gone into collections before the seven-year mark, but you can pay it off and enjoy a strong scoring hike. Satisfied collection agency debts aren't calculated into the latest versions of the FICO and VantageScores. So as soon as your reports show they've been cleared, your scores will rise.
Deal with tax liens. Owing back taxes is no fun, and if the IRS placed a lien on your reports, your credit history and scores are being hurt. If you can't pay what you owe immediately or in full, the IRS has a Fresh Start Program, where you may be able to enter into a payment plan or settle for less than what you owe, then have the lien lifted.
Treating debt and credit products responsibly will make a big difference in your credit rating, too:
Pay on time. Since payment history is the most significant credit scoring factor, you can make a huge difference in your score by meeting your due dates every month. Even if you've been late in the past, timely payments now and into the future will help.
Bring past-due accounts current. If you've missed a few credit card or loan payments, the account is considered past due. To bring it current, send enough to cover the missed payments and you'll be back in good standing.
Don't accrue more debt. If you're carrying excessive debt now, stop borrowing and concentrate on deleting the balances. And if you're debt-free, use your credit cards responsibly by charging occasionally and paying the entire bill when it comes due.
Apply for new credit prudently. Select credit products wisely. Only apply for the cards and loans you're sure you qualify for, need, and can handle. Submitting several credit card applications in quick succession will bring your score down. In general, each application will shave less than five points from your FICO score but if you don't have much being reported about you, the impact will be worse.
Maintain older accounts. Having a long and positive relationship with a credit card company will help preserve your credit scores, so keep the older accounts that you have open and active.
Taking these steps now can have an immediate positive impact on your credit score.
Step 4: Check the Status of Your Disputes with Each Bureau
After you file a dispute, the credit reporting agency will communicate with the furnisher (such as the lender, collection agency, or courts). The furnisher will then investigate your claim and report its findings back to the credit reporting agency.
Although they have about a month, most of the investigations are concluded sooner. Once done, the credit reporting agency will provide you with a written notification of the result.
If the furnisher can't confirm that the information you've disputed is accurate, it will update the credit reporting agencies and that piece of information will be either removed or changed accordingly. Be aware that the updates can take some time to occur, so you may have to wait for a couple of months before it's cleared from your report.
Sometimes, the dispute does not come out in your favor, though, and if that happens, you are free to try again. Maybe you needed more time to assemble proof and can do so the next go around. Just don't overdo repeated disputes when you really have no case, or it could be deemed frivolous, and the credit reporting agency won't investigate again.
If the furnisher is steadfast that the information is correct, consider adding a letter of explanation (sometimes called a 100-word statement because of the word count limit) to your files. Write why the information is false or too old to appear. Be brief, stick to the facts, and offer dates and evidence.
This is your opportunity to attempt to sway lenders or creditors since they will see it when they pull your report. The statement won't affect your credit scores, but it could influence a wavering business to give you a chance. Send it to each of the three credit reporting agencies, and it will remain there until you remove it.
Step 5: Simplify the Process by Employing a Reputable Credit Repair Company
As a consumer, it is your right to clear up any inaccuracies free of charge, but you can also hire the assistance of a professional credit repair company to do it for you. If you don't feel comfortable or don't have the time to do it yourself, it can be a valuable option.
A few examples of some of the highest-rated credit repair companies:
Since 2004, Lexington Law Firm clients saw over 81 million items removed from their credit reports
Get started today with a free online credit report consultation
Cancel anytime
| Better Business Bureau | In Business Since | Monthly Cost | Reputation Score |
| --- | --- | --- | --- |
| See BBB Listing | 2004 | $99.95+ | 8/10 |
Best-in-class support
In business since 1989
Rapid 35-day dispute cycle, tailored to your situation
90-day 100% money-back guarantee
Low $79 cost to get started, cancel or pause membership anytime
| Better Business Bureau | In Business Since | Monthly Cost | Reputation Score |
| --- | --- | --- | --- |
| A+ | 1989 | $79 | 9.5/10 |
Free online consultation
CreditRepair.com members saw over 8.6 million removals on their credit reports since 2012
Free access to your credit report summary
Three-step plan for checking, challenging and changing your credit report
Online tools to help clients track results
| Better Business Bureau | In Business Since | Monthly Cost | Reputation Score |
| --- | --- | --- | --- |
| See BBB Listing | 2012 | $69.95+ | 8/10 |
No matter which of these companies you sign up with, you can cancel at any time. Don't hesitate to stop the service if you don't need it anymore or are dissatisfied for any reason.
Common Questions About the Credit Repair Process
It's not uncommon to have questions about what a credit repair company can do you for you. Read on to learn the answers to some frequently asked questions about the credit repair process.
How Does Credit Repair Work?
In general, the company you choose to work with will access and review your credit reports, looking for negative or erroneous information. When it does, it will ask you to submit any supporting documents, if you have them. The company will then dispute the data with the credit reporting agency for you. The credit repair agency might communicate with the furnishers as well as the credit reporting agencies.
Because they will conduct the legwork and follow up, all you need to do is wait for the result.
How Long Does Credit Repair Take?
The investigations take the same amount of time whether you DIY or hire out: 30 to 45 days to learn the result, then possibly a few more months for the updated information to appear on your credit reports. A credit repair company can help you save time by conducting the online disputes, calls, or letter writing on your behalf.
How Much Does Credit Repair Cost?
Each company has a different pricing and features package. You'll pay for the initial month, and if you want the rest of what it offers – which typically includes personalized tracking, monitoring, and analytics (the more they do for you, the more it will cost) – you can keep the service going.
How Much Will Credit Repair Improve My Credit Score?
Having negative but incorrect information removed (whether self-initiated or by using a credit repair company) from your credit report can result in a huge scoring improvement.
For example, if one wrongful late payment is showing up, it could be lowering your FICO score 90- to 110-points. Rectify it and your score will be back up to where it should be.
An excellent score is in the mid 700s and above (both FICO and VantageScore range from 300 to 850).
A collection account can also shave about 100 points from a score, so when it's gone, your numbers will rise substantially, especially if you can remove several of those items. Therefore, removing a few dings from your credit reports means you can go from bad to good credit fast!
An Improved Score Will Lead to Financial Opportunities
Keeping your credit report in positive and accurate shape is something anyone can and should do. Your credit scores speak for you, and you want them to be your numerical cheerleaders! The higher they are, the better the interest rates will be on credit cards and loans.
Odds are, you'll be eligible for higher credit limits, a greater variety of rental properties, and won't have to pay extra fees to start up a cellphone or utility contract. They can even result in lower car and life insurance rates. In fact, when your reports are reflecting what they should and your credit scores are in the right place, you can be sure that a business or financial institution will identify you as the attractive credit risk you really are.
Advertiser Disclosure
BadCredit.org is a free online resource that offers valuable content and comparison services to users. To keep this resource 100% free for users, we receive advertising compensation from the financial products listed on this page. Along with key review factors, this compensation may impact how and where products appear on the page (including, for example, the order in which they appear). BadCredit.org does not include listings for all financial products.
Our Editorial Review Policy
Our site is committed to publishing independent, accurate content guided by strict editorial guidelines. Before articles and reviews are published on our site, they undergo a thorough review process performed by a team of independent editors and subject-matter experts to ensure the content's accuracy, timeliness, and impartiality. Our editorial team is separate and independent of our site's advertisers, and the opinions they express on our site are their own. To read more about our team members and their editorial backgrounds, please visit our site's About page.