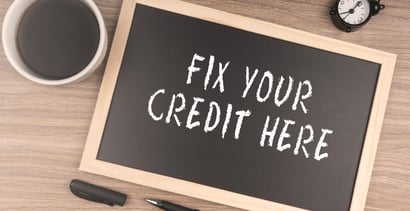 There are plenty of approaches consumers can take when it comes to repairing their credit reports. Free credit repair is an appealing option because, well, it's free. In this article, we'll explore how consumers can repair their own credit and look at some options for credit repair services as well.
Credit report errors are among the top complaints to the Consumer Financial Protection Bureau (CFPB), ranking only behind debt collection and mortgage complaints.
If such errors aren't fixed, they can lower a credit score and cause a consumer to pay more for credit cards, mortgages, and other types of loans. The responsibility of spotting errors falls on the consumer, who must then report them to the major credit bureaus that compile credit reports so the errors are corrected and their score can improve.
The good news is that fixing credit report errors is free — if you do it yourself. Filing a dispute is fairly straightforward, though it will take some time. You can also use free credit repair software available online or pay a credit repair organization to do the work for you.
Online Disputes | Software | Services | FAQs
Method 1: Dispute Items with Each Bureau Online
There are three national consumer credit reporting agencies: Equifax, Experian, and TransUnion. If you find an inaccuracy with one agency, you should get your credit report from the other two to see if each credit report contains the same incorrect information.
You can obtain all three credit reports for free at annualcreditreport.com. It's the only source for free credit reports that is authorized by federal law.
Common errors to look for in your reports include:
Identity errors: These include any personally identifiable information, such as the wrong name, phone number, address, or Social Security number. Such errors are the top complaint to the CFPB about credit reports.
Account status: Closed accounts could be reported as open, others could be incorrectly reported as late or delinquent, or the same debt may be listed more than once, possibly with different names.
Balance errors: An account could have an incorrect balance or credit limit listed, negatively affecting your credit utilization rate.
You can't dispute a credit score, only the information used to determine it. You should check the credit history information in your report for accuracy, including the number of inquiries, outstanding balances, number of accounts, and age of accounts.
For any errors you find, contact the credit bureau that generated the report, which we'll detail next. You'll also need to contact the creditor or company that provided the information, also known as the furnisher of information.
Here's how to dispute items with each credit bureau online:
Equifax
The Equifax website for filing disputes is straightforward and easy to use. It has sections on how the process works, what to look for, what you need to start, and what to expect during the dispute process. It also has short videos explaining the process.
Equifax recommends to first check your credit report and then file a free dispute if you spot any information that may be inaccurate or incomplete.


If you're submitting a dispute online, Equifax says it will contact you by email within 30 days with the results of its investigation into your dispute.
You can also check the status of an existing Equifax dispute online. If the reporting agency finds the information on your credit report needs to be updated, Equifax will take care of it.
You can submit documents to support your dispute online by uploading them with the dispute form. These can include a bank statement, driver's license, or court order. Only send copies if you submit documents by mail.
A dispute can also be submitted by mail or over the phone to Equifax at:
Equifax
P.O. Box 740256
Atlanta, GA 30374-0256
1-866-349-5191
Experian
The Experian website offers four ways to begin filing a credit report dispute online:
Start a new dispute online
Sign in to check an existing dispute
Get instructions for disputing by mail
View the results of your dispute
You must register with Experian before filling out its dispute forms online or from a mobile device. This will give you access to the Experian Dispute Center, email notifications, a free Experian credit report, a report refreshed every 30 days on sign-in, Experian credit monitoring alerts, and a free dark web surveillance report.


Your identity will be verified with your Social Security number, which Experian said is transferred online through a private, secure connection. It will also ask for your date of birth.
Experian points out that a credit report number isn't necessary to file a dispute online. However, if you have a paper copy of your report from Experian and you want to contact Experian to get assistance with your dispute, you can call the phone number on the report and reference the report number to get quicker access.
You can view your credit report online when submitting an online dispute with Experian. Look under the "Potentially Negative" section to find information that may be hurting your credit report. You can click on an item to see the details, and if you believe it's inaccurate, you can click on the dispute button for that item.
Select a reason from the drop-down menu for each item you want to dispute. If a specific reason can't be submitted online, Experian will give you instructions on how to deal with that dispute.
For accounts or public records disputes, you can submit the reasons for the dispute and add supporting documentation by selecting "Upload a document" on the confirmation page.
Experian will send you alerts by email to confirm when the dispute was opened, when there's an update about your dispute, and when the results are available. You can also view updates in the "Alerts" section of the Dispute Center. Disputes are generally resolved within 30 days.
A dispute can also be submitted by phone or mail:
Experian
P.O. Box 4500
Allen, TX 75013
1-888-397-3742
TransUnion
Filing an online dispute with TransUnion requires creating an account if you don't already have one. TransUnion's online Disputes Support Center answers a lot of questions about the process.
The company lists three steps in the investigation process:
You submit a dispute request if you believe any item in your TransUnion credit report is inaccurate or needs updating.
TransUnion contacts the creditor for verification. If the information doesn't require verification, the information will be corrected.
The creditor returns verification and TransUnion completes the process. It will revise or delete information in your credit report that is deemed inaccurate. If the creditor verifies the accuracy of the disputed information, no change will be made.


You can review the investigation results usually within 30 days. If you don't agree with the results, TransUnion recommends contacting the creditor directly to provide any documentation you have to support your claim.
If the creditor denies your claim, it must still report to the credit agency that the information is disputed. If the creditor verifies your claim, it must direct the credit reporting agency to update or delete the item. If you still disagree with your dispute results, you can also:
File a complaint with the CFPB.
Contact your state's attorney general.
Add a consumer statement to your credit report of 100 words or less detailing why you think the information is incorrect. Any creditor that pulls your credit report will be able to see your consumer statement.
File a repeat dispute with additional supporting documentation.
You can also file a dispute with TransUnion over the phone or by mail at:
TransUnion Consumer Dispute Center
P.O. Box 2000
Chester, PA 19016
1-800-916-8800
Method 2: Download Free Credit Repair Software
If you need more assistance filing a dispute, you may want to look into credit repair software available online. Some credit repair software products cost money, and you should check them out thoroughly before paying for any services.
Credit repair software products often promise to increase your credit score by hundreds of points. That's a gimmick because the software doesn't increase a credit score, but provides steps that consumers can take to improve their credit score.
Credit repair software companies will often provide a spreadsheet to keep track of the information needed in a dispute and provide templates for dispute letters that you can modify to fit your circumstances. No software program can interact directly with your credit score or the credit reporting bureaus — the personal information is too sensitive for the bureaus to share. You'll be doing all of the work with the software, which can make it easier to compile.
When searching for free credit repair software online, keep in mind that many products aren't entirely free. Some may offer a free 30-day trial and then charge recurring fees, and others may charge a small upfront fee with a refund if your credit score doesn't improve.
One free service we know of is Dovly. Another free option that can help boost your score is Experian Boost, but it isn't a credit repair service.
Method 3: Free Consultation With a Credit Repair Company
As with many services, you can pay someone else to do the work for you. There are many credit repair companies that will try to fix your credit score, but it will cost money.
But before paying, check to see if the credit repair agency offers a free consultation. Many credit repair companies will provide free consultations so you can see where you're at and how they can help.
The main advantage is that the company will do the legwork for you. It will pull your credit report from all three credit bureaus, review them for potential mistakes and errors, collect any documentation you may have to support a dispute, and send it to the credit bureaus to determine if the disputed items should be removed from your credit report.
Check whether the company you're considering will review your credit reports from all three bureaus. All three should be pulled because each bureau has its own data furnishers and errors could be missed if all three reports aren't reviewed.
Credit repair companies have a deep understanding of how credit scores are determined and can evaluate your credit reports efficiently and thoroughly. If you hire such a company, expect to pay a monthly fee for the service. Find a company that will let you cancel at any time and that offers a free consultation.
Here are three credit repair companies that offer free consultations:
Most results of any credit repair law firm
Lexington Law Firm clients have seen more than 81 million removals from their credit reports since 2004
Get started today with a free online credit report consultation
Cancel anytime
| Better Business Bureau | In Business Since | Monthly Cost | Reputation Score |
| --- | --- | --- | --- |
| See BBB Listing | 2004 | $99.95+ | 8/10 |
Lexington Law provides a free consultation over the phone, and you can cancel at any time should you choose to employ its services.
This credit repair firm analyzes your credit report and works with you to identify any questionable negative items hurting your score. Then it challenges those negative items with the bureaus and your creditors.
As Lexington Law points out on its website, even one mistake could decrease a credit score by 110 points, which could mean the difference between being approved or denied for a loan. We recommend Lexington Law as the best credit repair company.
Free online consultation
CreditRepair.com members saw more than 8.6 million removals from their credit reports since 2012
Free access to your credit report summary
Three-step plan for checking, challenging and changing your credit report
Online tools to help clients track results
| Better Business Bureau | In Business Since | Monthly Cost | Reputation Score |
| --- | --- | --- | --- |
| See BBB Listing | 2012 | $69.95+ | 8/10 |
CreditRepair.com also offers a free phone consultation and averages a 40-point increase in a TransUnion credit score during the first four months for its customers.
It gives clients free access to their credit report summary and has online tools to help them track results.
Best-in-class support
In business since 1989
Rapid 35-day dispute cycle, tailored to your situation
90-day 100% money-back guarantee
Low $79 cost to get started, cancel or pause membership anytime
| Better Business Bureau | In Business Since | Monthly Cost | Reputation Score |
| --- | --- | --- | --- |
| A+ | 1989 | $79 | 9.5/10 |
In business since 1989, Sky Blue Credit Repair also provides a free phone consultation. It works at a quick pace for clients by disputing 15 items monthly — five items per bureau.
Its service includes reviewing your credit reports, making recommendations for ways to raise your scores, and offering guidance for opening new credit cards and managing the balances for optimal FICO score benefits.
Membership can be paused or resumed on Sky Blue's mobile app, where users can also set their own billing date.
How Do I Fix My Credit for Free?
Fixing your credit is something you can do on your own. It requires some work, but it shouldn't be too cumbersome if you're organized and don't mind taking on the responsibility of improving your finances yourself.
It's your credit score, and the more involved you are, the more likely you are to keep improving it because you know what's needed to get it there.
Here are five basic steps to fixing your credit score for free:
Get copies of your credit reports from each of the three main credit reporting bureaus. Do this for free at annualcreditreport.com.
Identify any errors in the reports.
Dispute the errors with the credit bureaus either online, over the phone, or by mail.
Dispute the information with the furnisher, which is the company that provided the information to the credit bureau. This could be your landlord, bank, or credit card company, for example.
Expect to view the results of your disputes within 30 days.
All of these steps are important, but the most important is spotting errors on your credit reports. As we've listed above, common errors include identity and balance errors, and account statuses.
Here are some specific examples to look for:
Is your name correct? If your name is Dan Smith or another common name, a frequent error is having someone else's name on your credit report, thus having their credit problems become yours by mistake. A Daniel Smith may incorrectly be listed on your report. Be consistent in how you use your name in credit applications — use the same first name and middle initial to avoid confusion with someone with a similar name.
Address, SSN correct? Always double-check your address and Social Security number when writing them on a document. For example, if you live on a "Drive" and not a "Court," make sure the latter street designation isn't on your credit reports.
Missing accounts? If you've been denied credit due to an insufficient credit file or no credit file at all, it could be because not all of your credit accounts are included. Not all creditors supply information to credit bureaus. These can include department store credit cards and those from some banks. Ask your creditors to report your credit information to credit bureaus or switch to creditors that regularly report.
Missed payment? If a credit report lists a missed payment that you know you've made, find your credit card or bank statement that proves you made the payment — hopefully on time — and submit a copy to the bureau.
Old and bad debts listed? Missed payments, collections, and other bad debts can only be listed for seven years. After that, they must be removed and should no longer affect your credit score.
Any of these common mistakes can be easily disputed and corrected, resulting in a near-instant boost to your credit score.
How Do I Write a Dispute Letter to the Credit Bureau?
You can do this online, which is probably the easiest method, or you can write a letter and mail it to the reporting bureau that has the wrong information. Initiating a dispute online, as we've detailed above, is relatively simple and self-explanatory as you work through the process. Boxes can be checked and details about your problem can be briefly explained.
You don't have to be a good writer to fill out an online dispute form or to write a physical letter, although the latter can take a little more work.
The CFPB has instructions on how to write a dispute letter and offers a downloadable sample letter where you select the examples that apply to your credit report. If you have all of the information in front of you, it shouldn't take more than a few minutes to fill in the sample letter.
The CFPB recommends that, if you mail a dispute, your dispute letter should include:
Your contact information, including complete name, address, and phone number
A report confirmation number, if available
The account number for any account you're disputing
An explanation of why you're disputing the information
A request that the information is removed or corrected
A copy of the portion of your credit report that contains the disputed items highlighted or circled. Send copies only, not originals.
You may want to send your dispute letter by certified mail and ask for a return receipt. The letter should be sent to the credit reporting company and the furnishing company, such as your lender that provided the information.
How Long Does Credit Repair Take?
Credit repair is something that should be done continuously. You should check your credit reports annually for mistakes, even if you have good credit, because you could be a victim of identity theft and thieves could use your stolen personal information to open credit accounts in your name. That could cause a major drop in your credit scores.
The investigation of a credit dispute should take 30 days. That's how long the credit bureau has to contact the creditors, verify the information, and respond. After 30 days, the bureau must update you on your inquiry. More documentation may be needed, which adds more time to the process.
Once a dispute has been registered, many states require the credit bureau to provide a free credit report to the claimant. Check the new credit report to verify the information you disputed has been updated.
Generally, credit repair takes three to six months to resolve all the disputes made by the average consumer. The fewer mistakes you have to repair, the shorter that repair time should take.
It's also important to continue rebuilding your credit while waiting for your credit disputes to be resolved. Mistakes on credit reports aren't the only thing that can drag down credit scores.
Some things that lower credit scores may not be errors but are things that you're doing on your own. These include not paying your bills on time — including your credit card bills — using too much of your credit limit, and not sticking to your budget. Debt counseling may be helpful.
Credit repair takes time. If you're planning to buy a house and want to have the best credit score you can so you qualify for a home loan at the best interest rate, spending six months to a year improving your credit will be worthwhile.
Do Credit Repair Services Actually Work?
As TransUnion explains on its website, "Credit repair companies can't do anything different than what you can do for free yourself." And it may be faster and cheaper to contact TransUnion or the other credit reporting agencies directly.
That said, credit repair services can be a way to leave the hassle of fixing credit report errors to professionals who have been doing these services for years and know what to look for and how to resolve problems quickly and efficiently.
You can pay someone to try to resolve your problems for a monthly fee. But remember, a credit repair service can't fix problems that you've created by using credit unwisely or by not paying your bills on time. Credit repair is best-used for mistakes on your credit reports such as a simple spelling error or other misinformation.
As we've said earlier, most credit repair disputes should be resolved within 30 days. Some credit repair companies work fast and are extremely efficient.
Sky Blue Credit Repair, one of the companies we detailed earlier, says it should have the first round of dispute letters out within a week. And since the credit bureaus have 30 days to process the dispute, the initial results should be available to view in about a month.
Best-in-class support
In business since 1989
Rapid 35-day dispute cycle, tailored to your situation
90-day 100% money-back guarantee
Low $79 cost to get started, cancel or pause membership anytime
| Better Business Bureau | In Business Since | Monthly Cost | Reputation Score |
| --- | --- | --- | --- |
| A+ | 1989 | $79 | 9.5/10 |
Sky Blue offers a 90-day guarantee and will refund your money in full if you're not satisfied. Sky Blue doesn't predict a specific outcome but assures customers it's doing everything possible to get great results.
To get the most out of a credit repair service, make sure you understand its pricing. The price you see advertised may only be a starting rate and may increase if you have a lot of errors to dispute. Some companies don't charge for extra services.
You should be able to cancel at any time without further obligation, and there should be no charge for help getting your credit reports.
Finally, the Credit Repair Organizations Act was created to protect the credit repair industry and help patrons from falling victim to a credit repair scam. Signs of a credit repair scam include demanding upfront payment for services and guaranteeing a specific outcome (e.g., we can increase your credit score by 100 points!). If a service sounds to good to be true, it just might be.
Dispute Misinformation Like a Pro With the Right Resources
Knowing how to fix your credit reports and score yourself is a lifelong skill that can help you get the lowest interest rates on a variety of loans which can save you lots of money.
You can do all of this with the easy first step of getting copies of your credit reports from each of the three main credit reporting agencies each year. Study them carefully for errors and write letters to the major credit bureaus detailing the problems you've found and what the correct information is that should be substituted. You can do this all online for quicker results as we've detailed in method one.
If all of this is too overwhelming, hire a credit repair service and see what they can do to improve your credit score. It may cost you a few hundred dollars, but that may be worth it to accomplish something that could take hours of your valuable time — and still cost you much less than a bad credit score.
Advertiser Disclosure
BadCredit.org is a free online resource that offers valuable content and comparison services to users. To keep this resource 100% free for users, we receive advertising compensation from the financial products listed on this page. Along with key review factors, this compensation may impact how and where products appear on the page (including, for example, the order in which they appear). BadCredit.org does not include listings for all financial products.
Our Editorial Review Policy
Our site is committed to publishing independent, accurate content guided by strict editorial guidelines. Before articles and reviews are published on our site, they undergo a thorough review process performed by a team of independent editors and subject-matter experts to ensure the content's accuracy, timeliness, and impartiality. Our editorial team is separate and independent of our site's advertisers, and the opinions they express on our site are their own. To read more about our team members and their editorial backgrounds, please visit our site's About page.