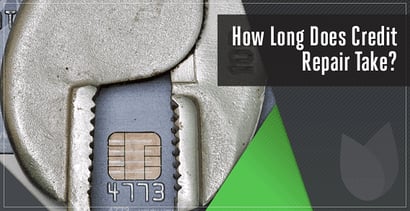 Anyone that's run a race can tell you the most important part of your performance is the start. If you get off the blocks slow, you're almost guaranteed to lose. You can overcome small mistakes in the middle or near the end, but a bad start has ruined careers and lost Olympic medals for otherwise talented athletes.
Thankfully, life makes adjustments for occasional mistakes. Like a race, though, it's important to get a good start on any task you set out to accomplish. If past mistakes have your credit report unattractive to lenders, it's never too late to get a fresh start on your finances.
And you're probably wondering, "Just how long does credit repair take?"
Credit repair isn't a race — it's a marathon that takes patience and responsibility. The way you start will determine how soon you finish. In this article, we'll provide some key information on what you need to know for credit repair. We'll also present some of our top choices for professional credit repair services.
Credit Repair Takes At Least 30 Days (But May Be 6 Months or Longer)
How long your credit repair process takes is dependent upon the condition of your credit reports. Inaccuracies weighing your credit score down can be eliminated much faster than a history of late payments or defaults. With the proper approach, many items may be removed, potentially giving your FICO score a boost.
Before you get started, take advantage of your annual free credit report. You're allowed one pull from each of the three major reporting bureaus, Equifax, TransUnion, and Experian, each year.
Keep in mind that your credit report does not include your FICO or VantageScore credit scores. However, you can take advantage of various free credit monitoring services to see both your credit score and summaries of your credit reports. In addition, many credit cards now offer free FICO score tracking, especially those designed to help you build credit.
Once you have your credit reports, check every bit of information for accuracy. While many consumers go straight to the meat of the report — the tradelines and account details — they may fail to recognize a name misspelling or incorrect address. These could be signs that someone has accessed their credit history, which could be far more damaging than a late car payment from two years ago.

Create a checklist of all of the items that need repair — whether they're accurate or not. This will give you a to-do list for your credit repair journey.
If your list is short, it could be fixed in as little as 30 days, or the next time your accounts are reported to the credit bureaus. If you have a large number of issues that need to be addressed, the process could take three to six months. But don't fret — remember, it's a marathon, not a race.
For inaccuracies in your report, you can take the do-it-yourself approach and write dispute letters or file online disputes to each credit reporting agency that is showing the error. If the information truly is inaccurate, the bureaus are required to fix the error.
Credit bureaus and information furnishers have 30 days after a dispute is filed to investigate the dispute, meaning simple issues can be fixed in as few as 30 days.
If your credit report is bogged down with late payments, defaults, a bankruptcy, or several recent new credit inquiries, it may take a lot of patience and keen strategy to improve your credit rating. Legitimate negative items can't be removed through credit repair disputes, so you may simply need to wait them out.
As late payments and other negative information age, they lose their impact on your credit scores. After a few years of on-time payments, their impact on your overall score will likely be minimal. Most lenders want to see at least 12 consecutive months of on-time payments.
Some outliers, like mortgage lenders, prefer at least 24 months free from delinquent payments or other credit issues. The length of delinquency also plays a factor in your score — a 30-day late payment has less impact than a 60-day delinquency, and a payment made 90+ days late has even more negative impact on your score.
Charge-offs, defaults, or bankruptcies will loom on your report for up to seven years. While these can be disputed and removed in certain instances, there are other ways to possibly have them removed early.

Many consumers make the choice each year to try and expedite the process by turning to a credit repair company. Depending on the number of items you want to dispute, these companies can save you time and cut through a lot of red tape. If you don't feel completely confident in your abilities to understand the intricacies of credit reports and financial terms, or time is of the essence, this may be the best route to take.
Every credit repair service communicates with each major credit bureau on your behalf to correct mistakes, including misspellings, incorrect balances, or erroneous accounts. Unsubstantiated accounts can also be removed from your credit report under some circumstances, as collection agencies are required to show proof and verify that the debt belongs to you.
While every credit repair agency's process is different, most provide credit score tracking and alerts, as well as credit counseling, identity theft protection, and online/mobile portals to track their progress on your account.
Fees vary by company, but the results by the top service providers speak volumes for their abilities.
The Top 3 Credit Repair Companies
A quick web search reveals thousands of entities vying for your credit repair business. If you look at the bold print, each one may seem like a perfect choice. Our experts at BadCredit.org spend hours scouring fine print and checking reviews to make sure that the bold print isn't all you see.
As with many things in life, you pay for quality. The best credit repair company with the longest track record of success may not be the cheapest option, but they have a history of getting the job done as fast as possible. The monthly fees may be higher, but completing the job in two months instead of six can save you money in the long run and get you to the finish line faster.
Here are our choices for the top three credit repair companies.
Since 2004, Lexington Law Firm clients saw over 81 million items removed from their credit reports
Get started today with a free online credit report consultation
Cancel anytime
| Better Business Bureau | In Business Since | Monthly Cost | Reputation Score |
| --- | --- | --- | --- |
| See BBB Listing | 2004 | $99.95+ | 8/10 |
Best-in-class support
In business since 1989
Rapid 35-day dispute cycle, tailored to your situation
90-day 100% money-back guarantee
Low $79 cost to get started, cancel or pause membership anytime
| Better Business Bureau | In Business Since | Monthly Cost | Reputation Score |
| --- | --- | --- | --- |
| A+ | 1989 | $79 | 9.5/10 |
Free online consultation
CreditRepair.com members saw over 8.6 million removals on their credit reports since 2012
Free access to your credit report summary
Three-step plan for checking, challenging and changing your credit report
Online tools to help clients track results
| Better Business Bureau | In Business Since | Monthly Cost | Reputation Score |
| --- | --- | --- | --- |
| See BBB Listing | 2012 | $69.95+ | 8/10 |
+See More Credit Repair Companies
The Fastest Way to Repair Your Credit
The fastest way to repair credit depends on your comfortability with the credit repair process. If you're not intimidated by credit bureau jargon, filing disputes yourself online is the fastest way to have errors removed because you're cutting out the middle man, i.e, a credit repair company.
Your credit scores should rebound within a month or so if the error is negatively affecting your scores.
But if credit bureaus, disputes, account validations, and pay for delete negotiations make your head spin — or you're a victim of identity theft and there's a lot in your credit file that needs attention — hiring a legitimate credit repair service is in your best interest. Leaving the job to the credit pros may be the most efficient way to help you rebuild credit.
Alas, if your reports are accurate but negative items, such as a late payment or have a high credit utilization ratio on one or more of your credit card accounts, are the reason for your bad credit score, there is no quick fix. Time and responsible financial behavior from this point forward are what will help you achieve a good credit score.
Be Patient — Rebuilding Credit Takes Time
While running the credit repair marathon, it doesn't matter how fast you are. Building — and maintaining — positive credit reports take time, patience, and proper guidance. And while it takes a long time to build a good credit score, it only takes one mistake to quickly mess it all up.
Thousands of Americans each year turn to credit repair services to provide the instruction and help needed to jump-start their financial life.
Pull your annual free credit report and analyze it carefully. Our choices for the top credit repair agencies all offer free consultations. Check with them to see what they can do for you. Create your to-do list and stick to it with diligence. If you complete these three tasks, you'll have a great start and be set up for a strong finish.
Advertiser Disclosure
BadCredit.org is a free online resource that offers valuable content and comparison services to users. To keep this resource 100% free for users, we receive advertising compensation from the financial products listed on this page. Along with key review factors, this compensation may impact how and where products appear on the page (including, for example, the order in which they appear). BadCredit.org does not include listings for all financial products.
Our Editorial Review Policy
Our site is committed to publishing independent, accurate content guided by strict editorial guidelines. Before articles and reviews are published on our site, they undergo a thorough review process performed by a team of independent editors and subject-matter experts to ensure the content's accuracy, timeliness, and impartiality. Our editorial team is separate and independent of our site's advertisers, and the opinions they express on our site are their own. To read more about our team members and their editorial backgrounds, please visit our site's About page.