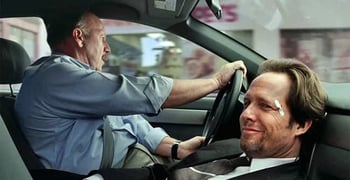 BadCredit.org publishes personal finance studies on the latest trends in the subprime marketplace. Our articles follow strict
editorial guidelines
.
Your insurance rates could more than double if you have no credit history, according to a recent survey by WalletHub. The survey polled five of the largest insurers in the country — State Farm, Progressive, Geico, Farmers Insurance, and Allstate — by submitting two nearly identical applications for auto insurance.
The only difference? One of the hypothetical applicants had excellent credit and the other no credit history.
WalletHub used the following hypothetical person for the purposes of their study: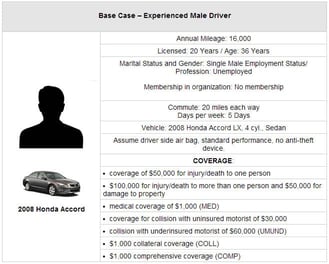 The results of the study showed some surprising facts:
  • Allstate had the highest differential between applicants, charging an average of 116 percent more for someone with no credit history.*
  • There was a 65 percent average increase in the cost of insurance for a driver with no credit history compared with a driver who had excellent credit.
  • State Farm showed the least fluctuation in premiums attributable to credit, less than 50 percent.
  • Progressive Insurance had the most transparency in their quotes, even showing the source of the credit data obtained.
  • Geico was the insurer who used credit information in the lowest number of states.
Average Premium Fluctuation by Company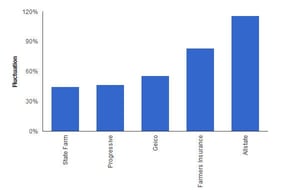 We all know how important it is to maintain the best credit rating possible. It saves us money on interest charges when we get a loan, makes it easier to get a credit card and can even help us land a job. Now we have a clearer picture of how your credit score (or lack of one) could affect your insurance rates.
---
*Allstate says they never see an applicants credit score but use elements from credit reports to determine premiums, including payment history, length of credit history, debt to credit limit ratio, number of credit accounts and similar data.
---
Photo, graph creidts: massmarket.tv; wallethub.com