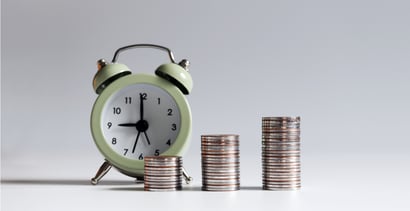 If you need to borrow money but have a troubled credit history, you'll want to know about the best installment loans for bad credit. Lenders that specialize in subprime loans cater to borrowers with poor credit by looking beyond credit scores, concentrating instead on an applicant's income, collateral, or both.
These lenders offer bad credit installment loans that provide borrowers with fast cash and reasonable repayment terms. That's not to say these loans are cheap.
Whether you plan to repay your loan in a short-term sprint or a six-year marathon, installment loans are available to fit the needs of most consumers, even those with less than perfect credit. 
Best Installment Loans For Bad Credit
These three websites prequalify loan requests and forward them to direct lender networks. They may provide you with one or more links to lenders that offer bad credit installment loans. Their services are free and won't affect your credit score.
CashUSA.com offers a streamlined loan request process, fast preapproval, and access to direct providers of installment loans. You must be a US citizen or resident, at least 18 years of age, earn at least $1,000 a month after taxes, and have a valid checking account, email address, and phone number. You may receive your money as soon as the next business day after loan approval.
BadCreditLoans.com has been arranging loans to subprime consumers since 1998. It takes only a few minutes to prequalify for a bad credit loan option and connect to one or more direct lenders. You must be at least 18 years old, reside in the US, have a bank account, and provide a valid phone number and email address. 
PersonalLoans.com facilitates long-term installment loans for borrowers with all types of credit. Its lender network offers installment loans larger than the competition's, but applicants with bad credit will have to settle for smaller amounts. Its rates and terms are about the average for this type of loan.
The24/7 Lending Group is another lender network with loans of up to $35,000, but that amount is generally reserved for borrowers with good credit. But several of its lenders accommodate consumers with poor credit, and none charge prepayment penalties if you're able to pay your loan off early. 
What Is Bad Credit?
Lenders need a convenient way to determine the likelihood of a borrower failing to repay a loan as agreed. Lenders can quantify that risk by using a credit scoring system, including FICO and VantageScore, where scores range from 300 (worst) to 850 (best).

Your credit score denotes the chances of you defaulting on a loan within the next two years. A FICO score below 580 indicates bad credit, meaning you will have limited access to credit and loan offers. 
Lenders willing to offer you a bad credit loan will charge relatively high interest rates and may impose significant fees.
Your financial behavior determines your credit score. You can earn a good credit score if you pay your bills on time and don't let your debt pile up. Delinquent payments, collections, repossessions, foreclosures, bankruptcies — these are the events that ruin credit and saddle you with a bad credit score.
The three major credit bureaus (TransUnion, Equifax, and Experian) distribute the credit reports of consumers who have used credit (i.e., through a loan, credit card, cash advance, or line of credit). The bureaus collect payment information from merchants, lenders, credit card companies, and public records to publish a detailed credit report and calculate an individual's credit score. 
A person has three credit reports, one from each credit bureau. But they have dozens of credit scores for different lending scenarios and from different credit scoring models. 
FICO uses five factors to determine a consumer's credit score: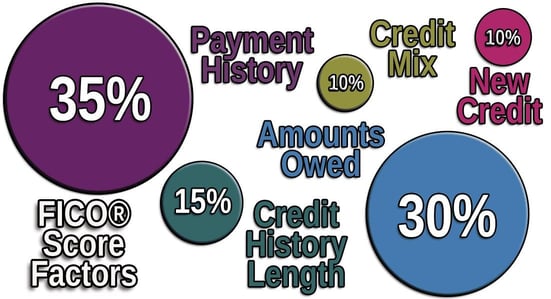 The two most significant factors, payment history and amounts owed, account for 65% of your FICO credit score. Once your payment is 30 days late, a creditor can report it to the credit bureaus, which will lower your credit score — potentially significantly — and create a negative credit report entry that remains for seven years. 
You'll also lose points if your credit utilization ratio (i.e., credit used divided by your total credit available) is higher than 30%. You can quickly improve your score by reducing your credit card debt below that threshold.
Bad credit isn't permanent, and it doesn't necessarily prevent you from obtaining a loan or credit card cash advance. Whatever your past transgressions, you can begin to rebuild credit by adopting creditworthy habits.
How Do Installment Loans Work?
The three types of loans you are most likely to encounter are:
Installment Loans: You borrow a set amount and repay it in equal monthly installments over a fixed period. Examples include personal loans, auto loans, and mortgages.
Revolving credit: You can use revolving credit to borrow money whenever you want, as long as you don't exceed your credit limits. You determine your payment amounts and timing, but you must repay at least a specified minimum each month. Examples include credit cards and home equity lines of credit.
Lump-sum repayment: You borrow a fixed amount and repay by the due date. Examples include payday and pawnshop loans.
Installment loans possess several characteristics, including:
The loan amount
The interest rate on the loan
Monthly fixed payment amount
Number of installments
Fees, such as origination fees and prepayment penalties
Collateral for secured loans
Most installment loans require the same payment each month until your pay off the entire amount. The longer the loan term (i.e., the greater the number of installments), the less you'll pay each month. But the total loan interest rises directly with the number of installments.
Many installment loans allow you to repay early, but some charge a prepayment penalty.
What Are the Different Types of Installment Loans?
There are many types of installment loans, including personal, student, and collateralized loans.
Personal Loans
A personal loan is usually an unsecured loan. Some personal loans are secured, but they are out of the ordinary. Personal loan terms typically vary from three to 72 months, with interest rates topping out at 36%.
Instead, most lenders depend on a few factors, including credit score, income, housing costs, and existing debt, when deciding whether to offer an unsecured personal loan. The use of factors other than a bad credit score allows lenders to provide personal loans to folks with a troubled credit history.
You can use personal loan proceeds for any (legal) purpose. One popular reason to take a personal loan is to consolidate existing debts. You use the loan money to pay off old debts, leaving you with just one monthly repayment. 
To save you the most money, the best personal loan APR is the lowest one you can get approved for and should be less than the APRs of your existing debts. For debt consolidation to work, you should refrain from using more credit until you pay off the personal loan. 
Student Loans
Student loans are also unsecured, with terms of up to 20 years or longer. They charge far less interest than personal loans do.
Federal student loans are better than private loans because they cost less, don't rely on credit information, allow you to defer payments, and offer flexible repayment options. 

If for some reason you don't qualify for a federal student loan, you can apply to a bank, credit union, or other private providers. Private student loans depend on the borrower's credit, so many lenders encourage parents to cosign the loan agreement. 
Some folks have a mix of federal and private student loans. You can consolidate both types privately, but federal debt consolidation loans apply only to federal student loans.
Secured Installment Loans
Secured installment loans, such as mortgages, home equity loans, and auto loans, cost less than the unsecured loan variety. You must post collateral to guarantee repayment of a secured loan, reducing the lender's risk of losing money. If you default on a secured loan, you will forfeit your collateral — a cash deposit, car, home, etc. 
Your credit score, while not irrelevant, is not the predominant factor lenders consider when evaluating applications for secured loans. They instead assess the collateral's value to determine how much money to lend you.
While secured credit cards grant you a credit line equal to your security deposit, secured installment loans are typically less generous, offering loan amounts below 100% of the collateral's value. The surplus collateral helps pay for contingencies such as collections, legal costs, and any likely decline in the collateral's value.
Payday Alternative Loans
Payday loans require a lump-sum repayment on your next payday. They charge astronomical interest rates and often necessitate expensive refinancing. 
The National Credit Union Association (NCUA) created something better: the Payday Alternative Loan (PAL). 
It's an installment loan available at a low interest rate to members of participating federal credit unions. Two versions are available:

You can get this type of loan even with bad credit. You can use the NCUA's locator tool to find a credit union near you. 
Can I Get an Installment Loan Without a Credit Check?
No credit check, guaranteed installment loans would seem an ideal solution for bad credit borrowers who wouldn't otherwise qualify for a loan. While not as rare as a rainbow-colored unicorn, guaranteed installment loans are hard to find, and they may not be worth the trouble. 
They typically offer meager loan amounts and charge high interest rates, sometimes exceeding 36%. 
You may not have to resort to a no credit check loan. Many lenders, including those reviewed above, can accommodate bad credit borrowers. It costs nothing to use a lender matching network and see whether you prequalify for a subprime installment loan because the network does not charge for its service nor perform a hard check of your credit reports.
Credit checks can be hard or soft. Hard checks only occur when you authorize them, usually while applying for a new credit account or loan. Your credit score may decrease a few points with each hard pull of your credit, and your credit reports list the inquiry for two years. 
Soft credit pulls don't affect your credit score, and only you can see them.

While the lender-matching services don't perform hard pulls, you can bet that most direct lenders on their networks do.
Can I Get $2000 Fast With Bad Credit?
Your best bet for borrowing $2,000 quickly despite bad credit is probably a personal loan. The four online lending networks reviewed above can provide $2,000 loans if you qualify. 
These networks save you time by circulating your online loan request to multiple lenders that can get you your money as quickly as the next business day following loan approval.
While personal loans aren't cheap, they are a bargain compared with the amounts a payday lender can charge.
You can also consider a cash-out auto refinance loan if you:
Own a car
Have at least $2,000 of positive equity in the vehicle
Are willing to risk losing your automobile if you default on the loan
If you paid off your car loan, you could get a title loan quickly, albeit with a high interest rate. If you still owe money on your vehicle, you may be able to arrange cash-out refinancing using an online car lending network.
Home equity loans are a great option if you own a home, but they can take weeks to close. You're lucky if you've already set up a home equity line of credit (HELOC) since you can tap into it instantly. 
If you belong to a participating federal credit union, you can borrow $2,000 through a PAL II. The cost is relatively low, and the processing time should be quick. It's unlikely you could get a $2,000 payday loan, where loan amounts seldom exceed $1,000, and the interest rates are predatory. 
A pawn shop loan may be possible, but the average loan is only $150, according to our friends at Credit Karma. You would need to hock something worth quite a bit more than $2,000 for this to work. 
Can I Rebuild Credit With an Installment Loan?
Most installment loans report your payments to one or more of the three major credit bureaus. Any lender that does a hard credit pull is likely to report your payments. If those reports show you consistently pay your bills on time, you'll build credit. 
Installment loans give you a chance to demonstrate creditworthy behavior through timely payments each month. For example, if you take a two-year personal loan, you'll have 24 opportunities to demonstrate responsible behavior.
 Get your payments in on time, without fail, and your credit score should begin to recover within a year.
How Do Installment Loans Differ From Payday Loans?
Both types of loans are available quickly, and neither requires you to post collateral. The most significant difference between the two is their APRs.
Installment loans usually top out at 36%, whereas payday loans can easily exceed 700%. 

Installment loans are more affordable. You can control your monthly payments by agreeing to a comfortable repayment term. 
Payday lender loans require a lump-sum repayment in one to four weeks. If you can't repay the entire balance on time, you must roll over the unpaid amount and incur an additional origination fee. 
Many borrowers roll over their payday loans multiple times, causing their costs to skyrocket. Some of these borrowers fall into a debt spiral that ends in bankruptcy court.
Payday loans don't check credit, but they also don't report your payments to a credit bureau. That means you can't rebuild credit through payday loans.
What Is the Easiest Type of Loan to Get With Bad Credit?
A pawn shop loan is probably the most accessible because your credit score doesn't enter into the picture. You simply bring some item (e.g., a camera, jewelry, a watch, etc.) to your local pawn shop and use it to secure a short-term loan. 
You can usually borrow about 25% to 50% of the item's value. You'll receive a dated pawn ticket that allows you to reclaim your property by repaying the loan with interest. 
The pawnshop keeps unclaimed items and sells them to customers. The APR on pawnshop loans is typically 200% or more.
Payday loans are also easy to get if you have a steady source of income — a job or government benefits. Your credit doesn't matter to the lender. Payday loans are expensive and require a lump-sum repayment within one to four weeks.
A car owner with a paid-off vehicle can get a title loan. These loans are expensive and risky since you'll forfeit your vehicle if you fail to repay them. But they don't require credit checks, making them relatively easy to get.
Conventional auto loans are reasonably easy to obtain, but they require credit checks. You can arrange a cash-out auto loan by borrowing more than your current balance and pocketing the difference. An origination fee usually applies to refinancing loans.
Is CashUSA.com Legit?
Yes, indeed. CashUSA.com is a legitimate lender-matching network for personal loans. It began business in Las Vegas more than 20 years ago and facilitates thousands of loans each year. 
BadCredit.org ranks offerings only from companies we believe to be legitimate, including CashUSA.com.
We also believe in transparency, so we must tell you that CashUSA receives an F rating from the Better Business Bureau. BBB says the low rating results from complaints filed against the business.
Many complaints stem from unsolicited third-party emails whose senders obtain your information from CashUSA, as described by the company's Ad Disclosure. We recommend you opt-out from receiving these by clicking on the unsubscribe link at the bottom of each unwanted email. 
If you receive calls from a third-party lender, request that it put you on its Do Not Call list.
On the plus side, CashUSA.com offers a streamlined online system with excellent educational resources visited monthly by a million users. The lenders on its network may require an automatic monthly payment arrangement. 
The company employs sophisticated encryption technology to protect your information. Most importantly, CashUSA welcomes consumers with poor credit. It doesn't do a hard pull of your credit and won't fail to prequalify you because of a low credit score. It requires you to:
Be at least 18 years old
Be a US citizen or permanent resident
Earn at least $1,000/month after taxes
Have a checking account in your name
Have a valid email address and valid phone number(s)
These are the standard requirements for most loan companies.
Understand an Installment Loan's Terms Before Borrowing
Under federal law, lenders must disclose the terms of any loan they offer you. But you have no legal obligation to read those disclosures, and failing to do so can result in unpleasant surprises that can cost you money and undermine your privacy. 
Reviews such as this one are excellent for identifying online installment loan providers that gladly work with subprime borrowers. Read the lender's loan disclosures, and remember that you are under no obligation to accept a loan offer. You should never encounter pressure from a lender to decide quickly — if you feel rushed, move on to another lender.
Advertiser Disclosure
BadCredit.org is a free online resource that offers valuable content and comparison services to users. To keep this resource 100% free for users, we receive advertising compensation from the financial products listed on this page. Along with key review factors, this compensation may impact how and where products appear on the page (including, for example, the order in which they appear). BadCredit.org does not include listings for all financial products.
Our Editorial Review Policy
Our site is committed to publishing independent, accurate content guided by strict editorial guidelines. Before articles and reviews are published on our site, they undergo a thorough review process performed by a team of independent editors and subject-matter experts to ensure the content's accuracy, timeliness, and impartiality. Our editorial team is separate and independent of our site's advertisers, and the opinions they express on our site are their own. To read more about our team members and their editorial backgrounds, please visit our site's About page.