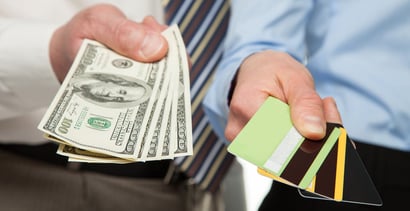 It's easy to have a poor credit score. Just a few mishaps, such as taking on too much credit, making payments late, or having a loan go into collection, can hurt your score to such an extent that you'll have trouble accessing credit. But it's never too late to adopt responsible financial behavior that will improve your creditworthiness with help from one of the best loans and credit cards for 500 to 550 credit scores.
Part of rebuilding your credit score is to prove you can properly manage debt by reducing how much you owe as well as making all payments on time and in full. Of course, it's hard to demonstrate creditworthy behavior if you can't access credit.
Thankfully, even if your score is between 500 and 550, you can find specialized credit and loan sources, including the ones we review here, that can help you rebuild your credit.
Personal Loans | Credit Cards | Auto Loans | Home Loans | FAQs
Personal Loans For 500-550 Credit Scores
Personal loans from the following sources are available to folks with poor credit. These loans are handy when you need more cash than that available from a credit card cash advance. Terms on personal loans can range from a couple of weeks to several years.
You repay longer-term personal loans in equal-sized installments for a fixed number of months. Short-term personal loans may require a single repayment after two to four weeks.
Short-term loans up to $5,000
Online marketplace of lenders
Funds available in as few as 24 hours
Simple online form takes less than 5 minutes
Trusted by more than 2 million customers
| Loan Amount | Interest Rate | Loan Term | Loan Example |
| --- | --- | --- | --- |
| Up to $5,000 | Varies | Varies | See representative example |
MoneyMutual is a service that finds you short-term loans of up to $5,000. These loans are ideal when you need cash to get you through to your next paycheck. If you qualify, you can receive loan proceeds deposited into your bank account in as little as 24 hours.
Lenders on the MoneyMutual network require that you receive a regular paycheck, Social Security payment, or another source of income. By demonstrating a reliable income source, you may overcome negatives like a low credit score, debt collection, loan default, or bankruptcy and obtain cash to bridge a temporary shortfall.
You can also arrange a longer-term installment loan of up to six months from MoneyMutual. Unlike cash advances that you repay all at once, an installment loan lets you space out repayments in fixed amounts. To qualify for an installment loan, you'll need to show an income of at least $800 per month and have a checking account.
If you can wangle it, you may prefer the bad credit installment loan from MoneyMutual rather than a cash advance because the installment loan gives you more breathing room to repay it. If you are late repaying a cash advance, you will trigger late fees and other charges that can send you plummeting into a debt spiral.
24/7 Lending Group can help you find a personal loan of up to $35,000, but not all applicants should expect a loan offer this high. If you're approved, the lender will deposit your loan in your bank account in as little as one day.
Naturally, the lender will set the terms and rates depending on your income and other factors. 24/7 Lending Group does not charge a fee to use its service, and there's no obligation to accept a loan offer.
This network has thousands of positive reviews from customers around the country and has an Excellent rating on Trustpilot.
CashUSA.com works with lenders that offer personal loans you can repay within three to 72 months. The lenders on the CashUSA.com network can offer personal loans of up to $10,000.
You must be 18 or older, a U.S. citizen or permanent resident, and the owner of a checking account to complete the online form on the website. Lenders may have additional requirements. If you are offered a loan, the lender will specify the exact loan amount, rates, and terms. You can expect to receive loan proceeds within a day or two after approval.
Lenders will debit your checking account for each payment. You may be able to work out an extension if you don't have enough cash in your account. Naturally, you should expect to pay extra fees if you need an extension. Nonetheless, an extension helps you avoid a black mark on your credit report for a late or missed payment.
Credit Cards For 500-550 Credit Scores
If your credit score is in the 500 to 550 range, qualifying for a credit card is easier said than done. That being said, certain issuers specialize in offering credit cards to consumers with bad credit. These cards may offer few frills, high interest rates and fees, and low credit limits.
Nonetheless, these credit cards provide folks with bad credit an opportunity to start rebuilding their credit. Check out the following three cards to see if one is right for you.
Up to $1,000 credit limit doubles up to $2,000! (Simply make your first 6 monthly minimum payments on time)
All credit types welcome to apply!
Free access to your Vantage 3.0 score From Experian* (When you sign up for e-statements)
Initial Credit Limit of $300 – $1,000* (subject to available credit)
Monthly reporting to the three major credit bureaus
See if you're Pre-Qualified without impacting your credit score
Fast and easy application process; results in seconds
Free online account access 24/7
Checking Account Required
| Application Length | Interest Rate | Reports Monthly | Reputation Score |
| --- | --- | --- | --- |
| 9 minutes | 29.99% APR (Variable) | Yes | 8.5/10 |
If you are looking for an easy-to-obtain card, check out the Surge® Platinum Mastercard®. With this revolving account, you can charge purchases online and in person.
This account reports your payments to the three credit bureaus. This gives you an important opportunity to bootstrap your credit score by paying your bills on time. Making timely payments will resound to your benefit on your credit reports, and should help elevate your credit score over time. You have the opportunity to double your intiial credit limit with consecutive on-time payments.
The Aspire® Cash Back Reward Card offers cash back rewards and allows you to see whether you qualify before you offcially apply.
This card doesn't charge a lot of nuisance fees other subprime credit cards charge, such as a program fee or processing fee.
The Fortiva® Mastercard® Credit Card is issued by the same bank as the card above, meaning they both offer similar features.
You'll get a free credit score, transaction alerts, $0 fraud liability, and an instant credit decision after applying.
Auto Loans For 500-550 Credit Scores
Many car owners resort to title loans when they need quick cash. However, title loans are risky and expensive. A better way to obtain cash is to arrange cash-out refinancing for your car. The amount you can borrow is equal to the equity you have in your car, which is the difference between the car's value and the current loan balance.
Alternatively, you can take out a new auto loan to purchase your next vehicle. Whether you choose cash-out refinancing or a new car loan, the vehicle serves as collateral for the installment loan and can be repossessed if you fail to make timely payments. The lending services we review here specialize in auto loans for consumers with bad credit.
Network of dealer partners has closed $1 billion in bad credit auto loans
Specializes in bad credit, no credit, bankruptcy and repossession
In business since 1999
Easy, 30-second pre-qualification form
Bad credit applicants must have $1500/month income to qualify
| Interest Rate | In Business Since | Application Length | Reputation Score |
| --- | --- | --- | --- |
| 3.99% - 29.99% | 1999 | 3 minutes | 9.5/10 |
It's hard to find a conventional lender who will approve vehicle loans when your credit score is in the 500 to 550 range. Auto Credit Express helps fill the gap left by banks, credit unions, and other lenders for auto-loan consumers with bad credit.
Auto Credit Express works with a network of car dealers who are willing to extend loans when others won't. Their business has withstood the test of time, having provided more than $1 billion in bad-credit loans since 1999.
You can prequalify for an auto loan from Auto Credit Express in less than a minute. You must be a U.S. citizen earning $1,500 a month in pretax income. Of course, you must also have a driver's license.
Auto Credit Express specifically markets to borrowers with no credit, bad credit, repossessions, or bankruptcies. The final loan approval, rates, and terms will depend on which auto dealers respond to your loan request.
Car.Loan.com has been helping to arrange bad-credit auto loans since 1994. It makes it easier to shop for a car loan by allowing you to fill out a short finance request form. Your information will be matched with the right dealer who will decide whether to approve your request.
The large Car.Loan.com network welcomes borrowers with poor, thin, or no credit. Having previously been refused an auto loan is not a barrier to approval. The lending network can recommend local dealers in most U.S. locations.
You can expect, within a day or less, an indication that a lender is interested in offering you a loan. Rather than looking exclusively at your credit score, Car.Loan.com dealers look at factors including a sufficient income, a stable residence, and a valid driver's license.
The Car.Loan.com website offers a handy estimator for determining your likely loan amount based on your credit score, monthly income, and monthly recurring payments. The actual loan terms will depend on the dealer recommended to you.
The myAutoloan.com network can get you up to four car loan offers in a few minutes through its partner dealers. You can apply for a loan to purchase a new or used vehicle, or to refinance your current car. You can even arrange financing for lease buyouts and private party sales.
You begin the process by completing a short loan request form. myAutoloan.com circulates your request to its lender network and forwards you links to interested dealers. Bad credit is OK, as are dismissed or discharged bankruptcies.
To qualify, you should have a minimum income of $1,800 per month. The minimum loan or refinance amount is $8,000. Furthermore, vehicles must be no older than 10 years with a maximum mileage of 125,000 miles. Your lender will determine the exact terms and requirements.
You have 30 days to choose one of the loan offers you receive, but you're under no obligation to select any of them. The myAutoloan.com network has been matching borrowers to dealers since 2003. The network is not available in Alaska and Hawaii.
Home Loans For 500-550 Credit Scores
Your home is probably the largest purchase you'll ever make. It's not surprising that arranging a mortgage is a big deal. It involves a large chunk of money, lots of paperwork, a 30-year commitment, and a lengthy ceremony known as closing.
Having bad credit is not a plus when applying for a mortgage. But, as these three sources show, it's not a dealbreaker either. If your credit score is in the 500-to-550 range, you can make it easier to get a mortgage by saving up a large down payment. If you can cough up 20%, you won't be required to buy mortgage insurance, a monthly savings that can easily exceed $100.
You may not have a 20% down payment, but if you can muster 10% down, you can qualify for an FHA loan. With a 580+ score, you will only need 3.5% down to get an FHA loan, so it's worthwhile to boost your score before applying.
Get today's mortgage rates from the top mortgage lenders and banks
Easily compare and choose mortgage lenders with no obligations or fees
Review current mortgage rates side by side
Pick mortgage lenders that meet your specific needs
Compare rates from pre-qualified and approved mortgage lenders — 100% online, 100% free
| Interest Rate | In Business Since | Application Length | Reputation Score |
| --- | --- | --- | --- |
| Varies | 1979 | 4 minutes | 8.5/10 |
eMortgage connects borrowers with lenders that can offer you a mortgage, or refinance loan, home equity loan, or reverse mortgage.
Some lenders may require a credit score above 550, but others are more flexible if you meet other approval factors, such as having a favorable debt-to-income ratio, at least 3% down, or a steady job with sufficient income earned in the past two years.
All you must do is provide a few details about the type of loan you need, after which it will send your request to its lender network and connect you with up to five competing mortgage lenders. The process takes just minutes to complete, and you can choose the best offer for your needs with no obligation.
Founded in 2004, FHA Rate Guide is a directory service for home loan providers. More than 2 million consumers have used this service to obtain or refinance mortgages.
The service does not match you to a lender. Rather, it uses the information you enter to recommend a list of home lenders. The task then falls to you of contacting the lender and applying for a loan.
FHA stands for the Federal Housing Administration, a government agency that insures home mortgages. It has insured more than 50 million mortgages since 1934. If a borrower defaults on an FHA loan, the agency pays off the mortgage.
FHA loans are designed for borrowers with low to moderate income. These mortgages require lower credit scores and down payments than do most conventional mortgages. You will need to make a 10% down payment if your credit score is between 500 and 579, whereas higher scores require only 3.5% down.
FHA Rate Guide is owned by LeadPoint, Inc. It is a neutral provider of information about online mortgage loans. The directory service is well-suited to consumers who want to contact lenders on their own rather than be automatically connected to recommended lenders.
The U.S. Department of Veteran Affairs (the VA) offers or guarantees home loans to eligible military active-service members, reserve and National Guard members, and veterans. It also backs cash-out refinance loans.
VA guaranteed loans are sourced by private lenders, including banks, credit unions, and mortgage finance companies. VA loans are available to all eligible applicants, regardless of credit score.
VA-guaranteed home loans require no down payment for homes costing no more than their appraised values. VA loans feature better interest rates and terms than those available from conventional loans.
A VA loan allows you to borrow up to the conforming loan limit specified by the Federal Housing Finance Agency. For 2019, that limit is $484,350, but for high-cost areas, the limit is $726,525.
VA loans do not require mortgage insurance premiums and have fewer closing costs. To get a VA loan, you must apply for a Certificate of Eligibility (COE), available to military members and veterans who meet the minimum active-duty service requirement, which generally is 90 days. With a COE in hand, you can choose any participating mortgage lender.
The VA also guarantees cash out refinance loans for eligible persons who live in the home being refinanced. You can cash out your home equity and/or turn a non-VA loan into a VA loan. Typically, the new mortgage offers better rates and terms than do non-VA loans.
How Bad Is a Credit Score of 500?
In the FICO 8 scoring method, scores range from 300 to 850. A score of 500 is very poor, significantly below average. Ninety-nine percent of consumers have credit scores higher than 500. About 16% of consumers have a credit score in the very poor range of 300 to 579.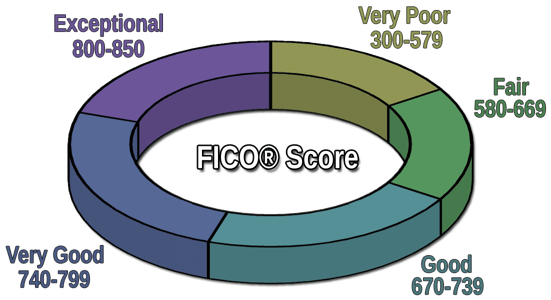 According to Experian, approximately 62% of consumers in the very poor range are likely to fall behind on their loan payments by more than 90 days. Moreover, 19% of consumers with a 500 score have been past due for 30 or more days within the last 10 years.
The average credit card debt among consumers with a 500 score is $2,734. This same group has an average credit utilization rate (CUR) of 113.1%. CUR is the ratio of credit used to credit available, which means the 500-score group has an average debt that is higher than their authorized credit.
The good news for consumers with a credit score of 500 is that there is plenty of room for improvement. Usually, this is a slow process that takes six months to a year to start working, although there are a few things you can do to speed up the process (see below).
Long-term steps you can take is to reduce your CUR by paying off current debt without closing out the account, making all payments on time, and working with a credit counselor to develop a debt management plan.
What Is the Easiest Credit Card to Get With Bad Credit?
In the credit card market, secured cards are the easiest ones for consumers with poor credit to acquire. These are cards that are backed by cash collateral that you deposit into a locked account. Your credit limit won't exceed your deposited amount.
If you are late making a payment, PREMIER Bankcard® will debit your account for the required payment. If you miss multiple payment dates, PREMIER Bankcard® will likely cancel the card. Secured cards are available to folks with any credit score, and the interest rates are usually relatively lower than comparable unsecured cards.
The PREMIER Bankcard® cards below are geared toward consumers with less-than-perfect credit. Both accept applicants in the 500 to 550 score range, but both charge numerous fees.
Both cards report your activity to the three credit bureaus, which gives you a chance to boost your score by paying on time and not exceeding your limit.
Which Loan Company Is Best For Bad Credit?
If you want maximum convenience procuring a personal loan, the loan networks reviewed above can help match your loan request to lenders on their networks.
While none of these loan companies offer direct loans, they can hook you up to one or more lenders that have deep experience working with bad-credit consumers. There is no charge for this service, and if you are approved for a loan, funding is quick, usually within one business day.
Another way to get a cash loan quickly is to refinance your home or car. By doing so, you can turn your equity into cash, and you may even get better terms. Auto Credit Express is our top auto-loan matching service. It can find you a dealer who is willing to offer you a refinancing loan despite a low credit score.
If you want to refinance your home and you qualify for an FHA loan, the FHA Rate Guide provides a valuable directory of lenders that can accommodate you. Veterans and active military personnel can get terrific cash out refinance loans from the VA-Guaranteed Home Loan Program.
Because home and vehicle refinancing loans are collateralized by the underlying property, they are available at favorable rates to bad-credit consumers.
How Can I Raise My Credit Score in 30 Days?
There are several steps you can take to slowly raise your credit score over a period of six months to a year. These include reducing your indebtedness, making all payments on time, and keeping old accounts open.
You can follow several strategies if you are in a hurry to boost your credit score. The first is to review your three credit reports from Experian, TransUnion, and Equifax. If you come across any mistakes, you can ask the credit bureau to correct them.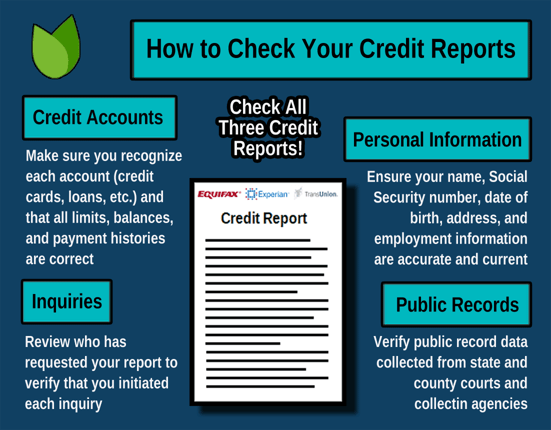 By removing derogatory items depressing your credit score, your score should experience a quick rebound. While you can take on this task yourself, you may want to consider using a credit repair service. The better ones are reasonably priced and provide honest value.
Other relatively fast ways to improve your credit score are to consolidate your debt at a lower interest rate, communicate with your creditors to work out existing debts, automate your payments so that you never miss one, periodically use old credit cards, and refrain from opening new accounts if you already have enough credit.
If you are serious about a 30-day improvement in your credit score, consider the free Experian Boost™ product that claims to quickly raise your FICO®-8 score by 13 points on average. The product links to your bank account and allows you to get credit for paying your utility and phone bills.
Another idea is to ask a creditor for a "goodwill adjustment" to remove a late payment from your credit report. Late payments can depress your score by 60 points or more.
Also, you can pay off an account in collection by negotiating a "pay for delete" agreement. This is a written agreement in which the collection agency agrees to remove the collection from your credit history in return for you paying off the account.
You can reduce your credit utilization ratio by asking for higher credit limits. Since the CUR is credit used divided by credit available, raising your credit limits automatically drops your CUR and improves your score. Below is an example of credit utilization calculated across three card accounts.


If your low credit score is due to a lack of credit history, adding accounts should quickly build your credit score. You can do this by applying for a new credit card, secured or unsecured. Once received, use the new card and pay the balance in full each month.
Another tactic is to become an authorized user on someone else's credit card. You immediately inherit the credit limit on the card, thereby decreasing your credit utilization ratio. As time goes by, on-time payments can help both you and the primary owner increase your credit scores.
Bad Credit Need Not Be a Permanent Stain On Your Finances
In our review of loans and credit cards for a 500 to 550 credit score, we've identified our picks for the best bad credit personal loans, credit cards, auto loans, and home loans. The important point is that a low credit score need not be a permanent stain on your finances.
No matter what your credit history, you can start rebuilding your score by making smart choices. Your reward can be easier access to more affordable credit, as well as the ability to acquire those fancy, high-reward credit cards.
There is also the attitude adjustment you could experience by taking action to solve a problem and improve your lifestyle. With that new attitude, who knows what else is possible?
Range of credit scores covered in this article: 500, 501, 502, 503, 504, 505, 506, 507, 508, 509, 510, 511, 512, 513, 514, 515, 516, 517, 518, 519, 520, 521, 522, 523, 524, 525, 526, 527, 528, 529, 530, 531, 532, 533, 534, 535, 536, 537, 538, 539, 540, 541, 542, 543, 544, 545, 546, 547, 548, 549, and 550 credit score.
Advertiser Disclosure
BadCredit.org is a free online resource that offers valuable content and comparison services to users. To keep this resource 100% free for users, we receive advertising compensation from the financial products listed on this page. Along with key review factors, this compensation may impact how and where products appear on the page (including, for example, the order in which they appear). BadCredit.org does not include listings for all financial products.
Our Editorial Review Policy
Our site is committed to publishing independent, accurate content guided by strict editorial guidelines. Before articles and reviews are published on our site, they undergo a thorough review process performed by a team of independent editors and subject-matter experts to ensure the content's accuracy, timeliness, and impartiality. Our editorial team is separate and independent of our site's advertisers, and the opinions they express on our site are their own. To read more about our team members and their editorial backgrounds, please visit our site's About page.