Consumers with very poor credit scores between 400 and 450 often have their credit applications rejected, according to FICO, a credit scoring agency. But it doesn't have to be that way. There are still loans and credit cards for 400 to 450 credit scores available.
Being approved may require a little extra work, such as paying extra fees or putting down deposits on credit cards, since about 62% of consumers with a credit score under 579 are likely to become seriously delinquent in the future.
Getting a FICO credit score in the 400 to 450 range can take a lot of credit missteps: repeated missed or late payments, defaulted or foreclosed loans, and possibly bankruptcy. Building your credit takes time and is a worthwhile step toward better loan terms in the future.
Until then, look at our list of best loans and credit cards for 400 to 450 credit scores to see what's available for your credit needs. We'll cover personal loans, several credit cards, auto loans, mortgage options, and take a look at some of the most commonly asked questions about this issue.
Personal Loans | Credit Cards | Auto Loans | Home Loans | FAQs
Personal Loans: 400-450 Credit Score
Personal loans are one of the best ways to borrow a large sum of money. The repayment periods can last from a few months to five years, at rates ranging from 6% to 36% APR. The money can be used for any reason, including consolidating debt on credit cards, which often have higher interest rates than personal loans.
Most personal loans are unsecured, meaning they aren't backed by collateral. A secured loan that's backed by a car or house as collateral is usually cheaper, in part because you can lose the asset if you default on the loan.
The loans are repaid through installments, or fixed monthly payments. When shopping for a personal loan, don't just look at how much the monthly payment will be. Compare interest rates, and the one with the lowest APR should be the least expensive.
Short-term loans up to $5,000
Online marketplace of lenders
Funds available in as few as 24 hours
Simple online form takes less than 5 minutes
Trusted by more than 2 million customers
Not available in NY or CT
| Loan Amount | Interest Rate | Loan Term | Loan Example |
| --- | --- | --- | --- |
| Up to $5,000 | Varies | Varies | See representative example |
Installment loans over a few years are usually more affordable than short-term cash advance loans. But if you've had a recent bankruptcy discharge on your credit report, then a short-term loan through an online lending network such as Money Mutual may be best for you.
It connects customers with dozens of potential lenders so you can compare rates and see which is the best option for you. Money Mutual offers short-term cash advance loans of up to $2,500 with loan terms of up to six months.
You don't repay these loans like you would an installment loan each month. These loans are paid back in a single lump sum on the due date. That means paying back the full principal — the borrowed amount — along with all finance charges and any other fees, at one time.
If you don't think you can do that for a short-term loan, then you're probably better off with an installment loan or a credit card. Not paying a short-term loan on time and in full can result in paying high late fees and finance charges.
Loans from $500 to $10,000
Receive a loan decision in minutes
Get funds directly to your bank account
Use the loan for any purpose
| Loan Amount | Interest Rate | Loan Term | Loan Example |
| --- | --- | --- | --- |
| $500 to $10,000 | 5.99% - 35.99% | 3 to 72 Months | See representative example |
CashUSA.com is another online marketplace to find personal loans. The lenders in its network charge APRs from 5.99% to 35.99%, with loan durations from 90 days to six years.
If approved, your loan amount can be electronically deposited into your account in one business day. Having a steady monthly income of at least $1,000 after taxes can be enough to be approved for a loan.
Loans from $250 to $5,000
Cash deposited directly into your account
Get money as soon as tomorrow
Bad credit OK
More than 750,000 customers since 1998
| Loan Amount | Interest Rate | Loan Term | Loan Example |
| --- | --- | --- | --- |
| $250 to $5,000 | Varies | Varies | See representative example |
CreditLoan helps consumers find unsecured personal installment loans from $250 up to $5,000. What that means is you pay the loan back in monthly payments, but without having to put up any collateral for the loan.
The site has a personal loan calculator to compare interest rates and estimate monthly payments, making it easy to get an idea of what you can afford.
Credit Cards: 400-450 Credit Score
Credit cards are the easiest type of credit to get if you have a low credit score, even a very poor credit score below 450.
Some credit card companies target consumers with such credit scores, either with unsecured subprime cards, secured credit cards, or retail store cards. Each has benefits and drawbacks to consider.
Easy application! Get a credit decision in seconds.
Build your credit history – Fingerhut reports to all 3 major credit bureaus
Use your line of credit to shop thousands of items from great brands like Samsung, KitchenAid, and DeWalt
Not an access card
| Application Length | Interest Rate | Reports Monthly | Reputation Score |
| --- | --- | --- | --- |
| 5 Minutes | See issuer website | Yes | 9.0/10 |
At first glance, a Fingerhut Credit Account looks like an online shopping portal to buy everything from automotive accessories to toys and video games. The Fingerhut Credit Account does all of that and can help you build your credit score with its credit card.
The Fingerhut Credit Account is a revolving credit line that works like a store credit card — but only for purchases with Fingerhut and its associated retail partners. By opening an account, you agree not to exceed the credit limit that Fingerhut sets for you. If you do, the transaction could be declined.
With Netspend Direct Deposit, you can get paid faster than a paper check.
No late fees or interest charges because this is not a credit card.
No Overdraft Fees on purchases using your card.
Use the NetSpend Mobile App to manage your account on the go and get text message or email alerts (Message & data rates may apply).
Card issued by MetaBank®, Member FDIC. Card may be used everywhere Visa Debit cards are accepted. "Apply Now" for full details.
| Application Length | Interest Rate | Reports Monthly | Reputation Score |
| --- | --- | --- | --- |
| 5 minutes | N/A (Prepaid) | No | 7.5/10 |
Another way to get a credit card if you have a credit score of between 400 and 450 is to pre-load money on a card before you make purchases, sort of like a debit card. The NetSpend® Visa® Prepaid Card can be used as a credit card, but only if you have funds deposited onto it.
Monthly card fees may be charged and vary based on your use and purchase plan. Because it's not a traditional credit card with a credit line, there are no late fees or interest charges.
Applying for the prepaid card doesn't require a credit check. That also means it won't help you establish a credit profile or build your credit score. To do that, you'll need an unsecured or secured credit card, such as our next card offer.
Receive Your Card More Quickly with New Expedited Processing Option
No Credit History or Minimum Credit Score Required for Approval
Quick and Complete Online Application; No credit inquiry required!
Includes Free Real-Time Access to Your Credit Score and Ongoing Credit Monitoring powered by Experian
Full-Feature Platinum Mastercard® Secured Credit Card; Try our new Mobile App for Android users!
Good for Car Rental, Hotels; Anywhere Credit Cards Are Accepted!
Monthly Reporting to all 3 Major Credit Bureaus to Establish Credit History
Credit Line Secured by Your Fully-Refundable Deposit of $200 -- $2,000 Submitted with Application
Just Pay Off Your Balance and Receive Your Deposit Back at Any Time
24/7 Online Access to Your Account
Nationwide Program though not yet available in NY, IA, AR, or WI ** See Card Terms.
Get a fresh start! A discharged bankruptcy still in your credit bureau file will not cause you to be declined.
| Application Length | Interest Rate | Reports Monthly | Reputation Score |
| --- | --- | --- | --- |
| 8 minutes | 9.99% (V) | Yes | 7.5/10 |
The First Progress Platinum Prestige Mastercard® determines your spending limit by the amount of money you put down as a refundable deposit. It may sound like a preloaded debit card, but it's a secured credit card that can help improve your credit.
Secured credit cards reduce the risk to credit providers by requiring a deposit from the customer. This can allow companies to charge lower rates and fees than unsecured subprime credit cards. The deposit is fully refundable and can be reclaimed by closing your credit account with a zero balance.
This secured credit card offers credit lines of up to $2,000. You pick the credit line you want and open a deposit account to secure your line of credit. No minimum credit score is required and using the card responsibly can strengthen your credit because the card's use is reported to the three national credit bureaus.
Auto Loans: 400-450 Credit Score
Auto loans are a type of installment loan, though they differ from personal loans in a few ways. The main one is they can only be used to buy a vehicle. Auto loans are also secured loans, meaning the vehicle is the collateral for the loan and can be taken if you default on the payments.
That makes auto loans less risky for the lender and can make an auto loan a little easier to get approved for than some unsecured loans.
Network of dealer partners has closed $1 billion in bad credit auto loans
Specializes in bad credit, no credit, bankruptcy and repossession
In business since 1999
Easy, 30-second pre-qualification form
Bad credit applicants must have $1500/month income to qualify
| Interest Rate | In Business Since | Application Length | Reputation Score |
| --- | --- | --- | --- |
| 3.99% - 29.99% | 1999 | 3 minutes | 9.5/10 |
Auto Credit Express is an online dealer network that helps car buyers with poor credit find dealers who will work with them. It will offer you a list of dealers in your area who use its services, you pick the car you want to buy, and then arrange financing through the dealer.
Auto dealers often have more flexible credit requirements than banks, credit unions, and third-party lenders, and may be more willing to work with borrowers who have credit scores of 400 to 450. They also charge higher interest rates.
There aren't any minimum credit score requirements, though you'll need a monthly income of $1,500 or more to qualify for financing through an Auto Credit Express dealer.
Free, no-obligation application
Specializes in auto loans for bankruptcy, bad credit, first-time buyer, and subprime
Affordable payments and no application fees
Same-day approval available
Connects 1000's of car buyers a day with auto financing
| Interest Rate | In Business Since | Application Length | Reputation Score |
| --- | --- | --- | --- |
| Varies | 1994 | 3 minutes | 9.0/10 |
The website car.Loan.com works the same as Auto Credit Express, connecting car shoppers with bad credit to car dealers to find the best option for their financial situation.
The service will set up your meeting with the dealership's finance manager. All you have to do is go to the dealership, pick out your new or used vehicle, sign the papers, and drive away.
Loans for new, used, and refinancing
Queries a national network of lenders
Bad credit OK
Get up to 4 offers in minutes
Receive online loan certificate or check within 24 hours
| Interest Rate | In Business Since | Application Length | Reputation Score |
| --- | --- | --- | --- |
| Varies | 2003 | 2 minutes | 7.5/10 |
You can submit an online application to MyAutoloan.com and get up to four offers in minutes, according to the company.
Before applying, the site has a few ways to see how much a car loan will cost you. It offers an interest rate chart with the latest interest rates, an interest rate calculator, and a payment calculator.
Home Loans: 400-450 Credit Score
A home loan is one of the largest loans you'll ever take out in your life. And you don't need a perfect credit score to get one.
What will help, however, is having a sizable down payment, preferably 20%. A down payment of at least 10% is needed to qualify for an FHA loan if your credit score is below 580, compared to 3.5% if your score is 580 or better.
Options for home purchase or refinance
Lenders compete for your business
Receive up to 5 offers in minutes, and pick the best offer for you
Founded in 1996, LendingTree has facilitated 55 million+ loan requests and $250 billion+ in closed loan transactions
| Interest Rate | In Business Since | Application Length | Reputation Score |
| --- | --- | --- | --- |
| Varies by Applicant | 1996 | 7 Minutes | 9.0/10 |
The online lending network LendingTree.com is a simple way to get quotes from multiple lenders without going from bank to bank.
It helps you find conventional and FHA lenders for new purchases, mortgage refinancing, home equity loans, and reverse mortgage loans. If you qualify for a loan, you can get up to five offers to compare, and a mortgage is one loan you definitely want to shop around to compare the best rates for.
Options for home purchase or refinance
Get 4 free refinance quotes in 30 seconds
Network of lenders compete for your loan
Trusted by 2 million+ home loan borrowers to date
Interest rates are near all-time lows
| Interest Rate | In Business Since | Application Length | Reputation Score |
| --- | --- | --- | --- |
| Varies | 2004 | 4 minutes | 8.5/10 |
Available for home refinancing only, the FHA Rate Guide will provide you four free refinance quotes in 30 seconds.
A network of lenders will compete for your loan, which is important when shopping for the best rate.
For military veterans, service members, their spouses, and other eligible beneficiaries only
No down payment and no monthly mortgage insurance
The basic entitlement available to each eligible veteran is $36,000
Lenders generally loan up to 4 times a veteran's available entitlement without a down payment
| Interest Rate | In Business Since | Application Length | Reputation Score |
| --- | --- | --- | --- |
| Varies by Applicant | 1944 | 9 Minutes | 7.5/10 |
Military veterans can get a home loan through the U.S. Department of Veterans Affairs that provides a home loan guarantee to private lenders. The VA guarantees a portion of the loan, enabling the lender to provide veterans with more favorable terms.
The VA doesn't have a minimum credit score requirement to guarantee a mortgage, and most VA loans are obtained without a down payment. However, lenders who make these loans do have credit score benchmarks — usually a credit score of at least 620 — so a down payment may be needed if you have a credit score of 400 to 450.
FAQs About Bad Credit Loans
Don't assume you can't get a loan — whether it's a personal loan, credit card, auto loan, or home loan — because you have poor credit. As we've explained through our list of best loans and credit cards for 400 to 450 credit scores, there are lenders that work directly with such consumers and want to provide them credit.
It can be confusing, so here are some frequently asked questions that will hopefully clear some things up:
How Bad is a Credit Score of 450?
Credit scores start as low as 300. If your credit score is 450, then you're significantly below the average credit score.
Your credit applications are likely to be rejected, or you'll have to put down deposits on secured credit cards as a way to rebuild your credit. You'll basically have to live off whatever cash you have on hand.
Among consumers with scores of 450, 27% have credit histories showing they've gone 30 or more days past due on a payment within the last 10 years. That's a lot of financial history to make up for, and it will take time as your credit behaviors improve.
The average utilization rate for people with 450 credit scores is 127.9%. That's an incredibly high rate, especially when considering that a 100% rate is using your entire spending limit and maxing out your credit cards. Using 127.9% means you've used 27.9% higher than your spending limit.
Ideally, a credit utilization rate should be below 30%. To figure out what yours is, add up the balances on your credit cards and divide by the sum of their credit limits.
What's the Easiest Loan to Get with Bad Credit?
A personal loan can be one of the easiest loan types to get with bad credit. Most personal loans are unsecured, meaning you don't have to put your home or car up as collateral in case you default on the loan, when your property could be used to repay the loan.
A large sum of money can be borrowed with a personal loan. The downside of having bad credit, however, is that you may be charged the highest interest rates of 36% or so (much higher with short-term cash advances) to get a personal loan.
The upside is that you'll get the money you need, and since personal loans are usually installment loans, they'll require you to pay back the loan through fixed monthly payments.
Quotes for personal loans can be found from lenders online, making it easy to apply. Look for companies that don't charge fees. They'll normally get their profit from commissions for referring customers to lenders.
Which Loan Company is Best for Bad Credit?
Many of the online companies we've listed have online applications that can take only minutes to fill out, and responses also often come back within minutes. Your best matches — if you have any — are returned, and you can compare each offer from there.
Having a credit score of between 400 and 450 will likely get you the highest interest rate on a loan. That's to be expected. However, it's still worthwhile to shop around for the best rate because it determines the amount you pay for the loan.
Our top-recommended lending networks and products are as follows:
Personal Loans: MoneyMutual
Credit Cards: Fingerhut Credit Account
Auto Loans: Auto Credit Express
Home Loans: LendingTree
If an offer is returned, look for lenders that charge minimal or no fees, penalties, or require collateral.
Are there Any Guaranteed Loans for Bad Credit?
There's no such thing as a 100% guaranteed loan, even for people with excellent credit. But many lenders have flexible credit requirements that will take a chance on your poor or limited credit history.
Installment loans, such as personal loans, are often your best bet to get a loan with bad credit, even with a credit score as low 400. The payments can be extended for as long as seven years, so having a steady job and the ability to make monthly payments is important.
You'll need to meet minimum income requirements, have an active checking account, and be at least 18 years old.
If you're looking for a short-term loan that you can fully repay within a month to avoid finance charges, a credit card is a possibility. Still, it may not be a good choice, because some credit cards offered to people with bad credit require a cash deposit to cover the credit amount being issued. These secured credit lines are best when used as a tool to build credit, not when you need a loan.
What's the Lowest Credit Score Needed to Buy a Car?
Getting an auto loan with a credit score of between 400 and 450 is more possible than you may think. These are installment loans, and since the vehicle is used as collateral to secure the loan if you default on the payments, the lender has a good chance of getting your car or your money. Obviously, they'd prefer you made your loan payments on time.
The secured nature of auto loans makes getting approved for car financing, even if you have bad credit, easier than some unsecured loans. The interest rate from a lender that specializes in auto loans for people with bad credit will likely be higher than it would be from a bank or credit union.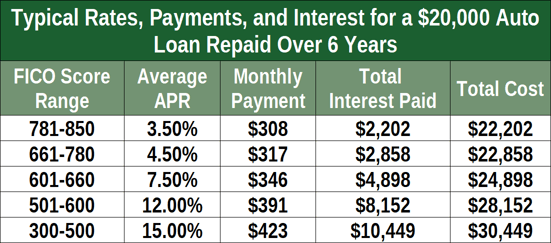 Online dealer networks, some of which we've listed above, specialize in helping consumers with poor credit buy cars they can afford. Loans are arranged through an auto dealer. Credit score requirements are usually minimal, and a monthly income of at least $1,500 is often required.
Very Poor Credit Shouldn't Be a Roadblock
Hopefully, our list of the best loans and credit cards for 400 to 450 credit scores has convinced you that you can get a loan or credit card with very poor credit. Several options are out there to provide you money when you need it.
You can start improving your credit score by making on-time payments and not using more than 30% of your credit limit. From there, the road to a better credit score and, ultimately, better credit terms should only improve.
Range of credit scores covered in this article: 400, 401, 402, 403, 404, 405, 406, 407, 408, 409, 410, 411, 412, 413, 414, 415, 416, 417, 418, 419, 420, 421, 422, 423, 424, 425, 426, 427, 428, 429, 430, 431, 432, 433, 434, 435, 436, 437, 438, 439, 440, 441, 442, 443, 444, 445, 446, 447, 448, 449, 450
Advertiser Disclosure
BadCredit.org is a free online resource that offers valuable content and comparison services to users. To keep this resource 100% free for users, we receive advertising compensation from the financial products listed on this page. Along with key review factors, this compensation may impact how and where products appear on the page (including, for example, the order in which they appear). BadCredit.org does not include listings for all financial products.
Our Editorial Review Policy
Our site is committed to publishing independent, accurate content guided by strict editorial guidelines. Before articles and reviews are published on our site, they undergo a thorough review process performed by a team of independent editors and subject-matter experts to ensure the content's accuracy, timeliness, and impartiality. Our editorial team is separate and independent of our site's advertisers, and the opinions they express on our site are their own. To read more about our team members and their editorial backgrounds, please visit our site's About page.