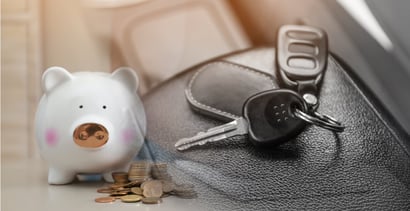 Auto loans with no prepayment penalty make it possible to pay off a car loan early, which is something you'd think a lender would want. But not all of them do. Some charge a prepayment penalty for retiring the debt ahead of schedule.
Paying off the entire balance of a debt faster than required can help improve your credit score and put your mind at ease that the debt is behind you.
The lending services we review below are lending networks. They aren't direct lenders but will match you for free with auto lenders on their networks that can arrange a car loan or loan refinance without prepayment penalties.
Auto Loans With No Prepayment Penalty
Having a car is — for many people — almost a requirement of daily living. And it's an expensive one. A new car costs an average of $37,000, and a used one $20,000. Unless you have that much cash in your checking account, you'll need some sort of auto financing. A good down payment can make it easier to pay, but you'll still have some sort of monthly payment.
Each of the lending networks below will help people with low credit scores find an installment loan with regular monthly payments. Each direct lender's rules will be different, so check with the lenders you're recommended to learn whether they charge prepayment penalties. If you don't want a prepayment penalty and the lender says it charges one, then you don't have to agree to the loan and can continue shopping.
Network of dealer partners has closed $1 billion in bad credit auto loans
Specializes in bad credit, no credit, bankruptcy and repossession
In business since 1999
Easy, 30-second pre-qualification form
Bad credit applicants must have $1500/month income to qualify
| Interest Rate | In Business Since | Application Length | Reputation Score |
| --- | --- | --- | --- |
| 3.99% - 29.99% | 1999 | 3 minutes | 9.5/10 |
Auto Credit Express works to find an auto loan or a refinance rate that meets the needs of people with poor credit, no credit, a bankruptcy, or those who have had a car repossessed.
Its online application takes only three minutes to complete. If preapproved, you'll receive an estimated loan approval amount, though the lender will give you the exact loan amount if you qualify.
Free, no-obligation application
Specializes in auto loans for bankruptcy, bad credit, first-time buyer, and subprime
Affordable payments and no application fees
Connects thousands of car buyers with auto financing daily
| Interest Rate | In Business Since | Application Length | Reputation Score |
| --- | --- | --- | --- |
| Varies | 1994 | 3 minutes | 9.0/10 |
Car.Loan.com also has an easy three-minute online application process. If preapproved for a vehicle loan, you're matched to a lender or dealer partner. You then choose the car you want and can drive away as soon as the same day that your loan agreement is finalized.
Its lenders work with people who have a poor credit history, but they also consider other factors. These include having a valid driver's license, a qualifying income, and a stable residence.
Loans for new, used, and refinancing
Queries a national network of lenders
Bad credit OK
Get up to 4 offers in minutes
Receive online loan certificate or check within 24 hours
| Interest Rate | In Business Since | Application Length | Reputation Score |
| --- | --- | --- | --- |
| Varies | 2003 | 2 minutes | 7.5/10 |
MyAutoLoan.com matches subprime borrowers with up to four loan offers "that directly fit your needs via a patented analysis and evaluation process, so you'll never waste time sorting through information that's not relevant to you and your financial situation," according to the website.
It can help with the purchase of a new or used vehicle, refinancing your current car, or can help you buy out a lease. The only financing restrictions it has are on utility vans, high-end sports cars, vehicles with a salvaged title, or vehicles that have been repossessed and auctioned. Mileage and vehicle model year requirements vary by lender.
What is an Auto Loan With No Prepayment Penalty?
An auto loan with no prepayment penalty allows borrowers to pay off the loan early and not face a penalty fee. Not every auto loan comes with a prepayment penalty.
The lender matching services we recommend do not indicate on their websites whether the lenders they work with offer auto loans without prepayment penalties. That means you should check with each direct lender that offers you an auto loan to find out whether it will charge you a fee for paying off your loan early.
We'll go into detail soon about what prepayment penalties are and why they exist, but the main thing to know about them when getting an auto loan is that it's best to get financing without them. If a prepayment penalty is charged, it will likely discourage you from paying off the loan early, while allowing the lender to collect all of the interest payments.
What is a Prepayment Penalty?
You may think that repaying a loan balance is all you need to do to end a car loan. And it can be, but sometimes it isn't if a prepayment penalty is written into the contract.
The contract includes details that specify the loan term, interest rate, the monthly loan payment, and the total owed, among other things. It can also include information on prepayment penalties. The Federal Trade Commission, or FTC, has a worksheet to compare loan costs.
Knowing years in advance whether you can pay off a car loan early may be difficult, but it's a question worth asking. You will want a loan that doesn't require paying a penalty for paying the debt off early.
How the interest charge on the loan is calculated, for example, can help you negotiate the best loan terms to make a prepayment penalty less expensive. There are two types of interest:
Simple interest: Calculated based on the amount you owe. The quicker you pay it off, the less interest you'll pay.
Precomputed interest: A fixed amount that's calculated at the beginning of the contract. Even if you pay it off early, you still owe the interest in full. If a refund or rebate of interest is included in your agreement, you may get back some of the interest you paid, but not all of it.
The best option is usually simple interest. If your vehicle loan includes a prepayment penalty, having a loan with simple interest will be cheaper to pay off.
A precomputed loan may not have a prepayment penalty in the contract, but it essentially penalizes you anyway by not allowing you to pay off the loan early and save money.
Look for the term "prepayment penalty" in any loan documents you're reviewing. Avoid a contract with this fee if you can. If not, then your next best option is to ask for a simple interest contract.
The best loan option is a simple interest loan with no prepayment penalties.
Why Do Lenders Charge Prepayment Penalties?
One reason lenders charge prepayment penalties is to increase their profits. Car dealer financing, for example, may include prepayment penalties as a way to make more money on a car sale and auto loan, including an auto loan refinance.
People with a low credit score or poor repayment history may be more likely to be offered a loan with prepayment penalties or precalculated interest. The simple reason is that they're considered higher risk and are less likely to repay the loan than a borrower with a good credit history.

Longer loans of four years or more are also more likely to have prepayment penalties. Prepayment penalties are less likely on loans with terms of 24 to 48 months. Review every page of the loan documents for information on prepayment and other penalties.
Why Should I Pay Off a Car Loan Early?
There are many reasons to pay off a car loan early, but the best is because it can save you money on interest paid on the loan. A prepayment penalty, however, can negate those savings.
If you have a simple interest loan without a prepayment penalty, then it can be especially worthwhile to pay off the car loan early. You'll pay less in interest, which is the main expense of any loan, including a mortgage loan.
Here's an example. Suppose that on April 1, 2021, you borrowed $18,000 in a car loan with a 5% annual percentage rate over five years. Find an online auto loan calculator with a monthly loan amortization schedule, and you can see how the math works.
The monthly loan payment would be $339. The interest payment over the full 60 months of the loan would be $2,381, which, after sales tax, would put the total cost of the loan at $22,581.
A loan amortization schedule shows that the amount of principal paid off each month increases, while the interest paid decreases. The sooner you can pay off an auto loan, the more interest you'll avoid having to pay, as long there isn't a prepayment penalty.
Here are the different amounts paid over the last four years of the loan, assuming the loan started in April:

The graphic easily shows how less interest is paid in the later years of the loan while more money from each monthly payment goes toward paying the principal. Paying off a loan in the final year of a five-year loan will save you some money, but not nearly as much as it will a year or two earlier.
One way to pay off an auto loan early is to add a little extra to your monthly payments. You could pay the loan off at one time with one final payment, but it may be easier to raise your payment amount with each monthly payment. Extra payments will lead to paying off the loan early, so check first that you won't be charged a prepayment penalty.
Before making an extra payment, check that your contract allows you to do so. Contact the lender's customer service department and ask about the process for making a payment only on the principal balance. If that's not possible, then your extra payment may not be credited properly to your account. The last thing you want is for that extra money to go toward an interest payment instead of the principal.
Can I Get a Car Loan With Bad Credit?
A low score on your credit report may prevent you from being approved for this type of personal loan from a traditional financial institution like a bank. But the lending networks we recommend specialize in helping people with poor credit.
The auto loan rate will likely be higher than what you'd get if you had good or excellent credit. But you should be approved for a loan through these lending networks if you have a steady job and earn around $1,500 per month.
One reason such lenders are willing to work with people with poor credit is that an auto loan is a secured loan. Like a mortgage loan or home equity loan where your home is the collateral, an auto loan uses your car to secure the loan.
If you miss too many payments or stop making the monthly payment entirely on your auto loan, the lender can repossess your car and sell it to collect the money due.
This is why it's a good idea to have autopay or some sort of direct deposit from your checking account so each payment is made on time. It's unlikely that a lender will take your car after missing one payment, but the lender may add a late fee and extra interest charges to your account.
Lenders will also require auto insurance so if the car is totaled you can get some money to pay off the loan. You may not want to pay off a car loan for a car that you no longer drive because it was a total loss in an accident, but that's partly what auto insurance is for.
What Credit Score Do I Need?
FICO credit report scores range from 300 to 850:

Subprime lenders consider borrowers with a credit score in the 500s — or even in the high 400s — to be the most likely to need their services. Consumers with a score below 400 may find it difficult to find even a subprime lender that will work with them.
Online lending networks can help by prequalifying you for a loan, usually through a short online application. They'll then forward your loan request to the lenders and auto dealers they partner with, and those lenders will contact you with loan offers.
The service is free, and you can get multiple loan offers after submitting one application. You can increase your approval chances by making a down payment on the vehicle, trade-in your old car, or get a cosigner for the loan, all of which will lower the loan amount.
Working with a credit union is another option. Most credit unions only require members to have fair credit, meaning a score of 580 or better.
While a low credit score isn't the only factor in determining whether you'll get a loan, you should know that a low score will likely mean paying a higher annual percentage rate on the interest owed.
Rates vary by lender and by your circumstances, of course, but Auto Credit Express indicates that its lenders may charge interest rates from 3.99% to 29.99%. In the previous example, a 5% interest rate on an $18,000 loan over five years equaled a monthly payment of $339.
A lower auto loan rate of 4% drops the payment to $331 each month. Go as high as 29% interest, and the monthly payment is $571. That's $240 more per month for paying the high end of the range versus the low end. That may not sound like much, but it adds up to almost buying two cars over five years.
The total interest paid over five years at 29% is $16,281, compared with $1,889 at 4% interest. That's $14,393 more in interest paid. Finding a lower interest rate is definitely worth your time.
How Fast Can I Get a Car Loan?
In most cases, qualified borrowers can get a bad credit auto loan funded within two hours. That includes the time it takes to apply for a loan, have it approved and receive the money, choose a car to buy, and drive it off the lot. The process can be especially quick if you buy a car from an auto dealer that finances loans for people with low credit scores.
Dealer financing specialists work with an in-house finance team. The online lending marketplaces we've recommended can help you avoid negotiating directly with an auto dealer, or some can refer you to a dealer they work with. Some lenders may offer a discount with autopay.
Either way, the online lending networks work fast, and loans can be approved in minutes. Getting prequalified through a lending network may get you a loan decision in minutes, but you'll still have to fill out loan paperwork with the lender.
That paperwork can be completed and a loan agreement can be signed and approved the same day, and many lenders can put you in a car within hours of being approved for a loan. The money from your loan will either be transferred to your online banking account or can be distributed through a preapproved loan certificate that you give to the dealer of your choice to buy a vehicle.
Instead of going through a direct lender, other lending networks may put you in contact with local car dealers that provide in-house financing options. Your application can still be preapproved online, and you can choose the car that fits your budget on that same day.
Your Best Options for Auto Loans With No Prepayment Penalty
Auto loans with no prepayment penalty shouldn't be a dealbreaker when shopping for an auto loan, but you should avoid them if you can.
You may end up paying the loan off early, whether you plan to or not when first shopping for a loan, so having a loan contract that doesn't include a prepayment penalty is worth having. Ask your lender if such a penalty is included, and check whether simple interest is being charged so you can avoid having to pay all the interest on the loan if you pay it off early.
As with any financial transaction, shop for the best loan terms and rates. Make sure you understand what the monthly payment will be, how much total interest you'll pay, and how much late fees are, among other factors, when comparing loans. If needed, hire a lawyer to review the contract.
Advertiser Disclosure
BadCredit.org is a free online resource that offers valuable content and comparison services to users. To keep this resource 100% free for users, we receive advertising compensation from the financial products listed on this page. Along with key review factors, this compensation may impact how and where products appear on the page (including, for example, the order in which they appear). BadCredit.org does not include listings for all financial products.
Our Editorial Review Policy
Our site is committed to publishing independent, accurate content guided by strict editorial guidelines. Before articles and reviews are published on our site, they undergo a thorough review process performed by a team of independent editors and subject-matter experts to ensure the content's accuracy, timeliness, and impartiality. Our editorial team is separate and independent of our site's advertisers, and the opinions they express on our site are their own. To read more about our team members and their editorial backgrounds, please visit our site's About page.