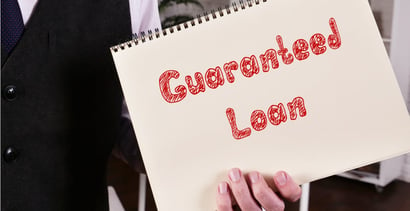 You may think, and rightly so, that there's no such thing as guaranteed loans for bad credit. What these nine loan sources guarantee is that you'll receive a quick decision regarding your request for a loan. They also guarantee that many loans are available to consumers with bad or no credit. 
Guaranteed Personal Loans For Bad Credit
Each of the companies below is a lender matching service. Instead of lending directly to consumers, they link your loan request to their networks of personal loan providers. Their service is free, quick, and secure, and is designed to save you time by putting you in touch with lenders that are comfortable working with consumers of every stripe.
MoneyMutual is our top-ranked personal loan network. It prequalifies you as a borrower and then connects you to an appropriate loan provider. You must have reliable earnings or benefits of at least $800 a month to prequalify for a loan.
24/7 Lending Group is a network of direct lenders that offer bad credit personal loans of up to $35,000. But only borrowers with higher credit scores will qualify for the largest loan amount. You may also qualify for a small loan of $500, depending on your credit history.
CashUSA doesn't require a good credit score to instantly prequalify for a personal loan. U.S. residents age 18 or older can prequalify if they have an after-tax income of at least $1,000 a month. You also will need a checking account, email address, and phone number to prequalify, whatever your credit score.
BillsHappen guarantees an instant prequalifying decision for a personal installment loan that you repay over a loan term of at least three months. Its network of loan providers can accommodate a wide range of loan amounts, allowing you to apply for the loan that meets your needs. BillsHappen® is serious about security, as witnessed by its use of AES 256-bit encryption to help guarantee your privacy.
CreditLoan is a loan network that guarantees instant prequalification decisions for personal loans on much better terms than those demanded by the typical payday predatory lender. Its helpful website has attracted more than 33 million visitors, thanks, in part, to its many online tools and resources. CreditLoan demonstrates its guarantee to safeguard your security by displaying the TRUSTe® seal.
Bad Credit Loans happily serves consumers with poor credit scores looking for a personal loan. You can prequalify by providing a few standard data items and demonstrating a dependable monthly income. You may also ask for a revolving line of credit if you want extra flexibility when borrowing and repaying a loan.
PersonalLoans can immediately prequalify you for an unsecured personal loan. To be eligible, you must have $500 or more of monthly income and an active bank account in your name. PersonalLoans can also put you in touch with additional financial services, including debt settlement, credit repair, and credit monitoring.
SmartAdvances.com specializes in short-term loan options as well as large unsecured loans. Be sure to read the loan offer so you understand how much your loan will cost. You can receive loan approval in a matter of minutes.
CashAdvance has been linking bad credit borrowers with direct lenders since 1997. It specializes in online short-term loan arrangements tied to your next paycheck. You can prequalify by showing a pre-tax income of at least $1,000 per month from a verified employer.
What Is a Guaranteed Loan?
When it comes to personal loans, the word "guaranteed" is a little tricky. The guarantee refers to the instant decisions that occur at least twice during the borrowing process — once when prequalifying for a loan and again when seeking final approval.
Personal loans are also called signature loans because you can get one with only your signature — no collateral is required. They are also a type of installment loan since you repay in a series of monthly installments.
An unsecured personal loan requires the online lender to assume the risk that the borrower won't repay the entire amount during the loan term. Because lenders cannot stay in business if they experience too many defaults, they reserve the right to turn down borrowers they deem too risky.
But to be clear — lenders need to make loans to earn money. The loans they make must take the borrower's creditworthiness into account. It can do so in several ways:
Loan structure: Lenders want their loans to be affordable. They can accomplish this by keeping the monthly payments relatively low. It's a question of how long the borrower can take to repay the loan. Increasing the number of installments reduces the size of the monthly payments, making them more affordable even when interest rates are high. All things being equal, longer terms translate into a higher total cost due to the extra interest charges. Compare this with a payday loan repayment term, which requires the borrower to fork over a lump sum due one or two weeks after the loan is disbursed. A payday lender loan is often rolled over because the borrower cannot afford to repay in full on time.

Credit score: While not irrelevant, a credit score is certainly not the make-or-break factor for loan approval from the reviewed lenders. That's because some lenders don't focus on low credit scores, instead looking at income, current indebtedness, employment, and education, among other factors.

Income verification: An unaffordable loan isn't good for the borrower or the lender. That's one reason why you are asked to disclose your monthly income and your major financial obligations, including loan payments, credit card balances, and housing costs. The reviewed lending networks set varying monthly income requirements ranging from $500 to more than $1,000. Not surprisingly, lenders verify your employment status as listed on your credit reports with the information you entered on your loan application. You may be asked to provide documents to supplement your application, including your W-2 statements, recent tax returns, and bank statements.
Size of the loan: Your income, financial obligations, and credit history help determine how big a loan you'll be offered. That being said, the lending networks know that their customers have bad credit. Your first time getting a loan from a particular online lender can be more difficult than subsequent attempts because you have yet to prove that you'll repay on time. Assuming you repay the full amount on time, the lender will likely be more disposed to grant you larger loan amounts later on, as long as your financial situation hasn't deteriorated.

Cost of the loan: Lenders make loans to earn fees and interest income. Many personal loans top out at a 36% APR, but the maximum interest rate allowed varies by state. So don't be misled by deceptively low advertised rates that apply only to borrowers with good or excellent credit. When reviewing a loan agreement, make a note of any additional fees, including those for prepayments and late payments. Consumers with great credit are more likely to apply to a conventional financial institution, like a bank or credit union. But competition among the members of the lending network does help to manage the range of interest rates offered. Knowing that, you may save money by shopping around for the lowest APR you can get.
The lending networks reviewed above are free to the applicant, but the bad credit direct lenders may charge an origination fee on the loans they make. Of course, if the fee seems too high to you, you can decline the loan offer and look elsewhere.
If you can't get a personal loan, you may want to explore equity loans secured by property you own. Equity loans are generally cheaper because they are less risky, collateralized by your home, car, securities, cash, or even collectibles. An equity loan is riskier for the borrower since you will lose your collateral if you default on the loan.
Can I Get a Loan If I Have Bad Credit? 
The reviewed loan networks specialize in serving consumers looking for a bad credit loan. It certainly doesn't help to have a minimum credit score, but it need not be an insurmountable barrier to getting a loan. 
Secured loans are easy to obtain. Any loan backed by collateral is a secured loan. Some personal loan providers accept collateral, but it's unusual. 
On the other hand, home, car, and pawnshop loans are, by definition, secured. So is the debt you run up on a secured credit card from purchases and cash advances. Let's review each of these:
Secured Personal Loans
Your collateral seldom plays a role in personal loans. However, if you need an emergency loan and your credit is poor, you may have to resort to a secured personal loan, assuming you have enough personal property to act as security.
In some cases, you may deposit collateral with the lender. Other loans, such as a home loan or bad credit auto loan, are backed by a lien on the property, allowing the lender to seize it if you default on your payments.
Community-based financial institutions, such as a local bank or credit union, may be more willing to approve a secured personal loan. Some online lenders also offer this type of loan.
Equity Loans
Equity loans are secured by the equity (i.e., the difference between the property's potential selling price and the amount you owe on the primary loan) in your home or vehicle. Your down payment on your primary mortgage is cash collateral securing your home, while the remainder is secured by a lien on the property held by the mortgage lender.
You repay a home equity loan (also called a second mortgage) in monthly installments to the mortgage lender. A home equity line of credit (HELOC) is a revolving loan account, similar to a secured credit card. You pay interest only on the amount you draw from a HELOC, and you can vary the amount you repay each month (as long as you meet the minimum monthly payment requirements).

The Federal Housing Administration (FHA) is an important guarantor of home equity loans and mortgages. An FHA loan usually offers good terms to folks who need credit support. One criticism of the FHA loan process is that it can take a long time to close.
Cars, boats, and airplanes also serve as collateral for equity loans. These loans are secured by a lien on the property. You may be able to arrange cash-out refinancing on a property that you are still paying off. 
Defaulting on an equity loan will cause you to lose your property. Therefore, exercise great caution when taking out an equity loan and do so only if you're sure you can make the payments.
Which Types of Loans Offer Guaranteed Approval?
No type of loan can guarantee 100% approval. Some applicants are simply too risky or otherwise are ineligible for an unsecured loan. In this article, the guarantees refer to the speed of a decision and whether you'll have your credit pulled to prequalify for the loan.
As already discussed, secured loans are the closest thing there is to a loan with guaranteed approval. Yet, some factors may disqualify you from obtaining a secured loan. For example, you must be at least 18 years old, a citizen or resident of the United States, and have a Social Security number, checking account, email address, and phone number.
Also, certain financial experiences may put a loan out of your reach. These may include multiple bankruptcies, financial fraud, and serious felonies. Yet you may be able to overcome even this kind of financial history if you aggressively rebuild your credit.
Some loans are nearly guaranteed. For example, if you happen to own a genuine Rolex watch, just about any pawnshop will give you a loan. 
What isn't guaranteed is how much you'll be offered through a pawn loan. A pawn loan for only 20% of your property's value is especially upsetting when you can't afford to repay it and forfeit your collateral. 
Even a pawnshop may turn down a loan if it has reason to believe the property is stolen or counterfeit. A reputable pawnshop does not want to be involved with stolen merchandise. Police departments circulate reports of stolen property, and they often investigate pawnshops to trace missing merchandise. 
Credit card cash advances are conditionally guaranteed. That is, you can get one if you haven't exhausted your cash advance credit line, which is usually only a fraction of the card's total credit limit. However, some credit cards for consumers with bad credit do not offer cash advances. 

You won't be able to get a home equity loan if the amount of equity you've built is below the lender's minimum. In addition, most lenders won't offer equity loans on homes in foreclosure or those that have a tax lien due to unpaid taxes. 
Similarly, a title loan is a bad credit auto loan available only on cars that have been fully paid off. If you still owe money on your vehicle, you may qualify for a cash-out refinance loan, but not if the original loan is "underwater" — that is, you owe more than the vehicle's value.
Folks who served in the armed forces may find it easier to get a military loan. Some places specialize in the military loan market and do their best to turn down as few people as possible. 
You can qualify for a student loan based on need, not credit score. You must fill out the standardized FAFSA form to apply for a student loan.
A business loan may require a credit check of your personal credit history and that of your business. Both are needed because a business loan for a small company usually requires a personal guarantee from the owner.
The point is that you can't ever assume that a loan is a slam dunk. But neither should you assume that you'll never be approved for any loan. The nine lending services reviewed above are an excellent place to seek out a bad credit personal loan even when the odds are against you.
What Interest Rate Can I Expect to Pay?
The interest rate on personal loans is sensitive to your low credit score. If you have a minimum credit score, you'll be asked to pay a high APR. As your credit improves, the interest rate you'll have to pay will shrink. 
You can use the following chart to categorize your credit score: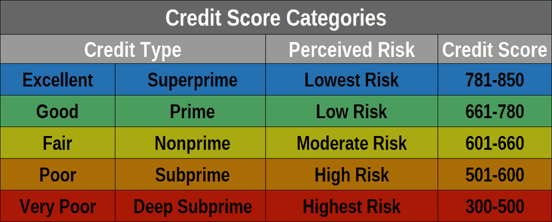 The chart confirms the correlation between risk and APR. This next chart quantifies that relationship:

Your state of residence may have enacted usury laws that cap interest rates. But several states have no such laws — so the sky's the limit.
As high as some bad credit personal loan rates may be, they are lower than the interest rates charged on payday loans, where rates of 400% and higher are common.
There are two strategies for dealing with high APR loans:
Keep your loans small and terms short: Even an astronomical APR won't do much damage if it applies to a small amount over a short period. 
Take a long-term loan: You can make a personal loan more affordable by repaying it over the better part of a decade. You pay a flat amount each month with a locked-in APR. While this strategy increases the loan's affordability, it also increases the total cost. 
The personal loan option offerings available through the reviewed lending networks claim to top out at an APR of 36%. But remember, the lending services have no say on the loan terms offered by the direct lender community on their networks. Depending on where you live, you may face a much higher APR. 
How Can I Increase My Odds of Loan Approval?
The easiest way to improve your approval chances is to recruit a cosigner who has a good credit score. Your cosigner shares the responsibility for the loan payments, and his or her credit score is on the line, just as yours is.
Cosigners are not necessarily the recipients of the loan proceeds despite their obligation to ensure repayment. Lenders look favorably upon cosigners because it reduces the risk of defaults and write-offs. 
Do These Loans Help Build Credit?
Providers of personal loans routinely report your payments to one or more major credit bureau. The bureaus use this information to tabulate your credit score, and by paying on time, you can slowly boost your score.
Timely payments are a central component of your credit history, accounting for 35% of your FICO credit score. That's the single largest factor determining your score. Paying on time is the best way to build your score, but missing payments can send your credit plummeting.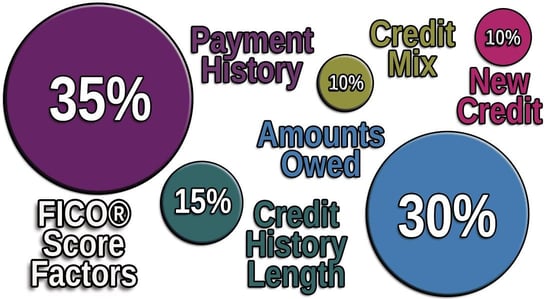 An occasional late monthly payment won't hurt you because they usually aren't reported until you are 90 days past due. Once that occurs, your score can lose dozens of points, and your credit report will list the delinquency for seven years. 
If you have too much debt and find it hard to pay your bills on time, you're a good candidate for credit counseling. A professional counselor can help you budget your expenses and consolidate your debt.
In fact, personal loans are often used for debt consolidation. You use the proceeds from the loan to pay off your credit cards and other debts and then make just one payment a month to the personal loan lender. 
When consolidating a loan, it's important not to incur new debt. Doing so can land you in a worse situation than before. A credit counselor can help you avoid mistakes that undermine your efforts to improve your credit.
Can I Get a Loan Without a Credit Check?
You can get prequalified for a loan without a credit check. In fact, all of the reviewed lending services do just that. 
You complete a short loan request form that the lending networks will evaluate immediately to obtain prequalification. If you're preapproved, you'll be matched up with a direct lender, and, in some cases, with multiple bad credit direct lenders.
Numerous lenders specialize in no credit check loans. For example, payday lenders seldom run credit checks because these loans depend on your income, not your bad credit score.
Similarly, pawn loans and cash advances from credit cards and HELOCs don't require a credit check, although one will be needed when initially setting up a revolving account. 
You may be able to get a title loan without a credit check. In addition, certain direct providers of personal loans advertise no-credit-check loans.
Consumers with a low credit score may seek out a no-credit-check loan because they are afraid they will be turned down otherwise. If you pursue this kind of loan, know that you'll probably be paying the highest APR charged by these lenders.
For example, this chart illustrates the costs involved in a no credit check payday loan:

You may look at this example and think the cost is only $100, something you can afford. The problem is that, with an APR of 521%, this predatory loan can devastate your finances if you have to roll it over several times. And if you're not careful, you may find yourself in a debt spiral en route to bankruptcy court. 
Besides being expensive, your payments to no credit check loans are seldom reported to the credit bureaus unless your loan becomes delinquent and goes into collection. The collection agency is likely to report your account to the credit bureaus, and that report will remain on your credit reports for seven years.
Carefully Consider Guaranteed Loans For Bad Credit 
We trust you now understand that guaranteed loans for bad credit refer to loans that guarantee a quick decision and, if approved, fast funding — as soon as the next business day. When reviewing loan offers, the best personal loan is the one that costs you the least in the long run.
Rather than looking for guarantees, your best long-term strategy should be to improve your poor credit score by paying your bills on time and keeping your loan balances relatively low. If you'd like further information about any of the reviewed lending networks, simply click on the START NOW links, and you'll be immediately transferred to the lending service's website.
Advertiser Disclosure
BadCredit.org is a free online resource that offers valuable content and comparison services to users. To keep this resource 100% free for users, we receive advertising compensation from the financial products listed on this page. Along with key review factors, this compensation may impact how and where products appear on the page (including, for example, the order in which they appear). BadCredit.org does not include listings for all financial products.
Our Editorial Review Policy
Our site is committed to publishing independent, accurate content guided by strict editorial guidelines. Before articles and reviews are published on our site, they undergo a thorough review process performed by a team of independent editors and subject-matter experts to ensure the content's accuracy, timeliness, and impartiality. Our editorial team is separate and independent of our site's advertisers, and the opinions they express on our site are their own. To read more about our team members and their editorial backgrounds, please visit our site's About page.