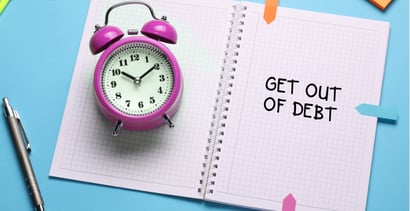 If you want help climbing out of debt, consider debt consolidation loans for bad credit borrowers. We have reviewed the best sources for debt consolidation assistance available to consumers with a less-than-excellent credit profile and ranked them on their reputation for service and external ratings.
Depending on the size of your debt, you may favor using a debt settlement company or you may prefer taking out a personal loan for debt consolidation.
Debt Consolidation Loans | Debt Relief | FAQs
Debt Consolidation Loans for Less than $10,000
The following companies can help you get a personal loan that you can use for debt consolidation or for any other purpose. They all work with networks of online lenders experienced in making loans to folks with less-than-excellent credit.
You can use your loan proceeds to pay off your other debts, leaving you with only one debt payment to make each month.
Loans from $500 to $10,000
Receive a loan decision in minutes
Get funds directly to your bank account
Use the loan for any purpose
| Loan Amount | Interest Rate | Loan Term | Loan Example |
| --- | --- | --- | --- |
| $500 to $10,000 | 5.99% - 35.99% | 3 to 72 Months | See representative example |
CashUSA connects consumers to reputable online lenders on its network. To qualify for a personal loan, you must earn an after-tax monthly income of at least $1,000, be a U.S. citizen or permanent resident of at least 18 years of age, and have a valid checking account, email address, and phone number.
The lending service has you complete a short loan request form that it uses to match you to the lender best suited to your needs. You can expect a quick decision on your loan application, and if approved, the money will appear in your checking account within one to two business days.
BillsHappen is a streamlined lender-matching service featuring an easy request process, fast decisions, and data security. To qualify, you must be a U.S. citizen or permanent resident age 18 or older with a valid Social Security number who receives reliable monthly job earnings or benefits and has a valid checking account.
The company charges you nothing for its services and your loan will not contain prepayment penalties. After filling out the short request form, you'll be forwarded to one of the lenders on the BillsHappen® personal loan lender network. The lender will disclose all the payoff loan term details, including costs and repayment term, before asking you to sign the payoff loan agreement form.
CreditLoan can find you a lender willing to let you borrow money so you can consolidate your debt. You prequalify for the loan by completing the short request form, after which you'll be transferred to a direct lender's website where you can finish the application process. Decisions are quick, and funding occurs within the next two business days.
CreditLoan does not explicitly list its prequalification requirements, but we expect they are similar to those of the competition. Your credit rating will not necessarily prevent you from getting a loan, although it may impact the loan amount and terms.
No matter how low your credit score, you can work with BadCreditLoans to see if you qualify for a debt consolidation loan. It's been in business since 1998, connecting borrowers to state and tribal lenders. To prequalify for a loan, you must be a U.S. citizen, at least 18 years old, and have a regular income, a checking account, and a valid email address.
The online loan request form is simple to fill out and submit. Subject to prequalification, you'll be transferred to a network lender where you can complete the loan application. You then use an e-signature to accept the loan agreement, after which you'll receive your money in as little as one business day.
PersonalLoans.com, with its high maximum loan amount, is a good choice when you have substantial debt you'd like to consolidate. Prequalification requires that you live in the U.S., be at least 18 years old, and have a Social Security number, a bank account, and dependable monthly income.
The company encourages you to apply with a cosigner if your credit score is too low for the amount you wish to borrow. Repayment periods run from three to 72 months, depending on the terms offered by the lender from the PersonalLoans.com network. Your money should arrive in your bank account as soon as the next business day.
Debt Relief & Consolidation for $10,000+ of Debt
These three reviewed companies specialize in helping consumers who have racked up substantial debt. They primarily offer debt settlement services, which is a specific form of debt consolidation. These companies do not lend money but rather negotiate with your creditors to reduce and consolidate your debt.
It's crucially important to choose the right debt settlement service, so we've assembled the key facts and ratings for reputable service providers and assigned a rating to each. Another important detail is that they all provide free, no-obligation consultations, giving you the opportunity to make your own judgments about hiring them.
Requires $10,000 or more in credit card debt
Free, no-obligation debt analysis
Specializes in credit card and medical debt
Also handles debt from personal loans, private student loans, lines of credit, and collections
Does not handle IRS, utility, federal student loans or mortgage debt
Long-term program to relieve debt over 24-48 month period
| Better Business Bureau | In Business Since | Free Consultation? | Reputation Score |
| --- | --- | --- | --- |
| A+ | 2009 | Yes | 9.5/10 |
National Debt Relief has helped more than 100,000 clients free themselves from more than $1 billion in debt since its founding in 2008. It specializes in helping consumers saddled with credit card or medical debt, but it also handles other types of unsecured loan debt, including commercial student loan debt.
Clients who have remained with the company's program for 24 to 48 months averaged a debt reduction of 30% after fees.
The company is a member of the American Fair Credit Council, the International Association of Debt Arbitrators, and the BBB, where it has an A+ rating. It is pledged to dealings that are ethical, honest, transparent, and fair. The company's services may not be available in all states.
Founded in 2000, CuraDebt offers debt settlement services, a type of debt consolidation program, that aims to reduce the amount you owe and to lower the interest rate and fees you pay on your remaining debt. It is a member of the Online Business Bureau, American Fair Credit Council, International Association of Debt Arbitrators, NetCheck, U.S. Chamber of Commerce, and HonestE Online.
The company specializes in handling unsecured debt arising from credit cards, personal loans, medical bills, business debts, collections and repos, and IRS debt, although it may not be able to help with a payday loan. It has earned more than 900 five-star reviews from CustomerLobby.com, and a 4.9 out of 5 rating on ShopperApproved.com.
CuraDebt's debt relief services are not available to residents of the following states: Connecticut, Idaho, Kansas, Louisiana, Maine, Montana, New Hampshire, Nevada, Oregon, South Carolina, Tennessee, Utah, Vermont, West Virginia, and Wyoming.
At Freedom Debt Relief, debt consolidation is only incidental to debt settlement, which seeks to have some of your debt forgiven. The company, founded in 2002 by two Stanford Business School graduates, bills itself as the largest debt negotiator in the U.S. It employs more than 2,000 professionals and has resolved debts for 600,000-plus clients.
Freedom Debt Relief is a member of the American Fair Credit Council and the International Association of Professional Debt Arbitrators. It boasts an A+ rating from the BBB and supports several well-known charities. The company works with consumers who have $7,500 or more in unsecured debts, primarily credit card, personal loan, and medical debt.
Its services are not available in New Jersey and possibly other states.
How Does Debt Consolidation Work?
Debt consolidation is a solution for when you are overwhelmed by debt. It replaces your current loans and credit balances with one payment per month, thereby avoiding multiple accounts and payment due dates. You'll pay one usually lower interest rate, and your fees (such as a loan origination fee) are known in advance.
Debt consolidation can work in at least four different ways: debt settlement, consolidation loan, balance transfer, and cash-out refinancing.
Debt Settlement
Debt settlement is a method in which a debt relief company works on your behalf to negotiate loan forgiveness and/or better loan terms from your creditors. Instead of writing checks to each creditor, you write one per month to the management company which in turn distributes your money (minus fees) to your creditors. This is the consolidation aspect of debt settlement.
Consolidation Loan
A consolidation loan often takes the form of an unsecured personal loan. You use the loan proceeds to pay off your existing loans and credit balances, leaving you with just one payment to make each month. This is a DIY method — you, not the lender, pay off your existing debt, so it requires more personal involvement than does debt settlement.
Balance Transfers
You can use the balance transfer method if you want to consolidate credit card debt. Typically, you obtain a new balance transfer card with a 0% introductory APR balance transfer promotion running from six to 18 months and a credit line large enough to consolidate all your existing credit card debt. You then transfer each card balance (fees apply) to the new balance transfer card, which you then attempt to pay off before the introductory offer expires. Balance transfers require good to excellent credit.
Cash-Out Refinancing
You use the proceeds from cash-out refinancing to consolidate your other debt. With this type of secured debt consolidation loan, you can cash out the equity in the property (typically your home or car) that secures a loan. You use the cash you receive from the secured debt consolidation loan, equal to the new loan amount minus the old loan balance and any fees to repay your other lenders and creditors.
Can I Get a Debt Consolidation Loan With Bad Credit?
The lending services reviewed in this article all offer help finding you a debt consolidation loan despite your bad credit score. Each service works with a network of lenders that possesses deep experience dealing with bad-credit consumers.
These lenders are willing to assume the risk of lending to bad-credit consumers, especially if the borrower shows improved financial behavior and the loan interest rate is high enough to compensate lenders for the expected number of loan defaults.
How Can I Get Out of Debt with Bad Credit and No Money?
If you are tapped out and have no money to repay your debt, your obvious choice would be to file for Chapter 7 bankruptcy. This is a liquidation bankruptcy, in which a court wipes out your unsecured debt, such as that arising from credit cards and medical bills or payday loans.
You must meet the income requirements for Chapter 7 bankruptcy — if you earn too much, you'll instead have to choose Chapter 13 bankruptcy, in which debts are restructured so you can pay them off over time.
Chapter 7 bankruptcies can save you a lot of money, but they will send your credit score tumbling and will remain on your credit history for 10 years. It will take at least six months after filing before you can apply for new credit.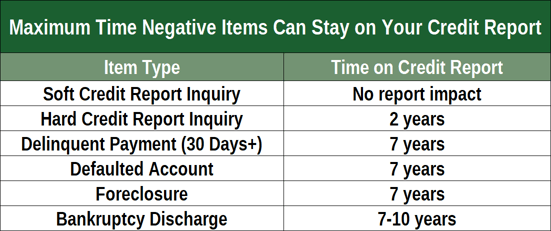 Secured loan providers that have granted you collateralized loans are not part of a Chapter 7 settlement — they can seize the borrower's assets or sue separately for repayment.
Bear in mind that Chapter 7 bankruptcy doesn't absolve you of income taxes on the amount of forgiven debt. You'll receive Form 1099-C showing you the amount of debt discharged. You must pay tax on this amount by the next tax filing date.
If you are truly destitute, you should be able to work out some arrangement with the IRS since it has the power to settle back taxes when you have no money. You may have to forfeit some of your remaining eligible assets if you have any.
As far as your credit score is concerned, a Chapter 7 bankruptcy followed by a settlement with the IRS will probably send you plummeting to the very bottom of the credit score range. However, you can start rebuilding your credit right away, although it may take a full decade to fully recover.
What is the Best Loan to Consolidate Debt?
Any of the five lending services reviewed above offer approximately equivalent lender-matching services. We score their overall ratings in the range of 4.7 to 3.9, a tight spread.
None of these services perform a hard inquiry on your credit files, meaning that your credit score won't suffer when you fill out one or more loan request forms.
When choosing a lending service, you should expect fast service and fair dealings. Generally, the APRs for personal loans arranged by the lending services are competitive with those charged by credit cards for cash advances.
You may find it easier to borrow the full amount you need through a personal loan because most credit cards limit cash advances to only a portion of the card's credit line.
How Can I Get All My Debt Into One Payment?
You can consolidate your debt into one monthly payment through either a consolidation loan or debt relief. The steps for using a consolidation loan using the companies in this review are as follows:
Tally up the payoff loan amounts for all your debt, including loans, lines of credit, and credit card balances. Do not include a secured loan.
Prequalify for a personal loan by filling out a loan request form from one or more of the online lender matching services, noting the amount you wish to borrow (equal to the payoff amount calculated in the previous step).
Complete the application process with the lender recommended by the matching service. You should receive a decision instantly.
Sign the loan agreement after reading and understanding all the loan term details.
After your loan proceeds are deposited into your checking account, pay off each of the loans you've included in the consolidation process. You can do this by writing checks or through online electronic funds transfers.
Set up automatic repayment of your consolidation loan from your checking account so you never miss a monthly payment.
Do not incur any new debt until you've completely repaid the consolidation loan. If possible, prepay the loan to save interest.
During the payoff period, keep your credit cards at home and rely on a debit or prepaid card for your shopping needs. Always ensure that your checking account has sufficient funds for the monthly repayment of the consolidation loan.
Alternatively, these are the steps to take if you use a debt settlement organization:
Contact one of the debt settlement organizations reviewed above and speak to a credit counselor. Explain your circumstances and provide any of the information requested. Make sure you understand all the fees and possible damage to your credit score stemming from a credit relief program before you sign a service agreement.
Continue making minimum payments on each of your debts until the debt settlement company negotiates a deal with the creditor.
When notified by the debt settlement company, stop making payments to your creditors and instead make one monthly payment to the settlement company. The company will distribute your payment (minus fees) to your participating creditors as agreed by them.
Continue with the program until your debt is fully repaid. Do not incur any new debt until that time.
It may take several years to repay your debt through a settlement program, so it's important that you resolve to stick with it until the end.
Do Credit Unions Offer Debt Consolidation Loans?
Indeed, they do. In fact, a credit union is an excellent source of debt consolidation loans, but you'll have to overcome a couple of obstacles.
First, you must get into a credit union, and some of them are hard to join. Usually, you must satisfy some criteria, such as the location where you live, work, or go to church.
Secondly, you'll have to qualify for the loan. That depends, in part, on how bad your credit score is. All things being equal, it's easier to qualify for a loan from a credit union than it is from a bank.
However, the lender-matching services reviewed above are probably faster and more accepting than banks and credit unions.
Is it Better to Get a Personal Loan or Debt Consolidation?
You can choose a debt consolidation option with either a personal loan or through a debt relief service. The method you choose will depend on several factors:

Generally, you must meet the minimum loan amounts (usually $10,000 of unsecured debt) to use debt settlement services. On the other hand, you don't have to meet any minimum credit score requirements for debt settlement, which is not true for personal loans.
We think the basic question is whether you are willing to trade a lower credit score for a reduction in your debt. If the answer is yes, then choose consolidation through debt settlement. If you'd prefer to preserve and improve your credit score, get a consolidation loan instead.
How Can I Pay Off Credit Card Debt Without Consolidation?
If all your debt arises from unpaid credit card balance amounts, you may be able to pay them off with or without credit card debt consolidation.
You can simply pay off your credit cards one at a time while making minimum payments to all the others, thereby avoiding the need for credit card consolidation. Typically, you'd pay off the cards in descending order, starting with highest interest debt. Do not use any new credit until you've completed the process.
Alternatively, you can use a credit card balance transfer strategy to achieve credit card debt consolidation:
First, fix your credit reports to get your credit score as high as possible and increase your chances of getting your credit card application approved.
Check reviews of the best 0% balance transfer credit cards and decide which one you want.
Apply to the card with the longest introductory promotion period. Work downward from there until you are approved for a credit line large enough to consolidate all your credit card debt.
Fill out the forms required by your new credit card to transfer balances from your existing accounts. Make sure you have enough money put aside to pay the transfer fees (typically 3% to 5% per transfer).
Receive confirmation that each account balance has been eliminated. If not, make the remaining credit card payment directly.
You will now receive one credit card bill per month. Your goal is to pay off the balance before the 0% introductory APR period expires. You can set up automatic payments to ensure you never miss one.
This strategy of credit card consolidation works with unsecured credit cards only, it is not a secured debt consolidation loan. You can't include other credit facilities, such as home equity lines of credit or another type of home equity loan, into this scheme because you can't transfer balances from non-credit-card debt, such as a car loan or home equity loan. If possible, you want to replace high interest debt with something less expensive.
What Are the Risks of Debt Consolidation?
The biggest risk associated with debt consolidation is a lack of discipline resulting in new debt before you repay the existing debt. Taking on new debt defeats the purpose of consolidation. You'll find yourself once again making multiple monthly payments, and, in the long run, you could end up in deeper trouble than when you started.
When you take the debt settlement route, your current creditors will notice if you build more debt and may retaliate. The form of retaliation may be to require you to close your new account or even cancel any concessions made to your existing account, such as reduced interest rates, a longer repayment term, and/or debt forgiveness.
Debt settlement also carries the risk that your creditors won't agree to a relief plan. Some may instead decide to sue you in court and force you into bankruptcy.

You may be unable or unwilling to complete the debt relief program, which could land you in bankruptcy court. The relief service companies cannot guarantee you will finish your program by a specified date or that you will save a specified amount.
You won't know in advance how much your credit score will suffer if you take the debt settlement route. You can be sure that the relief you're given will remain on your credit history for seven years, although most of the damage to your score occurs in the first two years.
While these risks can seem daunting, in the end, they probably create less potential harm than you'd realize under Chapter 7 bankruptcy, which will haunt your credit report for a full 10 years. Whichever route you take, remember that you can immediately set out to improve your credit profile by paying all bills on time and reducing your debt as quickly as possible.
Debt Consolidation Loans for Bad Credit Are Available
You can get a personal loan to consolidate your debt by using any of the lender-matching services evaluated in this review. All these services use personal loan lender networks that are very experienced working with borrowers who have bad credit. The biggest challenge will be to obtain a loan large enough to pay off all your existing unsecured loan debt (usually omitting student loan debt).
You can instead opt for debt consolidation through debt settlement. The three settlement companies reviewed above take on clients who owe at least $5,000 to $7,500 in debt. An interesting thing about debt relief is that a minimum credit score probably helps rather than hurts because it indicates to your creditors that you are experiencing a high degree of financial distress.
If you choose debt settlement, you can expect to shave anywhere from 15% to 35% off your debt, including fees. If you owe $20,000, a 35% reduction would save you $7,000 before taxes. You save nothing with a consolidation loan, but you don't hurt your credit score either.
Whichever way you get there, we suggest you view debt consolidation as an opportunity. You'll only have one debt payment per month, so you have the opportunity to avoid late payments and fees. With debt relief, you have the opportunity of saving thousands of dollars in debt, albeit at the cost of a lower credit score.
The biggest opportunity is to avoid being forced into bankruptcy, a move that may darken your financial destiny for up to 10 years. In the end, it's good to know you have options when you fall into debt, even if you have a bad credit score.
Advertiser Disclosure
BadCredit.org is a free online resource that offers valuable content and comparison services to users. To keep this resource 100% free for users, we receive advertising compensation from the financial products listed on this page. Along with key review factors, this compensation may impact how and where products appear on the page (including, for example, the order in which they appear). BadCredit.org does not include listings for all financial products.
Our Editorial Review Policy
Our site is committed to publishing independent, accurate content guided by strict editorial guidelines. Before articles and reviews are published on our site, they undergo a thorough review process performed by a team of independent editors and subject-matter experts to ensure the content's accuracy, timeliness, and impartiality. Our editorial team is separate and independent of our site's advertisers, and the opinions they express on our site are their own. To read more about our team members and their editorial backgrounds, please visit our site's About page.