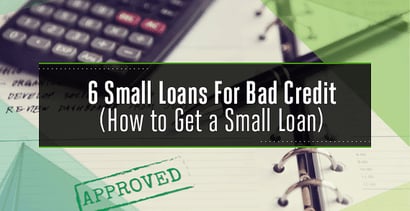 I had a friend in college who, despite his best intentions, was never able to hold on to much of his money. He worked hard, but always seemed to be overwhelmed by his bills, and he sometimes struggled just to keep the lights on. At those times, he would use a small personal loan to make ends meet until he could get back on track.
Whether it's $200 to keep the power on or $2,000 to take care of an emergency medical bill, there are times when a small loan can make a huge difference. For many, however, getting a loan of any size can be difficult due to poor credit.
With a little research, even subprime borrowers can often find a small loan to help them through a tough financial spot. Read on to see some of our top choices for getting small loans with bad credit, including installment loans, unsecured loans, bank loans, and small business loans, as well as a brief primer on the steps to take when pursuing a small loan.
How To | Installment Loans | Unsecured Loans | Bank Loans | Small Business
How to Get Approved For a Small Loan
Bad credit can make just about any financial issue more complicated — and getting a loan is rarely an exception — but it doesn't have to be impossible. Here are three things you can do to help improve the process.
Know Your Credit Situation
The first step to getting a small loan with bad credit is to become informed. Knowing your credit score and credit history before you start the application process will prevent any unpleasant surprises such as being disqualified because of an incorrect balance or outdated account on your credit report. Many lenders will also have a minimum credit score, though those specializing in subprime borrowers will be more lenient.
Being knowledgeable about your situation will also make it easier to identify a good offer when you find one. Your subprime score does not mean you need to take the first loan offer you see, nor does it mean you can't possibly qualify for something better.
Know what your options are before entering any particular agreement.
Have a Steady Income
In addition to your credit report, a lender will usually look at your employment status. Subprime lenders, in particular, need to take some steps to mitigate their risks, so you'll likely need to fulfill certain work requirements to qualify for your small loan.
Qualifications can include verifying that you meet a minimum monthly income level and demonstrating work history of a certain duration. Requirements will vary by lender and loan amount, so shopping around may get you better results if your first attempt doesn't succeed. Most programs will also require that you have at least a basic checking account.
Use a Lending Network
Traditionally, borrowers needed to call or visit each bank or lender individually to get an idea of the various rates available on the market. Today, there are a number of lending networks available that make the process of finding the best rate much easier.
Lending networks allow borrowers to receive offers from multiple lenders at once, often after filling out a single form, and compare the available rates quickly and easily. For borrowers with specific qualifications, including bad credit, lending networks can be the easiest way to get the best options.
Small "Installment Loans" For Bad Credit
While specific payment plans will vary depending on the lender, you'll generally either have a short-term loan or an installment loan. Short-term loans, including cash advances and payday loans, usually have terms lasting a week to a couple months.
With most short-term loans, your entire loan — plus interest and fees — will be due on the specified due date, and late payments will come with hefty fees. Installment loans are repaid over several payments, with payments and due dates set according to a prearranged schedule (often monthly). Installment loans are a good fit for those who need a larger loan or can't pay back the entire amount right away.
The following lender networks offer installment loans, among other loan types. The loans offered to you will be largely based on your application criteria.
Short-term loans tend to have higher interest rates than those for installment loans and because the entire loan is due at once, the payment can be high. Payments on installment loans can be more affordable, but the loans last much longer; you may end up paying more total interest on an installment loan in the long run.
Small "Cash Loans" For Bad Credit
These loans must be repaid quickly, usually within a month, and are for small amounts of up to $2,000 or so. They are unsecured loans given based on the word — and creditworthiness — of the borrower.
Personal loans and credit cards are both generally considered to be unsecured debts because the lender has no way of securing, or guaranteeing, that the debts will be paid. Unsecured debts are thus riskier for the lender than secured debts, and will usually carry much higher interest rates.
An unsecured loan may not involve collateral that the bank can repossess, but lenders do have options if you default on your loan, including taking you to court. Make sure to pay your loan on time, in full, to avoid any nasty repercussions.
Small "Bank Loans" For Bad Credit
Typically considered to be hard to get and a lot of work, bank loans are quickly losing popularity in favor of loans from online lenders. More online lenders are starting up every day, and the increased convenience (and decreased anxiety) of applying for a loan online is quickly making online lenders the option of choice for many subprime borrowers.
Online lenders will often have better deals than banks, as the lack of overhead (no costs associated with opening branches all over the country) means they can charge lower fees and interest rates. Subprime borrowers will see less advantage when it comes to interest rates, but online lending networks can help you find the best offer.
You may want to consider borrowing from a credit union instead of a bank. In addition to being more flexible, credit unions offer Payday Alternative Loans (PALs) designed for members with bad or thin credit profiles. 
The National Credit Union Administration (NCUA) created PALS for federal credit union members who need a small loan and don't want to deal with an expensive payday loan. PALs have the following features:
Loan amounts from $100 to $2,000

Loan terms from one to 12 months

Easy approval

Low application fee

You must be a credit union member

You can take up to three PALs within six months, with no rollovers or overlaps

The maximum interest rate is 28%
There are two types of PALs, PAL I and PAL II. PAL II has no minimum membership requirement, meaning you can become a member and apply for a loan the same day. PAL I requires you to be a member for at least 30 days before you can qualify.
Small "Business Loans" For Bad Credit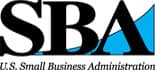 Depending on the type of business you've formed, your personal credit history may be impacting your ability to get a business loan. Small business loans can be even more difficult to get than other loan types, with only about 27% of all applicants actually getting a business loan, according to the Small Business Association.
If you have been repeatedly denied a small business loan due to your poor credit score, you may want to consider applying for a credit card. A number of business credit cards are available for consumers with credit scores in the mid-prime range, typically a score above 640. Business credit cards can have limits into the thousands, and may be easier to get than a traditional business loan.
If your credit is too low to qualify for a business-specific credit card, you can also try applying for a credit card aimed at individuals with bad credit. Keep in mind that interest rates may be higher than with other cards, and the spending limits will likely be lower than those offered with business cards.
There are also other — less traditional — funding options, such as crowdfunding (think companies like Kickstarter) and peer-to-peer lending, which allows small business owners to raise capital through user investment. Many of these sources will come with minimum funding or revenue requirements, and interest rates can be all over the place; do your homework before you apply.
Having bad credit is a consequence of not paying bills on time, which damages a person's credit score. Perhaps you were delinquent repaying a loan, triggering pursuit by a collection agency. Other events that hurt your credit include charge-offs, repossessions, foreclosures, and bankruptcies. 
Technically, bad credit is a credit score below 580 on the FICO scoring system and 600 on the VantageScore scale.

The three major credit bureaus (Experian, Equifax, and TransUnion) independently collect information from lenders, creditors, and other parties to create your credit reports. This information is also used by credit scoring models, namely FICO and VantageScore, to calculate your credit scores.
Negative items, including late payments, civil judgements, and bankruptcy, remain on your credit reports for seven to 10 years. But the damage to your credit scores begins to recede after two to three years. It's never too early to adopt creditworthy behavior, including paying your bills on time and reducing your unpaid balances.
Taking out a loan involves borrowing money and then repaying it, usually with interest. The reasons behind a loan request are as varied as do the individual applicants. Nonetheless, the best loans follow a standard pattern in which money flows between lender and borrower at different times.
Secured and Unsecured Loans
Loans can be secured or unsecured. Personal and payday loans are unsecured, meaning you do not post collateral to get them. Collateral is something of value pledged as security for repayment of a loan. You may forfeit your collateral if you default on (i.e., fail to repay) your loan.
Secured loans require you to post collateral. Fully secured loans demand that the collateral value equal or exceed the loan amount. Examples include title loans, pawn loans, and the credit lines on secured credit cards (which are the best credit cards for consumers with terrible credit). 
Your lender refunds your collateral when you repay the loan. These are not the best loans if you want to control your borrowing expenses.
An unsecured personal loan is more difficult to obtain than a secured personal loan. When deciding whether to issue you a loan, a personal loan lender relies on information about you, including your bad credit score and history. Borrowers with excellent credit receive the best loan terms (i.e., interest rate, repayment period, fees). The secured personal loan option also offers favorable terms due to its low risk. 
Bad credit hampers your access to an unsecured personal loan and saddles you with high borrowing costs. Secured loans solve the problem, but only if you have collateral you can pledge to the lender. Repaying a secured loan on time is a great way to rebuild your credit.
How Interest Is Calculated
Interest is one of the costs of borrowing money. It is a fixed or variable percentage of the borrowed amount (the principal). Your loan's interest rate depends on your creditworthiness or collateral, the loan source, calculation method, and the repayment term. 
The government requires consumer loans to express interest as an annual percentage rate, or APR, the yearly interest rate over the loan repayment term. You calculate APR by multiplying the periodic interest rate by the number of pay periods per year. For example, a loan that charges 1% per month has a 12% APR. 
Types of interest include:
Simple

: The loan charges interest using only the original principal. Generally, simple interest favors borrowers because it costs less than compound interest.

Compound

: A loan with compound interest charges you for the original principal plus any unpaid interest. In effect, you are paying interest on interest because unpaid interest converts to principal in each compounding period. Loans can have different compounding periods such as monthly, daily, and continuous. The shorter the compounding period, the faster the loan compounds and the higher the total cost. 

Amortized:

You repay an amortized loan in a series of equal installments. Each payment applies to varying amounts of principal and compounded interest. Mortgages are the classic example of amortized loans: Your initial payments are almost exclusively interest, but a greater portion is principal over time. Your final installments are almost exclusively principal. Lenders employ amortization to front-load their interest income. 

Fixed

: Loans with a fixed interest rate are predictable because the rate never changes. Fixed rates favor borrowers when interest rates rise but are undesirable when interest rates fall.

Variable

: Your interest rate goes up or down depending on market forces.
The best personal loan APR is around 6%. APRs top out at 36% for bad credit personal loans and credit card balances. However, payday loans have interest rates of 300% to 700% and higher.
How You Repay a Loan
Installment loans are billed once per period (typically monthly). You'll receive a billing statement in the mail or online at the end of the billing period, giving you the amount due and due date. Examples of an installment loan include a personal, bank, or P2P loan.
You can pay by mailing a check or entering an online transaction. Make sure you submit payment by the due date, or you'll face a late charge. Many lenders offer an autopay service that ensures you'll never forget a payment. 
Unlike a personal loan lender, payday loans are payable in full on the due date, which coincides with your next pay date. If you can't pay the loan on the due date, a payday lender will roll the loan over to the following pay date, charge you a late fee, and add the previous interest to your loan principal. 
Failure to promptly repay payday loans can send you into a debt spiral that could end in bankruptcy. 
Credit cards also bill monthly, with payments due at  the end of the grace period, if there is one. Unlike installment loans, the best credit cards require only a minimum payment each period, usually about 5% of your outstanding balance. While minimum payments can help you through a cash crunch, they maximize your interest and can add years to the time you'll need to repay the balance fully. 
Some loans, most notably mortgages, charge prepayment penalties. Fortunately, you can make credit card payments at any time and in any amount without penalty. The same is usually true for a bad credit personal loan or payday loan.
If you have two or more loans or credit card balances, you may want to combine them through a debt consolidation loan, especially if your new interest rate will be lower than the existing ones.
You repay a debt consolidation loan once per month, which makes it easier to remember payment due dates and reduces your number of minimum payments. Federal student loans benefit from easy debt consolidation loan procedures. 
What Is Debt-to-Income Ratio?
Your debt-to-income (DTI) ratio helps predict how easily you can repay a loan. It's equal to your monthly debt payments (mortgage, rent, loans, credit card balances, student loan installments, p2p loan balances) divided by your total monthly gross income (before taxes and other deductions). 
For example, if your recurring debt payments are $1,800 a month and your monthly gross income is $5,000, your DTI ratio is ($1,800 divided by $5,000), or 36%.
The higher the percentage, the less money remains to repay new debt. Consumers with DTI ratios above 43% are ineligible to apply for government-backed mortgages.

Lenders have different tolerances for maximum DTIs, usually ranging from 36% to 50%. You can improve your loan eligibility by paying down your debts or increasing your monthly income. 
DTI ratio doesn't figure directly into your credit score. Instead, FICO uses credit utilization ratio (i.e., credit used compared with your total credit available) to gauge your ability to repay debt. Credit utilization applies only to unsecured credit card debt. 
How Do I Compare Loan Offers For Bad Credit?
When shopping for a loan, compare the following characteristics:
Interest rate

: The lower, the better. Secured loans have interest rates lower than those for unsecured loans. 

Compounding

: Simple interest loans are cheaper than those with compound interest. Less aggressive compounding (i.e., monthly) costs less than daily or continuous compounding. 

Repayment terms

:

Installment loans are easier to budget

than are loans with lump-sum repayments. You can increase the affordability of installment loans through more extended repayment periods, although this will also increase the total loan cost. 

Fees

: Always read a loan's disclosure documents so you know all the charges you'll face, including origination and prepayment fees. 
It's not a good idea to habitually rely on loans to get you through the next time you receive income. Doing so wastes a lot of money on fees and interest, which risks creating a debt spiral.
If you're having trouble paying your debts, consider working with a nonprofit credit counselor who can show you ways to break the cycle of borrowing. 
Which Bad Credit Loan Is the Easiest to Get?
If you need an emergency loan immediately with few questions asked, you may seek out a pawn shop and hock some property — a watch, camera, piece of jewelry, etc. — that you can live without if you're unable to repay the loan. Keep in mind that pawn loans are expensive and heavily overcollateralized, although you may not care if you truly need an emergency loan.
Payday loans, also referred to as no credit check loans, are also easy to get if you have reliable income from a job or governmental support. These are extremely expensive, but they do not require you to provide upfront collateral or have good credit.
Payday loans are dangerous if you overly rely on them, as interest and fees can quickly escalate beyond your ability to repay.

You should have little trouble getting an equity loan if you own a home or vehicle. The problem with these is that you face foreclosure and repossession if you default. 
Some folks can depend on family and friends for an easy loan with forgiving terms. But asking too often or failing to repay can ruin personal relationships with loved ones, a potentially heavy price indeed.
How Long Does It Take to Get a Small Bad Credit Loan?
Storefront payday and pawnshop loans are the quickest to obtain, taking only a few minutes to fund short-term loans. That lightning speed comes at a high cost – triple-digit APRs and lump-sum repayments on these short-term loans.
Online personal and payday loans can provide funding in as little as one business day. A bad credit personal loan is much cheaper than the payday variety but can be harder to get if your credit is crummy.
Payday alternative loans are readily available, but only after you've been a credit union member for at least 30 days. Credit card cash advances are only an ATM away, but that assumes you already own the card. If not, it usually takes seven to 10 days for a new credit card to arrive. 
If you've paid off your car, you can get a same-day title loan, an expensive and risky proposition. A home equity loan can take a week or more to arrange, and they too are risky. Regular bank loans are hard to get, especially when you want to borrow only a small amount and your credit is bad. The bank's small profit and high risk make these loans unattractive. 
Can I Get a Small Loan With a 600 Score?
If you must rely on your bad credit score to get a loan, 600 is undoubtedly a challenge. However, the reviewed online loan networks deal with a wide variety of direct lenders, some of which may be willing to risk lending to consumers with low scores. 
The advantage of using a loan network is that your loan request is submitted to many lenders all at once, increasing your chances of success. 
Improving your credit score is the best way to gain greater access to the best personal loan options. One way to improve your credit is through a credit builder loan from a credit union or online lender. These loans work as follows:
The lender approves your loan amount and deposits the money into a locked savings account.

You repay the loan in monthly payment installments.

The lender reports your payments to at least one major credit bureau.

The lender refunds your payments when you've fully repaid the loan.
Credit builder loans allow you to establish an emergency fund and rebuild your credit. And if you fail to make your payments, your account will be closed and your payments refunded with no harm to your credit score. They are one of the most consumer-friendly options available for rebuilding credit. 
Another way to get a loan despite having bad credit is to recruit a creditworthy cosigner. You and the cosigner are both responsible for repaying the loan, significantly reducing the lender's risk exposure. 
If you can't overcome your low credit score, you may have to rely on less-desirable alternatives that don't depend on your credit rating, such as payday, title, and pawnshop loans.
What Happens If I Can't Repay My Loan?
Doing nothing is the worst response when you're having trouble repaying a loan. Lenders send reports to a credit bureau regarding loans that are 30 or more days delinquent, creating a seven-year black mark on your credit reports and causing credit scores to plunge. 

You may eventually have to deal with debt collectors, repo agents, and court judges if you fail to work out an arrangement with your creditors. 
Open communication with lenders is the best way to deal with repayment problems. Lenders would often rather reach some accommodation than enter into costly collection attempts. Working with a credit counselor may help you restructure your debt over a longer repayment period, possibly at a reduced interest rate.
If you want to play hardball, you can seek out a debt relief company and attempt to reduce the size of your debts through loan forgiveness. This strategy is risky and expensive, with no assurance of success. Moreover, debt relief can crush your credit score even further. Still, it does provide just about the only means of significantly reducing your debt short of bankruptcy.
If you do file for bankruptcy, you may have a chance to restructure or discharge your debt under court order. 
Chapter 13 bankruptcy allows you to reorganize your debt without forfeiting your assets. Chapter 7 discharges your debt, but you'll lose many of your unsecured property in the process. Bankruptcy remains on your credit reports for seven to 10 years. 
Over time, credit mishaps will age off your credit reports. You can quicken your credit recovery by adopting creditworthy behavior such as paying bills on time and avoiding debt. 
How Do I Identify Predatory Lenders?
It's not too difficult to identify predatory lenders. Look for the following signs:
High interest rates

Complicated or vague repayment terms

Harsh penalties

Illegal collection tactics
Scam artists are also predators. They try to steal your money by pretending to be a legitimate lender and using tactics such as email phishing, phone scams, and high pressure. Look out for guarantees that your loan will be approved, unregistered lenders with no physical address, unsecured websites, and demands for upfront payments.
Badcredit.org recommends only reputable lenders. You can connect with the lenders we review by clicking on the START NOW links in our summary boxes. Taking sensible precautions is an essential part of creditworthy behavior.
Use Your Small Loan Wisely
Small loans can be a huge help when you need a hand with a sudden or unmanageable expense — or just need to keep the lights on — but they should be used with caution. A loan that is paid back in full, and on time, can be a boon to your bad (or growing) credit report.
At the same time, making late payments, or missing payments entirely, can make bad matters worse. Always keep an eye on your payments and due dates to make sure you get the most out of your small loan.
Advertiser Disclosure
BadCredit.org is a free online resource that offers valuable content and comparison services to users. To keep this resource 100% free for users, we receive advertising compensation from the financial products listed on this page. Along with key review factors, this compensation may impact how and where products appear on the page (including, for example, the order in which they appear). BadCredit.org does not include listings for all financial products.
Our Editorial Review Policy
Our site is committed to publishing independent, accurate content guided by strict editorial guidelines. Before articles and reviews are published on our site, they undergo a thorough review process performed by a team of independent editors and subject-matter experts to ensure the content's accuracy, timeliness, and impartiality. Our editorial team is separate and independent of our site's advertisers, and the opinions they express on our site are their own. To read more about our team members and their editorial backgrounds, please visit our site's About page.