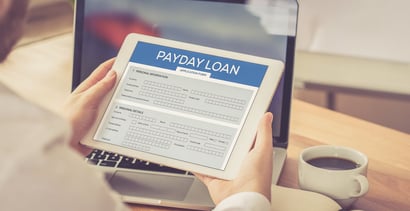 It's important to understand the difference between online payday loans for bad credit and loans from your local payday loan store. While all payday loans are designed for employees with bad or no credit, the ones you get from a brick-and-mortar storefront will likely cost you more.
The online loan networks reviewed here offer faster service, more types of loans, and the possibility of a lower interest rate.
Best Overall | Short-Term Loans | FAQs
Best Overall Online Payday Loan
MoneyMutual is our top-rated payday advance provider and has been for several years. The company doesn't offer loans directly but rather prequalifies you for a cash loan from a reputable lender on its network. This network has a variety of lenders, many of which specialize in lending to consumers with bad credit, and that includes providers of payday loans.
Short-term loans up to $5,000
Online marketplace of lenders
Funds available in as few as 24 hours
Simple online form takes less than 5 minutes
Trusted by more than 2 million customers
| Loan Amount | Interest Rate | Loan Term | Loan Example |
| --- | --- | --- | --- |
| Up to $5,000 | Varies | Varies | See representative example |
While the network may find you a payday lender willing to offer you a loan, keep in mind that you can also request a short-term installment loan if that suits you better. If your intention is to roll over a bad credit payday loan, consider instead a short-term loan that will cost you much less in interest and fees.
While it's true it takes at least a day to receive your payday advance proceeds from an online payday lender, you can submit your cash loan request around the clock rather than being limited to the hours that a payday loan store is open.
More Online Payday Loans to Consider
These online loan networks can also find you a bad credit payday loan and/or installment loan from the comfort of your home. Even if some don't offer payday loans, all but one can find you a small personal loan that you can repay in as little as 90 days.
The nice thing about a personal loan is that its annual percentage rate (APR) is much lower than that of a payday loan.
Loans from $500 to $10,000
Receive a loan decision in minutes
Get funds directly to your bank account
Use the loan for any purpose
| Loan Amount | Interest Rate | Loan Term | Loan Example |
| --- | --- | --- | --- |
| $500 to $10,000 | 5.99% - 35.99% | 3 to 72 Months | See representative example |
CashUSA, headquartered in Las Vegas, specializes in arranging personal loans for consumers with bad credit — no minimum credit score is required. To prequalify, you must be a U.S. citizen or permanent resident, at least 18 years old, with a monthly pre-tax income of at least $1,000. You also must have a valid checking account, phone number, and email address.
BillsHappen can help you get a short-term personal loan that will cost less than a payday loan while giving you more time to repay. Proceeds from the small loan are wired directly to your bank account as quickly as the next business day. The company protects your personal information by transmitting all data using AES256-bit encryption, ensuring your privacy and security.
Tampa-based CreditLoan can find you a small signature loan with terms better than those for a payday loan. The company provides an array of online resources and tools, including an unsecured loan calculator, and has helped more than 33 million website visitors research important financial topics. The website is the proud recipient of the TRUSTe® seal for security and privacy.
Bad Credit Loans in Tacoma, Washington, helps you arrange personal loans that you repay in installments, even if you have bad credit. To prequalify, you must be a U.S. citizen or resident, 18 or older, with regular income, a bank account, a phone number, and a valid email address. One interesting alternative you can request is a line of credit where you control the loan amounts and timing of the money you borrow.
PersonalLoans.com, based in Roosevelt, Utah, is a good alternative to payday lenders that charge much more for their loans. To prequalify, you must be a U.S. resident, at least 18 years old, with a monthly income of $500+ and an active bank account in your name. In addition to loans, you may be presented with a variety of services, including debt relief, credit repair, and credit monitoring.
CashAdvance can help you find small payday loans that you repay on or before your next paycheck. You can prequalify if you are a U.S. citizen, age 18 or older, with a pre-tax monthly income of at least $1,000, a valid phone number, email address, and a checking account. The company has been making small loan arrangements since 1997 from its headquarters in Roosevelt, Utah.
What Is a Payday Loan?
Also known as a paycheck advance, a payday loan is a short-term bad credit loan that is meant to help the borrower get through to the next payday. This is really an emergency loan that requires a prompt, lump-sum repayment by the agreed due date, which is tied to the borrower's pay schedule. Failure to repay the emergency loan on time triggers penalty fees and additional interest.
On the plus side, payday loans do not require a credit check — rather, you must document your regular income from employment, benefits, or some other source. A reputable lender may want to look at your pay stubs, banking records, and perhaps your monthly bills to ensure you can repay the loan on time.
The snag with payday loans is their high APRs — often in the range of 200% to 2,000+%. The loans also carry high fees for late payments and for loan rollovers, which are extensions of the due date accompanied by additional fees and interest.
The justification for payday loans — the high APRs are usually applied to small loan amounts borrowed for short periods of time — reflects an ideal situation that often is not true. The nightmare scenario is that a borrower cannot meet the initial repayment deadline and repeatedly rolls the loan over, falling further behind each time as fees and interest costs mount.
This can precipitate the dreaded debt spiral, potentially ending in bankruptcy proceedings.
Payday loans are available either online or from brick-and-mortar stores found in many neighborhoods across the country. You can get your money quickly at a local store, often within half an hour, whereas online payday loans are usually available through direct deposit to your checking account the next business day.
Several states set maximum APRs or limit the number of rollovers on payday loans. Other states, like Texas, take a hands-off approach to payday loans. Some states prohibit payday loans entirely.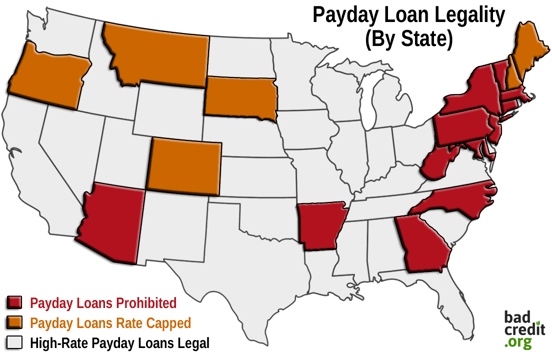 An online personal short-term loan is a popular alternative to payday loans. These are loans that you repay in monthly installments rather than in one lump sum. Online personal loans are attractive because they usually cost much less, report your payments to the credit bureaus, and feature more affordable payments.
Almost all of the online lending networks reviewed in this article offer short-term personal loans instead of payday loans. Our top choice, MoneyMutual, arranges both types of loans, whereas CashAdvance.com deals only with payday loans.
How Do I Apply For a Payday Loan Online?
The lending networks reviewed here share very similar application procedures, whether you ask for a payday loan or a short-term personal loan. These companies do not lend money but rather find you a lender willing to work with you. Each has a network of private lenders, banks, and other funding sources that are accustomed to assisting borrowers with bad credit scores.
The first step is to prequalify for a loan by filling out an online request form. This step does not require a hard pull of your credit, so your credit score will not be affected. If you satisfy the lending service's minimum requirements, your request will be sent to the network as a whole or to certain lenders that the service feels best match your needs.
If you want to proceed, you'll complete the application process by providing any additional information the lender requires. At this point, the lender will likely perform a hard inquiry on your credit report that may minimally reduce your credit score at first. The lender may then make you a loan offer for a specified amount and repayment terms.
Read all the lender disclosures before agreeing to a loan, which you consent to by e-signing the loan agreement. Expect the loan proceeds to be deposited into your bank account in the next one to two business days.
In some cases, the lending service won't be able to match you to a direct lender. In that case, you may receive links for other credit services, such as debt relief or consolidation. The lending services are free — they make their money by getting an origination fee for loans completed on their networks.
What Are the Qualifications to Get a Payday Loan?
The online lending services reviewed here can prequalify you for a loan, but the actual lender is responsible for making the final determination. Generally, prequalification requires you to:
Be at least 18 years of age, although some states may require you to reach age 19.
Be a U.S. citizen or permanent resident.
Have a current job with a specified after-tax monthly income. You may also prequalify if your income derives from benefits or some other reliable source.
Allow for verification of your employment
Have a valid checking account in your name.
Have a valid telephone number.
Have a valid email address.
The information requested can change over time. Some lending services may ask for your Social Security number. You may be asked about your monthly mortgage or rent payment amount and current debt.
Where Can I Borrow $1,000 With Bad Credit?
A loan of $1,000 is not a huge amount to borrow, but it is sizable enough that it may not be readily forthcoming from family or friends. Fortunately, several alternatives are available to you despite your bad credit score:
Online payday or personal loans: All the lending services reviewed here can provide one or the other. You can prequalify for one or more of these services without cost, commitment, or damage to your credit score. A $1,000 loan is within the range available from these networks, although it is the maximum loan amount offered by CashAdvance, which provides only payday loans.
Local payday loan stores: You may be able to borrow $1,000 from a local payday loan store if you can prove sufficient income and the ability to repay on time. Beware of the high annual percentage rate and origination fee associated with storefront payday lenders and the danger of falling into a debt spiral that will spell disaster for your finances.
Pawnshop: You would need to pawn an item worth at least $3,000 to get a $1,000 pawn loan for 30, 60, or 90 days — an amount higher than some pawnshops will entertain. Expect to pay monthly interest rates of 2% to 12% on top of fees ranging from 5% to 20% per month. We don't recommend this alternative because of the high cost and the loss you'll take if you can't reclaim the pawned item.
Credit card cash advance loan: Many credit cards offer cash advances, but it may be hard to get a $1,000 cash advance loan on a card designed for consumers with bad credit unless it's a secured loan (from a secured card). Typically, these kinds of cards have starting credit limits below $500 and frequently limit cash advances to about one-third of the credit limit unless it's a secured loan. APRs for bad-credit cash advances will probably be in the 29.99% to 35.99% range.
Garage sale: Selling items you own may make more sense than attempting to get a loan, especially if your credit is bad. A garage sale or consignment shop may prove useful, as may various internet selling websites where you can list your item, post its price, and sell to the highest bidder.
Credit union PALs: You can get a Payday Alternative Loan from many federal credit unions in amounts as high as $1,000. You repay these in one to six installments. They charge low fees and reasonable APRs, and you can get up to three PALs in a six-month period as long as there is no loan term overlap.
Cash-out refinancing: If you have at least $1,000 of equity in your home or car, consider a home equity loan or refinancing a car loan, respectively, as sources for low-cost loans. The home equity loan can take the form of a lump-sum installment loan or a home equity line of credit. A refinancing car loan pays off your current car loan and replaces it with a larger loan that includes a refund of some of your equity.
At least three of the above options won't require a credit check for approval.
What is the Easiest Payday Loan to Get Online?
Only two of the companies reviewed here can help you find an actual payday loan, as opposed to a short-term installment loan. The first is MoneyMutual, which offers both types of loans with maximum amounts of up to $5,000. The second, CashAdvance, offers only payday loans, and the maximum loan amount is $1,000.
We don't see much difference between them in terms of how easily you can get a payday loan. There is no harm in trying to prequalify for both — if one turns you down, you can apply to the other.
Short-term loans up to $5,000
Online marketplace of lenders
Funds available in as few as 24 hours
Simple online form takes less than 5 minutes
Trusted by more than 2 million customers
| Loan Amount | Interest Rate | Loan Term | Loan Example |
| --- | --- | --- | --- |
| Up to $5,000 | Varies | Varies | See representative example |
Short-term loan of

$100

to

$1,000

Large network of lenders
Loan decision as fast as a few minutes
Funding as soon as the next business day, if approved
| Loan Amount | Interest Rate | Loan Term | Loan Example |
| --- | --- | --- | --- |
| $100 to $1,000 | 200% - 2,290% | Varies | See representative example |
The other lenders in this review offer short term personal loans that you repay in installments. These also have a simple application process. Frankly, online loans are simply more convenient than those available from local storefronts.
You may also find that online payday loans are somewhat less expensive than their storefront counterparts. For one thing, online lenders don't have to pay for physical brick-and-mortar offices or for the people to staff them. With less overhead, online lenders can afford to charge lower interest rates for their loans — and some actually do.
There is also the touchy subject of personal security to consider. Often, payday loan stores are situated in the tougher parts of town, and some patrons may worry about walking out of the store with money in their pockets. Online lenders deposit your money directly into your checking account, making worries about personal security moot.
How Can I Get a Loan With No Credit Check?
Any of the lenders in this review will prequalify you for a loan without a hard credit check. That sounds pretty good, but bear in mind:
Prequalification usually involves a soft credit check and does not guarantee that you will be offered a loan or that you'll receive loan approval.
When a lending service forwards you to a direct lender, you should expect the lender to do a hard credit check, but only if you go ahead and apply for a short-term personal loan.
Payday lenders don't perform hard credit checks because they rely on your employment information to approve your loan request. While that makes payday loans relatively easy to obtain, it also means that they don't report your payments to any credit bureau. Without credit bureau reporting, you don't get the benefit of higher credit scores when you repay your loan on time.
In addition, when you use a lender that doesn't perform hard inquiries, it assumes that you have bad or no credit and charges a higher interest rate accordingly. You are considered a credit risk, and the high APRs charged by payday lenders help them absorb the losses when a borrower defaults on a loan. Many experts argue that payday loans are ridiculously overpriced anyway, even when you take defaults into account.
A soft credit check is one that you either initiate yourself or is not used for opening a new credit account. It does no harm to your credit score.
A hard credit check is used when you apply for new credit. You must authorize hard credit checks in advance — if you examine the fine print, you'll see that by applying for credit, you are explicitly authorizing the creditor to do a hard check.
Here is a summary of the hard and soft credit checks:

Inquiries, hard or soft, are handled by the three credit bureaus — Experian, Equifax, and TransUnion. They use the FICO scoring system to calculate your credit score, and hard inquiries account for 10% of your total score. Hard inquiries disappear from your credit report after two years, but their impact fades after the first year.
Some lenders explicitly advertise that they don't do hard inquiries and instead rely on alternative ways to qualify your loan application. Don't expect these loans to be cheap, as the lenders take for granted that there is something wrong with your credit that requires them to protect themselves from late payments and defaults.
The best way to work around hard credit checks is to improve your credit score, so the credit check will help you obtain the loan you want. You can take several steps to improve your score, including:
Removing mistakes from your credit reports: Errors can creep into your credit reports that hurt your score. While you can try to repair these yourself, you may prefer to hire a credit repair company to do the hard work for you. These services usually charge between $50 and $150 per month, and subscriptions usually run for about six months.
Pay your bills on time: Your credit history counts for 35% of your FICO score. Late payments, collections, defaults, repossessions, bankruptcies, and other derogatory events can hurt your credit score for up to 10 years. Pay on time, every time, and you should see your score improve within six months to one year.
Keep your debt in check: Lenders look at your debt-to-income ratio when deciding whether to offer you a loan, and values above 36% usually result in declined applications. Your credit card debt is measured by your credit utilization ratio, which is the credit you use divided by the amount of credit available to you. A ratio above 30% will hurt your score, while ratios below 20% are helpful.
Keep old accounts open: When you close credit accounts, you reduce your available credit, which may harm your credit utilization ratio. Longer credit histories are also helpful because they demonstrate that you have experience managing your finances.
Refrain from applying for new credit: New credit applications account for 10% of your score. Too many applications within a six-month period can hurt your score.
Expand your credit mix: When you do occasionally seek additional credit, look to expand the types you have. FICO awards 10% of its score on the basis of your credit mix, and the wider, the better.
You will have better access to loans with lower APRs and more favorable terms by improving your credit score. You'll also be eligible for better credit cards with great rewards and benefits. A solid credit history can also, among other things, help you land a job, rent an apartment, and qualify for a utility account.
What Are the Costs Of an Online Payday Loan?
Because they don't check your credit, payday loans are not cheap. The following chart gives an example of just how much a no-credit-check loan may cost:

In this example, a payday loan requires you to repay 120% of your original loan amount in a two-week loan term. That works out to an APR above 500%, and we've seen examples as high as 2,000%!
This example doesn't even account for the effect of rollovers. When you roll over your payday loan to the next pay cycle, you'll be charged additional fees, and you'll be paying interest on the interest charged in the previous period.
If you keep rolling over your payday loan, eventually you won't be able to repay it, putting you on a path to bankruptcy.
By comparison, a bad credit personal loan can save you a lot of money. Normally, these loans have APRs that top out at 35.99%, although higher interest rates are possible. You do not typically roll over a personal loan, which you repay in monthly installments.

If you miss a bad credit personal loan payment, you'll be charged a late fee and possibly higher interest. If you've already paid off a significant part of the loan, you may be able to refinance it with lower monthly payments.
Know What You're Agreeing to Before Signing For an Online Payday Loan
Before agreeing to any online payday loans for bad credit, it's critical that you understand all the details surrounding your obligations and the penalties you'll encounter if you fail to meet those obligations.
Our summaries of recommended lending services are a good place to begin. You can perform further research by clicking on the Start Now link and reading the obligatory rates and terms disclosures of the lending service and the direct lender. You can prequalify for free and are under no obligation to accept an offer.
Seriously consider an alternative to a straight payday loan if you can swing it. A short-term personal loan that you repay in monthly installments will charge lower interest and break your payments into manageable chunks.
Payday loans are a last resort when you need a loan since they are so expensive and risky. If you end up needing an online payday loan, consider MoneyMutual and CashAdvance.com, but beware of the costs, avoid rolling the loans over, and keep the borrowed amount low.
Advertiser Disclosure
BadCredit.org is a free online resource that offers valuable content and comparison services to users. To keep this resource 100% free for users, we receive advertising compensation from the financial products listed on this page. Along with key review factors, this compensation may impact how and where products appear on the page (including, for example, the order in which they appear). BadCredit.org does not include listings for all financial products.
Our Editorial Review Policy
Our site is committed to publishing independent, accurate content guided by strict editorial guidelines. Before articles and reviews are published on our site, they undergo a thorough review process performed by a team of independent editors and subject-matter experts to ensure the content's accuracy, timeliness, and impartiality. Our editorial team is separate and independent of our site's advertisers, and the opinions they express on our site are their own. To read more about our team members and their editorial backgrounds, please visit our site's About page.