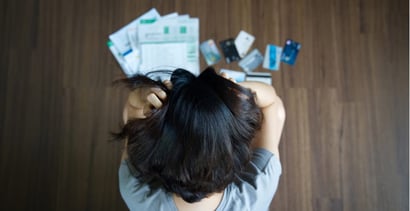 Guaranteed debt consolidation loans for bad credit provide an effective means for climbing out of debt, even if your score indicates less-than-excellent credit. Debt consolidation streamlines your monthly payments and makes it easier to track your progress as you repay your debt.
Moreover, the lending companies in this review guarantee that you can see your approval odds before applying through a prequalification step that won't hurt your credit score.
Loans of up to $10k | Loans of $10k+ | FAQs
Debt Consolidation Loans of Up to $10,000
The following four companies are lender-matching services that work with networks of direct lenders specializing in helping consumers with less-than-excellent credit. All four protect your credit score by providing a prequalification step that doesn't involve a hard pull of your credit reports.
If your unsecured loan is approved, you can receive your money within one business day to use as you see fit — including consolidating your debt to pay off existing loans.
Loans from $500 to $10,000
Receive a loan decision in minutes
Get funds directly to your bank account
Use the loan for any purpose
| Loan Amount | Interest Rate | Loan Term | Loan Example |
| --- | --- | --- | --- |
| $500 to $10,000 | 5.99% - 35.99% | 3 to 72 Months | See representative example |
To prequalify for a non-secured personal loan arranged by CashUSA.com, you must be a U.S. citizen or permanent resident of at least 18 years of age, earn an after-tax monthly income of at least $1,000, and have a valid email address, checking account, and phone number. The company guarantees an immediate prequalification decision, which, if affirmative, will transfer you to a direct lender willing to work hard to get you the loan you want.
BillsHappen® is a lender-matching service known for its convenient loan request process, data security, and quick decisions. To prequalify, you must be age 18 or older, a U.S. citizen or permanent resident with reliable monthly income, a valid Social Security number, and an active checking account in your name. There is no fee for the company's service, which seamlessly connects prequalified borrowers with a lender on its network.
CreditLoan.com has offered loan services since 1998 to more than 750,000 customers. It can instantly prequalify you for an unsecured loan from one of its network lenders when you fill out the short loan request form. If your loan application is approved, the lender will fund your loan in as little as one business day by depositing the money directly into your checking account.
Whatever your credit score, BadCreditLoans.com can instantly prequalify you for a consolidation loan of up to $10,000. The company has been doing business since 1998, connecting borrowers to direct lenders specializing in subprime loans. To prequalify, you must be a U.S. citizen, age 18 or older, and have a dependable monthly income, a valid email address, and an active checking account.
Debt Consolidation Loans of $10,000+
Sometimes, you need a larger installment loan to consolidate all of your debt. These four lending services can arrange loans of up to $10,000 or more, even if your credit is bad. All guarantee an easy prequalification process and, after final approval, quick funding of your installment loan.
24/7 Lending Group can help you get a loan of up to $35,000 to help consolidate debt. You must be employed to qualify for a loan offer. If approved, your money will be electronically transferred to your bank account as soon as one business day. The site helps people of all credit types, but it cannot guarantee a match for every applicant.
PersonalLoans.com can arrange a sizable loan when you have significant debt you want to consolidate. Prequalification requires you to be at least 18 years old, a U.S. resident, and have a regular monthly income, an active bank account, and a valid Social Security number. The company welcomes loan cosigners to help you borrow the loan amounts you need despite a low credit score.
7. Upstart

Upstart is a direct lender offering consolidation loans of up to $50,000. The company prequalifies your loan with a soft credit pull when you click to check your interest rate — a rate that is usually lower than the high interest rate offered by some competitors, thanks to Upstart's proprietary underwriting model.
If you prequalify, you can finish applying for a loan, at which time Upstart will perform a hard pull of your credit report to finalize its offer.
8. LendingClub

LendingClub can prequalify you for multiple direct loan options from WebBank with varying repayment terms and interest rates on consolidation loans of up to $40,000. You can prequalify for a loan without hurting your credit score by filling out a short request form and checking your estimated interest rate.
All loans charge a fixed interest rate, with no prepayment penalty and repayment periods of three or five years (origination and late fees apply).
9. Upgrade

Upgrade can prequalify you for a consolidation loan of up to $50,000 if your credit score is 620 or higher. If you prequalify, Upgrade will match you to either of its lending partners: Blue Ridge Bank in Virginia or Cross River Bank in New Jersey.
Expect to pay an origination fee of up to 8%, and loans are subject to penalty fees if payments are 15 days late.
How Does a Debt Consolidation Loan Work?
The idea behind a debt consolidation loan is to get a new loan — usually, a non-secured personal loan — and use the proceeds to pay off your existing debt, including other loans and credit card balances.
Personal loans are perfect for loan consolidation since you can use the proceeds in any way you want. This differs from a mortgage, a student loan, or an auto loan, which tightly restricts how you can use the loan proceeds. In addition, federal student loan interest rates are usually unbeatably low.
Ideally, the interest rate on the consolidation loan will be less than the weighted-average interest rate on your existing debt. This can reduce the total amount you pay in interest, even if the consolidation loan has a longer repayment term than that of your existing debts.
Some loans from predatory lenders, such as a payday loan, have a high interest rate that is easy to beat — you'll save a lot of money by using a personal loan instead of a payday loan from a predatory lender.
The mechanics of consolidating debt with a personal loan are straightforward:
Review your current loans, including monthly debt payment amounts and interest rates. Make note of the total debt payments you make each month and the remaining balances on each debt.
Read about the different lenders reviewed in this article and click on the link of the one that seems best suited to your needs. You'll be immediately transferred to the website of the debt consolidation lender.
Prequalify for a loan by submitting a loan request form with basic information about yourself, your housing costs, and your income. Include how much you want to borrow based on your current indebtedness and accounting for any prepayment penalties.
If you prequalify, you may be transferred to a direct online lender if you are using a lender-matching service. If you are using a direct debt consolidation lender, you'll simply continue with the application process. In either case, you'll be asked to provide additional information on a loan application form. Submitting the form doesn't obligate you in any way to accept a loan offer.
If your loan request is approved, you'll be given all the important details, including loan amounts, interest rate, loan term, and monthly payment. In some cases, you'll be given a set of debt consolidation options that allow you to customize some of the loan terms. In particular, you want to ensure that the monthly repayment amount fits your budget and that there is no prepayment penalty.
If you choose to accept an unsecured personal loan offer, you'll sign a loan agreement form. The loan proceeds, minus any origination fees, will be deposited into your bank account within a few business days.
You use the loan proceeds to repay the existing debts you wish to consolidate, including any accrued interest and prepayment penalties. Verify the payoff amount of each debt and send out the debt payment, either through an electronic funds transfer or a check.
You should receive a statement (printed or online) verifying that your current balance is $0. If for any reason a balance remains, pay it right away so no more interest accrues.
You have now replaced two or more debts with your new consolidation loan. To ensure you never miss a payment, consider setting up automatic bill payments from your checking account. Depending on how aggressively you want to pay down your debt, consider making extra payments as your budget permits.
Discipline is needed when paying off a consolidation loan. In particular, this means not taking on any new debt during the loan term. If you use credit cards, pay off the entire balance each billing cycle.
By avoiding new debt, you have the maximum amount of money available to repay the consolidation loan as quickly as possible. On the other hand, if you run up more debt while repaying the loan, you can end up in worse financial shape than before, thereby jeopardizing your credit score and greasing the skids for more severe problems, including bankruptcy.
Can You Get a Debt Consolidation Loan With Poor Credit?
All the lending services reviewed in this article work with poor-credit borrowers. Some enforce a minimum credit score, but others look at your entire economic picture when deciding whether to give you a loan. If you are approved, you can collect the loan proceeds as soon as the next business day.
If you find it impossible to get a consolidation loan because of your credit history, consider these alternatives:
Use a cosigner: A cosigner is someone who is willing to guarantee your loan payments if you can't make them. Naturally, you want a cosigner to have a good credit score. Normally, the cosigner won't be involved in the loan unless you miss a payment, at which point the online lender will contact the cosigner and ask for the amount due.
Provide collateral: A secured loan, such as a home equity loan, is backed by collateral that the lender can seize if you default on the loan. In the worst case, the lender will exercise its lien on the collateral and, if necessary, turn the asset into cash. Generally, you are unlikely to find a secured debt consolidation loan or similar debt consolidation option.
Consider balance transfers: If you want to consolidate credit card balances only, consider performing balance transfers instead of a consolidation loan. The ideal plan is to get a new credit card featuring a 0% introductory APR for 12 to 18 months on balance transfers. Your goal is to repay the total transferred balance before the introductory period expires, thereby avoiding all interest charges (fees apply).
Improve your credit score: You may need to improve your credit score to qualify for a consolidation loan. This requires that you always pay your bills on time, keep your credit balances low, and clean up your credit reports by removing inaccurate and incomplete negative information, either on your own or with the help of a credit repair service.
Alternative lenders, such as Upstart, look at non-conventional criteria (for example, education and job history) beyond FICO scores to qualify borrowers for loans. In fact, Upstart claims to approve 27% more borrowers with 16% lower average APRs due to its artificial intelligence-based lending model.
New techniques are constantly expanding the pool of consumers who can qualify for a loan despite having bad credit.
What Credit Score Do I Need For a Debt Consolidation Loan?
There is no hard and fast rule setting the minimum credit score for a consolidation loan, as each lender applies its own underwriting techniques to decide which loans to approve.
Certainly, most of the lender-matching services in this review prequalify borrowers without reference to credit scores. But, ultimately, direct lenders may incorporate credit scores into their decision-making process.
We frequently encounter references to a minimum FICO score of 620 or lower to qualify for personal loans. In fact, we come across cases where borrowers have been approved despite having credit scores as low as 520. The ultimate decision is dependent on multiple criteria relating to the borrower as an individual.
As mentioned above, newer lending services like Upstart and others use novel methods for underwriting loans. In fact, researchers have found that the information stored on a consumers' cellphone can be used to predict creditworthiness.
Here are some interesting alternative data points that can be gleaned if you give underwriting apps access to your smartphone:
How often you recharge the device (frequent recharging is an indication that you have a responsible attitude)
How far you travel every day (researchers found that folks who travel to many diverse locations are more reliable)
How many text messages you receive every day (positively correlated with your creditworthiness)
Whether you put last names onto your contact list (if you do, you are seen as more attentive to details, which is a plus)
Whether you wait for off-peak rates before making phone calls (indicating you are careful about spending)
Whether you are a gambler (believe it or not, gambling is a good thing, at least in this context)
Whether you use ALL CAPITAL LETTERS instead of mixed case (if you do, stop it, because it counts against you)
The upshot is that you shouldn't be shy about shopping around for an unsecured personal loan despite having a low credit score. Over time, the lending industry will continue to find new, effective ways to measure creditworthiness that transcend the FICO scoring system.
Do Debt Consolidation Loans Hurt Your Credit Score?
Applying for a consolidation loan usually requires a hard pull of your credit history sooner or later. In other words, the lender will request your credit report from at least one credit bureau (TransUnion, Experian, or Equifax).
A hard pull can temporarily lower your credit score by five to 10 points, but the effect wears off after one year. The prequalification procedures used by lender-matching services include a soft pull of your credit history that does not affect your credit score. Although soft pulls are recorded on your credit report, only you can see them.

So, why do hard pulls hurt your credit score? The reason given by FICO is that it indicates a need for money, and multiple hard pulls in a short period may predict financial distress.
Most lenders report your loan payments to at least one major credit bureau. This places in your hands the responsibility for maintaining and improving your credit.
Creditworthy behavior starts with you making all your payments on time. By consolidating and paying off your debt, you can reduce your debt-to-income ratio and your credit utilization ratio, both of which will help improve your credit profile.
Conversely, if you fail to make timely payments on your consolidation loan, your credit score will suffer. Payments over 30 days late show up on your credit reports, as do collections and write-offs, and these negative events will linger on your reports for up to seven years.
What is the Most Reliable Debt Consolidation Service?
It's important to distinguish between an unsecured debt consolidation loan, which is the subject of this review, from debt relief and consolidation services that pursue much more aggressive goals.
All the providers of unsecured debt consolidation loan arrangements reviewed above are reliable in that they can provide you with a loan that honestly conforms to their loan agreement. However, it's up to you to deploy the loan proceeds to pay off your existing debt and then ensure you repay the loan without running up new debt.
In other words, the responsibility for reliability rests on your shoulders.
Contrast this with debt management services that actively work to reduce your indebtedness as they consolidate your debt. Many of these companies are vying for your business, and not all are equally reliable. We recommend you consult our ratings of the best debt management services to identify the ones we rank highest.
What is the Smartest Way to Consolidate Debt?
Debt consolidation is smart if it's done in a way that makes sense for your personal situation. The best debt consolidation loans include:
Balance transfers: This form of consolidation makes sense for credit card debt. The idea is to obtain a new credit card promoting a 0% introductory APR on balance transfers for a 15- to 18-month or longer period following account opening. For this to work, the new card's credit limit must accommodate the total credit card debt you're currently carrying. You need a credit score of about 640 or higher to get a balance transfer credit card.
Personal loans: You can use a personal loan to consolidate many types of unsecured debt, not just debt from credit cards. This makes these loans more versatile than balance transfers, especially if you don't qualify for a credit card with a balance transfer promotion.
Debt relief services: Part of a debt relief service is to consolidate your debt payments in conjunction with a settlement arrangement in which creditors forgive some of your debt. Instead of writing monthly checks to each of your creditors, you write one check each month to the debt relief service, which in turn distributes the money to your creditors according to an agreed plan. Note that debt settlement will adversely impact your credit score — but not as much as will bankruptcy.
Whichever path to debt consolidation you take, you should adopt certain smart ideas:
The interest rate on the consolidation loan should be lower than that of the debt you wish to consolidate. This will save you money in the long term.
The monthly payments should be affordable so you never miss a payment.
Do not incur new debt until you've paid off your current debt.
Adopt and adhere to a budget to keep you from falling into debt again.
Use debt wisely. For example, if you face a big-ticket purchase, try using a credit card with a signup bonus and a 0% introductory APR on purchases. Then, make sure you account for your payments in your budget.
By using your consolidation loan in smart ways, you can improve your credit score, making future debt more accessible and affordable. If you can't qualify for a consolidation loan because you lack credit history, consider a credit builder loan. You can arrange a credit builder loan at your local bank or credit union.
What Are the Risks of Debt Consolidation?
Debt consolidation loans usually are a good way to reduce or eliminate multiple debts. However, for your debt consolidation program to work out well, be aware of the following risks:
Interest rates: You want your consolidation loan to have a lower interest rate than your current interest costs. Otherwise, you are hurting your ability to pay off your loan. Always compare the consolidation loan's APR with that of your current debts — don't assume you're getting a lower interest rate.
Affordability: There is no sense in taking out a consolidation loan that you can't afford. Rather than risk missed payments, first, work out a budget and understand how much you can reliably repay each month. Do this before applying for a consolidation loan to avoid a rude financial shock when you find out you can't afford the loan.
Loan term: Ideally, you won't want to extend the repayment term of your consolidation loan beyond that of your existing debt. While a longer term will reduce your monthly payments, it will also increase the loan's total cost. Keep your bad credit loan as short as possible consistent with your budgetary constraints.
Watch for fees: There is a risk that a lender will advertise a low interest rate but hit you with sizable origination fees and other charges. These increase the total cost of the loan, and the risk is that the new loan won't save you much money.
Discipline: The lack of spending discipline can subvert the most thoughtful debt consolidation project. Renounce new debt until you've fully repaid the consolidation loan, and then only use debt in accordance with your budget. Otherwise, you risk ending up in bankruptcy court.
The antidote for risk is information. Before agreeing to a consolidation loan, understand your own budget, read the fine print in the bad credit loan agreement, and resolve to control your future use of debt.
Are Consolidation Loans Worth It?
Do the math! That is, calculate your total indebtedness and what you are currently paying each month in terms of principal and interest. Then figure out the monthly and total cost of the loan, including fees.
A consolidation loan is clearly worth pursuing if you want an overall savings. But even if you more or less break even, the loan is still worthwhile if it helps you meet your monthly obligations without missing payments. The bonus is that, by paying your bill on time, you can improve your credit score and reduce the cost of future debt.

A consolidation loan is not worthwhile if you continue to run up debt as you pay off the loan. If this seems to be a problem, seek the help of a credit counselor who can show you financially healthy habits.
Credit counseling is often required when you want to settle your debt. In fact, debt settlement companies routinely offer credit counseling.
If your debt is so deep that a consolidation loan is not feasible and/or is unlikely to help, consider debt relief. Try to avoid bankruptcy, as this will ruin your credit score and remain on your credit report for up to 10 years.
Compare Guaranteed Debt Consolidation Loans For Bad Credit Online
This review identifies different online sources for a guaranteed consolidation loan — that is, a loan in which you are guaranteed a decision on prequalification that won't hurt your credit score.
The information presented provides a good basis for comparison, but always dig into the details before agreeing to any loan. A good debt consolidation loan, when used responsibly, can help you get out of debt and rebuild your credit.
Advertiser Disclosure
BadCredit.org is a free online resource that offers valuable content and comparison services to users. To keep this resource 100% free for users, we receive advertising compensation from the financial products listed on this page. Along with key review factors, this compensation may impact how and where products appear on the page (including, for example, the order in which they appear). BadCredit.org does not include listings for all financial products.
Our Editorial Review Policy
Our site is committed to publishing independent, accurate content guided by strict editorial guidelines. Before articles and reviews are published on our site, they undergo a thorough review process performed by a team of independent editors and subject-matter experts to ensure the content's accuracy, timeliness, and impartiality. Our editorial team is separate and independent of our site's advertisers, and the opinions they express on our site are their own. To read more about our team members and their editorial backgrounds, please visit our site's About page.