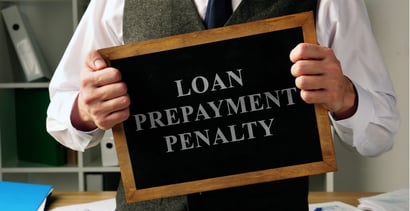 Bad credit loans with no prepayment penalty take the very reasonable position that you should not be punished for paying off your debt faster than required. That's important because paying down your debt can help improve your credit score.
Prepaying your debt also means you'll pay less overall interest on your loan. And, if you use your loan as a debt consolidation loan, prepayment will strongly signal your desire to manage your credit responsibly. In fact, a debt consolidation loan is an excellent loan option for a personal loan.
Bad Credit Personal Loans with No Prepayment Penalties
The seven companies reviewed below are loan matching services, not direct lenders. That means each one can, at no cost, match you to one or more lenders on their networks that can arrange loans with no prepayment penalties.
These lending services are all very comfortable serving consumers with bad credit, and each one has a positive reputation.
Short-term loans up to $5,000
Online marketplace of lenders
Funds available in as few as 24 hours
Simple online form takes less than 5 minutes
Trusted by more than 2 million customers
| Loan Amount | Interest Rate | Loan Term | Loan Example |
| --- | --- | --- | --- |
| Up to $5,000 | Varies | Varies | See representative example |
MoneyMutual can help you quickly get an unsecured personal loan (also called a signature loan) for amounts of up to $2,500, no matter what your credit profile. By filling out a simple loan request form, you can prequalify for a loan without a hard credit check (i.e., with no impact on your credit score). If you prequalify, MoneyMutual will transfer you to a suitable online lender on its network where you can complete the application process.
To prequalify for a loan, you must be at least 18 years old, have a bank or credit union account, and receive a reliable income of at least $800 per month. After your loan is approved, the proceeds will be deposited into your bank account in a day or two. Study the terms and conditions carefully before accepting the loan offer.
CashUSA.com can help you get a loan with a repayment period of up to 72 months. If you receive an after-tax monthly income of at least $1,000, you can qualify for a loan from $500 to $10,000. To be eligible, you must be at least 18 years old and a U.S. citizen or permanent resident, have a checking account, and provide a valid email address and a home or work phone number.
It takes less than five minutes to complete the online loan request form. If you prequalify, CashUSA.com will send you a direct lender where you finish filling out the application and receive an instant decision. If you accept the loan, expect your money to be deposited into your checking account within the next business day or two.
BillsHappen can connect you to an online lender in just a few minutes. To qualify, you must be 18 years or older, be a U.S. citizen or permanent resident, have a valid Social Security number, receive regular job earnings or benefits, and own a valid checking account. If you accept a lender's loan offer, expect to receive the funds as early as the next business day.
You can use BillsHappen to borrow up to $5,000 or as little as $500. The company never charges for its loan-finding service and your loan will not contain prepayment penalties. The lender will disclose the interest rate, fees (including any origination fee), and other required terms before asking you to sign the loan agreement.
CreditLoan can arrange a loan of between $250 and $5,000 with no hard credit check. You'll need little time to complete the short loan request form, and, if you prequalify, you'll be taken to a direct lender's website. Once there, you can submit any additional application information and receive a quick decision.
Unlike other lending services, CreditLoan does not spell out its prequalification requirements on its website, but we're sure they are similar to those of their competitors. The direct loan providers on the CreditLoan network are comfortable working with consumers who have bad credit. The company has been matching lenders and borrowers since 1998 and has helped more than 750,000 customers.
BadCreditLoans specializes in arranging loans for consumers with very poor credit. If you prequalify, the recommended lender collects supplemental information and quickly assesses your application. Upon approval and your acceptance, you'll receive your funding as early as the next business day.
To be eligible for a loan, you must be a U.S. citizen, at least 18 years old, and have a checking account, regular income, and a valid email address. Even with poor credit, the lenders on the BadCreditLoans network will look for ways to qualify you for a loan. Although the loans can range up to $5,000, applicants with bad credit should expect to borrow no more than $1,000.
PersonalLoans.com is a good choice if you need a larger loan, up to $35,000. The company works with a large network of direct lenders, including many that focus on helping borrowers with bad credit. To qualify, you must be at least 18 years old with a reliable monthly income, be a U.S. citizen or resident, and have a bank account and Social Security number.
The PersonalLoans.com network welcomes cosigners who can help you qualify for a loan with a lower interest rate. Loans are available with repayment periods of up to 72 months. Normally, your loan money will be deposited into your checking account within one to two business days.
CashAdvance can arrange a small personal loan of $100 to $1,000 even if you have bad credit. Fill out the online loan request form and if you prequalify, you'll be redirected to a lender's website. If your request for a small personal loan is approved, your money will be deposited into your bank account within two business days.
To prequalify, you must be age 18 or older, a U.S. citizen, and on the job for a minimum of 90 days earning at least $1,000 a month after taxes. You'll also need a valid checking account, email address, and phone number. Loan repayment is automatically withdrawn from your bank account on the due date.
What is a Loan Prepayment Penalty?
We've only included lenders in this article that do not charge a prepayment penalty. This kind of penalty is often assessed in other types of debt, such as a commercial or mortgage loan. The penalty consists of a fee you must pay in addition to repaying the loan balance.
There are several ways to calculate prepayment penalties, which is another good reason to carefully read a loan agreement, including the fine print in all the loan documents. These include:
Fixed amount: A lender can specify a fixed penalty regardless of the payoff amount.
Percentage of balance: The penalty is equal to a fixed percentage of the outstanding principal that is being paid off. This type of penalty may be terminated after a set number of years.
Months of interest: The amount of the penalty is equal to the total interest you would pay over a set number of months.
Step-down: A percentage of the outstanding principal balance paid off that declines over time. For example, it may be 3% for the first two years, 2% for the next two years, and so forth. This is also called a sliding-scale prepayment penalty.
Yield maintenance: Often used in commercial real estate, this method charges a penalty based on the present value of the remaining payments times the difference between the debt's interest rate and the current Treasury yield. There is usually a 1% minimum penalty with yield maintenance.
Loan defeasance: This is also used in commercial real estate deals. It applies to cases when a property is sold before the mortgage loan is fully repaid. Selling the property pays off the mortgage sooner than expected, thereby shortchanging the lender of interest income. With loan defeasance, the proceeds from the sale are invested in other bonds with a repayment term similar to the original mortgage's. The interest from these replacement bonds is used to pay the original lender the interest it expected to earn from the mortgage.
While it is unlikely you will be offered a personal loan with a prepayment penalty, always verify that this is the case. It can be very disruptive to be blindsided by a prepayment penalty when you try to retire debt ahead of schedule.
Can I Get a Loan that Doesn't Charge a Prepayment Penalty?
The personal loans featured in this review do not charge a prepayment penalty. They are repaid in monthly installments — hence their other name, installment loans.
An installment loan expects you to pay a fixed amount each month for a specified number of months. Each installment consists of principal and interest, so only part of your monthly payment reduces your loan balance.
Most prepayment penalties apply to paying off the entire balance ahead of time, not to paying a few installments in advance. Any loan charging a repayment penalty must spell out when it applies and how it is calculated. This is one reason why you should always understand the loan documents and all the fine print before signing on the dotted line.
If a lender presents you with a loan offer containing a prepayment penalty, ask if another loan is available without the penalty — it's at least worth the ask. Some prepayment penalties apply only for a specified number of years, usually three to five. Others may apply for the entire loan repayment term.
Why Do Lenders Charge Prepayment Penalties?
Some would say the motivation behind prepayment penalties is greed, but that would be an oversimplification. The reason prepayment penalties exist is that lenders make arrangements that involve certain assumptions — in this case, the assumption of a specified amount of interest income.
When you prepay a loan, you truncate the stream of interest payments, thereby short-changing lenders and investors.
Let's take a concrete example. Mortgages usually run from 15 to 30 years and are a form of amortizing debt. This is debt in which each fixed monthly payment has a principal and interest component.
In the early years, your monthly installment consists almost entirely of interest. Over time, the interest component decreases as the principal increases. The front-loading of interest helps the lender collect its profit first, then recoup the principal amount.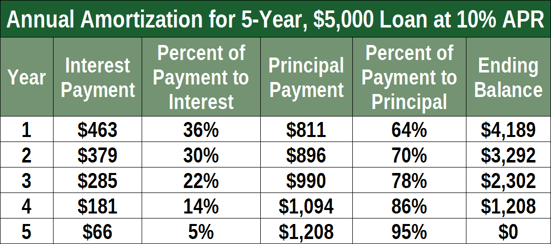 Banks include a prepayment penalty in their mortgages so they can sell them — bond issuers and investors require prepayment clauses. For example, after a bank issues a mortgage, it likely sells it to a financial institution that creates pools of similar mortgages. The institution then issues bonds to investors backed by the mortgage payments that flow into the pools.
The bonds backed by the mortgage pools are issued in groups, called tranches, that vary in their details and level of risk. The safest tranches can be counted on to provide the full amount of interest income as well as full principal repayment. This requires that the original borrowers have good credit, and their mortgages have prepayment penalties.
Good credit is required because any foreclosures will decrease both the principal and interest collected, thereby hurting the returns of the bond investors. On the other hand, prepayments only shortchange interest income, not principal repayment.
Many bond investors need to collect the full interest amount because they use these cash flows to finance other deals. For example, a life insurance company may buy mortgage bonds to fund the interest that its customers earn on their cash-value policies. If prepayments reduce the insurer's income, it will have to fund the insurance policy interest from other, possibly more expensive, sources, which could hurt profits in the absence of prepayment penalties.
Personal loans are seldom sold and repackaged. Instead, the lender assumes the risk of lost interest revenue should the borrower prepay the loan.
The risk is that interest rates may be lower after closing on the personal loan. This means that when the lender collects the remaining balance, it will have trouble earning the same interest rate as it did on the unsecured personal loan.
On the other hand, interest rates may rise after closing on the personal loan. In that case, the lender may welcome a prepayment because it can relend the money at a higher interest rate.
What is the Best Personal Loan with No Prepayment Penalty?
The overall ratings for the lending services reviewed in this article are tightly clustered, meaning that they all can do a good job finding you a personal loan.
Moreover, all of them work with lenders that do not charge prepayment penalties, and they share certain fundamental characteristics:
There is no charge for the lender-matching service.
Consumers with bad credit are welcome.
They work with large networks of direct lenders that offer personal loans you can use for any purpose.
They can prequalify you without a hard credit check, thereby preserving your credit score and not eliminating you because you do not have the minimum credit score needed.
They automatically connect you to the most appropriate lender within their networks.
Loan approval and funding are fast, often completed by the next business day.
Loan proceeds are deposited directly into your bank account.
You must be 18 or older, live in the U.S., and have a checking account, email address, and a source of income.
The personal loans are unsecured, but the lending service may be able to find you a secured personal loan.
It seems like the reviewed lending services have more in common than not. However, you have several questions to consider when choosing the right lender:
Does the company operate in my state?
What is the company's track record?
What is the range of loan amounts available?
What kind of APR and fees will I be charged?
Is there an origination fee?
What is the maximum loan term?
Is the company highly rated?
Does the company's website provide useful information and tools?
Our top-rated lending service for consumers with bad credit is MoneyMutual. It can find you a personal loan for $200 to $2,500 quickly and operates throughout the United States except for Connecticut and New York. It has an A+ rating from the Better Business Bureau and has been in business since 2010 serving more than 2 million customers.
The only issue with MoneyMutual is the $2,500 maximum loan amount. The other services offer higher amounts, the highest being $35,000 from PersonalLoans.com, and is available in all 50 states. However, if you have bad credit, it is unlikely you'll qualify for a loan amount much in excess of $2,500.
Can I Get a Loan without a Credit History?
All the lending services in this review offer you the option of prequalifying without a credit history. These are often called no-check loans, meaning the loan services don't review your credit report during the prequalification process. The company may look at other publicly available data in addition to the information you supplied in the loan request form.
Although the prequalification step may not require your credit history, you should expect the direct lender to review your credit by performing a hard inquiry on your credit report.
It is difficult, but not impossible, to get a personal loan from a direct lender without a credit history check. However, you still may receive loan approval if you have no credit history but can demonstrate sufficient monthly income.


Having a thin credit history is not the same as having bad credit. Many young people choose not to assume credit card debt or loans, perhaps because they lived through the Great Recession and saw the toll debt (especially mortgage debt) took on their households.
On the other hand, a bad credit rating comes about because of financial missteps a consumer may have taken in the past (i.e., missed payments, collections, bankruptcies, etc.).
Your credit history is recorded by the three major credit bureaus (Experian, Equifax, and TransUnion). Your credit history includes the payments you make (or miss), accounts you open/close, accounts that go into collection, and debts you settle. It also reports when you file for bankruptcy or receive a lien, among other actions.
You therefore can have three credit reports, each reflecting the financial data collected from each credit bureau.
Obviously, if you haven't ever used credit, there isn't going to be much information in your credit report. You therefore may not have any credit scores, which are computed by the credit bureaus using several factors, including credit history.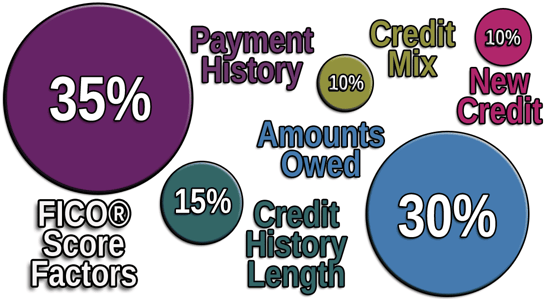 When you first start using credit, you will probably be assigned an average score, somewhere in the mid-600s on the FICO scale. Subsequent behavior that is not creditworthy can drop you into the fair or bad score range — FICO's minimum credit score is 300. This is why having a bad credit history is worse than having none at all.
You can establish a credit history in several ways, although a personal loan may not be the easiest way to do it. A secured loan or a secured credit card is much easier to obtain than an unsecured loan because of the collateral you put up to guarantee a secured personal loan or credit card debt.
A popular way to establish (or rebuild) credit is to get a secured credit card. It's easy to do – you put cash into a special locked account maintained by the card issuer in return for a credit card with a matching credit limit. If you pay your bills on time each month, you may be able to graduate to an unsecured credit card after six months.
A credit builder account is also a useful way to establish your credit profile. This type of account, often available from credit unions, allows you to take out a loan, place the loan money into a locked account, and then repay the loan over time. Each monthly loan payment is recorded in your credit reports and your money is refunded when you pay off the loan.
You can establish your credit history by becoming a joint owner of an unsecured credit card. A couple of ways to do this are to:
Recruit a cosigner: You and the cosigner share responsibility for credit card payments, and your activity is recorded on your credit reports.
Become an authorized user: A card owner (for example, a parent) makes you an authorized user on their card. Your card activity is reported to the credit bureaus. Technically, only the primary cardholder is responsible for making payments, but you should always meet your obligations lest you destroy your relationship with the cardholder.
You don't need a credit history if you are a student looking to obtain a credit card. Student credit cards do not require a credit history, but you must be enrolled as a full-time student to qualify.
What is the Easiest Loan to Get with Bad Credit?
Secured loans are far and away the easiest to obtain, much easier than an unsecured loan. The reason is that the lender's risk of losing money is minimized by the collateral you post to guarantee the loan.
The most popular types of secured loans are ones in which your car, home, or other property serves as collateral. For this reason, it is often easier to get an auto loan, mortgage, or home equity loan than a personal loan. Note that loans based on homeownership usually take much longer to arrange than what is required for a personal loan.
Just because a loan is relatively easy to get doesn't necessarily make it a good idea. The problem with secured loans is that you will lose your collateral if you default on the loan. The repo agent will confiscate your car if you don't make the auto loan payments, and the bank will foreclose on your house for the same reason.
At least car and home loans charge reasonable interest rates. You can make the case that cash loans — a pawnshop, title, or payday loan — are also easy to get (you don't even need a bank account), but they usually have astronomical interest rates and fees that can leave you drowning in debt, which is especially true for a payday loan.
Don't overlook credit cards as possible sources for cash advances. They are a convenient type of short term loan because they are available on demand — you don't have to apply for cash advance from your credit card, just fill out the request form.
However, if you have bad credit, you may not be able to take advantage of cash advances because your card may not offer them or the permitted amount may be exceedingly small.
A much better strategy is to improve your credit score so you no longer have bad credit. Doing so will open up a whole new world of credit and the rewards that accompany good credit. Here are some tips for boosting your credit score:
Fix your credit reports: Any errors on your credit reports can hurt your credit score, sometimes significantly. You can fix problems yourself or hire a credit repair service to do the job for you. The task is to inspect each of your three reports for mistakes, unverifiable data, and incomplete information. If you are fixing your reports yourself, you can get free copies of your credit reports from AnnualCreditReport.com, the only source for free credit reports authorized by federal law. Incorrect items can be disputed with the credit bureaus, which must respond within 30 days. Removing negative items should quickly result in higher scores.
Pay bills on time: Thirty-five percent of your credit score depends on your ability to pay your bills on time. Doing so without fail should lift your scores after about six months of activity. Payments 30 or more days late will be recorded on your credit report and remain there for seven years. Consider signing up for an automatic payment option for your bills. With automatic payment, the money is withdrawn from your checking account to pay the bill on the due date. This way, you'll never forget to make a payment.
Control your debt: Keep your credit card credit utilization ratio (CUR, equal to your credit card balances divided by your total credit limits) below 30%. High CURs connote financial trouble, whereas low ones make it seem like you are in control of your finances. Also, maintain a debt-to-income ratio below 36% to help ensure that you can pay your bills each month.
Keep old accounts open: Your credit score depends partially on the age of your open accounts — the older, the better. Don't close a credit card account even when you switch to a different card. Instead, keep your accounts open and use them at least once a year so the credit bureaus don't mark them as dormant.
Don't open new accounts too frequently: It usually requires a hard inquiry against your credit report to open a credit account or get a loan, and hard inquiries can drop your score. Space out new credit applications at least six months apart. You can use a hard inquiry removal service to remove any unauthorized inquiries.
Use a mix of credit sources: It can help your credit score a little if you use several types of credit accounts, including credit cards, home loans, car loans, personal loans, student loans, etc. You can also include a business loan in the mix.
It may take the better part of a year to get your credit score out of bad territory, but it is the best way to help your loan access and reduce your cost of borrowing.
Where Can I Borrow $2,000 with Bad Credit?
All of the bad credit loan matching services in this review allow consumers to borrow $2,000 (except for CashAdvance and BadCreditLoans, where you'll run up against a $1,000 limit).
The real question is whether you can borrow $2,000 with bad credit. That's tough to answer, for a couple of reasons.
First, the reviewed companies aren't the personal loan lenders themselves, their job is to find a lender willing to offer you a bad credit loan. Therefore, the matching services have no say about the actual loan terms, including the loan amount, you receive. Second, personal loan lenders look at the total picture when formulating a loan offer, so your individual circumstances will play a role in their decision.
You won't hurt your credit score by prequalifying with any of the matching services, as none do a hard inquiry. If they link you to a lender willing to take your application, you can expect to be subjected to a hard inquiry when you submit your request. Typically, the damage to your score is minor and lasts no more than a year.
As an alternative, you may be able to get a short term loan via a cash advance from a credit card. However, you may not have a $2,000 cash advance limit if your credit is bad. You're in a better position to get your loan if you own your home and qualify for a home equity line of credit.
Folks with a 401k retirement plan may be able to tap into it for a $2,000 loan. The plan must permit loans, and you must have sufficient balance to qualify for your desired amount. You must pay yourself interest on the loan and make your last loan payment within five years or it will be reclassified as a taxable withdrawal, possibly subject to a 10% early withdrawal penalty.
None of the alternatives charge a prepayment penalty, which means you can exercise a variety of repayment option scenarios.
Find Bad Credit Loans with No Prepayment Penalty Online
Bad credit loans with no prepayment penalty are available from a number of sources. In this review, we've evaluated seven leading matching services for personal loans that do not penalize this repayment option.
All of these lenders work with bad-credit consumers and none charge a prepayment penalty. While these online services can't guarantee you'll get the loan you want, they make it easy to find out at no cost.
Advertiser Disclosure
BadCredit.org is a free online resource that offers valuable content and comparison services to users. To keep this resource 100% free for users, we receive advertising compensation from the financial products listed on this page. Along with key review factors, this compensation may impact how and where products appear on the page (including, for example, the order in which they appear). BadCredit.org does not include listings for all financial products.
Our Editorial Review Policy
Our site is committed to publishing independent, accurate content guided by strict editorial guidelines. Before articles and reviews are published on our site, they undergo a thorough review process performed by a team of independent editors and subject-matter experts to ensure the content's accuracy, timeliness, and impartiality. Our editorial team is separate and independent of our site's advertisers, and the opinions they express on our site are their own. To read more about our team members and their editorial backgrounds, please visit our site's About page.