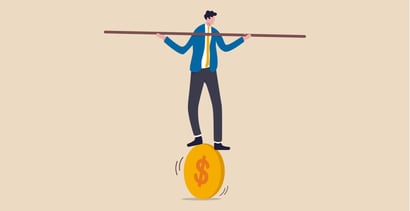 When you apply for financing, such as a credit card or loan, the lender will review your credit information to get a feel for the level of risk you pose as a borrower. Low-risk borrowers are more likely to qualify for financing and secure attractive loan and credit card offers. 
But, if your credit reports and credit scores (or other factors) indicate that you are in a more risky borrower category, you could face several financing challenges. 
Credit Risk 101
So what exactly is credit risk? Credit risk is a credit industry term that has been around since the concept of borrowing and lending was born. In fact, if you do any amount of research about the credit industry, you will come across the term. 
Credit risk indicates the possibility that a lender may or may not lose money by doing business with a particular borrower. 
Individual consumers fall somewhere on the credit risk scale, which ranges from high to low, based on their past behavior managing debt. And, before a lender approves your request to borrow money, it needs to know whether you're going to pay it back according to the terms of your agreement.
So, the lender will want to know where you fall on the credit risk scale.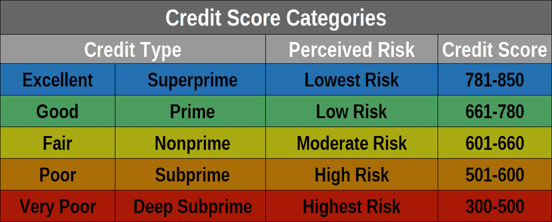 There's just one problem. Lenders can't predict the future. There is no such thing as a crystal ball for lenders. And, lenders do not typically possess enough information about your finances and debt repayment habits to make an educated guess about the risk of loaning you money.
That's where your credit reports and credit scores come into play. These tools can help lenders determine whether you're likely to pay your bills on time and where you fall along the risk scale. 
A credit score, in particular, predicts the likelihood that you will go 90 days past due or worse anytime in the next 24 months. This is true for both FICO and VantageScore's credit scoring models. 
A high-risk borrower is someone who is more likely to fall behind or even default on their credit obligations. Doing business with a risky borrower (e.g. someone with a lower score) poses several problems from a lender's point of view, including a greater risk of:
Losing some or all of the principal amount loaned to the borrower. 
Missing out on interest and fees (which, after all, is how lenders earn a profit). 
Having to pay more in collection-related expenses (i.e., staff salaries and overhead, attorney's fees, etc.)
Experiencing cash flow complications due to slow or missed payments. 
These considerations are enough to make a lender pause when evaluating an application for credit.
Factors That May Make You a Risky Borrower
Lenders and credit card issuers establish internal guidelines to classify potential customers according to their level of credit risk. These guidelines can help a business flag potentially risky borrowers and develop policies about who it wishes to work with and how much interest and fees to charge them. 
Of course, there are thousands of lenders in the United States. One company's definition of a risky borrower is certainly not identical to that of the next one. But if you have any of the following characteristics working against you, there's a good chance most lenders will classify you as high risk. 
A Poor FICO® or VantageScore Credit Score
The most common factor that could make a lender see you as a risky borrower is poor credit scores. Commonly used credit bureau scores range from 300 to 850. You typically need scores above 720 for lenders to start considering you to be a good credit risk, but that depends on the lender. 


With lower scores, some lenders may rate your FICO Score as subprime. According to FICO, any score that falls below 620 could land you with the dreaded high-risk borrower classification.

Note: You may still qualify for financing with poor credit. But, it's best to look for loans and credit cards for bad credit and compare your options. You'll want to avoid financing options with stricter credit requirements, such as higher scores, at least for now.
Credit History Blemishes 
In addition to your credit scores, lenders will look for potential red flags in the information on your credit reports. In some cases, including when you apply for a mortgage, the lender will review all three of your credit reports (Experian, TransUnion, and Equifax) and three credit scores as part of its process. 
Among the red flags that may mark you as a high-risk borrower in the eyes of a lender are late payments, defaults, collection accounts, and other derogatory credit information, including information found in public records.

A couple of lower-level credit mistakes may not cause a creditor to consider you as a risky borrower. But lenders may deem multiple issues on your report as a cause for concern because they indicate a pattern of behavior when it comes to how you manage credit obligations. More recent credit issues can also be problematic as they may indicate current financial problems. 
No Credit Reports or a Limited Credit History 
A lack of credit or having no credit history at all is not synonymous with good credit, despite what some ill-placed consumer advocates may have you believe. In fact, a lack of credit history will likely cause a lender to feel nervous about loaning you money.

Until you establish credit, creditors may view you as a high-risk borrower because they can't assume you're going to manage credit properly right out of the gate. Therefore, your approval odds and interest rates may be affected accordingly. 
High Debt-to-Income Ratio
Another issue that a lender often views as a red flag is a high debt-to-income ratio, or DTI. 
DTI is calculated by dividing your total monthly payment obligations by your gross monthly income. DTI gives the lender an idea of how much available income you're going to have after you've paid all of your bills.

Why do lenders care about your DTI ratio? Having too many debts in relation to your income can make it difficult to keep up with the monthly payments on a new credit obligation. 
Think of it this way, if too much of your income is already being used to pay monthly bills, you may not have the capacity to take on new monthly bills. 
Employment Status Concerns
Creditors often want to know about your employment status and history when you apply for new credit. Lenders tend to be most comfortable with borrowers who are employed full time and are earning a steady paycheck. 
If you're self-employed and you have been in that position for less than two years, certain lenders may not want to approve your financing application. They may also take pause if you have a job history that shows frequent changes in employment. 
How Being a Risky Borrower Affects You
Your credit risk can affect many areas of your financial life. Namely, when you're a risky borrower it can cost you — both in the form of money and opportunities. 
Here are a few of the drawbacks you may face when lenders classify you as a risky borrower:
You may be ineligible for certain loans, credit cards, lines of credit, and more.
When you qualify for financing, you should expect to pay higher interest rates. 
On top of high interest rates, the fees and other loan terms lenders offer you may be less attractive. 
Your financing options may be limited.
The number of lenders with whom you can work may also be limited. 
Because you may only qualify for subprime credit products as a high-risk borrower, you may have to pay a lot more for financing when you need it. With larger loans, like mortgages, the difference in interest fees for a high-risk versus a low-risk borrower can add up to thousands or even tens of thousands of dollars. 
Also, the most attractive financing products may not be available to you. For example, premium rewards credit cards that offer you the highest rewards on your spending require you to have excellent credit to qualify. 
If you're too risky of a borrower, then you're going to be limited to subprime lenders that tailor their products with the understanding that they're less likely to be paid on time each month. 
The Bottom Line
Because poor credit or other issues can cause a lender to classify you as a high-risk borrower, it's in your best interest to address those problems before you apply. Yes, you may be able to qualify for some types of financing if you have poor credit or have had other personal finances challenges. But those issues can cost you a lot of money and limit your options.  
Of course, it may take some effort to improve your credit scores, pay down debt to lower your DTI ratios, or build credit in the first place. But the payoff for your efforts can be tremendous. 
When lenders see that you're a good credit risk, it will be easier to qualify for loans and credit cards, among other things. Plus, and perhaps best of all, you can secure better borrowing terms and save a ton of money in the process.  
Advertiser Disclosure
BadCredit.org is a free online resource that offers valuable content and comparison services to users. To keep this resource 100% free for users, we receive advertising compensation from the financial products listed on this page. Along with key review factors, this compensation may impact how and where products appear on the page (including, for example, the order in which they appear). BadCredit.org does not include listings for all financial products.
Our Editorial Review Policy
Our site is committed to publishing independent, accurate content guided by strict editorial guidelines. Before articles and reviews are published on our site, they undergo a thorough review process performed by a team of independent editors and subject-matter experts to ensure the content's accuracy, timeliness, and impartiality. Our editorial team is separate and independent of our site's advertisers, and the opinions they express on our site are their own. To read more about our team members and their editorial backgrounds, please visit our site's About page.