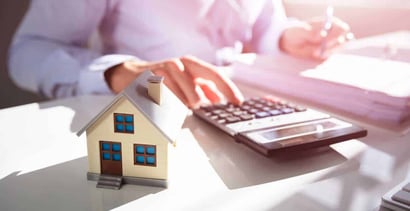 The start of a new month brings great possibilities, a fresh budget, renewed goals — and a lot of bills to pay. And, oftentimes, no bill eats up more monthly income than rent.
It can sometimes seem like a necessary evil, especially if you're dealing with an unanticipated expense or emergency that left you short on funds for the month.
No matter why you need help, though, several online resources and lenders specialize in emergency loans for rent payments. These resources can help to ensure a big bill doesn't turn into a mountain of debt after late fees and other penalties.
Have a look below at some of our experts' selections for the top lenders for personal loans. We'll also explore emergency rent assistance programs and answer some of the most commonly asked questions about this issue.
Lenders | Assistance Programs | FAQs
Emergency Cash Loans For Rent Payments
Most landlords aren't big fans of waiting for their monthly rent check. Being just a day or two late can result in late fees and penalties that make a hard-to-pay bill even more difficult to manage.
But, if you have a steady income, there are lenders that work to process emergency cash loans quickly so you can pay your bills without incurring extra late fees. And many of these lenders, including those listed below, work with borrowers who have damaged or thin credit profiles.
Short-term loans up to $5,000
Online marketplace of lenders
Funds available in as few as 24 hours
Simple online form takes less than 5 minutes
Trusted by more than 2 million customers
| Loan Amount | Interest Rate | Loan Term | Loan Example |
| --- | --- | --- | --- |
| Up to $5,000 | Varies | Varies | See representative example |
Money Mutual is an online lending marketplace, meaning it takes your application and shops it to a host of lenders to find the best potential loan offer for your needs and credit background. The network's lenders offer short-term loans of up to $5,000 with no application fee. After a brief five-minute application process, you could be matched with multiple loan offers that extend approval in minutes and funding in as little as 24 hours.
Personal loans from $500 to $35,000
All credit types are considered and welcome
Simple, no credit impact form
Helping consumers since 2001
4.7 out of 5 Trustpilot rating with 2,000+ reviews!
| Loan Amount | Interest Rate | Loan Term | Loan Example |
| --- | --- | --- | --- |
| $500 to $35,000 | 5.99% - 35.99% | 60 Days to 72 Months | See representative example |
The 24/7 Lending Group is another personal loan network that can help match you with an emergency rent loan. Simply fill out a quick form that will ask about your personal information and household income. You may be matched with multiple loan offers, and there is never any obligation to accept an offer.
Loans from $500 to $10,000
Receive a loan decision in minutes
Get funds directly to your bank account
Use the loan for any purpose
| Loan Amount | Interest Rate | Loan Term | Loan Example |
| --- | --- | --- | --- |
| $500 to $10,000 | 5.99% - 35.99% | 3 to 72 Months | See representative example |
If you need a larger loan and a little more time to pay, CashUSA.com offers personal installment loans of up to $10,000 through an extensive network of partner lenders. Loan terms depend on the applicant's credit history and loan type, and approved borrowers can receive funding in as little as one business day.
Personal loans from $100 to $20,000
Receive an approval decision in as little as 2 minutes
Funds can be deposited into your account in one business day and used for any purpose
No hidden fees
| Loan Amount | Interest Rate | Loan Term | Loan Example |
| --- | --- | --- | --- |
| $100 to $20,000 | Varies | Varies | See representative example |
As long as you earn $1,000 per month and have a bank account, SmartAdvances.com can help you secure a quick personal loan you can use to pay your rent. It takes up to one business day for the funds to clear in your bank account, so plan accordingly with your landlord or property management company.
Loans from

$500

to

$10,000

Get connected with a lender
Simple form & quick funding
Get your money as soon as next the business day, if approved
| Loan Amount | Interest Rate | Loan Term | Loan Example |
| --- | --- | --- | --- |
| $500 to $10,000 | 5.99% - 35.99% | 3 to 60 Months | See representative example |
As its name suggests, BadCreditLoans.com works specifically with consumers who have bad credit, and it has more than 20 years of experience working with its network of lenders that provide loans ranging from $500 to $10,000. Applicants must be US citizens with an active checking account from which lenders can withdraw payments. Other than that, the BadCreditLoans.com lending network has one of the most flexible acceptance policies among all bad credit lending networks.
Loans from $250 to $5,000
Cash deposited directly into your account
Get money as soon as tomorrow
Bad credit OK
More than 750,000 customers since 1998
| Loan Amount | Interest Rate | Loan Term | Loan Example |
| --- | --- | --- | --- |
| $250 to $5,000 | Varies | Varies | See representative example |
Qualified borrowers who need emergency rental assistance can apply at CreditLoan.com for a personal loan of up to $5,000. The lending network specializes in auto loans, bad credit loans, personal loans, and student loans and offers a host of educational resources on its website to ensure applicants make the best decision when choosing a lender and loan type.
Quick loans up to $5,000
Submit one form, get multiple options
All credit ratings welcome
Requires bank account and SSN
As seen on CNN, FoxNews, and others
| Loan Amount | Interest Rate | Loan Term | Loan Example |
| --- | --- | --- | --- |
| $500 to $5,000 | Varies | Varies | See representative example |
BillsHappen® understands that bills, such as rent, don't stop coming whether you have the money to pay them or not. This network can help you secure a short-term loan of up to $5,000 to help you cover this monthly expense, even if you have bad credit.
Loans from

$1,000

to

$35,000

Large lender network
Fast loan decision
Use the loan for any purpose
Funding as soon as one business day, if approved
| Loan Amount | Interest Rate | Loan Term | Loan Example |
| --- | --- | --- | --- |
| $500 to $35,000 | 5.99% - 35.99% | 3 to 72 Months | See representative example |
PersonalLoans.com offers qualified borrowers one of the largest loan ranges on this list, with partner lenders ready to approve loans of between $500 and $35,000. The lending network works with applicants who have any type of credit history to find the best fit among its three types of loans — peer-to-peer, personal installment, and bank personal loans. Network lenders can make credit decisions in minutes and fund most loans in one business day.
Rent Assistance Programs
A short-term loan may be just what you need to hit the reset button and get back on your feet. But if you struggle to make ends meet each month, then a loan could be a temporary fix to a long-term problem.
Several private and government-run organizations specialize in helping people find affordable, safe, and sanitary housing in all 50 states. These programs can range from temporary rental assistance to voucher programs that cover all or part of your monthly rent bills on an ongoing basis. Many also help with utility bills and other monthly necessities.
The Emergency Rental Assistance Program was designed to keep families in their homes. It specifically helps families who are unable to pay rent or utilities under two programs: ERA1 and ERA2. Funds go to eligible households, landlords, and utility providers to help struggling renters maintain rent and other housing expenses.
The U.S. Department of Housing and Urban Development (HUD) also helps consumers find affordable rental housing. The department's Rental Assistance program covers all 50 states and provides qualified low-income applicants with access to housing with reduced rent.
The government agency also runs public housing apartment units and a Housing Choice Voucher Program (Section 8) that allows you to find your own rental unit and use the voucher to pay for all or part of your rent.
If you live in an area funded by the government's Rural Housing Service, you could receive reduced rent through Benefits.gov. To receive housing assistance, your monthly rent payment must exceed 30% of your household's adjusted monthly income.
In 2018 alone, 211 call centers around the U.S. made more than 12.8 million connections that helped callers in need gain access to shelter and housing options and utility assistance, along with several other need-based connections. These include supplemental food and nutrition programs, emergency information and disaster relief, employment and education opportunities, and support groups for individuals with mental illnesses and special needs.
You can reach the call center by simply dialing 211 on your phone or contacting the agency on its website.
If your financial dilemma stems more from an emergency or unexpected expense, charitable crowdfunding resources like Modest Needs can provide some much-needed relief. The platform allows individuals to make small, emergency donations to low-income workers who create a campaign on the website.
Since 2002, Modest Needs' donors have helped more than 14,180 individuals and families with financial assistance that conventional philanthropy otherwise wouldn't.
How Do I Get Emergency Money For Rent?
Consumers have several resources available to them to keep their homes during emergency situations, whether it's a loan or assistance from one of the government-run or private charitable institutions listed above.
The path you take to find emergency funding should depend on your financial circumstances and the reason for your current need.
If a one-time unexpected bill throws off your budget for the month, then a loan would likely be your best resource for getting back on track. Several lenders are willing to work with consumers who have bad or damaged credit profiles to quickly get them the money they need — as long as consumers can afford to repay the loan and its interest.
However, if you continually struggle to pay rent and utilities, and the issue doesn't seem to get better month after month, then you may be better served by researching agencies that work to help consumers receive rental assistance or government vouchers that pay for all or part of your monthly rent and utility bills.
That's because if you have an ongoing issue, a loan will only add to your monthly bills. It will cover one month's rent, but still leave you with the same issue when the bill is due the following month.
Remember, though, that there are several specialized government and private programs that you may qualify for based on your race, gender, financial status, and military service. These programs can provide one-time or ongoing assistance to make sure you have access to affordable housing without blowing your monthly budget on just one expense.
What Happens if I Can't Pay My Rent?
The repercussions of being late on your rent range from incurring a late fee to getting a stain on your payment history that can affect future rental contracts.
The amount of your late fee will depend on the laws in your state and the rules set by individual property management companies. You could be charged a flat fee or a percentage of your overall rent. Some management companies impose a daily fee, which adds up every single day until you pay your rent in full.
And, depending on which state you reside in, your landlord could start the eviction process shortly after you miss a payment. Each state sets different laws regarding how soon the process can begin.
But many states created eviction moratoriums, i.e. a ban on evictions for nonpayment, created in response to the pandemic. According to Nolo, one of the web's largest libraries of consumer-friendly legal information:
"No matter if there is an eviction ban in your area, you are still obligated to pay rent. Depending on the language of a ban, your landlord might be able to assess late fees, interest, or other penalties for not paying the rent on time. If you don't think you can pay your rent due to COVID-19 related hardships, you have options, and you should consider talking with your landlord as soon as possible."
But even if you manage to pay the late fees and avoid eviction, late rent payments can stick around to bother you for years. That's because many landlords report rental payment history to the three major credit reporting bureaus.
Late payments can make it difficult to find a new place to rent when you move, and your credit score could feel the hit for several years.
That's why it's important to stay in communication with your landlord. If you ignore calls, visits, or letters when you're late, you only invite the landlord to take more drastic actions to get the money he or she is owed. If you take the time to explain your situation, you can often avoid credit reporting that can be far more costly than any late fee.
Can You Be Evicted if You Pay Partial Rent?
Sometimes in life, having something is better than having nothing. This doesn't apply to rent payments, though.
Eviction laws are similar to the laws outlining late fees. Landlords can continue to charge late fees until you pay your rent in full. And if you submit only a partial rent payment, your management company can begin the eviction process until you become current on your payments.
Every state has different laws related to eviction. Some states — such as Maryland, Maine, and Delaware — provide renters with a minimum 30-day grace period before the process can begin. Other states — think California, Florida, and Hawaii — can start the process eight days after you miss your payment or submit a partial payment.
That doesn't mean that you'll lose access to your home within eight days. The eviction process can take quite some time. Many such cases require a trial and can take months to complete.
During that time, you will continue to accrue late payments and other fees and may be required to pay the landlord's legal fees. The landlord will likely report the poor payment history to the credit reporting bureaus, and your credit could suffer dramatically from the proceedings.
As stated above, many landlords are often willing to work with a tenant to help get them back on track. After all, a late payment is better than no payment at all. And no one wants to get tangled up in court battles over partial payments.
If you can only make a partial rent payment, your best step — if you cannot qualify for an emergency loan to make up for the shortfall — is to contact your landlord and explain your financial hardship. The communication could head off legal notices and other uncomfortable letters and calls.
Determine Whether a Loan or an Assistance Program is Right For You
Everyone should feel safe and secure in their own home. But you don't always feel safe when the rent is due and you can't cover the bill. Depending on your situation, you may qualify for a loan or rent relief assistance program that can get you back on your feet and once again feeling secure.
As with most financial programs, though, be sure to research the fine print attached to any loan or emergency assistance you accept and understand the terms for repayment and usage.
With the right planning and a little help, you no longer have to dread the beginning of each month and can go back to looking at a new page on your calendar as a time for fresh possibilities.
Advertiser Disclosure
BadCredit.org is a free online resource that offers valuable content and comparison services to users. To keep this resource 100% free for users, we receive advertising compensation from the financial products listed on this page. Along with key review factors, this compensation may impact how and where products appear on the page (including, for example, the order in which they appear). BadCredit.org does not include listings for all financial products.
Our Editorial Review Policy
Our site is committed to publishing independent, accurate content guided by strict editorial guidelines. Before articles and reviews are published on our site, they undergo a thorough review process performed by a team of independent editors and subject-matter experts to ensure the content's accuracy, timeliness, and impartiality. Our editorial team is separate and independent of our site's advertisers, and the opinions they express on our site are their own. To read more about our team members and their editorial backgrounds, please visit our site's About page.