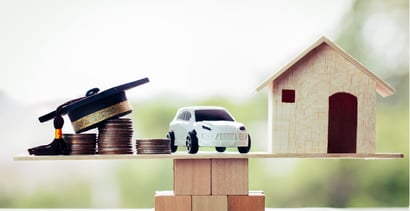 When you want to borrow money from a financial institution, one of the first things you need to know is the requirements for approval. Expectations vary from lender to lender and product to product. 
Here are the seven most common loan types, their general requirements, and what you need to prepare for each. 
Personal Loan Requirements
You can use money from personal loans for just about anything, from home repairs to expensive electronics. Most banks and credit unions offer these loans to people who are at least 18 years old and are US citizens or legal residents. Personal loans are typically unsecured, so you do not need to offer collateral. 
Personal Loans:
Proof of income
A DTI ratio of 36% or less
600 or greater credit score
Bank or credit union account 
Payday Loans and Other Short-Term Loans:
Proof of income
No minimum credit score needed
Bank or credit union account
To get a personal loan, you must:
Review your credit report. The lender may review your consumer credit reports, developed by TransUnion, Experian, and Equifax. These reports give detailed information about all of your accounts, including how much you owe, whether you've been paying on time, and any derogatory information like late payments, judgements, and bankruptcies. If your reports show errors or negative information that should not be listed because it's too old, file a dispute with the credit reporting agency. 
Check your credit scores. Most lenders rely on FICO Scores or VantageScores, which are developed from the information on your credit report, to make lending decisions. These scores range from 300 to 850, with higher numbers indicating less credit risk. High credit scores increase your chances of being approved for a personal loan. Some lenders will not grant personal loans to people who have scores lower than 600, while others are more lenient. 
Prep your income. You will need to provide your income sources because earning enough money to make your payments is important for approval. You may also need to provide documentation, such as pay stubs, tax returns, bank statements, and proof of employment. The lender will determine your debt-to-income (DTI) ratio by dividing the total of all monthly debt payments by your gross monthly income. Most lenders require a DTI under 36%  but some will accept higher ratios. You can improve your chances of getting a loan by increasing your income or paying off other financial obligations first. 
Shop around. Before you apply, spend time researching the loans that are currently available. The best way is to conduct an online review of lending sources. If your credit isn't great, don't bother applying for a loan that requires good or excellent credit scores because you will be denied. It will also add an unnecessary hard credit inquiry on your file, which can further lower your scores. Instead, focus on personal loans for bad credit and apply for the one that best meets your needs. The following companies are good places to start comparing loan offers:
Short-term loans up to $5,000
Online marketplace of lenders
Funds available in as few as 24 hours
Simple online form takes less than 5 minutes
Trusted by more than 2 million customers
| Loan Amount | Interest Rate | Loan Term | Loan Example |
| --- | --- | --- | --- |
| Up to $5,000 | Varies | Varies | See representative example |
Personal loans from $500 to $35,000
All credit types are considered and welcome
Simple, no credit impact form
Helping consumers since 2001
4.7 out of 5 Trustpilot rating with 2,000+ reviews!
| Loan Amount | Interest Rate | Loan Term | Loan Example |
| --- | --- | --- | --- |
| $500 to $35,000 | 5.99% – 35.99% | 60 Days to 72 Months | See representative example |
Loans from $500 to $10,000
Receive a loan decision in minutes
Get funds directly to your bank account
Use the loan for any purpose
| Loan Amount | Interest Rate | Loan Term | Loan Example |
| --- | --- | --- | --- |
| $500 to $10,000 | 5.99% – 35.99% | 3 to 72 Months | See representative example |
Only borrow the amount you need. Interest rates on personal loans can be high if your credit scores are low. To reduce the interest you pay, consider a shorter loan term.
Auto Loan Requirements
You can finance a car when you want to purchase one but don't have the cash to buy it outright. Although it's possible to buy a car with no money down, the interest rate may be prohibitively high. Requirements include:
No minimum credit score requirement*
Proof of income
Proof of residence 
A DTI ratio no greater than 48%
A down payment or trade-in, depending on the lender
*Your only options may be buy-here-pay-here lots or online lenders if your credit scores are really low or you have a recent repossession on your credit history.
To get an auto loan, you must:
Know your credit history and scores. Check your credit report and credit scores and make any necessary changes before you apply. In addition to the consumer credit scoring models, there is the FICO® Auto Score which factors in your credit history but gives greater weight to the way you've handled past auto loan payments. This scoring model ranges from 250 to 900, and higher numbers are preferable. You can order your auto score (and other FICO scores) from the company's website. 
Make sure you can afford the monthly payments. You will need a job and proof of how much you earn every month. As with personal loans, lenders prefer DTI ratios below 36%, though some will accept DTIs of up to 48%. 
Provide proof of residence. If you've never worked with the lender before, you'll need to show your government-issued ID and paperwork showing your home address, such as utility bills and bank statements. That information is a proactive measure for the lender. If you fall behind on payments, the lender will want to know where to go to repossess the vehicle. 
Bump up your down payment if possible. The less you borrow, the lower the risk to the lender and the greater chance that you'll be approved (even with a not-so-great credit score). If you have the time and opportunity, save for the down payment or trade-in your current car. 
Decide on dealer or outside financing. Dealers tend to have arrangements with a lender or a series of lenders. Going through them makes it easier for you because you can sign all the paperwork right there on the lot. You may qualify for low interest rates or special deals if your credit is good. But also check outside auto loans from online lenders, traditional banks, or credit unions so you can find the best deal. Some lenders have more forgiving qualification requirements for people with bad credit and repossessions. The following lender networks can help you narrow down your options:
Network of dealer partners has closed $1 billion in bad credit auto loans
Specializes in bad credit, no credit, bankruptcy and repossession
In business since 1999
Easy, 30-second pre-qualification form
Bad credit applicants must have $1500/month income to qualify
| Interest Rate | In Business Since | Application Length | Reputation Score |
| --- | --- | --- | --- |
| 3.99% – 29.99% | 1999 | 3 minutes | 9.5/10 |
Auto loan amounts of up to $150,000
Prequalify in minutes without impacting your credit score
Refinancing loans save an average of $191 per month
125% financing available for cash-out refis
PenFed Credit Union membership required but can be applied for at the same time as your loan
| Interest Rate | In Business Since | Application Length | Reputation Score |
| --- | --- | --- | --- |
| 5.19% and up | 1935 | 5 minutes | 9.5/10 |
RefiJet helps people lower their monthly auto payment by an average of $150 a month*
Pre-qualifying for a refinance auto loan does not impact your credit score
Nationwide network of lenders
We present you with options from lenders that fit your situation
| Interest Rate | In Business Since | Application Length | Reputation Score |
| --- | --- | --- | --- |
| Varies | 2016 | 5 minutes | 9.0/10 |
Be careful to make your payments on time and in full. Contact the lender if you experience financial trouble. If you start to skip payments or make partial payments, the lender may repossess the vehicle. 
Mortgage Requirements
Very few people have enough cash to buy a home with their savings alone. Instead, they rely on home loans (mortgages) to make up the difference. These are frequently large loans with terms of 15, 20, and 30 years. Because the property you purchase serves as a guarantee for the mortgage, these loans are secured. 
Conventional Loan:
20% down payment
Credit score at least 620
Credit report showing time payment for a year
Employed for two years
DTI no more than 50%
Cash reserves for closing costs and a couple of extra mortgage payments
Jumbo Loan:
20% down payment
Credit score at least 700
Credit report with no derogatory information 
DTI no more than 48%
Employed for two years
Cash reserves to cover six to 12 months of mortgage payments
FHA Loan:
3.5% down payment
Must be primary residence occupied within 60 days
DTI of 43% or less
Credit score at least 580
Steady employment history
VA Loan:
No down payment requirement 
Proof of military service
DTI no more than 41%
Credit score at least 620
Cash reserves to cover typical family needs
To get a mortgage loan, you must:
Know which mortgage type to pursue. A mortgage may be a conventional loan that you get from a bank or credit union or through the Federal Housing Administration for first-time buyers or the U.S. Department of Veterans Affairs for veterans. Conventional mortgages are by far the most common home loan. Mortgages come with either fixed interest rates or adjustable rates (ARMs). The initial interest rate with adjustable-rate mortgages is fixed for a set period before adjusting with the market. You can see which types of mortgages you qualify for through any of the following mortgage companies:
America's largest mortgage lender
The entire process is completed online
Options for new mortgages and refinancing existing mortgages
Award-winning customer service and cutting-edge digital platforms
More than 90% of clients would recommend us
| Interest Rate | In Business Since | Application Length | Reputation Score |
| --- | --- | --- | --- |
| Varies | 1985 | 5 minutes | 9.5/10 |
Best for cash-out refinance
Utilize your home equity with America's #1 lender
eClosing allows customers to close electronically, greatly speeding the process
A+ rating with the BBB
Receive cash for home improvements, college tuition, or paying off debt
24/7 access to your loan through the Rocket Mortgage app
| Interest Rate | In Business Since | Application Length | Reputation Score |
| --- | --- | --- | --- |
| Varies | 1985 | 5 minutes | 9.5/10 |
Get today's mortgage rates from the top mortgage lenders and banks
Easily compare and choose mortgage lenders with no obligations or fees
Review current mortgage rates side by side
Pick mortgage lenders that meet your specific needs
Compare rates from pre-qualified and approved mortgage lenders — 100% online, 100% free
| Interest Rate | In Business Since | Application Length | Reputation Score |
| --- | --- | --- | --- |
| Varies | 1979 | 4 minutes | 8.5/10 |
Hike up your credit scores. Your credit scores are critical in the home-buying process. Every point will impact the interest rate you get, and small differences can result in big differences in how much you pay for the loan. Qualifying for a lower interest rate loan if your credit score is below 620 is hard. Concentrate on bringing your credit scores up by making all of your payments on time and paying down revolving debt, ideally a year before applying. Lenders reserve the best interest rates for applicants with credit scores above 700. Your DTI should be no more than 50%.
Be employed for at least two years. Lenders like to see income consistency and predictability, which is determined by the length of time you've been employed. Stick with your job at least until you receive the mortgage you want. 
Bulk up your savings. Although the lender can take possession of your home via foreclosure if you don't make your payments as agreed, that's not what they want to do. They gave you the loan so you can stick with it until the end. That's why lenders of conventional loans typically expect a down payment of 20% of the purchase price, as well as enough money to cover the closing costs and a couple of months' worth of mortgage payments set aside in savings. 
Start high, go low if needed. If you want to apply for a home loan with bad credit, be prepared for a higher-than-desirable interest rate — but you don't have to stick with it forever. Your credit scores will rise if you make your monthly payments on your mortgage on time, as well as any other financial obligations you have. You can then consider refinancing the loan at a lower rate when you achieve a FICO Score of 670 or higher.
Whatever type of mortgage you pursue, getting a home loan requires plenty of preparation. Take the time to build up savings and improve your credit scores if they are on the low end. Since the lender will want to be sure that your income is steady, avoid changing jobs before you apply. 
Business Loan Requirements
A business loan may be for you if you want to get your startup off the ground or you want to grow your existing company. Online lenders, conventional and community banks, credit unions, and microlenders offer business loans. You can also go through the Small Business Administration to get a business loan. Requirements include:
Credit score of at least 680
In operation for one to two years
Personal guarantee to the secure loan
Financial statements
Evidence of legal business status 
Business plan 
To get a business loan, you must:
Get your personal and business credit in order. Lenders offer the best rates to borrowers who have consumer credit scores of at least 680, but don't despair if yours are lower. Startup business loans for bad credit may be a good option if you can't wait to bring your scores up. In addition to consumer credit, there is also business credit. When you incorporate or form a Limited Liability Company (LLC), your company will become a separate business entity. You can then build a business credit history that will help you get a loan in your company's name. 
Prove your business's worth. In general, you will need to be operating for at least one year to be eligible for small business loans from an online lender. If you want to get one from a conventional bank, you'll most likely need to be in business for a minimum of two years. And that's not all. Lenders typically have minimum annual revenue requirements for approval that range from $50,000 to 250,000, depending on the amount you want to borrow. 
Improve your odds with a guarantee. Some business loans are unsecured, while others are secured with assets. The latter will have easier qualification terms because the lender can claim those assets if you become delinquent on your payments. A personal guarantee is usually required for business loans and credit cards. A personal guarantee is a legal promise that you will repay the loan from your personal assets, such as your savings or your vehicle. 
Make sure all of your documents are in order. The lender will usually expect you to provide substantial paperwork, so don't wait until the last minute to gather the necessary documents. You'll need to offer business and personal tax returns and bank statements, business financial statements, and legal documents that show incorporation, partners, and relevant agreements. You'll also need to show your business plan outlining why you want the loan and what you'll do with the money. 
Look into peer-to-peer lending. If you're still having trouble getting funding because your credit is damaged or unestablished, but you have a great product or service, investors may be interested in helping you. Peer-to-peer loans often do not have the same credit requirements as traditional lenders but may provide capital in exchange for a stake in your company. 
Since many business loan lenders require that you be in business for a year or longer, you may need to supplement your cash flow at the beginning with other forms of credit, including credit cards. Treat those accounts responsibly so your credit scores are attractive when you are ready to apply for a business loan. 
Student Loan Requirements
There are two basic types of student loans — federal and private — that you can use to finance higher education costs. The US Department of Education offers federal student loans, while banks, credit unions, and online lenders offer private student loans. 
Federal Student Loans:
Completed FAFSA application 
No credit score requirement for Direct loans
No adverse credit history for PLUS Loans
No DTI requirement 
Private Student Loans:
Enrollment in an eligible school 
Credit score at least 600
Proof of steady income
DTI no more than 15% 
To get a federal student loan, you must:
Complete the Free Application for Federal Student Aid (FAFSA). The application is available online, and once you get it, you can create a Federal Student Aid ID. After submitting it, you'll receive your Student Aid Report, which explains how much you're expected to pay for your education plus the amount you can borrow each year in direct student loans,  which are federal student loans made directly by the US Department of Education. If you're eligible, you will be offered direct subsidized loans, which are based on your income, and you don't have to pay interest in some circumstances. Direct unsubsidized loans are not based on financial need, and interest is applied in all circumstances. Your school will give you information on how to accept all or a part of the loan.
Don't worry about your credit. Federal student loans are not credit contingent. That's because they're designed for students, most of whom are young and haven't developed a credit history yet. PLUS loans, however, are granted to parents or guardians of students and are based on their credit history.
To get a private student loan, you must:
Check (and, if necessary, improve) your credit. You may want to supplement your federal loans with other sources, and in that case, your credit will be a factor. Online lenders, banks, and credit unions offer private student loans. They will determine eligibility based on your credit history and scores, so make sure you get all your payments in on time and keep your credit card debt low. 
Prove that you can meet the payments. This may be a challenge if you're going to school full time, but if you have a part-time job or somebody else is contributing to your income, you may qualify. Be aware that you cannot list the funds you receive for federal student loans as income. 
Consider a cosigner. If you can't satisfy the credit history and scores or income qualifications, a cosigner with a better credit score and financial position can help. That person — typically a parent or other relative — will cosign the loan and be financially responsible for the payments if you don't pay.
Research what's out there. Many schools provide a preferred lender list to students who want to take out private loans. Conduct a thorough online search to see which lenders provide private student loans, and then compare and contrast the terms so you know you are getting the loan that best suits your circumstances.
It is important to borrow only the correct amount of money for your higher education. You don't have to take out the entire sum available to you from the federal government. Be prudent with private student loans because their interest rates are higher than those of federal student loans and interest begins accruing immediately. 
Credit-Builder Loan Requirements
A credit-builder loan is a solid option if you have bad credit that you want to improve. The lender holds the money in a separate savings account while you make payments, and your activity is reported to the credit reporting agencies. Once you pay the loan, you get the money, whatever interest it has accumulated, and an improved credit rating.
No credit score requirement 
No DTI requirement 
Proof of steady income
To get a credit-builder loan, you must:
Identify a lender and loan. Credit unions, community banks, and some online lenders offer credit-builder loans. The amount you can borrow is between $300 and $1,000, so check to see the amount offered by individual lenders. Also, read over the fees, interest, terms, and monthly payment requirements.
Have a way to pay. Although you don't need good credit, you will need a way to make your payments. The lender will ask you about your source of income, so make sure you have one. 
Apply. The lender will request basic details about you to complete the application. Credit-builder loans are very easy to get, so odds are high that you will be approved. 
Credit-builder loans can be a great way to build or repair your credit. Even a year's worth of steady payments with one of these products can make a big difference in your scores.
Achieve Your Goals With the Right Loan
Getting the right loan for you requires some legwork, but it will be worth the effort when it helps you achieve your goals. Because loans are not a revolving credit product, all you have to do is make the payments on time to see the benefits to your credit reports and scores.
Advertiser Disclosure
BadCredit.org is a free online resource that offers valuable content and comparison services to users. To keep this resource 100% free for users, we receive advertising compensation from the financial products listed on this page. Along with key review factors, this compensation may impact how and where products appear on the page (including, for example, the order in which they appear). BadCredit.org does not include listings for all financial products.
Our Editorial Review Policy
Our site is committed to publishing independent, accurate content guided by strict editorial guidelines. Before articles and reviews are published on our site, they undergo a thorough review process performed by a team of independent editors and subject-matter experts to ensure the content's accuracy, timeliness, and impartiality. Our editorial team is separate and independent of our site's advertisers, and the opinions they express on our site are their own. To read more about our team members and their editorial backgrounds, please visit our site's About page.