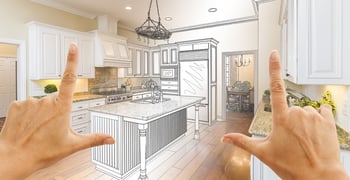 You simply can't put it off any longer – it's time to fix up your home! We review here 10 renovation loans for bad credit that can restore your pride in the old homestead.
You may want to bust out a wall, update your kitchen, replace the roof, or add a garage. But you may be frustrated, thinking your low credit score will prevent you from getting a loan.
That's not the case, however, as we explain below. From personal loans to home equity loans and lines of credit, let's explore your options.
Personal Loans | Home Equity Loans | Credit | Alternatives | FAQs
Personal Loans for Home Renovations
Personal loans are also called signature loans because you don't put up collateral to get one — just sign your name on the dotted line. The nice thing about personal loans is that you can use the proceeds as you see fit, including paying for a home renovation.
They're also called installment loans because you repay them in fixed monthly installments, typically maxing out at 60 to 72 months. The following four lending services specialize in finding personal loans for folks with bad credit.
Loans from $500 to $10,000
Receive a loan decision in minutes
Get funds directly to your bank account
Use the loan for any purpose
| Loan Amount | Interest Rate | Loan Term | Loan Example |
| --- | --- | --- | --- |
| $500 to $10,000 | 5.99% - 35.99% | 3 to 72 Months | See representative example |
Loans from $250 to $5,000
Cash deposited directly into your account
Get money as soon as tomorrow
Bad credit OK
More than 750,000 customers since 1998
| Loan Amount | Interest Rate | Loan Term | Loan Example |
| --- | --- | --- | --- |
| $250 to $5,000 | Varies | Varies | See representative example |
Loans from

$500

to

$10,000

Get connected with a lender
Simple form & quick funding
Get your money as soon as next the business day, if approved
| Loan Amount | Interest Rate | Loan Term | Loan Example |
| --- | --- | --- | --- |
| $500 to $10,000 | 5.99% - 35.99% | 3 to 60 Months | See representative example |
Loans from

$500

to

$35,000

Large lender network
Fast loan decision
Use the loan for any purpose
Funding as soon as one business day, if approved
| Loan Amount | Interest Rate | Loan Term | Loan Example |
| --- | --- | --- | --- |
| $500 to $35,000 | 5.99% - 35.99% | 3 to 72 Months | See representative example |
These lending services facilitate a range of maximum loan amounts from $5,000 to $35,000. Moreover, they share similar requirements: You must be a U.S. citizen or resident, at least 18 years old, have a steady income and an email address, a bank account, and valid home and work phone numbers.
These are online loan matching services, meaning they don't lend money directly to applicants. Rather, they each work with a network of lenders to find you the best source for your loan. Normally, decisions are fast, and funding is available as soon as the next business day.
Home Equity Loans for Home Renovations
Home equity is the difference between your home's current value and the mortgage balance. It's also the ingredient that unlocks the cash you've invested in your home. Home equity is the portion of your home that you own free and clear.
Here are three reputable resources for obtaining home equity loans, regardless of credit score.
Options for home purchase or refinance
Lenders compete for your business
Receive up to 5 offers in minutes, and pick the best offer for you
Founded in 1996, LendingTree has facilitated 55 million+ loan requests and $250 billion+ in closed loan transactions
| Interest Rate | In Business Since | Application Length | Reputation Score |
| --- | --- | --- | --- |
| Varies by Applicant | 1996 | 7 Minutes | 9.0/10 |
Easy to OwnSM programs give options for those with lower income, limited credit history, and low down payment needs.
Provides the potential for minimal out-of-pocket expenses with seller contributions.
Offers loans that don't require monthly mortgage insurance.
Requires less cash upfront for your down payment and closing costs.
| Interest Rate | In Business Since | Application Length | Reputation Score |
| --- | --- | --- | --- |
| Varies | 1852 | 6 Minutes | 8.0/10 |
Loan programs include down payment and closing cost assistance.
Variable and Fixed-Rate loans available with flexible qualification guidelines.
No maximum income/earning limitations.
| Interest Rate | In Business Since | Application Length | Reputation Score |
| --- | --- | --- | --- |
| Varies | 2008 | 5 Minutes | 7.0/10 |
Without a doubt, home equity loans are the easiest way to borrow large sums despite having bad credit. The reason is that your equity is collateral, making it much less risky for lenders who need to guard against defaults.
Lenders can foreclose on borrowers who fail to repay their loans. A foreclosure can remain on your credit report for seven years.
Equity in your home can secure a home equity loan or home equity line of credit (HELOC). A home equity loan is a second mortgage in which you receive a lump sum payout and then repay the loan in monthly, amortized installments.
By contrast, a HELOC is a revolving account, similar to a credit card. You can borrow cash up to the HELOC limit and pay it back on a flexible schedule, as long as you satisfy the monthly minimum. You only pay interest on the loan balance.
You can also unlock your home equity by refinancing an existing mortgage. The key here is to take out a new mortgage with a larger balance than your current one.
You receive the difference between the new and old balance in cash. Typically, your cash-out amount is capped at 80% to 90% of your equity.
Your home secures these loans, meaning you can lose your home if you become delinquent. On the plus side, these loans are easy to get (to the extent you have home equity), can be larger than other types of loans, and may be more affordable than personal loans.
Credit Cards for Home Renovations
Your credit card may be useful to pay for home renovations. However, if you have bad credit, you probably have access to only a limited credit line. This caps the amount you can borrow via a credit card cash advance and the amount you can charge on the card.
Relatively low credit limits on unsecured credit cards that are geared toward bad credit consumers stem from the lack of collateral. You may have to settle for a modest renovation if your credit limit is only $500 or $1,000.
Nonetheless, if your renovations are minor, one of the following cards may be a good option.
All credit types welcome to apply!
Free access to your Vantage 3.0 score From TransUnion* (When you sign up for e-statements)
Initial Credit Limit of $300 – $1,000* (subject to available credit)
Monthly reporting to the three major credit bureaus
See if you're Pre-Qualified without impacting your credit score
Fast and easy application process; results in seconds
Free online account access 24/7
Checking Account Required
| Application Length | Interest Rate | Reports Monthly | Reputation Score |
| --- | --- | --- | --- |
| 9 Minutes | 24.99% - 29.99% (Variable) | Yes | 8.5/10 |
Easy pre-qualification process with fast response
Less than perfect credit is okay
Online servicing available 24/7 at no additional cost
Unsecured credit card, no security deposit required
Account history is reported to the three major credit bureaus in the U.S.
| Application Length | Interest Rate | Reports Monthly | Reputation Score |
| --- | --- | --- | --- |
| 8 Minutes | 24.9% | Yes | 8.0/10 |
Move money from your PayPal account to fund your prepaid card account.
Earn cash back and personalized offers, just for using your card.
With Direct Deposit, you can get paid faster than a paper check.
Card issued by The Bancorp Bank, Member FDIC. Card may be used everywhere Debit Mastercard is accepted.
Click PayPal Prepaid Mastercard® for additional features & program details, and to request a Card.
| Application Length | Interest Rate | Reports Monthly | Reputation Score |
| --- | --- | --- | --- |
| 8 minutes | N/A (Prepaid) | No | 9.5/10 |
The Fingerhut Credit Account doesn't offer cash advances, but you can use it at Fingerhut to buy some of the products, materials, and supplies for your renovation. The two credit cards have low credit caps, limiting your options for cash advances and purchases.
According to Home Advisor, the cost of home renovations and remodels ranges between $18,450 and $75,685, with a national average of $46,374. A bathroom may cost you $10,000, but more expensive projects include basements ($20,000) and kitchens ($25,000).
If you're handy (or have handy friends), you can save money by taking on small do-it-yourself remodeling projects. It's a relatively inexpensive proposition to slap on new paint or wallpaper, refinishing your cabinets, updating old floors, or hanging new window coverings. Sweat equity stretches your home equity further.
The following three credit accounts report your payment activity to the three major credit bureaus. This can help you improve your credit score. To do so, pay your bills on time, pay more than the minimum amounts, and pay down your credit balances.
Renovation Loan Alternatives
You have several other options to help you pay for a home renovation.
For instance, many retirees are allowed to keep and borrow from their employer-based retirement plans. If you still have your 401(k), 403(b), or 457 plan, you may be permitted to borrow up to half the balance up to $50,000, up to $10,000 for balances between $10,000 and $20,000, and 100% of balances below $10,000. To avoid taxation, you must repay the loan, with interest, within five years.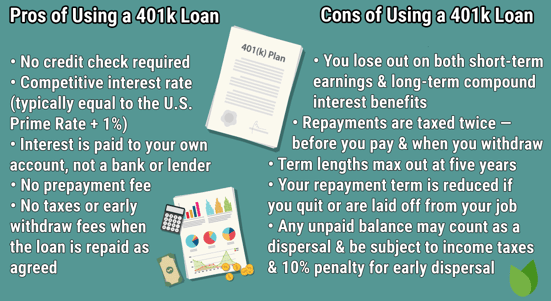 Another loan source is the 203k Rehab Mortgage Insurance Program from the Federal Housing Administration (FHA). This program guarantees home loans to rehabilitate your newly purchased or existing home. It provides a long-term, fixed- or variable-rate loan with attractive terms.
If your renovation budget is $35,000 or less, consider the FHA Limited 203(k) Program, which is a streamlined way to tap into cash. You can use the loan to pay for improvements, repairs, or pre-sale preparations. You can also use this program to pay for remodeling to make your newly-purchased homes ready for move-in.
Another government-backed program may offer you money to pay for home renovations. It is the Section 504 Home Repair Program of the U.S. Department of Agriculture that provides repair loans for single-family housing. In addition, the program offers grants to elderly, low-income homeowners to remove safety and health hazards.
Don't overlook in-store financing when planning your home renovation.
For example, Home Depot offers project loans from $2,500 to $55,000 with up to 84 months to repay. Lowe's offers in-store financing through its Advantage Credit Card, which can only be used at Lowe's.
Likewise, Target offers in-store financing through its REDcard. Walmart offers up to 12 months of financing on purchases up to $2,000.
Can You Get a Home Improvement Loan with Bad Credit?
Our review identifies three sources for home improvement loans for consumers with bad credit: home equity loans, personal loans, and credit cards. You should consider several factors when you choose between personal loans and home equity loans.
Typically, home equity loans and home equity lines of credit are capped at 80% to 90%. For example, suppose your house could sell today for $500,000 and you owe $200,000 on your mortgage, giving you equity of $300,000.


If you take a 90% HELOC, you will have a credit limit of (0.9 x $300,000), or $270,000.
Having a bad credit rating and/or a low income can affect your loan. For example, if you are a retiree living on a fixed income and have bad credit, you may be offered a cap of 80% or less.
An 80% cap would fund the example HELOC at $240,000. The remaining $60,000 of untapped equity is a cushion for the lender in case you default on the loan. The cushion protects the lender from the costs of foreclosing and selling the property.
If you don't have equity in your home, or if you don't want to risk losing your home to foreclosure, you may prefer a personal loan. These are quicker to process but harder to access since they are unsecured.
Nonetheless, the personal loan lending networks reviewed above are all designed to facilitate bad credit loans. Personal loans are suitable for small-to-moderate-cost renovations.
Of the lenders we reviewed, the largest loan amount is $35,000, from PersonalLoans.com. That can cover a nice renovation project, but not a colossal one.
One other consideration is the interest rate of a personal loan. Because it is unsecured, it will be higher than that of a secured loan because it is a riskier proposition for the lender.
A credit card can be helpful for very modest renovation projects. If you have poor credit, your credit limit will be low. This will not give you much room to maneuver because your ability to make large purchases will be limited.
What Type of Loan is Best for Home Improvements?
The natural way to get a home improvement loan is to use your home as collateral. After all, you already own it, so why not put it to work?
The key is equity, the excess of value over debt. Equity is the basis for a second mortgage — a home equity loan or home equity line of credit (HELOC).

A HELOC is more appropriate if you plan a series of renovation projects over time. For many, this is the ideal game plan, as it can break a large project into smaller, more manageable ones.
This makes sense for DIY projects, which are naturally constrained by your availability and energy. In addition, you will prefer a HELOC if you want to repay the cost of the first project before commencing the second one.
If you do want to sequence your renovation projects, you can get by with a HELOC smaller than a home equity loan. That's because you can repay the HELOC after one project and then reuse it for the next without having to take out another loan.
Also, you can spend HELOC funds as you go, whereas a home equity loan is a lump sum. If you don't need to spend the entire proceeds from a home equity loan right away, you'll be paying interest on unused funds. A pay-as-you-go HELOC should keep your interest expense lower.
On the other hand, if you are contemplating a large renovation project and need the money upfront, you may prefer a home equity loan. You repay it in fixed monthly installments, and, therefore, is easier than a HELOC to manage.
Before taking a home equity loan, you should investigate a cash-out refinancing of your mortgage if you can do so at a lower interest rate or over a more favorable term. You'll receive a lump sum payment that you can use for your renovation project or for any other purpose.
How Much Renovation Loan Can I Qualify For?
Each situation is different, but several factors are common to most loans:
Collateral: Secured loans are easier to get than unsecured ones. The amount for which you can qualify relates directly to the value of the collateral. Usually, the lender demands a "haircut," which is a cap on the value of the collateral to ensure that there is more than enough to pay for a foreclosure.
Credit score: Your creditworthiness is paramount when the loan is unsecured. If you have bad credit, your access to an unsecured loan will be substantially curtailed. However, you can use your personal loan or cash advance to help rebuild your credit by paying on time.
Income and debt: Lenders are interested not so much in your income as the difference between your income and your expenses/debt, as shown in your ratio. The greater the difference, the more money you have to repay your loan. Thus, retirees who live well within their means might obtain a loan easier than workers who overspend.
Recourse vs nonrecourse debt: A recourse loan is one in which the lender can attach the borrower's assets after a default. In a nonrecourse loan, the borrower's assets — other than specified collateral — are safe from creditors. A recourse loan is easier to get than a non-recourse one because the lender has better protection against default.
These factors help determine how much you can borrow for home renovation. Home equity loans are determined by the amount of equity you have in your home, up to a percentage cap.
A personal loan depends on your income and expenses, as well as your credit score. Credit card issuers look at the same factors when setting the credit limit on your card.
To increase the amount of a renovation loan, you can reduce your indebtedness elsewhere (i.e. lower your credit utilization ratio), reduce your expenses, increase your income, ask for a higher credit limit, and put up collateral. These actions, plus paying your bills on time, should help boost your credit score.
Main Points
We've reviewed 10 sources of renovation loans for bad credit. A home equity loan or HELOC is probably your best bet if you have equity in your home.
You can instead opt for a personal loan, but don't expect to score as large of a loan. Those with bad credit may qualify for certain credit cards, but these will typically have low credit limits, therefore limiting your renovation budget.
Other alternatives include loans from your employer retirement plan, an FHA 203k renovation loan, and in-store financing from large big-box stores. Whichever method of financing you choose, be sure to read the full terms and conditions of any loan agreement.
Advertiser Disclosure
BadCredit.org is a free online resource that offers valuable content and comparison services to users. To keep this resource 100% free for users, we receive advertising compensation from the financial products listed on this page. Along with key review factors, this compensation may impact how and where products appear on the page (including, for example, the order in which they appear). BadCredit.org does not include listings for all financial products.
Our Editorial Review Policy
Our site is committed to publishing independent, accurate content guided by strict editorial guidelines. Before articles and reviews are published on our site, they undergo a thorough review process performed by a team of independent editors and subject-matter experts to ensure the content's accuracy, timeliness, and impartiality. Our editorial team is separate and independent of our site's advertisers, and the opinions they express on our site are their own. To read more about our team members and their editorial backgrounds, please visit our site's About page.