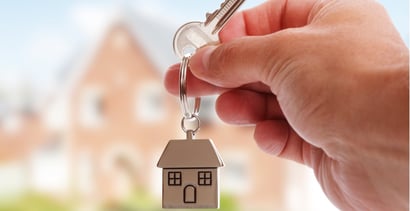 The availability of home loans for bad credit extends the American dream of homeownership to folks who have less-than-perfect credit. These subprime loans can be used not only to purchase, renovate, or refinance a home but also to provide cash based on the equity in your home.
When the loan officer bureaucracy at banks, credit unions, or conventional mortgage lenders won't approve your loan application, look to these lenders instead of a mortgage broker to offer you a loan despite your bad credit.
1. eMortgage: Best Overall Home Loan For Bad Credit
Our top pick for bad credit home loans is eMortgage. Rather than providing direct loans to consumers, the company is an independent, advertising-supported publisher, comparison service, and mortgage advertising service. It works with a network of mortgage lenders to provide customers with loan option choices to buy a home or refinance their existing one.
Get today's mortgage rates from the top mortgage lenders and banks
Easily compare and choose mortgage lenders with no obligations or fees
Review current mortgage rates side by side
Pick mortgage lenders that meet your specific needs
Compare rates from pre-qualified and approved mortgage lenders — 100% online, 100% free
| Interest Rate | In Business Since | Application Length | Reputation Score |
| --- | --- | --- | --- |
| Varies | 1979 | 4 minutes | 8.5/10 |
With just an internet connection, you can receive competitive quotes on your computer, tablet, or smartphone. You can request quotes for a refinancing home loan by entering a few data items, including the loan amount, property value, state, and credit rating. eMortgage uses 256-bit encryption to help ensure your privacy and security.
2. Rocket Mortgage: Best For an Easy Online Process
Rocket Mortgage is a name you probably know — it's America's largest mortgage lender. Whether you're a seasoned real estate buyer or a first-time home buyer, Rocket Mortgage can help you secure financing for the home of your dreams, even without good credit.
Rocket Mortgage lets you lock in today's rate for 90 days with RateShield®. It also offers down payment assistance that can help pay for your down payment and closing costs, but this program requires a minimum credit score of 620 to qualify, among other eligibility criteria.
3. Quicken Loans: Best For Home Equity Loans
Quicken is a sister company to Rocket Mortgage that can help you tap into any equity you may have in your current home.
A home equity line of credit (HELOC) works similarly to a credit card. You'll be issued a line of credit from a bank that is secured by your home. You can use the line of credit to pay for home improvement projects or any other large expense and make payments over as many as 30 years to satisfy the loan. Equity loans are also called second mortgages.
More Home Loans to Consider
These companies and agencies can help you buy or refinance a home through direct loans, connections to direct lenders, or loan guarantees. They all have one thing in common: They serve the full range of credit types, from excellent to poor.
Options for home purchase or refinance
Get 4 free refinance quotes in 30 seconds
Network of lenders compete for your loan
Trusted by 2 million+ home loan borrowers to date
Interest rates are near all-time lows
| Interest Rate | In Business Since | Application Length | Reputation Score |
| --- | --- | --- | --- |
| Varies | 2004 | 4 minutes | 8.5/10 |
To be clear, the FHA Rate Guide is not a part of the Federal Housing Administration. Rather, it is an online news and information service providing editorial content and directory information about mortgages and loans. To help protect you from fraud and privacy violations, FHA Rate Guide works with SecureRights, a third-party platform that verifies consumer information.
Through a Wells Fargo Home Mortgage refinancing loan, you may be able to pay off your mortgage sooner, cut your higher interest rate, lower your monthly payments, or convert to a fixed mortgage rate. The bank's loan officer group offers home equity loans and home equity lines of credit based on the value of your home compared to your existing mortgage balance. Wells Fargo serves all credit types, including consumers with credit scores below 620.
You can prequalify for a bad credit home loan from Bank of America Mortgage without cost or commitment. The application process, which it calls the Digital Mortgage Experience, is facilitated by an online dialogue that quickly steps you through the procedure. You can then submit additional information to be reviewed for final approval.
CitiMortgage has temporarily suspended its home equity loan products, but you can still apply for cash-out refinancing or rate and loan term refinancing. You may be able to get a bigger tax deduction by using the cash-out proceeds to pay down non-deductible debts since mortgage interest is deductible. The online CitiMortgage Refinancing Calculator shows you how much you can save through refinancing and what your new monthly payments will be.
If you are looking to buy a home in a rural location, USDA Rural Housing Loans can help in two ways. Its Section 502 Guaranteed Loan Program works with approved lenders to finance rural primary dwellings. It also offers its Section 502 Direct Loan Program that provides monthly payment assistance to low-income and very-low-income families, thereby increasing their ability to repay the loan.
The U.S. Department of Veterans Affairs rewards you for your service to our country through its VA-Guaranteed Home Loan Program. To qualify, you must first apply for and receive a Certificate of Eligibility (COE). You can then go shopping for mortgages from lenders that have qualified for the VA program.
What Is a Bad Credit Mortgage?
Mortgages available to folks with FICO scores below 630 are bad credit mortgages. They have features that make it easier for consumers with poor credit and/or a low income to buy, fix up, or refinance a home.
Bad credit mortgages are often guaranteed by a federal agency, including the Federal Housing Administration, the U.S. Department of Veterans Affairs, and the U.S. Department of Agriculture. Eligibility requirements are different for each loan program.
Some of the benefits of guaranteed loans include:
Low minimum down payments.
Down payments can include money from financial gifts or grants.
Acceptance of low credit scores.
Programs for buying, refinancing, and improving homes.
Reverse mortgage programs.
Generally, the federal agency programs guarantee mortgages, but some federal programs also make direct loans to qualified applicants.
Private lenders both participate in guaranteed loan programs and compete against them, usually at the same time. These lenders can offer features not necessarily available from guaranteed loans, including 100% financing, no maximum income limits, seller contributions to the sale price, and a waiver of private mortgage insurance.
The minimum credit score varies by program as well. For example, you may qualify for an FHA home loan with a credit score in the 500 to 579 range, but you'll have to put 10% down. If your score is 580 or higher, the FHA down payment requirement is 3.5%.
On the other hand, a conventional mortgage may set the minimum credit score at 620 and require down payments ranging from 3% to 20%. However, the bank mortgage programs in this review offer zero-down-payment loans, and you may be able to roll all your closing costs into the mortgage payment principal.
You must generally be at least two years distant from a bankruptcy event and three years from a mortgage foreclosure to get a mortgage. Also, don't expect to secure a home loan if you are delinquent on your federal student loans or owe back taxes to the IRS.
Which Home Loan Company Is Best For Bad Credit?
We give our top rating to eMortgage. It excels in connecting you to multiple home loan offers from competing bad credit mortgage lenders or mortgage broker companies.
You need only fill out one short loan request form to get up to five quotes within two minutes.
Wells Fargo Home Mortgage receives a slightly higher score among the direct-lending banks, thanks mostly to its Easy to OwnSM programs that are optimized for applicants with limited credit history, low income, and low down payments. The bank offers some home loans that do not require monthly mortgage insurance, an unusual feature.
Any bad credit mortgage lender allowed to participate in a government-guaranteed home loan program must meet certain standards that help ensure honest dealings.
Perhaps your biggest concern when applying for a guaranteed loan is bait-and-switch tactics, where a bank offers, say, FHA mortgage loan deals but then tries to get you to choose its own conventional home loan products instead. That's fine as long as it's a truthful, above-board effort.
What Is the Easiest Mortgage to Qualify For?
If you have a low credit score, it's hard to beat a government-guaranteed home loan for ease of qualifying.
As previously mentioned, FHA mortgage loan offerings are available to folks with scores as low as 500. VA loans are very easy to get, as long as you are active duty, a veteran, or a surviving spouse.
In some ways, the private lenders have an advantage not available to the government loan agencies in that they can change their programs as often as they want to respond to shifting conditions in the local marketplace. Agency programs, by contrast, are usually locked in by regulations and may require an act of Congress to change.
The upshot is that private lenders can tailor their conventional loan programs to compete directly with FHA loans. In addition, these lenders set their own terms for FHA-guaranteed loans within the overall constraints of the agency.
The best advice for low credit score consumers looking for home financing is to shop around. If you can't find a conventional loan that beats the competition, you can fall back to an FHA loan.
How Can I Buy a House With Bad Credit and No Deposit?
It's not unusual for folks with bad credit to have no money set aside for deposits or down payments. However, several lenders offer 100% financing that requires no out-of-pocket expenditures.
Bank of America Mortgage and CitiMortgage offer 100% financing, and Bank of America Mortgage has a loan option to reduce the amount of upfront cash you'll need.
USDA Rural Housing Loans and the VA-Guaranteed Home Loan Program also offer loans with no down payment and/or 100% financing.

FHA-guaranteed loans have special provisions that allow you to use gifts to pay the down payment on their loans. You can get quotes from several FHA lenders through the FHA Rate Guide.
What Is the Minimum Credit Score Required For a Home Loan?
Of course, private lenders are free to set their own credit score requirements, so there is no hard and fast rule specifying the minimum FICO score for a conventional loan. A survey of different lenders indicates that the minimum score may be around 620.
If you want an FHA or VA loan, you'll need a credit score of at least 580. However, if you are willing to put down 10%, you can get an FHA home loan with a score as low as 500.
If your credit score is below 500, you may want to take steps to improve your credit, such as credit repair or debt management.
Credit repair involves fixing any errors in your credit history that are lowering your credit score. You have the right to dispute incorrect, incomplete, or unverifiable information on any of your credit reports from the major credit bureau trio (Experian, Equifax, and TransUnion).
The process involves combing through your credit reports, which you can get for free from AnnualCreditReport.com, the only source authorized by federal law. Common mistakes include unknown accounts, unauthorized credit checks, and incorrect balances.
While DIY credit repair is possible, it is time-consuming and requires good organizational skills. Many consumers prefer to use credit repair companies to do all the heavy lifting with a credit bureau.
Typically, credit repair agencies charge between $50 and $150 per month, depending on the level and aggressiveness of service. The usual subscription period is six months, but you can cancel or extend it as you see fit.
While these companies can't guarantee success, they commit to challenging a set number of questionable items each month. Your score should improve within two months after removing derogatory items that don't belong on your credit reports.
If you are in more debt than you can handle, you can consider debt relief. While this course of action can reduce your debt, it will not help your credit score — in fact, you will probably receive a lower credit score, at least initially.
With debt management, you receive at least partial loan forgiveness as you consolidate your debts. A debt management company collects your monthly payment and distributes the money to your creditors on an agreed basis. The fees for this service are more than paid for by the money you save on forgiven debt.
A less drastic step is debt consolidation without loan forgiveness. This process will result in a higher rather than lower credit score, and it can save you money right away through lower interest rates.

With debt consolidation, you take out a new loan to repay your old ones. In this way, you reduce the number of checks you need to write each month, and you may be able to cut your higher interest rate.
Often, a personal loan can be used to consolidate debts, even if you have bad credit. If you already own your home, you may qualify for a home equity loan or home equity line of credit. You can use the proceeds from these loans to pay down your other debts and then concentrate on repaying the home loan.
Can I Get a USDA Loan With a 500 Credit Score?
USDA Rural Housing Loans does not publish a minimum credit score requirement. Nonetheless, you may be able to get a USDA loan with a score as low as 580.
If you want to be eligible for automatic loan approval through the USDA's automated underwriting system, you'll need a credit score of at least 640.
USDA loans are an attractive alternative for low-to-moderate-income consumers who want to live in a rural or suburban area. About 97% of the geographical United States is eligible for USDA home loans.
You can get either a direct or guaranteed loan from the USDA. Direct loans are available if your income is low or very low, and eligible homes must meet the agency's requirements for cost, size, and other criteria.
USDA guaranteed loans insure 90% of the loan amounts from USDA-approved lenders, which may allow you to avoid a down payment, even with a bad credit score. USDA charges only 1% for private mortgage insurance, whereas FHA loans charge 1.75%. Moreover, USDA loans charge less interest than loans guaranteed by the FHA.
What Are the Risks Associated With Private Home Loans?
In general, the biggest risk you'll face when you take a bad credit home loan is being unable to make the monthly mortgage payment. The result may be the loss of your home through foreclosure. Some mortgages are especially risky, including those that charge adjustable rates or interest only,
To avoid this kind of fate, you want to know all the facts concerning a subprime mortgage or home equity loan.
The Home Ownership and Equity Protection Act of 1994 (HOEPA) was enhanced in 2013 by a new rule meant to protect consumers who take out high-interest home loans. The 2013 Rule applies to lenders who charge high interest rates (generally, 6.5 percentage points or more above the prevailing rate).
The Rule applies to mortgages, refinancings, home equity loans, and home equity lines of credit (HELOCs).
Under the 2013 Rule, high-cost lenders must disclose certain information, such as prepayment penalties and other fees. In addition, these lenders must recommend borrower counseling.
A recent study found that certain lenders price their interest charges right below the mortgage rate threshold that triggers the Rule. The study indicates that certain lenders are willing to forego higher interest rates to skirt the HOEPA rules.
The advice to prospective borrowers is to read the fine print before agreeing to a subprime mortgage contract.
Research Home Loans For Bad Credit Online
Home loans for bad credit are available to consumers with credit scores as low as 500. This article makes it easy to find out more about our recommended lenders by clicking on the START NOW link in each summary box.
While government-guaranteed loans may be your best choice, they are not your only choice. Banks and credit unions are now offering home loans that directly compete against guaranteed loan programs and, in some ways, beat them.
Homeownership remains the American dream. If you have a job or another source of steady income, you may qualify for a mortgage despite your bad credit score. The nice thing is, it costs nothing to find out.
Advertiser Disclosure
BadCredit.org is a free online resource that offers valuable content and comparison services to users. To keep this resource 100% free for users, we receive advertising compensation from the financial products listed on this page. Along with key review factors, this compensation may impact how and where products appear on the page (including, for example, the order in which they appear). BadCredit.org does not include listings for all financial products.
Our Editorial Review Policy
Our site is committed to publishing independent, accurate content guided by strict editorial guidelines. Before articles and reviews are published on our site, they undergo a thorough review process performed by a team of independent editors and subject-matter experts to ensure the content's accuracy, timeliness, and impartiality. Our editorial team is separate and independent of our site's advertisers, and the opinions they express on our site are their own. To read more about our team members and their editorial backgrounds, please visit our site's About page.