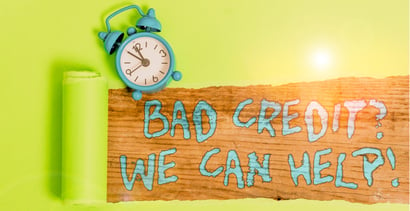 Credit repair services can make the process of improving a credit score a lot easier for consumers. One key way they can help is by finding and fixing errors on credit reports.
A study conducted by the Federal Trade Commission found that 1 in 5 people in the United States had errors on one of their three major credit reports that could lead to them paying more for things such as auto loans and insurance.
Finding a way to improve your credit score can make buying a home or being approved for other types of loans easier. A poor credit history, even if it's through no fault of your own, can make getting loans difficult. So can spending more than your credit limit.
It could take years working on your own to attain the highest credit score. But you may not want to do that if you're trying to buy a house. Help can be found through credit repair services, which will do much of the heavy lifting required to repair your credit report for you.
Some companies are better than others. Our staff has reviewed these services and looked at BBB ratings to give you the best credit repair service providers. We also break down how credit repair works, including the cost, timeline, and how to do it yourself.
Best Overall | Other Companies We Recommend | FAQs
Best Overall Credit Repair Service
Lexington Law is our top-rated credit services organization. Its team of lawyers and paralegals have been working for years to help clients correct their bad credit reports and improve their scores.
Most results of any credit repair law firm
Lexington Law Firm clients have seen more than 81 million removals from their credit reports since 2004
Get started today with a free online credit report consultation
Cancel anytime
| Better Business Bureau | In Business Since | Monthly Cost | Reputation Score |
| --- | --- | --- | --- |
| See BBB Listing | 2004 | $99.95+ | 8/10 |
Clients of Lexington Law have seen an average of 24% of negative items removed from their reports. It has one of the best apps in the business, which consumers can use to check their credit for free.
Lexington Law has helped clients remove many types of items from their credit report, including:
Collections
Bankruptcies
Liens
Late payments
Repossessions
Judgments
Charge offs
Foreclosures
Lexington Law differs from other credit repair service providers in that it is a law firm, so it knows the legality regarding credit reporting and what can and cannot be disputed. This is a boon to many who don't understand the dispute process.
Other Credit Repair Services to Consider
Three other credit services organizations stand out. All offer free consultations that you can use to shop for the best service and see which meets your needs.
Best-in-class support
In business since 1989
Rapid 35-day dispute cycle, tailored to your situation
90-day 100% money-back guarantee
Low $79 cost to get started, cancel or pause membership anytime
| Better Business Bureau | In Business Since | Monthly Cost | Reputation Score |
| --- | --- | --- | --- |
| A+ | 1989 | $79 | 9.5/10 |
Sky Blue Credit Repair may be best known for its dedicated customer service. Its team sends up to five disputes per credit bureau every 35 days.
It offers customized disputes, redisputes, and statute of limitation research on debt items that are designed to make the dispute process as efficient as possible. Results are typically seen within 30 days.
Free online consultation
CreditRepair.com members saw more than 8.6 million removals from their credit reports since 2012
Free access to your credit report summary
Three-step plan for checking, challenging and changing your credit report
Online tools to help clients track results
| Better Business Bureau | In Business Since | Monthly Cost | Reputation Score |
| --- | --- | --- | --- |
| See BBB Listing | 2012 | $69.95+ | 8/10 |
CreditRepair.com is an online-only service that has helped improve its average customer's TransUnion credit score by 40 points within four months. That could be enough to bump a credit score into a lower interest rate offered on a credit card, for example.
Instead of overwhelming the credit reporting agency and disputing every negative item on a credit report, CreditRepair.com focuses on a more complex investigative strategy that includes communicating directly with creditors, credit bureaus, and consumers.
What is Credit Repair?
Credit repair is exactly what the name implies: Fixing (or repairing) your poor credit score.
A credit repair business works with the credit bureaus and your creditors to challenge negative and incorrect items on your credit reports that affect your credit score. They're basically checking your credit history to make sure it's updated and accurate.
This is something you can do yourself by contacting the three major credit bureaus — Equifax, Experian, and TransUnion — and reviewing the credit reports they provide for errors. You then file a dispute with each of the credit bureaus to fix any errors.
Repairing your credit history is important for many reasons. To start, it can help you identify fraud on your accounts, such as someone opening a credit card in your name.
Or, if a mistake was made, such as a late payment erroneously being reported on your account that you know you paid on time, your credit score could drop.
A poor credit score makes it difficult to be approved for loans, including credit cards and car and home loans. If you are approved for a loan, a low score is seen as more of a risk by lenders and you could be charged a higher interest rate.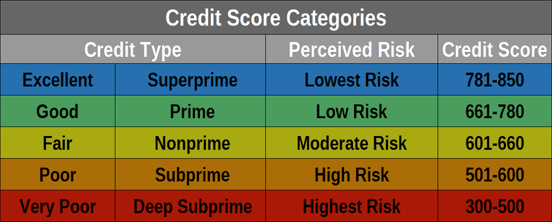 Maintaining a score within a good credit score range is also usually required to rent an apartment or get a personal loan. A good credit score is a lot more important than you may realize.
If you don't want to take the time or effort to fix credit report errors yourself, you can hire a credit repair business to do the work for you. Some things these service providers do for clients include:
Provide a credit report summary
Send queries to credit reporting companies disputing errors on your credit reports
Dispute errors a lot faster than you may be able to
Provide online tools and apps to help you track results
While the end goal is the same, each company will provide unique services and maybe even results.
How Does Credit Repair Work?
Credit repair services start their work by requesting copies of your credit reports from the three major credit bureaus. They then look for negative marks and possible errors to dispute and have removed from your reports, which may increase your credit scores.
Disputable items generally include:
Incorrect addresses that the client hasn't lived at
Incorrect names listed on accounts
Accounts that don't belong to you
Misspellings that could put negative credit aspects of someone with a similar name on your record
Incorrect dates
Bankruptcies
Tax liens
Charge offs
Accounts in collection
Civil judgment
Debt settlement
Foreclosure
Many of these items come from public records that credit reporting agencies can check and dispute, as public records can no longer appear on credit reports.
The credit repair services will next come up with a plan to dispute any errors and negotiate with creditors to remove them. They may send letters disputing negative marks or requests to validate information to credit bureaus and creditors. They may also send cease-and-desist letters to debt collectors for you.
Unless the dispute is frivolous, the agency must investigate it, according to the Fair Credit Reporting Act, or FCRA. Consumer reporting agencies must correct or delete inaccurate, incomplete, or unverifiable information, usually within 30 days. Information that it has verified as accurate can continue to be reported.
Outdated negative information can't be reported. In most cases, this is any negative information that is more than seven years old. Bankruptcies that are more than 10 years old can't be reported by the credit bureaus.
What credit repair services can't do, however, is remove negative items on credit reports that are legitimate and accurate. Legitimate debts will remain, and requests to investigate them may be considered frivolous and rejected.
Written disputes can be sent through the mail or filed online through each of the credit bureau's websites.
Still, the process can be cumbersome, which is why hiring a reputable credit repair company can make it easier. For example, a separate dispute must be filed for each item and submitted separately to each credit reporting agency.
With three major credit reporting bureaus, that means filing a dispute for one error three times, since you want to make sure the error is removed from all three of your credit reports.
If applicable, the credit repair services organization will ask you for supporting and evidentiary documents to help resolve a dispute. Credit card statements can help show if a payment was made on time, for example.
As part of the dispute process, the credit reporting bureaus must forward your dispute and any information you submit to the entity —  otherwise known as a data furnished — that reported the information to them in the first place. Data furnishers can include a credit card issuer, tenant screening companies, check verification services, and medical information services.
The data furnisher must then investigate the item being disputed and report the results to the credit bureau. If the data furnisher finds the item to be inaccurate, it's required to notify all three credit reporting bureaus and request that the item be removed from all of your credit reports.
The bureau must inform you of the results in writing after the investigation is complete and provide a copy of your report if items were altered. You can also ask the reporting company to send notices of the corrections to anyone who has received your credit report in the past six months.
Will Credit Repair Improve My Credit Score?
Improving your credit score by fixing errors on your credit reports is one of the biggest motivators to repair your credit, whether on your own or through a credit repair clinic.
Removing some errors will impact a score more than others. On-time payments account for about 35% of credit scores, so successfully disputing a late payment that was paid on time but was listed as late on a credit report can boost a score significantly.
Having a high amount of debt can also hurt your credit score, with the amounts owed accounting for 30% of a FICO credit score.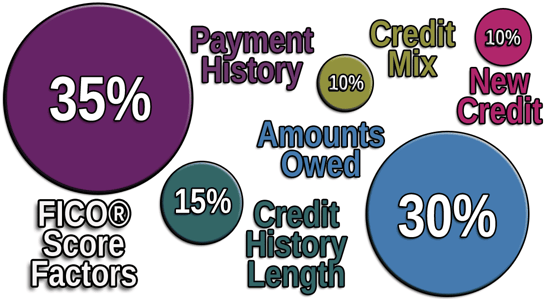 So, if a simple mistake such as a decimal point error makes it look like you have $10,000 in credit card debt instead of $1,000, fixing that misreported amount can help raise your score. Some things don't affect a credit score as much as payment history and amounts owed, but they're still worth fixing and can help boost your credit score.
New credit accounts for 10% of a credit score rating. But if that new credit account is fraudulent, it can hurt your score if a thief uses it to rack up charges in your name.
Which is the Best Credit Repair Company?
Some credit history repair services offer a free trial period and money-back guarantees if you don't see your score improve. Even if they don't offer money-back guarantees, you should be able to stop the service anytime you want.
The best services should:
offer a free consultation.
be in business for years.
have a history of resolving issues you've faced, such as removing credit report errors.
explain your options.
follow local laws.
Along with knowing what makes a service worthwhile, you should stay away from poorly run companies.
When looking for credit repair companies, check to see whether complaints have been filed against them. This can be done by reading online reviews, or for a more substantive review, check the Consumer Financial Protection Bureau complaint database for each of the companies you're interested in.
Also, check with your state attorney general's office and other state agencies to see if any complaints have been filed against the company you're researching.
Don't pay any upfront fees if a credit repair firm asks for it. The 1996 federal Credit Repair Organizations Act bans this practice.
Credit repair services are required to provide a written contract that includes consumers' cancellation rights. Don't take the contract lightly. Read all of the disclosures and don't set up an automatic deduction plan to pay for it.
Stay away if a company asks you to lie, suggests you create a parallel identity, or says it can remove legitimate negative information. Lying or making misleading statements about your credit history is illegal. If a company asks you to create a new credit profile with a new employer identification number instead of your Social Security number, don't do it.
Lastly, if a credit repair company suggests it can remove legitimate negative information from your credit report, it can't and may be doing something illegal on your behalf.
The best credit repair firm is Lexington Law mainly because of its excellent record of helping customers: An average of 10.2 negative items were removed from the credit reports of Lexington Law clients over a four-month period.
Most results of any credit repair law firm
Lexington Law Firm clients have seen more than 81 million removals from their credit reports since 2004
Get started today with a free online credit report consultation
Cancel anytime
| Better Business Bureau | In Business Since | Monthly Cost | Reputation Score |
| --- | --- | --- | --- |
| See BBB Listing | 2004 | $99.95+ | 8/10 |
It has a high success rate because of its personalized approach to helping people repair their credit. Lexington Law personalizes its services for people who are divorced or in the military, and for those who have certain student loan debt problems.
How Much Does Credit Repair Cost?
The services we recommend charge a monthly fee of between $80 and $140.
That can be money well spent if your credit score improves and you can then qualify for loans or credit cards at lower interest rates — especially if you're in the market for a mortgage. Hiring credit repair companies also saves you from having to do the work yourself and lets you spend your time doing something more profitable.
Disputing your credit history can be stressful and time-consuming. Many credit repair companies have been doing this type of work for years and know how to quickly remove items from credit reports that shouldn't be there.
However much you're charged, credit repair companies can't accept payment until after they've completed all the terms of the contract. If they say they'll remove certain things from your official credit report, they must do it before being paid an upfront fee.
How Long Does Credit Repair Take?
Depending on the complexity and number of issues to resolve, the credit repair process can take anywhere from a month to six months or more to be successful.
In general, you should give a credit repair service at least three months to resolve any problems because it can take that long for disputed items to be investigated. The more errors found on your credit report, and thus more disputes that need to be filed, the longer the process will take.
Some errors are easier to fix than others and won't take much time for credit reporting bureaus and creditors to resolve. If your address is listed incorrectly, a decimal point is off, or an incorrect name is listed on your account, then it should be easy to fix.
Other queries can take longer. By law, the credit bureaus have 30 days to respond when something on a credit report is challenged.
If the credit bureau doesn't agree with your challenge, you can go to the creditor, who also has 30 days to respond. The credit bureau then has another 30 days to respond after you provide information to your creditor.
Credit repair can also take a while because a credit repair company will need to contact all three consumer credit bureaus on your behalf. This is because not every item is reported to all of them, and one error may appear on Experian's report but not on TransUnion's.
It's worthwhile to review all three reports because when you apply for a loan, you may not know which credit report(s) the lender will pull.
Credit repair services will usually start with an initial consultation that lasts 30 minutes or so. After you authorize the company to pull your credit reports and make disputes on your behalf, it will probably need at least a month to get responses. You may need to provide more information or documentation as the cases progress.
Your credit repair service provider will keep you updated as each dispute is resolved.
Can Credit Repair Help with Identity Theft?
Identity theft can lead to all kinds of problems. Money can be stolen from your bank account, credit cards can be opened in your name and used, and even a tax return can be filed in your name — and the thief can get your refund.
Banks, credit card companies, and lenders may alert you to identity theft and fraud through alerts when they spot suspicious activity. Has your bank ever called, emailed, or texted you after you've made a large purchase on a credit card? That's one way to spot identity theft.
A credit repair agency can also help by reviewing your credit reports for fraudulent accounts. Some accounts may look legitimate at first, but upon closer inspection, it turns out they're not yours.
A slightly different spelling of your name, old address, or a bank you no longer have an account with may be listed as a new account. A credit repair firm can help you find identity theft on your credit reports and notify creditors that the accounts should be closed.
What's the Difference Between Credit Repair and Credit Counseling?
These two topics may sound similar, but there are major differences.
Credit repair companies improve your credit score by removing false information from your credit report. They do many things that you can do yourself if you want to do the work.
Credit repair companies write to credit bureaus on your behalf and have access to your credit reports, so it's important to hire a legitimate company that won't use your personal information illegally.
Credit counseling is a different animal. While credit repair companies may advise you on how to improve your credit, that isn't their main job.
Credit counseling, however, offers financial advice from trained professionals. Credit counselors work for nonprofit agencies to help people manage their money better so they can get out of debt.
The counselors don't do the work for you like a credit repair company will. Instead, credit counselors tailor their help to your unique situation and provide budgeting, credit, and other advice so you can get debt help.
When looking for credit counselors, the company should be willing to send you free information about itself and the services it provides without requiring you to provide any details about your situation. If not, it's time to move on.
Does Free Credit Repair Exist?
Yes, if you're willing to do some work. To start your own form of DIY credit repair, get copies of each of your free credit reports from the three nationwide credit reporting bureaus: Experian, Equifax, and TransUnion. Go to AnnualCreditReport.com for your free copies.
Federal law allows you to get one free copy of each report every 12 months. Because the credit reporting companies don't always have the same information, it can be smart to stagger your requests for copies so you get one report from a different credit reporting company every four months.
For example, ask Experian in January for your one free credit report. Ask Equifax in May, and ask TransUnion in September. Make the same requests every year.
A free credit report and score are also available from other credit report companies, but AnnualCreditReport.com is a good place to start. You can also buy reports directly from each major credit reporting bureau.
Some reports will have different information about you than others, which can result in different scores. Check them for errors, including misspellings, inaccurate addresses, accounts you don't recognize, and anything else that looks wrong.
The three major credit bureaus let you dispute inaccuracies on their credit reports by mail or online. You basically just give your contact information and explain what the error is and why it's wrong.
The Federal Trade Commission recommends also sending a dispute letter in writing about the item to the information provider. That could be your credit card company, for example, or a landlord who says you haven't paid rent in months.
The CFPB has sample letters and links to dispute forms that can be sent to the credit reporting agency, along with each bureau's address.
What About Credit Repair Scams?
Credit restoration is important, and you don't want to fall for a credit repair scam. If something doesn't look right, run away.
The Consumer Financial Protection Bureau (CFPB) recommends following the simple rule of "Don't pay upfront." According to this file from the CFPB website, "If the company uses telemarketing such that the Telemarketing Sales Rule applies, the company may not request or receive fees until it has provided you with a credit report generated more than six months after the promised results that shows the results."
This includes getting help from credit counseling agencies, credit monitoring services, and others that use telemarketing to help consumers manage debt. Consumers should also avoid companies that can't provide details about the services they're offering or the total cost of those services.
An obvious credit polish scam is if a company asks you to lie. It may ask you to invent a "new" identity by applying for an Employer Identification Number instead of using your Social Security number.
Another sign of a shady company is if it tells you not to contact any of the nationwide credit reporting companies. Seeking an Equifax credit report, Experian credit report, or TransUnion credit report on your own is within your rights and doesn't interfere with a repair company's work.
Remember that any credit polish attempt that sounds too good to be true probably is. Negative information can be removed from reports if it's inaccurate, but not if it's accurate and current.
If a credit services organization promises a specific increase in your credit score or guarantees a certain result, don't fall for it. Results can't be guaranteed — it simply takes time to repair a credit file.
Compare Credit Repair Services Online
Plenty of credit repair services can help you improve a bad credit score by finding and disputing errors on your credit reports. They will send a dispute letter on your behalf and keep you updated on the progress of each dispute along the way.
Be sure to shop for the service that best meets your needs, and read about each company online to see how they've helped other people and if any complaints have been filed against them.
A credit repair agency will review your credit reports and contact the credit bureaus to fix any errors for a monthly fee of between $80 and $140. This should raise your credit score fairly quickly, allowing you to possibly be approved for better loans at lower interest rates in the future.
You can take steps yourself and save some money with DIY credit repair, but be prepared to write letters or fill out online forms alerting the credit bureaus to the mistakes you've found. All of this starts by getting copies of your credit reports and poring over them for possible errors.
Advertiser Disclosure
BadCredit.org is a free online resource that offers valuable content and comparison services to users. To keep this resource 100% free for users, we receive advertising compensation from the financial products listed on this page. Along with key review factors, this compensation may impact how and where products appear on the page (including, for example, the order in which they appear). BadCredit.org does not include listings for all financial products.
Our Editorial Review Policy
Our site is committed to publishing independent, accurate content guided by strict editorial guidelines. Before articles and reviews are published on our site, they undergo a thorough review process performed by a team of independent editors and subject-matter experts to ensure the content's accuracy, timeliness, and impartiality. Our editorial team is separate and independent of our site's advertisers, and the opinions they express on our site are their own. To read more about our team members and their editorial backgrounds, please visit our site's About page.