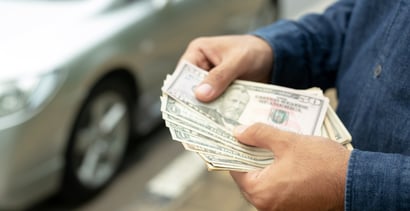 Unless your finances just won't allow for it, you should plan to put aside at least the minimum down payment needed to buy a car with bad credit. It's true that some dealerships will approve a loan without a down payment, but it's costlier in the long run.
Most dealers are looking for at least 10% or $1,000 down, whichever is less. This down payment can go a long way to mitigate your bad credit rating when it comes to getting your car loan approved.
Lenders | Approval Tips | FAQs
10% Can Help Approval Odds, But May Not be Necessary
While many dealers would prefer 20% down, a 10% down payment demonstrates your commitment to the car purchase. The dealer reasons that you will not want to risk losing your down payment (and your car) by defaulting on your loan. In other words, you have skin in the game.
A 10% down payment is also beneficial to the borrower. To start with, it can make the difference between loan approval and denial.
A down payment reduces the amount of money you need to borrow — or your loan-to-value (LTV) ratio — which means you'll have smaller monthly payments and a lower overall cost. Furthermore, you may qualify for a lower APR by putting down a deposit, giving you another way to save on your total expenditures for the vehicle.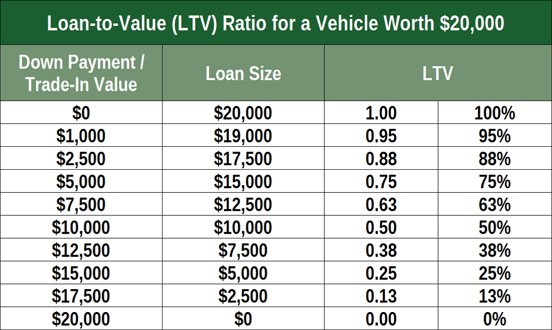 Another benefit is that the down payment may reduce or eliminate negative equity, which occurs when you owe more than the car is worth. Negative equity results from the extra costs associated with a car purchase, including fees, taxes, licenses, and immediate depreciation as soon as you drive the vehicle off the dealer's lot.
Negative equity is uncomfortable because you wouldn't be able to pay off your loan with just the proceeds from the sale of the car. Putting down 10% should be enough to protect you from negative equity when you buy a used car because a used vehicle experiences much less initial depreciation than does a new one.
Work with a Bad Credit Dealer to Further Increase Your Odds
Thankfully, many dealers recognize the significant demand for vehicles by consumers with bad credit. After all, bad credit can befall anyone under certain circumstances, such as high medical bills, uninsured losses, or legal fees, to name a few.
The three bad credit loan services reviewed below all provide access to car dealers who are committed to working with consumers who have bad credit. The lending services each have a network of such dealers and will match your loan request to one or more of them. You may then complete the application process with the recommended dealer and work out a deal that puts you into your next vehicle.
Network of dealer partners has closed $1 billion in bad credit auto loans
Specializes in bad credit, no credit, bankruptcy and repossession
In business since 1999
Easy, 30-second pre-qualification form
Bad credit applicants must have $1500/month income to qualify
| Interest Rate | In Business Since | Application Length | Reputation Score |
| --- | --- | --- | --- |
| 3.99% - 29.99% | 1999 | 3 minutes | 9.5/10 |
Auto loan amounts of up to $150,000
Prequalify in minutes without impacting your credit score
Refinancing loans save an average of $191 per month
125% financing available for cash-out refis
PenFed Credit Union membership required but can be applied for at the same time as your loan
| Interest Rate | In Business Since | Application Length | Reputation Score |
| --- | --- | --- | --- |
| 5.19% and up | 1935 | 5 minutes | 9.5/10 |
RefiJet helps people lower their monthly auto payment by an average of $150 a month*
Pre-qualifying for a refinance auto loan does not impact your credit score
Nationwide network of lenders
We present you with options from lenders that fit your situation
| Interest Rate | In Business Since | Application Length | Reputation Score |
| --- | --- | --- | --- |
| Varies | 2016 | 5 minutes | 9.0/10 |
All three services, Auto Credit Express, Car.Loan.com, and myAutoloan.com have many years in the car loan business and have matched many bad-credit consumers with cooperative dealers. For example, Auto Credit Express has helped close more than $1 billion in auto loans since its inception in 1999.
The dealer networks of all three loan services include members who will approve low- or no-down-payment deals. You will be automatically linked to one or more of the most appropriate dealers for your financial circumstances instead of having to manually search for the right dealer.
This tremendous convenience comes at no charge or obligation. The loan services make their money from the fees they charge dealers, not you. All the bad-credit dealerships offer affordable used cars they can sell to you at reasonable prices.
And compared with buying a car privately, dealerships inspect their vehicles and repair any significant problems before putting them up for sale.
4 Additional Tips for Buying a Car with Bad Credit
Bad credit need not prevent you from buying a car because you can take steps to improve your chances for credit approval. Here are some suggestions:
1. Use a cosigner: A cosigner with a good credit score should make it much easier for you to get a car loan. You and the cosigner will share responsibility for repaying the loan. If you miss payments, the lender will ask the cosigner to step in. Naturally, this could sour your relationship with the cosigner. But if you repay responsibly, you can improve your credit score as long as the lender reports your payments to one of the credit bureaus.
2. Trade-in your old vehicle: If you currently have a vehicle, you can trade it in and use the proceeds as a down payment for your next vehicle. Frequently, you'll find that dealers will value a car higher when used as a trade-in as opposed to simply selling the car to the dealership. If your vehicle needs some repairs, you may want to take care of these before trading it in because the cost of the repairs may be less than the amount the dealer will deduct for the damage.
3. Choose a less expensive vehicle: Consider buying an inexpensive used car as your next vehicle. Naturally, the less expensive the purchase, the easier it will be to receive financing. Many older yet reliable vehicles can be purchased at reasonable prices and provide many more years of service. By repaying the loan responsibly, you'll likely improve your credit score and find it easier to trade up to a newer vehicle later on.
4. Check your credit reports: Mistakes on the credit reports from the three major credit bureaus hurt your credit score. You can improve your score by disputing errors you find on your credit reports, which you can obtain for free at annualcreditreport.com. See our article for details on how to remove disputed items from your reports.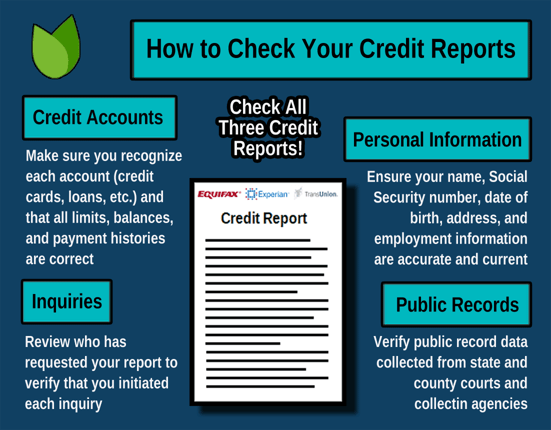 Each of these actions can help you obtain your next car, and combining two or more of these tips are likely to cinch the deal.
Can I Buy a Car without a Down Payment?
The three loan services in this review all work with networks of dealers that provide financing to consumers with bad or no credit. Some of these dealers will work with you to arrange financing even if you cannot afford to make a down payment on your purchase.
However, there are costs associated with this course of action. You will probably be offered a smaller loan than you could have received had you put down money.
In addition, don't be surprised if you are offered an APR higher than the one you'd get if you had made a down payment. The dealer is taking a bigger risk by approving your loan because, without a down payment, you have less to lose if you default on the loan. The higher APR helps compensate the dealer for this additional risk.
The dealer may also require you to make payments multiple times per month, often synchronized with your pay schedule. The dealer reasons that this will make it easier for you to make the payment before spending your paycheck elsewhere.
As mentioned earlier, using a cosigner can help you obtain your loan. This is true even if you don't make a down payment.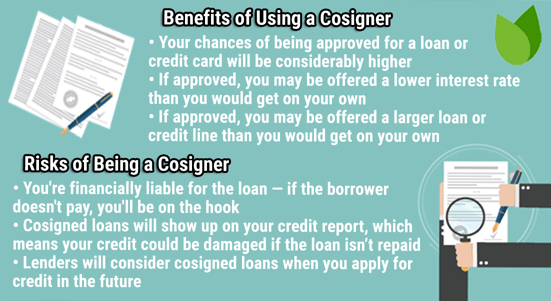 Depending on your relationship with your cosigner, you may be able to borrow the down payment from the cosigner on favorable terms. Borrowing a down payment may be necessary if you can't identify a dealer who will waive it.
What Credit Score Do Car Dealers Use?
The most popular credit score used by car dealers is the FICO Auto Score 8 (FAS8). This isn't surprising since FICO provides the most widely used credit scoring system, FICO 8.
FAS8 is an extension of FICO 8, augmented by two additional scorecards that use predictive variables appropriate to auto risk. The FAS8 scoring range is 250 to 900, compared to the 300-850 range for FICO 8. FICO notes the following improvements FAS8 provides:
Up to 15% better predictive modeling
Improvements for bad credit loan originations
Better classification of a borrower's riskiness
Auto score systems look for specific risk factors when calculating a score, including:
Limited credit history
Recent bankruptcy that included a car loan
Signs of financial distress
Previous missed payments on earlier auto loans
Previous collections on an auto loan
Previous vehicle repossessions
If you are getting ready to buy a car, you can check your FICO auto score by purchasing the FICO Score 1B Report, either on a one-time or continual basis. This report provides you your scores for several special-purpose scoring systems such as FAS8.
The report includes scores from earlier systems, namely FAS2, FAS4, and FAS5. Some dealerships use these older systems, especially FAS2.
Credit bureaus may also offer their own auto score systems. They differ from FICO FAS8 in several ways, including the use of trended data and different score ranges.
TransUnion provides CreditVision, which is geared to auto lenders and dealers. It has a range of 300 to 850 and predicts the chances that a borrower will fall 60-days delinquent during the first two years of an auto loan.
How Much Car Can I Afford?
A rule of thumb in the auto loan industry is that your total car expenses shouldn't exceed 20% of your monthly income before taxes. Car expenses should include your auto loan payments, gas, garage costs, and insurance.
However, there are many variations on this rule. For example, some say that your vehicle purchase shouldn't exceed 15% of monthly income for new car purchases, 10% for used car purchases.
Edmund offers a nifty car affordability calculator that we recommend. It provides you a car sticker price range based on your ZIP code and these parameters:
Desired monthly payment
Loan term in months
APR of the loan
Value of your trade-in, if any
Amount owed on your trade-in
Down payment
The calculator provides an affordable range of sticker prices. The sticker price is useful for identifying cars on the dealer's lot that you can afford. However, it is NOT the price you should pay.
There are many ways to arrive at a purchase price, but one I've often used is to subtract $300 to $500 from the invoice price. I've never had any trouble getting a dealer to show me the invoice.
Some online car review sites, such as Kelley Blue Book, offer suggested purchase price ranges for specific models in your area. Armed with these estimates, you can better evaluate the car offers made by the dealers on the reviewed loan service networks.
Although this may require a little extra work, it increases your chances of getting the best possible deal available in light of your credit score. Remember to factor in how many miles you expect to drive each year, as this will directly affect your gasoline expense.
Consider Saving a Few Hundred Dollars Before Applying
The recommended down payment needed to buy a car with bad credit is at least 10% or $1,000, whichever is less. A down payment of 20% is even better, but some dealers will offer you a car loan even without a down payment.
You can increase your chances of getting an auto loan by providing a trade-in or a cosigner. If you currently can't afford a down payment but have some leeway on when you can buy a car, consider saving at least a few hundred dollars that you can put down. Dealers are more likely to approve your loan if you put some of your own money on the line.
Advertiser Disclosure
BadCredit.org is a free online resource that offers valuable content and comparison services to users. To keep this resource 100% free for users, we receive advertising compensation from the financial products listed on this page. Along with key review factors, this compensation may impact how and where products appear on the page (including, for example, the order in which they appear). BadCredit.org does not include listings for all financial products.
Our Editorial Review Policy
Our site is committed to publishing independent, accurate content guided by strict editorial guidelines. Before articles and reviews are published on our site, they undergo a thorough review process performed by a team of independent editors and subject-matter experts to ensure the content's accuracy, timeliness, and impartiality. Our editorial team is separate and independent of our site's advertisers, and the opinions they express on our site are their own. To read more about our team members and their editorial backgrounds, please visit our site's About page.