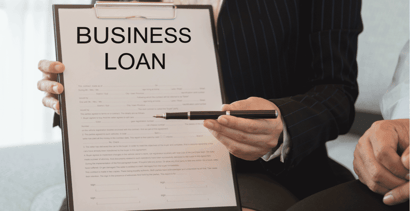 Many budding entrepreneurs turn to startup business loans for bad credit to help launch their new companies. It takes money to start a new business, and a small business startup loan is one of the few options available to a new business owner.
As we show in this article, bad or scant credit need not prevent today's nascent tycoons from obtaining business funding for their startups.
Personal Loans | Business Loans | FAQs
Personal Loans For Business Owners With Bad Credit
The owners of small startups often rely on online personal loans to help get their new businesses off the ground. The following six companies are lender-matching services that can connect you to lenders willing to work with you despite your bad credit profile. They can help you arrange a term loan that will provide the money you need to give your startup business the chance to succeed.
Of course, most startups require that owners and investors contribute some of their own money to establish an equity stake in the new business, but these lending services have no such requirement. To qualify for a loan from these matching services, you will have to show monthly income, whether from the business or elsewhere.
Remember, many small businesses take root on a shoestring budget and then grow into larger companies that enjoy ongoing success.
Short-term loans up to $5,000
Online marketplace of lenders
Funds available in as few as 24 hours
Simple online form takes less than 5 minutes
Trusted by more than 2 million customers
| Loan Amount | Interest Rate | Loan Term | Loan Example |
| --- | --- | --- | --- |
| Up to $5,000 | Varies | Varies | See representative example |
MoneyMutual works with a large network of direct lenders that can arrange a term loan of up to $2,500 that you can use to fund your business. To qualify for a loan, you must demonstrate at least $800 a month of income. You also must be a U.S. citizen, 18 years or older, with a checking account.
You may be able to borrow up to $10,000 from CashUSA.com that you can use for your new business. You will have to be at least 18 years old and show an income of at least $1,000 per month after taxes. In addition, you must be a U.S. citizen or permanent resident with a valid email address, phone number, and a checking account in your name.
BillsHappen can match you to a direct lender in less than five minutes for loans of up to $5,000 no matter what your credit score. You will have to be at least 18 years of age, a U.S. citizen or permanent resident, with a valid Social Security number, regular income, a home or cellphone number, and a valid checking account. If you accept a lender's loan offer, expect to receive the funds as early as the next business day.
The lending network that CreditLoan uses specializes in small loans (up to $5,000) for borrowers with poor credit. Loan requirements beyond owning a bank or credit union account are not specified on the CreditLoan website, but we expect it includes the customary items regarding age, citizenship, income, phone, and email account. The company has been arranging loans since 1998 and has helped more than 750,000 customers.
BadCreditLoans is one of the few lender-matching services that devotes space on its website to discuss business loans for bad credit, especially those for $1,500 or less. Requirements include having U.S. citizenship or residency, being age 18+, with regular income, a checking account in your name, and a valid phone number and email address. Upon approval from a lender, expect your business financing as soon as the next business day.
PersonalLoans.com can arrange loans of up to $50,000 to folks demonstrating a pattern of responsibility. You must be a U.S. citizen, 18+ years old, with a Social Security number, regular income, and a valid checking account. You typically cannot have any accounts more than 60 days late, active or recent bankruptcies, debt that cannot be covered by current income, nor any recently charged-off accounts.
Business Loans For Bad Credit
These three lenders specialize in business loans and revolving lines of credit that allow you to reuse credit as you need it. All three can get you business financing quickly even if you have a less-than-perfect credit history. These are real business loans that depend on the condition of your startup as well as your personal financial situation.
7. Fundbox

Fundbox is an alternative lender that can give you a revolving line of credit of up to $150,000, which you manage through your online account dashboard. To qualify, you must share information about your company, and you must connect your business checking account (and optionally your accounting software).
All startup funding is made by a traditional lender, First Electronic Bank, which is an FDIC-insured industrial bank chartered in Utah.
8. Kiva

Kiva is a nonprofit, peer-to-peer (P2P) crowdfunding platform that can help you find an interest-free loan of up to $15,000 for a term as long as 36 months. This alternative lender takes about half an hour to prequalify you, after which your loan request is posted on Kiva's portal reaching more than 1.6 million lenders.
You must be at least 18 years old, U.S.-based, not in bankruptcy, foreclosure, or under lien, and not engaged in multilevel marketing, direct sales, stock investing, or illegal activities.
9. Accion

Accion has been a nonprofit community lending partner to small businesses for more than 25 years. Startup funding varies in size starting as low as $300 with a wide range of fixed-rate APRs.
The company, which pays special attention to businesses owned by women and minorities, works with a traditional lender network of mission-based lenders, banks, nonprofits, and government agencies to help entrepreneurs succeed. You may find a credit union or two in the mix as well.
What is a Startup Business Loan?
When you're considering the launch of a new business, you'll need to overcome several hurdles, none more important than money. Generally, the mission of startups is to solve existing problems, and they do so with no guarantee of success. Perhaps they will be able to fill the potential demand for an innovative product or service, or for a cheaper or local alternative to existing offerings.
Whatever the motivation, a small business startup loan is an established way to infuse a cash flow into a new company. It is different from equity investments, which are essentially sales to investors of ownership shares that do not require repayment. Loans, including startup loans, must be repaid, but the terms otherwise vary widely.
For example, a nonprofit may make interest-free loans to local startups, especially ones that cater to economically disadvantaged neighborhoods. Commercial lenders may offer startup business loans featuring a wide range of APRs and repayment periods.
In a typical business loan (rather than a personal loan) the lender requires that you present your ideas for developing the company in the form of a business plan. But creating a business plan, while generally worthwhile for any new business, is hard work that requires a good deal of preparation and research. It also must disclose budgets, cash flow projections, economic assumptions, and many other types of information that the lender evaluates when deciding whether to approve the loan.
Many new business owners find it easier to obtain a personal loan rather than a business loan, especially if the business is not close to making a profit. You can use a personal loan for any purpose, and it doesn't require collateral to secure it — just your signature. Personal loans are much easier to get because the lender isn't evaluating your business, just your ability to repay.
How Do I Apply for a Business Loan?
This article spans two types of loans, each with its own application procedures.
The providers of personal loans in this review are online lender-matching services that follow a fairly standard procedure to prequalify consumers for a loan from a member of their direct lender networks.
You start by reading the descriptions we offer on each matching service and then click on the link to the one that seems the best fit for your circumstances. You'll then be directed to fill out a short loan request form, providing information about yourself and your home, job, income, expenses, and other basic data.
When you submit your request, the matching service will quickly see whether you meet the standard requirements regarding citizenship, age, income, and other personal details. If you are preapproved, the service will immediately transfer you to a lender on its network. You then complete the loan application form, which may be prepopulated with the data from your loan request form.
The lender should render a quick decision on whether to offer you a loan, and the rate and terms the offer will include. You may be given multiple loan options with varying loan amounts and terms.
If you wish to accept the loan (of course, you're under no obligation to do so), you sign a loan agreement and will receive the loan proceeds in your checking account within the next business day or two.
The application procedure for the three bad credit business loan providers we reviewed is quite different. While there may be a prequalification step, the actual unsecured loan application process is much more involved, although different from that for a secured business loan. The reason is that the lender is evaluating your business as a going concern, not you as the recipient of a personal loan.
To that end, the lender may require you to give it access to your accounting system and business checking account. It may also collect detailed information about your resources, plans, strategies, challenges, and other business-related factors. Each of these lenders has its own unique process that they will be happy to explain to you.
The end result is the same — loan proceeds are deposited into your checking account, either directly or via a check. But expect the process of getting small business financing to take longer than that for a personal loan.
Can I Get a Startup Business Loan With Bad Credit?
All the companies reviewed above specialize in lending to borrowers with bad credit. In some cases, the lenders don't even look at your bad credit score, but rather rely on different metrics, such as your debt-to-income ratio, the amount of money you have leftover after paying your bills each month, and the reliability of your income.
The extent of your access to a small business loan or personal loan may be conditioned, in part, upon your bad credit score. It would be naïve to think that a better score wouldn't improve your approval chances.
But the companies in this review work hard to justify a decision to approve your unsecured loan request, especially since it is not a secured business loan. They decide how much they can lend you, what interest rate and fees to charge, how long you'll have to repay the loan, and other loan features.
You can help your chances of loan approval by cleaning up your credit history before applying. If you want to do the work yourself, start by reviewing your three credit reports (from the TransUnion, Equifax, and Experian credit bureaus). You can get free copies of each bureau's credit report from AnnualCreditReport.com, the sole source of free credit reports authorized by federal law.
With reports in hand, comb through each one for transactions and accounts you don't recognize. You can challenge these by entering disputes on the credit bureau websites. If your challenge is upheld, the negative item will be removed, and your credit score should increase.

Alternatively, you can hire a credit repair company to do the work for you. Typical costs are approximately $90 to $150 per month, and cancellable subscriptions usually run for six months or more. The credit repair companies aggressively pursue questionable items on your reports, but they cannot guarantee that they'll find anything to correct.
Beyond repairing your credit reports, the two most important things you can do to boost your credit score are paying your bills on time and reducing your indebtedness.
If you have credit card debt, reduce your credit utilization ratio (i.e., total credit used divided by your total credit available) to less than 20%. Your debt-to-income ratio should be below 36% — if it's not, you need to take a sharp pencil to your monthly budget (you do have a budget, right?) and see how you can reign in your expenses.
You can take several other steps to improve your credit score. You'll find that a higher score will do wonders for your ability to land a personal loan that can fund your startup business.
How Can I Get a Business Loan With Bad Credit and No Collateral?
The personal loan services reviewed above all offer unsecured loans to folks with all sorts of credit scores, including bad credit. The question isn't so much whether you can get the loan, but rather what amount you'll be able to borrow. It's unrealistic to expect a personal loan of $10,000 or more if your credit is truly bad — $1,500 to $5,000 is probably a more realistic range.
It's a different story for true small business funding, such as that offered by the three providers reviewed above. It's hard to get an unsecured business loan without good credit. In addition, the Small Business Administration guarantees loans to startups, but these too require a good personal credit score, and the lender generally demands collateral.
Collateral need not be a specific item, like a home or car. There are two main types of non-specific collateral often used for a secured loan:
Personal guarantee: You as an individual guarantee that your business will repay the loan. This means the lender can attack your personal wealth if the business defaults on the loan. Some of your assets may be protected, but much depends on the state law that applies.
Blanket UCC lien: The lender places this type of lien on your business, giving it the right to pursue the assets of the business if a loan default occurs.
Don't sign any loan agreement until you fully understand the language governing collateral.
Can I Get a Business Loan With No Income?
Yes, it is possible to get small business funding with little or no taxable income. However, the lender will be looking for liquid assets that can secure the loan, such as cash and cash equivalents. You can also arrange business loans or invoice factoring that use your accounts receivable or inventory as collateral, as well as your personal property.
Besides invoice financing, you can consider a merchant cash advance. In a merchant cash advance, you repay a loan with expected credit card revenue.
Naturally, any lender needs assurances that you will repay a loan, especially if you cannot show business income. As described earlier, a lender can ask for a personal guarantee and/or place a blanket UCC lien on your business. The easier it is for the lender to turn secured loan collateral into cash, the greater your access to no-income business loans.
There are three types of no-income business loans:
Stated income, verified assets: Your business has some income, but not enough to secure the loan. Therefore, certain assets with verified values serve as collateral for the loan.
No income, verified assets: Your business generates no income, but you secure the loan with business and personal assets of verified value that serve as collateral.
No income, no assets: This is usually reserved for landlords who have reliable rental cash flows but lack assets.
While a no-income loan may, at first glance, seem appealing, consider the following possible disadvantages:
Higher interest rates to compensate the lender for greater default risk.
Limited loan amounts, even with a cosigner.
Short repayment periods (months, not years), and possibly more frequent payments.
Higher fees.
As for personal loans, we haven't come across any lenders that don't require some kind of monthly earnings or benefits (i.e., insurance, Social Security, annuities, required minimum distributions, trust funds, etc.). The lowest monthly income requirement that we have encountered is $800.
Can I Get a Business Credit Card With Bad Credit?
Unsecured business credit cards generally require a fair or better credit profile. If you have bad credit, we recommend you consider these two secured cards:
Wells Fargo Business Secured Credit Card: This card permits you to deposit as much as $25,000 to collateralize your credit line. You can earn rewards in the form of points or cash back, and up to 10 employee cards are available for free.
BBVA Compass Business Secured Credit Card: This card is secured by 90% of your BBVA savings account. You can earn tiered cash back rewards, but unfortunately, the card is available in only seven states. It provides free employee cards and accounting support.
If you can drive your credit score up into "fair" territory, you can consider the Capital One® Spark® Classic for Business. The card charges no annual fee and offers unlimited flat cash back rewards on every purchase. It also provides free employee cards with customized spending limits.
Can You Start an LLC With Bad Credit?
LLC stands for limited liability company, a business structure that protects the personal assets of a small business owner if the company were to default on its debt or be sued in court. To form an LLC, you may have to apply for an Employer Identification Number (EIN) from the IRS. You can apply online, by fax, by mail, or by phone if you are an international applicant.
You will need an EIN for a multimember LLC, but it is not required for a single-member LLC, which the IRS treats for tax purposes as a sole proprietorship identified by your Social Security number. A single person, such as a freelancer, can benefit from setting up a single-member LLC to gain limited liability protection.
You can start an LLC with any type of credit, or no credit at all. If the LLC contains two or more members, then by default the IRS will treat it as a partnership. However, if you file Form 8832, you can elect to be treated as a corporation.
Operating as an LLC brings certain advantages:
Separate credit rating: An LLC can have a credit score separate from that of a small business owner — this can be good or bad depending on the credit score of each. An LLC can go bankrupt without necessarily hurting the owner's credit score.
Less formality: You receive limited liability without the formality of a corporation, which must keep corporate minutes, schedule regular board meetings, and file annual reports. An LLC doesn't require regular meetings or much paperwork.
Flexible tax treatment: An LLC is a pass-through business (as is an S corporation), meaning it passes its income and expenses through to members and shareholders. In this way, the LLC doesn't have to file an income tax return, thereby avoiding double taxation. However, an LLC can elect to be treated like a C corporation and file corporate tax returns. In addition, active members can deduct the LLC's operating losses against regular income, which is not possible for a C corporation.
Allocations choices: Unlike an S corporation, an LLC allows the board to make special profit and loss allocations to members. An S corporation requires allocation on a percentage of ownership basis, and it is a different financing option.
Choice of accounting method: An LLC can choose either the cash or accrual accounting method. C corporations must use accrual accounting as their sole business financing option.
Trust usage: An LLC member can place its company interests in a living trust, which is problematic for shareholders in an S corporation.
Perpetual existence: Unlike a sole proprietorship, an LLC can outlive a business owner and allow an heir to continue running the company. In a partnership, a partner's death may cause the company to dissolve.
Easy transferability: A simple assignment allows an LLC to transfer its assets and accounts all in one step. In a sole proprietorship, each item must be transferred separately.
Easier capital acquisition: It may be easier to receive equity contributions or loans as an LLC compared to a partnership in which the investor does not seek to be a partner.
Before you choose the LLC route, consider these disadvantages:
Startup costs: It costs a little money to start up an LLC, as a sole proprietorship or partnership can be started for essentially no money.
Payroll tax payments: A single-member LLC treated as a sole proprietorship must pay Social Security and Medicare taxes on earned income. An S corporation can reduce these payments by treating some earned income as dividends. Also, in a noncorporate LLC, owners are personally liable for unpaid payroll taxes. In a C corporation, only directors and officers carry this liability.
Immediate profit recognition: A noncorporate LLC requires immediate recognition of revenues, triggering a tax liability. A corporation can postpone recognition until it pays dividends, thereby allowing shareholders to defer taxes on profits.
Higher state taxes: Some states sock LLCs with higher taxes and fees as compared to the taxes a corporation must pay.
Taxable fringe benefits: An LLC employee must treat fringe benefits (such as medical reimbursement plans, life and health insurance, parking, etc.) as taxable income, which is not true for C corporation employees.
With so many considerations, it's a good idea to confer with your tax expert or financial advisor before deciding whether and how to set up an LLC.
What is the Minimum Credit Score Needed For an SBA Loan?
It's important from the outset to understand that the Small Business Administration isn't a direct lender. Instead, it guarantees the loan or cash advance made by nonprofit community-based organizations registered as SBA lenders. These lenders set many loan requirements, including a minimum business credit score.
While there is no official minimum score, it typically is in the 620 to 680 range. However, the necessary score depends on which SBA program you use. All the programs involve long-term, low-interest small business financing that acts as a business cash advance that can be used for practically any business purpose.
For startups, the SBA Microloan Program is probably one of the more appropriate loan options. You can borrow up to $50,000 with a minimum business credit score of around 620. Lenders in this program usually require that you secure the loan amount with collateral and provide the lender with a personal guarantee to repay the loan or cash advance.
You can use the loan proceeds from this program as working capital to purchase supplies, inventory, furniture and fixtures, equipment, and machinery — but not to repay existing debts or buy real estate. The maximum term for an SBA Microloan is six years.
You can expect to pay between 8% and 13% interest on an SBA Microloan. The exact repayment terms hinge on several factors, including the size of the loan, how you plan to use the money, and the lender's requirements. You may have to undergo business training before you are allowed to apply for an SBA Microloan.
Do SBA Loans Check Credit?
The SBA itself does not check credit. That task is left to the lenders that participate in SBA loan programs, who will usually perform a hard credit check as part of their loan application process. In addition, you can expect the SBA lender to ask you to provide the following:
Your personal resumé and financial statement
Business year-end profit and loss statement
Up to three years of tax returns
A business license
You can identify an SBA lender that is appropriate to your needs through the SBA Lender Match, a free online tool for small businesses.
Can I Use My EIN to Get a Loan?
Only a business entity can apply for a loan using an Employer Identification Number. An EIN won't help you to get a personal loan to fund your business — you'll need to provide your Social Security number instead. In fact, it's illegal to apply for a personal loan using your EIN.
Business loans also require you to provide state incorporation and licensing documentation. You may be required to provide your Social Security number in addition to your EIN. If you use one of the online bad credit business loan providers reviewed above, you'll be given explicit instructions about what information you'll need to apply for your business cash advance.
The online personal loan matching services reviewed in this article will ask for standard information to prequalify for a loan, including your income and expense information, but not your credit score. The direct lenders on the matching services' usually collect additional data, including your credit score, as part of their underwriting process.
Launch Your Startup With Business Loans For Bad Credit
Our review of startup business loans for bad credit is a great place to begin your quest to fund your new company. We've shown you two ways to proceed — through a personal loan via a lender matching service or by applying to an online business loan provider.
Whichever route you choose, you'll benefit from first reviewing your credit reports for erroneous and incomplete information. By removing inaccurate negative information from your reports, you may be able to boost your credit score and significantly improve your access to bigger loans on better terms.
Advertiser Disclosure
BadCredit.org is a free online resource that offers valuable content and comparison services to users. To keep this resource 100% free for users, we receive advertising compensation from the financial products listed on this page. Along with key review factors, this compensation may impact how and where products appear on the page (including, for example, the order in which they appear). BadCredit.org does not include listings for all financial products.
Our Editorial Review Policy
Our site is committed to publishing independent, accurate content guided by strict editorial guidelines. Before articles and reviews are published on our site, they undergo a thorough review process performed by a team of independent editors and subject-matter experts to ensure the content's accuracy, timeliness, and impartiality. Our editorial team is separate and independent of our site's advertisers, and the opinions they express on our site are their own. To read more about our team members and their editorial backgrounds, please visit our site's About page.