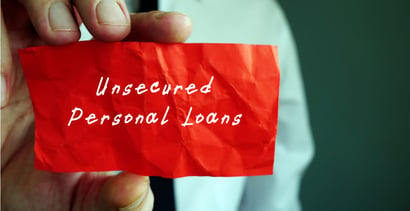 The popularity of unsecured personal loans for bad credit has surged in recent years, thanks to fintech platforms. Unlike loans for cars, homes, or education, you can use the proceeds of a personal loan any way you choose.
That makes an unsecured personal loan a popular way to fund home improvements, consolidate debt, or cover the costs of an emergency. And you won't need to risk your valuable items as collateral to get a personal loan from our favorite options listed below.
Even with bad credit, these loans provide an affordable way to get the money you need.
Best Unsecured Personal Loans for Bad Credit
Whether you need to fix your car, pay medical expenses, or slap a fresh coat of paint on your home, a personal loan is a great tool for getting things done.
Most of the options below are installment loans, meaning you repay your debt through a series of equal monthly payments. This helps make a bad credit loan more affordable for most consumers.
And with the online lending networks listed below, you can submit a single loan request to each network, and it will be forwarded to every direct lender that partners with the network. If you qualify, you could receive multiple loan offers within a matter of minutes and have money in your checking account or savings account within one business day.
Short-term loans up to $5,000
Online marketplace of lenders
Funds available in as few as 24 hours
Simple online form takes less than 5 minutes
Trusted by more than 2 million customers
| Loan Amount | Interest Rate | Loan Term | Loan Example |
| --- | --- | --- | --- |
| Up to $5,000 | Varies | Varies | See representative example |
MoneyMutual maintains one of the largest lending networks on the internet. Within minutes of submitting your loan request, you could receive multiple short-term loan offers with a competitive interest rate, monthly loan payment, and loan term.
Be sure to study each offer carefully, as some may be more affordable than others. Don't just go with the offer that has the lowest monthly payment — as that often happens when a lender extends your loan term, which increases the amount you'll pay in interest over the life of the loan.
CashUSA.com not only offers affordable short-term loan options of up to $10,000, but the network also provides all consumers with free financial education modules to make sure you choose the best loan option for your needs and budget.
Applicants must be 18 years old and a U.S. citizen or permanent resident to qualify. Applicants must also have a checking account in their name, an income of at least $1,000 a month, and be able to provide an email address and work and home phone numbers.
BillsHappen® is a relative newcomer to the online lending network game when compared to others on this list. But don't take the network's age for granted. This robust network partners with many lenders that work specifically to find loan options for consumers who have bad credit.
And these lenders can process your loan request quickly if you need money fast. In most cases, you'll receive your borrowed funds within one business day. Some lenders can add expedited processing to your loan to get you money instantly for an additional fee.
CreditLoan.com may be the option for you if you don't need a large loan to fund your next project. The lenders associated with this network will consider applications for loans as small as $250 and can fund approved loan packages within 24 hours.
You'll potentially receive multiple loan offers moments after you submit your initial loan request. Once you accept an offer, the lender's website will guide you through the rest of the quick and easy process.
As you may expect from the name, BadCreditLoans.com specializes in curating loan packages for consumers who have a bad credit score. The network even goes so far as to claim that it often accepts applicants who cannot find loans elsewhere.
The amount you qualify for, your interest rate, and your repayment term will vary based on each lender's qualifications. Depending on how bad your credit is, you may receive both secured and unsecured personal loan offers.
PersonalLoans.com maintains two separate networks — one specializes in bad credit personal loan options and the other works with consumers who have good and excellent credit. While there is no minimum credit score for a bad credit personal loan, not all applicants will qualify.
If you qualify for a loan offer, the lender you work with will require a full credit check before finalizing your loan. You can complete your official loan paperwork in less than one hour and receive your funds by the next business day.
CashAdvance specializes in payday loan options that require repayment in full — including interest — within 15 to 30 days. This single payment stipulation disqualifies these as installment loans. Your payday lender will set the repayment terms at the time it issues the loan.
Just remember that these loans can get incredibly expensive if you're unable to pay off the debt on time. Only use a cash advance loan as a last resort, and make sure you have a rock-solid budgeting plan to satisfy the debt without extending your repayment term.
What is an Unsecured Loan?
There are two main types of loans — secured loans and unsecured loans. An unsecured loan does not require collateral for approval, whereas a secured loan does.
Popular secured loan options include an auto loan, a home loan or home equity loan, or a title loan. Your car or home is the collateral in these loan agreements.
If you default or stop making payments on an auto loan, the lender can repossess your car. A bank can foreclose on your home if you don't repay your mortgage debt.
Unsecured loans are often referred to as signature loans. The most common unsecured loan is a personal loan. Lenders are a bit choosier with who they offer these loans to because they have little recourse if you don't repay the debt.
When a borrower stops making payments on an unsecured loan, the lender will charge-off the debt and sell or transfer it to a collection agency. The debt buyer then owns the debt and will call, email, text, or use other methods to contact you for up to seven years or until you repay the loan.
Most consumers find these loans attractive because they have no upfront cost and few strings attached as to how they can use the proceeds of the loan. A student loan or a debt consolidation loan, for example, are types of unsecured loans.
All the online lending networks listed above offer unsecured personal loans for bad credit. This means that you can apply for a loan at any time of the day or night and get an approval decision within minutes.
If you're approved, you could receive multiple unsecured personal loan offers to choose from. Each offer will have a unique personal loan interest rate, monthly loan payment, and loan term, so make sure you choose the loan option that best suits your needs and budget.
What Can I Use a Personal Loan For?
Personal loans have no restrictions on how you can use the money you borrow. A personal loan through the lending networks listed above will deposit cash into a linked checking account or savings account. What you do with that cash is totally up to you.
This is different from many secured loans you take out for a specific purpose. An auto loan, for example, pays out directly to the dealership or private party that sells you a vehicle. And you never actually hold the proceeds from a home loan; the money is paid directly to a broker who pays the seller and anyone else who is owed money from the sale.
Banks and independent lenders try to avoid risk as much as possible. That means declining any loan applications that they consider to be high risk.

With no collateral in place, a bad credit personal loan is one of the riskiest loans in the financial marketplace. As a result, most of these loans come with lower loan amounts and a higher annual percentage rate. You may also have to pay an origination fee or other charges to an online lender or hometown bank or another lender.
You may find better deals by accepting a secured loan and sticking to a budget that allows you to make on-time payments without risking your collateral.
If you know for sure that you can repay your debt in full and on time, a secured personal loan may be your cheapest option. But if you want to maintain the flexibility of an unsecured loan, you may find affordable loan options with competitive rates when you submit a loan request to the lending networks above.
Can I Get an Unsecured Loan With Bad Credit?
Your best bet to qualify for an unsecured personal loan for bad credit is to apply through an online lending network.
These networks each partner with several direct lenders, many of which specialize in helping consumers with poor credit scores. These networks are specifically designed in a way to help borrowers get the best loan possible.
This starts by allowing you to submit one loan request form that the network forwards to all its partner lenders. This means you don't have to waste time filling out dozens of loan applications and risk damaging your credit score.

Then, when the lenders receive your loan request, they may choose to send you a loan offer. Since you could receive multiple loan offers to choose from, each personal loan lender is incentivized to offer the most competitive annual percentage rate and loan term possible.
Another perk is that the network only partners with lenders that can move fast to fulfill their end of the loan obligation. You can submit a loan request at any time of day or night and get a loan decision within minutes thanks to automated underwriting software.
Once you choose a loan offer you like, the network will forward you to the lender's website where you can complete the loan paperwork. This is all an automated process that you can do at any time.
Loan processing happens during regular business hours, so you may have to wait until the next business day if you apply on a weekend or holiday. Once the loan processing is complete — which usually takes less than an hour — the lender will forward your money to a linked checking account or savings account. You should have access to the funds within one business day.
The entire loan process is substantially shorter than it was just a few years ago when the back-and-forth of completing loan paperwork and approving applications could take days to finalize.
How Do You Qualify For an Unsecured Loan?
Qualifying for an unsecured loan is not much different from qualifying for any other loan. Your loan application will require similar information and you will need to provide proof of employment and income if the lender requests it.
You can opt through many lenders to prequalify for a loan before you officially apply. This process requires you to submit a short loan request form that takes only a few minutes to complete. The form will ask for your name, Social Security number, address, phone number, email address, income information, loan amount, and the purpose of your loan.
The network will forward this information to all of its partner lenders. The lenders will use your Social Security number to conduct a soft credit pull under your name. This process takes a matter of seconds and will not harm your credit score.
A soft credit pull gives the lenders access to a modified version of your credit history. It provides the lender just enough information to decide whether you may qualify for a loan. If they determine you do, you can choose to officially apply for the loan.
This will require a full loan application that repeats the same information as the first form and may add more details. These could include more detailed employment information, a breakdown of your current monthly debt obligations, and your recent address history if you've moved in the last two years.
The lender will then process a full credit check that will leave a hard inquiry on your credit report. This only takes a few minutes and should result in a near-instant credit decision.
Keep in mind that prequalifying for a loan does not guarantee that you will receive the loan when you officially apply. On rare occasions, the lender may see something on your credit report that was not present on the modified credit pull. This could negate your ability to qualify for the loan.
A prequalification typically only stands for 30 days, as your lenders could report new information to a credit bureau in that time that changes your credit score.
If you're still approved for your loan after the full credit check, the lender will supply you with legal paperwork that you need to fill out and sign to complete the loan process. This typically takes one hour or less and does not require you to be present at a loan office.
Once you've submitted the paperwork, the lender will initiate a funds transfer to your linked checking or savings account. This will put the loan proceeds in your account within one business day.
You will never have to pay a fee for using an online lending network. The network will also never collect your monthly payment. You'll only interact with the direct lender after you're transferred to its website.
What is the Minimum Credit Score Needed For a Personal Loan?
Lenders don't typically have a minimum required credit score that you need to achieve for loan approval. That's because your credit score is just one facet of what's considered on your application.
For example, someone may have a good credit score, but a lot of debt that would make it difficult to cover another monthly payment. In that case, the consumer would most likely not receive the loan.
On the other hand, a consumer may have bad credit, but a recent string of good payment history and few debts that require monthly payments. If this consumer can prove that he or she has the monthly income to afford the loan repayment plan, then there's a good chance of approval.
Since an unsecured personal loan comes with no collateral, you have to overcome a bad credit score by proving to the lender that you can afford the monthly payment. After all, obtaining a loan — regardless of your credit score — is all about gaining the lender's trust.
In addition to your credit score, the lender will look at several factors to determine approval. These include:
Your employment history: You will look more responsible to a lender if you have a long time on your current job. Someone who jumps around from job to job every few months may have trouble maintaining employment long enough to repay their debt.
Your address history: This may not seem like a big deal, but lenders raise a red flag if you move often. Banks like stability. Plus, if you stop making payments on your loan, a lender wants to feel comfortable that it can find you at the address you list on your application.
Your payment history: Lenders expect consumers who have bad credit to have several financial mistakes on their credit report. But it's the age of those mistakes that could make or break your approval chances. For example, your credit score could be held down by a bankruptcy or late payments from a few years ago. If you have a clean payment history since those old mistakes, the lender could have leniency when considering your application. But if you have a settled bankruptcy case from last month, or late payments during each of the last three months, a personal loan lender will likely reject your application for fear of becoming part of a trend.
Your current obligations: Most of us have to make a monthly mortgage or rent payment for our home. Approximately 44% of Americans also make at least one monthly car payment. You may also have credit card debt or loan payments or other monthly obligations that eat away at your income. If the total amount of your payments is too close to your total income, a lender will likely reject your application for fear that you cannot afford another payment. But if you have a nice cushion between the two, you may have success — despite a bad credit score.
You can overcome your poor credit by showing a lender that you're responsible and ready to take on the loan you're applying for.
Many lenders — especially those affiliated with the lending networks listed above — specialize in small personal loan packages for bad credit borrowers. They expect to see some negative items on your credit history. But you can compensate for those past mistakes by proving that you've turned a financial corner.
Will Accepting a Loan With Bad Credit Affect My Credit Score?
Approximately 30% of your credit score accounts for the total amount of money you owe. The more debt you have, the lower your credit score. When you add a new personal loan to your credit report, it increases your overall debt and may slightly lower your credit score.
But don't fret — with responsible behavior, you could experience much greater gains that will outweigh the loss of a few points.

Your payment history accounts for 35% of your FICO credit score. When you pay your loan on time, you could push previous late payments further down your credit report, which will give your credit score room to grow.
Another 10% of your FICO score accounts for your credit mix. Lenders like to see that you can responsibly handle different types of credit. This includes credit card debt, personal loan debt, a mortgage, an auto loan, or a student loan.
If you do not already have an active personal loan on your credit file, your new loan will diversify your credit mix and could help increase your credit score once you establish a track record of on-time payments.
The points you may lose from your credit score shortly after adding a personal loan to your credit report will also disappear over time as you pay the loan down. Since you lost those points because you added more debt, it's only right that you gain them back as that debt becomes smaller.
You may also experience the loss of a few points due to your new loan if you already have an excessive number of hard inquiries on your credit report.
A lender leaves an inquiry on your credit report whenever you approve a full credit check under your name. This inquiry only shows that you applied for credit and does not state whether you were approved or denied or how much credit you applied for.
An inquiry will live on your credit report for two years. Once you exceed three inquiries on your credit report, your credit score could take a slight hit. That's because lenders view anyone with excessive loan applications as desperate for credit.
If you already have several inquiries on your credit report, the application for your personal loan could add to that number and cause your credit score to drop slightly, but inquiries only affect credit scores for up to one year.
Do Personal Loans Require a Credit Check?
In most cases, an unsecured personal loan will require a credit check for approval. Some secured personal loan options will not require a credit check.
An unsecured loan has no collateral to act as security for your loan. If you stop making payments, the lender has no recourse other than transferring or selling the bad loan to a collection agency for pennies on the dollar.
To reduce their exposure to risk, most lenders will require that you agree to a credit check before you're approved for this type of loan.
Most payday loan centers do not require a credit check as long as you can show proof of income. This is a form of secured loan because you use your next paycheck as collateral. If you do not repay your loan, the lender can place a lien on your next paycheck.
While you may find these loans more convenient because they skip your credit check, you should think twice before accepting a no-credit-check personal loan. These financial products often charge an origination fee and very high interest rates. They're incredibly expensive loans that often lead to loan rollovers.

Case studies in specific states show that nearly half of the consumers who accept payday loans end up in default. When that happens, the amount they repay can increase dramatically. Some consumers have accepted payday loans of $2,500 and had to repay more than $50,000 in debt because of the default fees and penalties.
Even if you have bad credit, you may still find the personal loan you need through the online lending networks listed above. If you think your credit score is too low and you go with a loan that skips the credit check, you may end up with far more debt than you planned.
What's the Difference Between a Secured and an Unsecured Loan?
A secured loan requires collateral or a deposit that secures your loan in case of default. Lenders often reserve these loans for consumers who cannot qualify for an unsecured loan. Unsecured loans do not require collateral for approval.
A secured loan is like the deposit you make when renting an apartment. When you rent an apartment, the landlord requires a cash security deposit. If the home is in good shape when you move out, the landlord returns your deposit. If you trash the place, the landlord keeps your deposit to pay for repairs. If the repairs cost more than your total deposit, the landlord could sue you for the extra money owed.
The same goes for a secured loan, but instead of a cash deposit, you use an item of value to secure the loan. An auto loan is a form of secured loan because it uses the financed vehicle as collateral. If you pay the loan in full and on time, you keep the vehicle, and everyone is happy. If you stop making payments, the lender can repossess the vehicle and sell it to recoup the money lost in the bad loan.
And just like the landlord, the lender can sue you for money owed if the sales price of the vehicle is less than the loan amount.
Other types of risky secured loans include auto title loans and pawnshop loans. A title loan is secured by the vehicle's title. If you stop making payments, the lender can repossess your car. A pawnshop loan uses a pawned item as collateral. When you repay the debt, you can reclaim your item.
These loans are traditionally easier to obtain since the lender can recoup its money by seizing something of value if you default on your debt.
An unsecured loan does not require a deposit or collateral for approval. Instead, the lender will review your credit score, income information, and payment history to decide whether you can qualify for this trust-based loan.
But even if you have a bad credit score, you can still qualify for an unsecured loan. Lenders that specialize in these types of loans often charge a higher interest rate or other fees added to the loan to offset the inherent risks.
In short, the extra fee income is just enough to tempt a lender to offer an unsecured loan to someone who has a poor credit history.
Thankfully, most personal loan lenders will also report your balance and payment history to the three major credit bureaus. This means you can rebuild your credit score by making on-time payments and reducing your balance over time.
Why Are Personal Loans Also Called Installment Loans?
Personal loans go by several different names, including installment loans and signature loans. A personal loan can be a type of installment loan because it allows you to repay your debt through a series of monthly payments — or installments.
A personal loan is also called a signature loan because it does not require a deposit or collateral for approval. Instead, you use your signature on a legal document to promise that you will repay the debt.
Installment loans are popular financial products because they allow you to borrow a large sum of money and repay the debt in smaller increments that include interest charges. You can also typically repay these debts early with no prepayment penalty.
Installment loans vary in several ways. Some lenders offer small, short-term loans of $100 or $200 that allow you to repay the debt over three months. Some lenders offer large personal loans or business loans that can climb into the millions of dollars and provide years to repay the total amount borrowed.

While many lenders extend installment loans to applicants who have bad credit, you may find that your options become limited based on your credit history.
For example, you may only qualify for a small, short-term loan if you have very bad credit. As your loan amount increases, you should also expect your finance charges to also increase.
Some short-term loans, such as payday loans, are not installment loans. That's because these loans do not allow you to make payments toward reducing your debt. Instead, you will repay your loan in 7 to 30 days with one lump-sum payment that includes all of your principal and interest charges.
What Are the Average Loan Interest Rates For Someone Who Has Poor Credit?
The interest rate you're offered is totally up to the lender and is determined by several factors beyond just your credit score.
First is the current state of your credit score. There are different levels of bad credit. Someone with a credit score below 500 may not qualify for a personal loan, whereas someone with a score of 620 will likely get a better interest rate than someone who has a score of 580.

Your personal loan rate will also depend on the amount you're borrowing and the length of your loan. Shorter loans may charge a higher interest rate to make the loan profitable for the lender.
BadCreditLoans.com, for example, partners with many lenders that offer personal loans for consumers who have bad credit. Its loans charge interest rates that can range between 5.99% and 35.99%.
Personal loans for consumers who have good credit tend to charge interest rates in the 5% to 8% range. This is a substantial difference when compared to a loan with a high-end 35.99% rate.
Consider a $2,000 loan with a 36-month repayment window. If you get this loan with a 5.5% interest rate, you'll have a $60 monthly payment and pay $174 in total interest charges by the end of the loan.
That same loan with a 35.99% interest rate requires a $92 monthly payment and racks up $1,297 in interest charges over 36 months. That's $1,123 more in finance charges for the bad credit borrower.
Can You Get a Loan if You're Unemployed?
Some lenders will consider your personal loan application if you're unemployed. This is because most lenders accept income from sources other than employment.
When you apply for a loan, the lender or bank will require you to list your total current income. This is one factor the bank uses to decide whether you make enough money to repay the debt you're applying for.
Most people think of income only as money earned from employment, but this isn't always the case. You can also list non-traditional forms of income that include government benefits, Social Security income, retirement plan income, annuities, investment profits, structured settlement income, student aid, alimony payments, or child support payments.
Even if you have regular employment, it can only help if your application includes any of these other sources of income that you may receive. When you increase your income, you also increase the odds that a lender will accept your loan application.
How Much Income Do I Need to Get a Personal Loan?
The amount of income you need to qualify for a personal loan will depend on the amount of your loan. After all, a $10,000 loan will require the borrower to have more income to cover the monthly payment than a $500 loan will.
To get a better idea of the income requirements for bad credit personal loans, let's look at the rules set forth by some of the online lending networks listed above:
MoneyMutual: Applicants must provide proof of employment and an income of at least $800 per month.
CashUSA.com: Applicants must provide proof of at least $1,000 in monthly after-tax income.
PersonalLoans.com: No minimum income requirement, but applicants must have no debt that can't be covered by his or her current income.
Keep in mind that your income must also cover your current debts, in addition to the new personal loan. If you meet the income requirements stated above, you may still not qualify for a loan if you currently have a high debt-to-income ratio.
As we learned in the question before this, you can improve your application's stated income if you have other sources of regularly occurring income — including government benefits, Social Security income, rental properties, retirement plan income, annuities, investment profits, structured settlement income, student aid, alimony payments, or child support payments.
Some lenders will even accept unemployment checks as a source of income for short-term loans.
Compare Unsecured Personal Loans for Bad Credit Online
You're not the first person to make financial mistakes — and you certainly won't be the last. For as long as there have been credit scores, some consumers have had bad credit scores.
Thankfully, many online lenders, like those affiliated with the networks listed above, understand that mistakes happen and offer unsecured personal loans for bad credit.
With one of these loans, you can borrow a sum of money and repay it over time through a series of monthly payments. These loans are easier on your budget and typically more affordable than pricey loans that skip the credit check or force you to use your personal valuables as collateral.
By sticking with the listed online lending networks, you can connect with a lender that understands your unique credit situation and can provide you with a personal loan that puts cash in your bank account and helps you rebuild your credit with responsible use.
Advertiser Disclosure
BadCredit.org is a free online resource that offers valuable content and comparison services to users. To keep this resource 100% free for users, we receive advertising compensation from the financial products listed on this page. Along with key review factors, this compensation may impact how and where products appear on the page (including, for example, the order in which they appear). BadCredit.org does not include listings for all financial products.
Our Editorial Review Policy
Our site is committed to publishing independent, accurate content guided by strict editorial guidelines. Before articles and reviews are published on our site, they undergo a thorough review process performed by a team of independent editors and subject-matter experts to ensure the content's accuracy, timeliness, and impartiality. Our editorial team is separate and independent of our site's advertisers, and the opinions they express on our site are their own. To read more about our team members and their editorial backgrounds, please visit our site's About page.