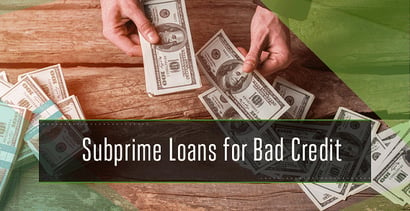 Some of the most commonly used jargon in consumer credit is that which describes products designed for consumers of certain credit types. For example, consumers with good credit scores are often called prime consumers.
Outside the prime range are the two credit extremes: people with excellent credit, or superprime consumers, and people with bad credit, called subprime consumers.
A credit score that falls in the subprime range can make it harder to obtain new credit, as well as make the credit you can obtain more expensive. But, while limited, credit opportunities do exist for subprime consumers. Keep reading for our take on some of the best options for subprime loans available today, whether you're looking for a personal loan, auto loan, or mortgage.
Getting a Personal Loan With Bad Credit
Personal loans are some of the most versatile credit products available, as they can be used to fund just about anything, unlike auto or home loans, which must be used for their named purposes.
Most personal loans are unsecured loans, meaning they're not secured by any form of collateral, so you generally won't need a down payment to obtain a personal loan. At the same time, unsecured loans are harder to qualify for than secured loans, especially for subprime consumers.
Top Subprime Personal Loan Providers
The best way to improve your chances of being approved for a personal loan when you have bad credit is to focus on loans from lenders that specialize in subprime loans. While the rates will typically be higher than those for prime loans, subprime lenders tend to have much more flexible credit requirements.
While options for unsecured personal loans can be limited, you should still compare rates and fees to get the best deal. An online lending network, like our expert-rated picks below, can offer an easy way to see multiple loan quotes without the need to fill out multiple applications.
+See More Subprime Personal Loan Providers
How Personal Loans Work
Given that they can be used for nearly any financing need, personal loans are often some of the simplest loans to acquire — although not always the easiest, especially with subprime credit. In most cases, you won't need to provide collateral or jump through other such hoops to qualify.
However, you will still need to fill out a loan application and go through a credit check to get most personal loans.
During the application process, you'll be required to provide basic personal details, like your name, address, and date of birth, as well as employment information, including your monthly income and length of current employment.
If you choose to use an online lending network to find a personal loan, you'll be presented with eligible loan offers after submitting your application. The exact number of offers you receive will vary by network (and you're not guaranteed any loan offers).
Once you select a loan offer — either through a network or from a direct lender — you'll be presented with the formal loan agreement. The loan agreement will lay out exactly how much you're borrowing, the fees you'll be charged to borrow it, and when and how much you'll need to make payments.

The type of personal loan you choose to take out will dictate your fees and repayment terms. Personal installment loans are more affordable and have longer loan terms, while short-term personal loans can be easier to obtain but cost much more and have much shorter terms.
For personal installment loans, your interest fees will be based on the loan's APR and the length of your loan. Installment loans usually are repaid via small monthly payments over the course of the loan term.
Short-term personal loans charge finance fees based on the size of your loan — e.g. $20 for every $100 borrowed — and typically have terms of six months or less. You'll be required to repay your short-term loan as a single lump sum on the due date, which includes the full principal and fees.
Getting an Auto Loan with Bad Credit
Auto loans are generally the best way to finance a new or used vehicle purchase, offering the lowest rates for these purchases in most circumstances. Many auto loans are secured by the automobiles they finance, making them easier to obtain than some unsecured loans.
Keep in mind that this typically excludes motorcycles and recreational vehicles, like ATVs and RVs, as many auto lenders don't cover these types of automobiles, particularly subprime auto lenders that cater to borrowers with poor credit.
Top Subprime Auto Loan Providers
Although it is possible to find subprime auto financing through a bank or credit union, many subprime consumers will likely have better luck getting financed through the dealer from whom they purchase their vehicle.
An easy way to connect with dealers in your area who will work with your credit situation is to use an online lending network, like our options below. With dozens of dealer partners, online networks can help you find and compare auto loans with one simple form.
+See More Subprime Auto Loan Providers
How Auto Loans Work
The auto loan process will vary based on the origin of your loan. If you choose to go with a direct lender, such as a bank or credit union, you'll typically need to have your vehicle picked out before you apply for the loan.
If you decide to use an online dealer network to find a local dealer for financing, you'll first apply through the network and select a dealer. Then you'll meet with a dealer representative to select your vehicle from the dealer's stock and to complete the loan process.
Regardless of which method you use to find an auto loan, the basics of the loan will be the same. You'll often need to make a down payment of some sort, either with a cash payment or via a trade-in vehicle. The larger the down payment, the better your chances of approval will typically be.
The APR charged for your auto loan will depend heavily on your credit score, so subprime borrowers should be prepared for a two-digit interest rate.

But while higher APRs definitely make for more expensive loans, the interest rate isn't the only factor in your monthly auto payment. The length of your auto loan term will also play a large role in the total cost of your loan and in the size of your monthly payment.
Longer loan terms — particularly subprime loans with higher APRs — will cost you more overall, thanks to the additional interest payments. Conversely, shorter loan terms will have larger monthly payments but be less expensive overall.
Getting a Mortgage Loan with Bad Credit
Home loans are, as the name implies, used primarily to purchase residential real estate. Given that mortgages typically run into the six digits and have term lengths of 15 to 30 years, they are some of the most difficult credit products to obtain with poor credit.
If your credit score falls into the subprime credit range, your chances of obtaining a conventional mortgage are slim to none, with the possible exception of borrowers who can make a substantial (greater than 20%) down payment.
On the bright side, conventional loans are not the only type of mortgage loan. Various government departments operate home loan programs that can make mortgages more accessible to subprime borrowers.
Top Subprime Mortgage Providers
The most common form of home loan available to subprime borrowers is an FHA-insured loan, which is backed by the Federal Housing Administration (FHA). While the FHA requires a credit score of at least 580 to qualify for the lowest down payment amount, there are no set minimum scores to qualify overall.
But while the FHA has no minimum credit requirement, individual lenders are allowed to set their own requirements. This will likely make it necessary for subprime borrowers to shop around for a loan, perhaps through an online lending network like our options below.
+See More Subprime Home Loan Providers
How Mortgage Loans Work
Home mortgage loans are secured loans that use the financed property as collateral against default. As such, you'll need to have a specific property in mind before you can apply for a mortgage, though you can generally get pre-approved before finding a house.
Unlike most other types of loans, the home loan process won't vary significantly based on the method you use to find a lender. If you go with an online lending network, you'll be connected with a direct lender that will take you through the additional steps.
What will have a major impact on the process is the type of mortgage you get. Outside of conventional mortgages, each type of loan will have its own specific requirements.
FHA-backed loans, for example, typically require a home inspection and appraisal before the loan can be completed. This both ensures that the property is worth the financed amount and that the home is safe for occupancy.

The amount you're required to put forward as a down payment will also vary by loan type, with FHA loans requiring at least 3.5% down for borrowers with credit scores above 580, and at least 10% down for borrowers with lower scores.
Some government-insured loans, such as VA and USDA loans, may not require any down payment, but will have their own eligibility requirements. VA mortgage loans, for instance, don't require a down payment, but do require you to be an active or retired military member
USDA loans don't require a down payment, either, but are only available for properties located in an eligible rural area that will be used as the borrower's primary residence.
Don't Lose Hope of Finding a Loan
The financial realm is absolutely bursting with jargon for just about everything, much of which can seem insensible to the typical consumer. But there are some terms you simply need to know to get by — like whether you're a subprime consumer.
As important as it is to know where your credit stands, however, it's important not to let that be the whole story. Finding a lender as a subprime consumer isn't impossible, and you shouldn't let a bad credit score ruin your financial plans.
And, perhaps most importantly, know that a subprime credit score doesn't need to last forever. There are a variety of ways to improve your credit so you can get out of the subprime realm and have an easier time finding credit in the future.
Advertiser Disclosure
BadCredit.org is a free online resource that offers valuable content and comparison services to users. To keep this resource 100% free for users, we receive advertising compensation from the financial products listed on this page. Along with key review factors, this compensation may impact how and where products appear on the page (including, for example, the order in which they appear). BadCredit.org does not include listings for all financial products.
Our Editorial Review Policy
Our site is committed to publishing independent, accurate content guided by strict editorial guidelines. Before articles and reviews are published on our site, they undergo a thorough review process performed by a team of independent editors and subject-matter experts to ensure the content's accuracy, timeliness, and impartiality. Our editorial team is separate and independent of our site's advertisers, and the opinions they express on our site are their own. To read more about our team members and their editorial backgrounds, please visit our site's About page.