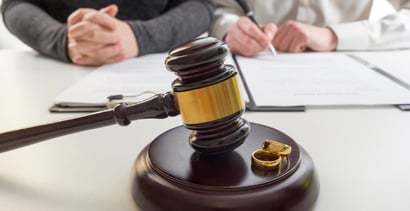 The emotional toll that a divorce exacts is only compounded when you have bad credit and need money to pay for the ordeal. Divorce loans for bad credit can help pay for the expensive legal fees that result from contested divorces, especially ones involving child custody disputes.
Filing for a divorce is actually the least expensive item, averaging $215 nationwide, although some courts charge no filing fees for folks with limited financial means. However, The New York Times reports that lawyer fees range from $250 to $900 per hour, resulting in an average cost of $15,500 for each party.
Luckily, the five lending services reviewed here provide loans you can use to finance a divorce despite having bad credit. While the money from a divorce loan may not relieve all the pain of some divorces, it can at least reduce financial pressure and help provide you with the resources you may need to protect your interests during a stressful time.
Loans | Alternatives | FAQs
Best Bad-Credit Personal Loans for Divorce
Naturally, nasty divorces can propel costs into the stratosphere, while uncontested ones can save a lot of money. Yet even uncontested divorces can cost hundreds, and, if you have bad credit, coming up with the money can be a challenge.
All five of these loan services work with networks of lenders that routinely provide installment loans to bad-credit consumers who are U.S. citizens, 18 or older. You can use the money from these loans as you see fit, including paying your divorce-related bills.
These online lenders offer the convenience of one-stop shopping and charge you nothing for their service.
Short-term loans up to $5,000
Online marketplace of lenders
Funds available in as few as 24 hours
Simple online form takes less than 5 minutes
Trusted by more than 2 million customers
| Loan Amount | Interest Rate | Loan Term | Loan Example |
| --- | --- | --- | --- |
| Up to $5,000 | Varies | Varies | See representative example |
The lenders on the MoneyMutual network offer installment loans ranging from $250 to $2,500 that you can access as quickly as the next business day. Conveniently, the loan proceeds and repayments flow through your checking account.
To be eligible, you must earn at least $800 per month from a job and/or entitlement. Even with factors such as a low credit score, bounced checks, or bankruptcies, you still may be eligible for a loan from MoneyMutual.
CashUSA.com can help you borrow up to $10,000 from its network of bad credit lenders. Installment loans have payback periods of three to 72 months and can be funded in one business day following approval.
Each lender sets the interest rate and terms for its loans. To be eligible, you must earn $1,000 per month after taxes. The CashUSA.com website offers valuable educational resources covering credit, financing, debt, and banking.
CreditLoan can find you an installment loan of $250 to $5,000 repayable in three to 72 months. The loan amount, interest rate, and other terms are set by the lender recommended by CreditLoan.
Your monthly income must equal or exceed $1,000 per month to be eligible. The funding decision is quick, and if your loan is approved, the money will be electronically deposited into your checking account on the next business day.
Bad Credit Loans has been matching lenders with consumers who have bad or limited credit since 1998. The lenders on its network offer installment loans of $500 to $5,000 with repayment periods of three to 60 months.
Once you're matched to a lender, you'll be advised of the loan interest rate and terms, and you are under no obligation to accept the loan.
PersonalLoans.com can get you a bad credit loan from $1,000 to $35,000, repayable in installments over three to 72 months. Unlike some other loan matching services, PersonalLoans.com can arrange loans in all 50 states.
Your recommended lender can get you a loan as quickly as the next business day. To be eligible, you must have either a full-time job, be self-employed, or receive regular benefits that provide at least $2,000 per month.
Legal Aid & Low-Cost Alternatives to Divorce Loans
If you have limited financial resources, the civil courts in most states have procedures to file for divorce without paying a filing fee. The procedures vary across different jurisdictions, but you usually start by filling out the divorce case paperwork and a fee waiver petition, either online or at the courthouse.
Typically, your waiver petition includes your identifying information, current income, and other financial resources. You will probably have to supply copies of your most recent paychecks, rent or mortgage payments, bank statements, utility bills, and other financial information.
After filing the paperwork with the court clerk, you'll be notified if your fee waiver has been approved.
If you give "irreconcilable differences" as the grounds for divorce, you won't have to prove specific allegations. Your state may offer a quick turnaround on a simple divorce that is uncontested. Naturally, an uncontested divorce should cost you much less than a contested one.
Because it involves a civil matter, divorce litigants have no constitutional right to free legal representation. Nonetheless, several sources of free or low-cost legal help are available that may allow you to avoid a divorce loan, including:
Civil legal aid: Federally funded free legal aid is available for the divorce cases of those needing financial assistance. You can get help from pro bono attorneys and paralegals to help with your divorce case as well as connecting you to resources such as domestic violence shelters, temporary housing, and food banks. You can do an internet search for legal aid in your area.
Charitable organizations: Particular populations, such as the elderly, victims of domestic abuse, refugees, and physically or mentally challenged individuals, may be able to access free legal help from nonprofit organizations. The legal assistance may cover the costs of a protective court order, child custody issues, housing, financial, and employment issues arising from divorce and separation.
Pro Bono Programs: Most states host bar associations that offer pro bono legal programs and workshops at little or no cost for divorcing individuals with special needs, including the financially needy, AIDS victims, abused spouses, and the elderly. You may have to disclose your finances and assets to qualify for these programs. Several websites list pro bono programs, including Justia, Divorce Central, and DivorceHelp.org.
Student lawyers: Many law schools offer free help from supervised students. Typically, these programs are geared toward criminal defense, but some offer specialized services (dealing with domestic violence, housing, etc.) that may be helpful to divorcing individuals with financial need.
Courthouse facilitators: A growing number of state and county courthouses offer facilitators to assist people with legal claims. They can help you file divorce paperwork if you are unfamiliar with the court system. You can find local courthouse facilitators on the internet.
Low-Cost Legal Assistance: You may be able to get legal help at a reduced cost even if you have too much income to qualify for free help. Look for lawyers who offer sliding fees or legal hotlines that charge by the minute. Your state bar association can probably refer you to low-cost legal programs.
Clearly, divorcing individuals have options despite bad credit and financial need. If you need help with issues arising from separation or divorce, take advantage of the resources in your area — they can make a big difference during a challenging time.
Can I Get a Loan for a Divorce?
The five loan services reviewed here all offer personal installment loans available to consumers with bad credit. All these services can connect you to lenders that can provide loans as quickly as the next business day.


Our top choice is the MoneyMutual network for loans up to $2,500. It has the lowest monthly income requirement ($800) and may offer you a loan even if you've had major credit problems such as bankruptcy.
In general, divorce loans are really just personal loans you use to pay the bills resulting from a divorce. That's important to know because legal fees can be just one costly item when couples split.
For example, you can use loan proceeds to temporarily pay for living expenses if your spouse cuts off your income. The loan can buy you time until you can adjust to your new situation.
The reviewed loan services all require you to have a checking account to qualify for a loan. Therefore, if you and your spouse share joint bank accounts, you should immediately establish your own account when you separate.
Typically, lenders deposit your loan proceeds into your checking account. By setting up your own bank account, you ensure that you — not your spouse — access the money. You may also want to transfer money from your joint account to your own, especially if you expect your spouse to do the same.
Another quick source of money is a credit card cash advance. This has the benefit that you can access this money without applying for a loan. Of course, if you have bad credit, you may either not have a credit card or the one(s) you do have may only offer modest cash advance amounts.
Nonetheless, even a cash advance of $500 or $1,000 can help pay for divorce petition filing fees. If your divorce is amicable, your expenses may not exceed the amount available to you from a credit card advance.
Homeownership is an important topic during a divorce. Your access to a home equity loan or line of credit depends on whether your name is on the mortgage and deed. If you already share a home equity line of credit with your spouse, you will want to consult the lender and your lawyer about your available options.
Is Divorce Free After 5 Years?
Sometimes, couples separate but do not immediately pursue a divorce. There are pros and cons to waiting to divorce, but if you do wait five years, your divorce can be virtually free, as long as both parties have already resolved issues pertaining to custody, support, and property.
If you formalize your resolved issues in a marital separation agreement, you may be able to divorce for the cost of a court filing. Simply file your complaint requesting a divorce and include your separation agreement.
You won't be surprised to learn that divorce laws vary from state to state. A few states, including Delaware and North Carolina, do not require you to resolve your custody, support, and property issues before allowing a no-fault divorce after five years of separation.
Others require you to submit a marital separation agreement despite the long separation period. Also, filing fees vary, with the national average around $200.
If you can prove financial need, you may petition for a free or reduced-cost filing fee. If you pay no filing fee, then you can truly divorce for nearly $0, aside from the few dollars you may have to shell out to buy a blank separation agreement form.
If you've been informally separated for five years, there may be good reasons to proceed with a divorce. For example, if you no longer take advantage of spousal medical insurance or married tax benefits, you may not have any financial disincentives regarding divorce.
Moreover, if you and your spouse haven't formalized your separation, you may still be responsible for each other's debts. In most states, the income you earn after an informal separation is still considered marital property and therefore contestable in a divorce.
The lack of a formal separation agreement also means your spouse still has the right to inherit your 401(k) unless your spouse agrees to waive it, in writing. The bottom line is that if you are going to separate, you should carefully consider a legal separation. In most states, this requires both parties to sign a separation agreement.
Who Pays for a Divorce?
We are not being glib when we say that spouses, children, friends, and relatives may all pay an emotional price for a divorce. However, confining our focus to the financial, most states require spouses to pay their own divorce legal fees and costs.
But exceptions can exist when one spouse earns much more than the other. Many states require the wealthy spouse to pay for the other spouse's legal fees covering the costs of a lawyer and litigation.
Without this rule, the deck would be stacked against the low-income spouse who cannot afford the top-flight legal representation the rich spouse will no doubt use.
Another factor affecting divorce payments is the judge, who may order some marital assets to be liquidated to pay the legal costs of the less-wealthy spouse. A share of liquidation funds goes first to the lawyer when the divorce is final. Anything remaining goes to the spouse.
This is not a joint expenditure because your lawyer worked exclusively for you.
Judges have some discretion when one spouse needlessly drags out the divorce proceedings. In that case, the disruptive spouse may be assigned some of the legal expenses of the other spouse.
However, fault-based issues seldom result in cost assignments. For instance, if you are suing for divorce because your spouse cheated on you, the judge will almost never punish the philandering spouse by making him or her pay your legal costs.
Another option is for one spouse to liquidate the marital property and use the proceeds to pay legal fees. An example would be to cash out a retirement plan to which you made contributions while married.
In this case, most states consider the retirement plan to be marital property. Your spouse may object to you using a shared asset, but normally, the judge will simply deduct the money from your portion of the final property settlement.
You Have Options for Financing a Divorce
Our review of divorce loans for bad credit identifies five loan networks that are happy to work with all credit types. Divorce loans are a straightforward way to finance divorce proceedings, but as we point out, you have several alternative options.
These include no-fault and uncontested divorces as well as free or low-cost legal services if you fit the recipient profile. There is also the possibility the judge will assign your costs to your wealthy spouse or liquidate marital property to pay the legal costs of the parties.
Services such as DivorceHelp.org can help you get through your divorce with valuable support that can ease the ordeal.
Advertiser Disclosure
BadCredit.org is a free online resource that offers valuable content and comparison services to users. To keep this resource 100% free for users, we receive advertising compensation from the financial products listed on this page. Along with key review factors, this compensation may impact how and where products appear on the page (including, for example, the order in which they appear). BadCredit.org does not include listings for all financial products.
Our Editorial Review Policy
Our site is committed to publishing independent, accurate content guided by strict editorial guidelines. Before articles and reviews are published on our site, they undergo a thorough review process performed by a team of independent editors and subject-matter experts to ensure the content's accuracy, timeliness, and impartiality. Our editorial team is separate and independent of our site's advertisers, and the opinions they express on our site are their own. To read more about our team members and their editorial backgrounds, please visit our site's About page.