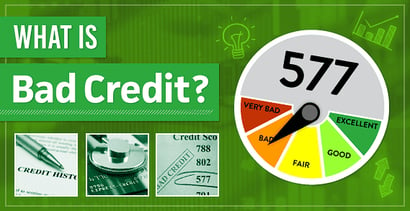 You've probably heard the commercials offering loans or other financial services to those with no credit or even bad credit. "Bad credit" is a term that is used often to describe those with less-than-stellar credit habits, making them a bigger risk to lenders when applying for a loan.
So, how do you know if you do, indeed, have "bad" credit?
Your credit score will be lower, for one. If you're unsure what your credit score is, here's how to check your FICO credit score. Once you know your score, compare it with this chart to find out where you rank.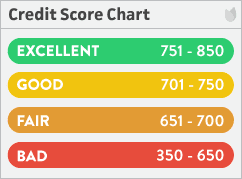 If your score is on the low end, you may be considered to have bad credit. But how did you get there? In this guide, we'll discuss the five factors that determine your credit score, how bad credit affects you, and how to improve your credit score.
The 5 Factors | How Bad Credit Affects You | How to Improve Your Credit
5 Factors That Determine Your Credit Score
It takes a mix of several important issues to create your credit score number, some of which are easier to change than others.
The following important factors all contribute: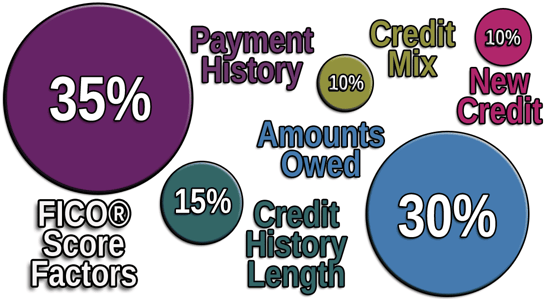 1. Payment History (35% of FICO Score)
Lenders are most interested in whether you will be paying the money they give you back, so this is a very important part of determining your creditworthiness. If you've failed to make payments on time or have a history of defaulting on any credit accounts in the past seven to 10 years, these may be dragging down your credit score and causing you to be labeled as a credit risk.
2. Amounts Owed (30%)
While there is no hard and fast rule as to how much outstanding credit is too much credit, a higher debt load is bound to stress your ability to repay. Lenders are particularly interested in how much you owe compared to how much you make each month.
As the ratio of debt to income gets out of balance, you may find yourself heading into dangerous "bad debt" territory.
3. Length of Credit History (15%)
Are you new to the world of credit? While you have to start somewhere, getting access to lines of credit requires you to have some kind of credit history.
As newer lending laws restrict the kinds of credit consumers can get until they are 21 years of age, it also means that many young adults will have shorter credit histories to work with. Even a small, low-risk account establishes your history, however, and should be considered as an entry point to the history needed for bigger purchases later in life.
4. Credit Mix (10%)
Having a diversified portfolio of loans and credit accounts can help you appear more attractive to a lending institution, as they like to see that you can handle several different kinds of debt. Mortgages and other fixed-length accounts usually make up one type of credit, while credit cards and other revolving accounts make up another.
Having at least one of both types can raise your score and keep you from being perceived as having bad credit, provided you are responsible with both.
5. New Credit (10%)
Relatively new accounts opened under your name can have both a negative and a positive effect on your score, depending on how it contributes to the other factors discussed. The initial process of applying may ding your score slightly, as the lending company has to pull a credit report (known as a hard inquiry); these usually do drop your points a bit at first.
If your new line of credit significantly raises your available credit amount, and you don't use it all right away, however, it can make your debt-to-income ratio look good, something that will benefit your overall credit score.
How Bad Credit Affects You
Once a lender has labeled you as a credit risk, it can be hard – if not impossible – to qualify for certain types of loans or credit card offers. Assuming that you can get financing specifically designed for those with bad credit, your loan will look much different than that of someone with a good credit score.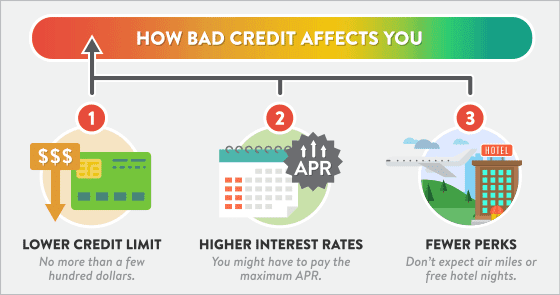 The following negatives are an unfortunate reality for someone with poor credit seeking financing, whether a revolving line of credit, installment, or short-term loan.
Lower Available Credit Limit
Lenders will be reluctant to offer too much borrowing power at first. A bad credit score may keep you from getting anything more than a few hundred dollars in credit, versus the thousands that someone with good credit gets.
Higher Interest Rates
Expect to pay more for the credit you do get. While those with excellent credit can pay no interest or just a few points above the prime rate, bad credit consumers can pay the maximum allowed by law for their borrowing privileges (29% or more APR.)
Fewer Perks
If you've been drooling over those cash-back cards that also offer companion airfare tickets or free hotel nights, you can usually expect these to not be available to someone with bad credit. Not only are the best perks reserved for premium cardholders, but those with bad credit sometimes have to pay an additional fee just to have their credit account.
How to Improve Your Credit
Despite the very real drawbacks of trying to get a loan with a bad credit score, there is good news! It is possible to improve your credit over time, putting you in a position to start completely over within a few years.
While it takes hard work and discipline, developing the following habits can set you on a path to success, and eventually get you the credit card or loan of your dreams.
On-Time Payments
Making your credit card payments on time (or even early) every month is the best way to improve your credit. Paying more than the minimum due assures you'll be able to pay down interest quickly, as well. Set up automated payments so you have the added comfort of knowing you can be consistent in paying your debts.
Check Your Credit History
You can't possibly correct bad money mistakes if you aren't sure what they are. By regularly accessing your credit score and getting copies of your free annual credit history from all three reporting agencies, you can see what issues you need to overcome, as well as stay on top of any reporting errors.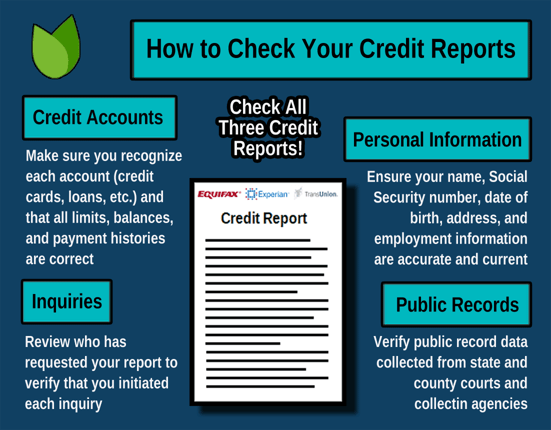 Knowledge, in this case, really is power.
Get Help
It can be tricky to navigate all the changes to credit card laws or understand best consumer practices. That's why it's important to have access to trusted financial resources that can keep you informed and knowledgeable about the ins and outs of consumer credit.
Read articles pertaining to credit, and ask your creditors if there is something you don't understand about your accounts. They want you to succeed as much as you do so that they can continue a profitable relationship. You can also enlist the help of a credit repair agency or debt relief company for professional assistance.
Bad Credit isn't Permanent
Bad credit is a harsh reality for millions of Americans, but the upside is that it can be temporary. By taking specific actions to remedy your past credit blunders, you can set yourself on a path to attain good credit and enjoy the benefits that a great score entails.
Advertiser Disclosure
BadCredit.org is a free online resource that offers valuable content and comparison services to users. To keep this resource 100% free for users, we receive advertising compensation from the financial products listed on this page. Along with key review factors, this compensation may impact how and where products appear on the page (including, for example, the order in which they appear). BadCredit.org does not include listings for all financial products.
Our Editorial Review Policy
Our site is committed to publishing independent, accurate content guided by strict editorial guidelines. Before articles and reviews are published on our site, they undergo a thorough review process performed by a team of independent editors and subject-matter experts to ensure the content's accuracy, timeliness, and impartiality. Our editorial team is separate and independent of our site's advertisers, and the opinions they express on our site are their own. To read more about our team members and their editorial backgrounds, please visit our site's About page.