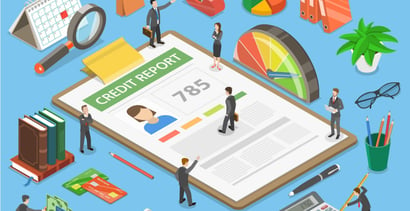 A credit report is simply a record indicating how well, or how poorly, you've managed your credit obligations in the past. Think of them as you would your school report cards, which were a record of how well or how poorly you performed in school. But unlike your school report cards, the information on your credit reports is the basis for a number that's oh so important to your financial health — your credit score. 
Lenders, credit card issuers, employers, insurance providers, landlords, and utility providers use credit information to make decisions. Your credit reports (and the resulting scores based on this information) can help companies predict the risk of doing business with you and decide whether to approve or deny your various applications. Your credit reports can also affect the terms you are offered on other financial instruments, like how much you pay for insurance coverage. 
Because your credit reports have such a powerful influence on your financial life, it's important to understand everything you can about how credit reporting works. When you know what information may (or may not) appear on your credit reports, it puts you in the driver's seat. Knowledge can help you keep your credit reports in the best shape possible — a position that can offer some great perks and cheap money.  
Details You May Find on Credit Reports
Not all credit reports look the same. The presentation of your credit information may differ depending on the style of the credit report. Yet despite the varied appearances of your credit reports, you're likely to come across the following types of data:
1. Personal Identifying Information
Near the top of most credit reports, you will find various personal information that identifies you. This section of a credit report contains data that includes your name, former name, current and previous addresses, date of birth, Social Security number, and place of employment.
2. Accounts or "Trade"
Another section of your credit report should contain information about the accounts you have opened with various lenders and creditors (or at least those that report to the credit bureau).
These accounts are formally referred to as tradelines and may feature past and current installment loans and revolving credit accounts that are either in your name or have your name associated with them.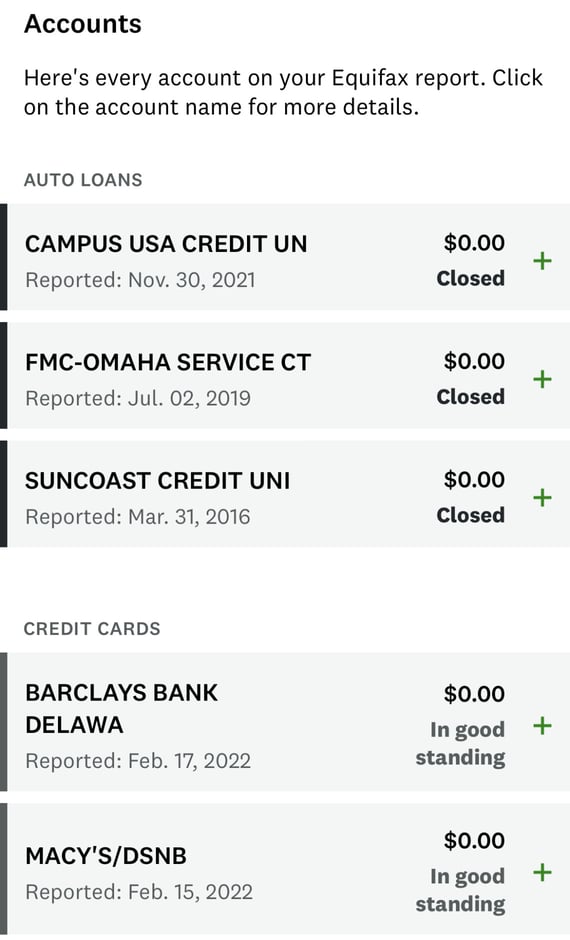 Each tradeline can contain key pieces of information, including your account status, payment history, date opened, date closed, credit limits, current balance, highest reported balance, past due balance, and much more. 
In the actual credit report language, called Metro 2, hundreds of different fields can be associated with a single account, certainly too many to list here.
3. Collection Accounts
If you've ever defaulted on debts and a third-party collection agency purchased or took over those accounts, those defaulted debts will typically appear in a separate section of your credit report. (Note: The original defaulted account can remain on your credit report as well.) 
Collection accounts can stay on your credit report for up to seven years from the initial delinquency date with the original creditor. That seven-year period cannot change, even if you pay or settle your collection accounts.
4. Public Records
If you have filed for bankruptcy protection from your creditors, a record of that bankruptcy filing is likely to appear on your credit reports. Bankruptcy can remain on your credit report for up to 10 years, depending on the type of bankruptcy you file. 
In the past, tax liens and judgments also appeared in the public records section of credit reports. But in 2017 and 2018, all three credit bureaus removed tax liens and judgments from consumer credit reports. Lenders can still find them, but they have to go elsewhere to do so.
5. Credit Inquiries
When you or someone else checks your credit reports, that access is recorded as a hard or a soft credit inquiry. Pulling your own credit reports, inquiries made by your current lenders, and inquiries for preapproved offers of credit or insurance are all soft inquiries.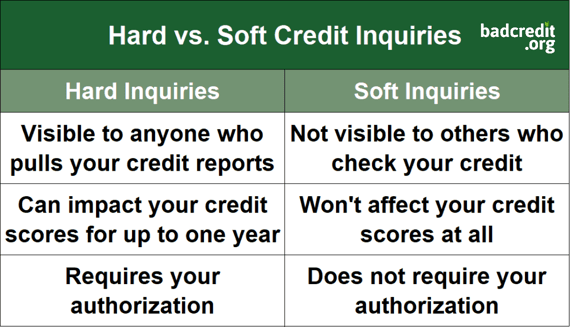 These records only show up on consumer disclosure reports, such as viewing your credit score on Credit Karma, and they do not affect your credit scores. 
On the other hand, hard inquiries can appear on all types of credit reports for up to two years. But they may only impact your FICO® Scores for up to 12 months, and many do not impact your scores at all. It is a myth that all inquiries lead to lower scores. 
Why Do Credit Reports Look Different and Have Different Information?
You and others can access your credit information in several ways. Depending on where your reports come from and to whom they are delivered, they will not be the same reports and will not look the same. 
There are at least four types of deliverables that are commonly called credit reports — authentic credit reports, credit report disclosures, credit summaries, and residential mortgage credit reports (RMCRs).  
Authentic Credit Reports: An authentic credit report is the real deal. This is the report that is delivered to users of reports, including lenders. Credit report users are not consumers, and consumers do not have access to these reports. These reports are delivered in Metro 2, a standard format for all businesses reporting credit data to the major credit bureaus. They are not human readable, as they are a series of comma delimited alpha and numeric characters. These reports are also the basis for your credit scores. 
Credit Report Disclosures aka Consumer Disclosures: A credit report disclosure is a type of credit report that you, as a consumer, can access. You can request credit report disclosures from AnnualCreditReport.com or directly from a major credit bureau (e.g., Experian, TransUnion, or Equifax) because Federal law entitles you to see your credit reports.

The purpose of a credit report disclosure is just that: to allow the credit bureaus to satisfy their obligation to disclose your reports to you from time to time. Disclosures are designed to be consumer-friendly. They may be color-coded, written in plain English, and come with keys or legends to help decipher the information you see. Disclosures are never available to lenders, which means that what you see from AnnualCreditReport.com is not what a lender sees.
Credit Report Summaries: Some websites set up relationships with the credit reporting agencies to deliver credit report summaries to consumers. Free credit report and score apps often fall into this category. But the reports you can access from these websites don't contain as much information as you would find in your full credit report disclosure.

Further, it's not uncommon for these companies, often called compilers, to rename some of the data fields they received from the credit bureaus. These report summaries are often abbreviated versions of your information and are not as detailed. These reports are not available to lenders.
Residential Mortgage Credit Report: This type of report, also called an RMCR or a tri-merge credit report, usually contains the most information available about your credit in a single location. A tri-merge report is a product of all three of your reports, one each from Equifax, Experian, and TransUnion.

RMCRs are normally only available to mortgage lenders and brokers because Fannie Mae and Freddie Mac require that mortgage lenders review all three of an applicant's credit reports and three of their FICO scores.

Mortgage lenders and brokers request these specialized reports through an intermediary company called a mortgage reporting company. RMCRs are not available to consumers, although it's not uncommon for mortgage brokers to give a copy to their applicants.
These four report styles have many things in common — and they differ in many ways. The formats, labeling, methods of delivery, and cost are wildly different. 
Some are available to lenders; some are not. Some are available to consumers; some are not. Some include credit scores; some do not. You have the right to one, but not the other three. The point is, what's on these reports isn't the only thing that's different about them.     
Formats Differ, But the Information Remains the Same
There are many ways for your credit information to be presented to you and others. But the underlying details — especially how you manage your accounts — remain the same. 
At the raw data level, your credit report details determine the credit scores you will earn when a lender uses a scoring model to measure your risk. That's why it's critical to make sure the details on your credit reports remain as accurate and positive as possible. 
It's also wise to check your three credit reports often and review them for credit reporting errors. If you find mistakes on any of your credit reports, federal law gives you the right to dispute them with the credit reporting agencies for free.
Advertiser Disclosure
BadCredit.org is a free online resource that offers valuable content and comparison services to users. To keep this resource 100% free for users, we receive advertising compensation from the financial products listed on this page. Along with key review factors, this compensation may impact how and where products appear on the page (including, for example, the order in which they appear). BadCredit.org does not include listings for all financial products.
Our Editorial Review Policy
Our site is committed to publishing independent, accurate content guided by strict editorial guidelines. Before articles and reviews are published on our site, they undergo a thorough review process performed by a team of independent editors and subject-matter experts to ensure the content's accuracy, timeliness, and impartiality. Our editorial team is separate and independent of our site's advertisers, and the opinions they express on our site are their own. To read more about our team members and their editorial backgrounds, please visit our site's About page.