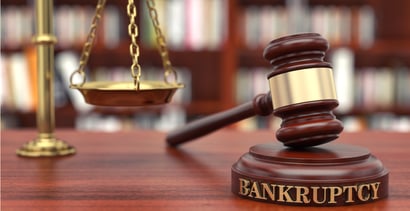 If you're in a situation where you have much more debt than money to make your payments, the U.S. Bankruptcy Code may be able to provide you with some much-needed financial relief. Filing for bankruptcy essentially protects you from your creditors — either by preventing them from collecting your debt or helping you make a new debt repayment plan that you can more easily manage.
Of course, one of the consequences of filing for bankruptcy protection is that doing so can affect your credit reports and, thus, your credit scores. In fact, it's not uncommon for financial types to proclaim, "Bankruptcy is the worst thing you can do for your credit!"
But are they correct? Is bankruptcy really that bad for your credit?
When you start to peel back the bankruptcy filing onion, you may be surprised to learn the truth isn't as simple as it may seem.
How Bankruptcy Affects Your Credit History
To understand how bankruptcy affects credit scores, it is helpful to first understand how bankruptcy will affect your credit reports. After all, consumer credit scores are influenced exclusively by the information that appears on your credit reports — nothing more and nothing less.
Bankruptcy is a public record. That means anyone, even you, can access bankruptcy filing records on any consumer. The credit reporting agencies (Experian, TransUnion, and Experian) all proactively seek out these types of public records and add them to their credit file database by using public record vendors.
The two consumer bankruptcies are Chapter 7 and a Chapter 13 bankruptcy. Chapter 7 bankruptcy is known as liquidation or "straight" bankruptcy. When you file this type of bankruptcy, you can walk away from most of your debts without having to repay them if the debts are what's referred to as statutorily dischargeable.
Statutorily dischargeable means you're legally allowed protection from a particular lender.
A Chapter 13 bankruptcy, or a wage earner's plan or WEP, restructures your debt through the court and you must still repay some of it. You make periodic payments to a court-assigned trustee and the trustee makes payments to your creditors, although the payments are considerably less than what you owe them.
If you make too much money you will be required to file Chapter 13 because you have the capacity to make some form of payment. The following chart from yourmechanic.com summarizes the differences between Chapter 7 and Chapter 13:

Once you file for bankruptcy, it will quickly be picked up by the credit bureaus and placed on your credit reports. It will also remain on your credit reports as long, or longer, than any other item currently reported by the credit bureaus.
According to the Fair Credit Reporting Act (FCRA), Chapter 13 bankruptcies can stay on your credit reports for up to 10 years. However, the credit reporting agencies remove them no later than seven years from the bankruptcy filing date.
Chapter 7 bankruptcies can stay on your credit reports for up to 10 years from your filing date. The credit reporting agencies allow them to remain for almost the full period.
How Bankruptcy Affects Your Credit Scores
Most items on your credit reports have the potential to affect your credit scores — for better or for worse. Bankruptcy is no exception to this rule. Bankruptcy may affect your credit scores in a negative way, or in a positive way.
Yes, you read that correctly. Bankruptcy may actually help your credit scores, at least in the short term. In reality, the time period just before you file bankruptcy is going to be the worst possible scenario for your credit scores.
Prior to filing, a typical credit report will include debts that are either already in default, in collections, or headed there quickly. And then you must also consider the late payments that are likely polluting the credit report. All these scenarios have already had a serious negative impact on credit scores.
Now think about what will happen if you're able to file Chapter 7 bankruptcy. All the debts will be wiped away and removed from your credit reports. Collection accounts will be removed per the credit reporting guidelines.
Yes, the derogatory tradelines will be noted as "included in bankruptcy" or "discharged in bankruptcy." But those accounts were likely either charged-off or in some other terminal delinquent status already. Being included in a bankruptcy isn't any worse from a credit score standpoint.
After your Chapter 7 has discharged, your credit reports actually look much better than they did prior to your filing.
Long Term Credit Impact
Because of the above changes to your credit reports, the immediate impact of bankruptcy to your credit score may be minor or actually positive. Although, you shouldn't consider this to be an opportunity to go out and apply for new credit anytime soon.
In the long term, however, bankruptcy is going to hurt your credit scores because of the length of time it will remain on your credit reports. In fact, your negative accounts will be long gone before the bankruptcy is removed. Just like bankruptcy has a credit reporting time limit thanks to the FCRA, derogatory items like late payments and defaulted accounts can only remain on your credit reports for so long as well.
In most cases, the credit reporting agencies must remove negative tradelines from your credit reports after seven years. A Chapter 7 bankruptcy, as mentioned, may remain on your credit reports for up to 10 years. And even if you have to file a Chapter 13 bankruptcy, by the time you do so, your late payments and defaulted accounts will already have begun aging and creeping toward their respective seven-year limits.

Eventually, all your negative accounts and late payments will be gone, leaving only the bankruptcy as the sole negative credit report entry. Of course, this assumes you do not fall past due or into default on anything after your bankruptcy. If you do, then all bets are off.
How to Rebuild Your Credit Scores After Bankruptcy
Another common bankruptcy myth is the idea that you can't rebuild your credit reports or credit scores for many years after your filing. You can start working to restore your credit as soon as your bankruptcy is discharged.
Some prime creditors may not approve your application for new financing if your bankruptcy is too recent. But lenders certainly have credit products that are generally easier to qualify for, even with a discharged bankruptcy on your reports. For example:
Secured Credit Cards: With a secured credit card, you put down a cash deposit that acts as collateral for the bank. The size of your deposit is generally equal to the size of the credit limit the bank will issue on your new card. Because you're putting up your own funds to secure the account, there's less risk involved for the bank. Several secured credit card issuers accept applicants who have a bankruptcy on their credit report. You'll want to confirm the card issuer does, in fact, report to all three of the credit bureaus so you'll get the credit building benefit of using the card.
Credit Builder Loans: A credit builder loan is another tool you can use to potentially help rebuild credit after bankruptcy. Unlike traditional installment loans, when you open a credit builder loan, the lender doesn't immediately hand over the money. Instead, your loan proceeds go into a savings account. You make a series of monthly payments to the lender (often 12-24 months), and once you make the final payment, your funds are released to you. In the meantime, the lender reports your payments to the credit reporting agencies. So, if you always pay on time, this gives you an opportunity to add positive payment history to your reports. Again, make sure you use a lender that reports to all three credit bureaus.
Keep in mind that adding new, positive accounts to your credit reports is not a silver bullet. But, if you manage your new accounts responsibly, those credit cards or loans may help you offset the damage of the bankruptcy to some degree.
Consider Bankruptcy Your Last Option
Bankruptcy is the most drastic approach to address your financial problems. While it's not the worst option, it should be your last option and only if your situation is dire.
If you don't see any other way out of your financial problems, filing bankruptcy will protect you from your creditors and give you a chance to get out from under some of the immediate financial pressure. You may face credit score consequences when you file for bankruptcy protection, but those are outweighed by the ability to hit the reset button on your finances.
Advertiser Disclosure
BadCredit.org is a free online resource that offers valuable content and comparison services to users. To keep this resource 100% free for users, we receive advertising compensation from the financial products listed on this page. Along with key review factors, this compensation may impact how and where products appear on the page (including, for example, the order in which they appear). BadCredit.org does not include listings for all financial products.
Our Editorial Review Policy
Our site is committed to publishing independent, accurate content guided by strict editorial guidelines. Before articles and reviews are published on our site, they undergo a thorough review process performed by a team of independent editors and subject-matter experts to ensure the content's accuracy, timeliness, and impartiality. Our editorial team is separate and independent of our site's advertisers, and the opinions they express on our site are their own. To read more about our team members and their editorial backgrounds, please visit our site's About page.